Pedego Electric Bikes Calgary, Alberta
Looking for electric bikes Calgary?  The high-quality Pedego electric bikes are now available at our new dealer in Calgary:
Toys 4 Boys Motorsport and Electric Transport
1-3915 Edmonton Trail NE
Calgary, AB
T2E 6T1
(403) 230-9404
Pedego bicycles are the quickly becoming the most recognizable brand of electric bike in Canada and across the world, and they are certainly number one in style and comfort! If you would like more information on this electric bike brand, call toll-free on 1-888-777-2066, email us at info@pedegocanada.ca … or just check out the information available on this website. Electric bikes get you back on a bicycle, off the couch and out of the car! There are plenty of great reasons to ride a Pedego, but the best reason is simple … it's fun!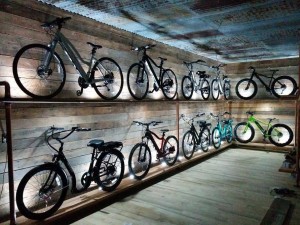 Toys 4 Boys are your new electric bike destination in Calgary.  New ownership brings a wealth of experience from the electric bike industry. The newly renovated store has a dedicated electric bike section filled with electric bikes just waiting to be take for a test ride! With its wide spaces, hills and ever expanding bike path network, Calgary is a wonderful location for riding an electric bike. Just think of the territory that is opened up when you can easily ride over 50km on a single charge!
The Pedego electric bike brand started out with North America's most beloved electric bicycle — the Pedego Comfort Cruiser. The range now includes an urban city commuter, a fat tire electric bike, an ultra-low step thru bike,  tandem, a 'super cruiser' and our brand new Stretch cargo bike. Pedego electric bikes are designed in California and built with quality, name-brand components from the ground up. For more information on our electric bikes, click on any of the images below.
If you are in the Calgary area, come to Toys 4 Boys Motorsport and Electric Transport and take an electric bike for a test ride! We guarantee you're going to have a lot of fun.