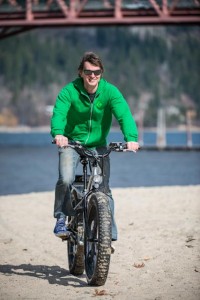 Pedego Electric Bikes Kamloops, BC
Looking for electric bikes Kamloops?  The high-quality Pedego electric bikes are available at dealers across Canada. However, if there isn't currently a dealer in your immediate area, we will cover the shipping and assembly costs if you decide to purchase a bike! Please check the map on our dealer page to find the store closest to Kamloops.
Pedego bicycles are the quickly becoming the most recognizable brand of electric bike in Canada and across the world, and they are certainly number one in style and comfort! If you would like more information on this electric bike brand, call toll-free on 1-888-777-2066, email us at info@pedegocanada.ca … or just check out the information available on this website. Electric bikes get you back on a bicycle, off the couch and out of the car! There are plenty of great reasons to ride a Pedego, but the best reason is simple … it's fun!
If you are a potential electric bike dealer in Kamloops, we would also love to hear from you to discuss opportunities in this exciting electric bike market. Since their introduction, Pedego electric bikes are expanding at rapid rate across Canada and now is a great time to to enter the ebike market.
Kamloops and the surrounding area are the perfect place for electric bikes with the wide spaces and steep hills.
The full range of Pedego electric bikes are available in Canada including the Pedego Boomerang Plus, which is shown in the gallery below. This electric bicycle has an ultra-low step-through to make mounting the bike super easy! The bike also has all the same great features as the Pedego City Commuter and Pedego Interceptor including: pedal assist, a throttle, an LCD console, disc brakes front and rear, and an integrated light. The powerful 48V bike now also comes with two battery options: the standard 48V 10Ah battery or the 48V 15Ah extended range battery.