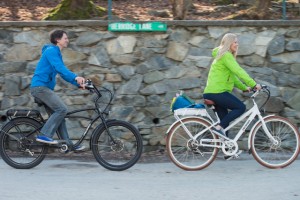 If you are looking for electric bikes in Nelson, look no further! The high-quality Pedego electric bicycles are available Nelson direct from Pedego Canada. Give us a call here at Pedego Canada to arrange a test ride on one of these high-quality electric bikes: 250-509-1686.
Pedego Canada – Electric Bikes Nelson
250-509-1686
Pedego bicycles are quickly becoming the most recognizable brand of electric bike in Canada and around the world, and they are certainly number one in style and comfort! Take one of these great electric bikes for a test ride in Nelson, British Columbia, and find out why Pedego Electric Bikes are so popular. You'll discover that not only will an electric bicycle get you off the couch and out of the car, you'll also have a lot of fun riding one!
The "Queen City" of Nelson and, in fact, the entire West Kootenay region is a perfect place for electric bikes what with its steep hills and many dedicated bike paths. Just imagine biking up to Kokanee Park and not even breaking a sweat. You can even bike all the way to the top of the Salmo/Creston Pass on one battery charge. (It's true, we've done it!) 
If you are in Nelson or a nearby area, call Mike and arrange to take an electric bike for a test ride! We guarantee you're going to have a lot of fun.