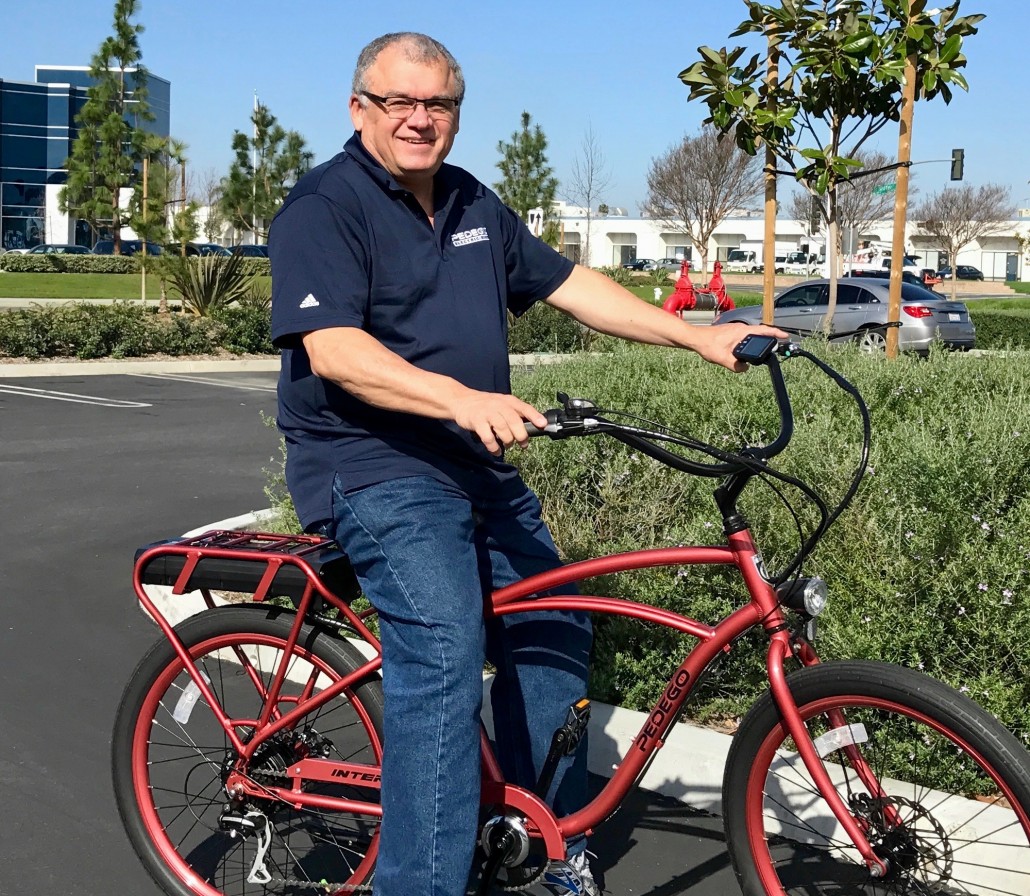 Pedego Electric Bikes recently hired veteran bicycle engineer Michael Fritz as the brand's director of engineering. He will oversee all aspects of Pedego electric bike engineering, technology and product development as well as customer support. This is exciting news for Pedego because Fritz brings with him more than 40 years of experience in engineering, engineering management and product development. He has held engineering and engineering management positions at several bike companies including Schwinn, Huffy, Brunswick Bicycles and Pacific Cycles. In 1997, he was recruited by Lee Iacocca to join EV Global Motors as VP Product Development. For the past few years, Fritz has run a technical consulting firm advising foreign and domestic companies in the LEV industry. He holds a master's degree in Engineering Management and a bachelor's in Mechanical Engineering.
We caught up with Mike at Pedego HQ in California and asked him a few questions about the history and future of electric bikes.
Hi Mike. Is it true your dad was a designer for Shwinn?
Not entirely. My dad was a really effective manager and great product guy. He could see a concept and then commercialize it into a successful product. He did work for Schwinn. He started out as a welder in the factory after WWII. He ascended the ranks and ultimately ended up running the company as executive VP. Then he took over as president and general manager of the fitness equipment subsidiary. But he did not have a technical background. He just had a really great imagination and a great feel for the product. Interestingly he wanted to be a court reporter but never finished high school. So he didn't have any formal technical training but he was a real visionary.
How long have you been involved in the bike industry
(Laughs.) Yeah, I get asked that a lot and my reply is 66 years because I was born into the business. I've been around bikes my whole life.
How long have you been involved in the electric bike industry then?
I was vice president of product development for Pacific Cycles in Wisconsin when I was contacted by a recruiter who was looking for an engineering management professional in the bicycle industry. And it turned out it was to work for Lee Iacocca after he retired from Chrysler. He was approached by people who sold him on the concept that electric vehicles for the next big thing in transportation. Iacocca liked to think he was the guy who brought the most important automobiles to the baby boomers. (He introduced the Mustang while at Ford, and claimed credit for the minivan and the SUV while at Chrysler.) He believed the next manifestation of demand was going to be electric and decided to get into the electric business but was wise enough to know that doing an electric car required a significant investment so he wanted to start small and got into electric bikes. Iacocca hired me as VP of product development so I joined him in 1996 I think at EV Global Motors, which was the name of the company. That was my first introduction to electric bikes and I've been involved with them ever since.
Wow. That's amazing you've been in the industry so long.
Yeah, I was certainly in on the ground floor. I mean, I didn't invent the concept but I think I have been helping to evolve the concept and the technology. I've been involved with companies that have brought innovations to battery design and propulsion systems. Yeah, I'm one of the grey beards in the industry I guess you'd say.
 With you having been involved for the past 20 years, tell us a bit about how far the industry's come.
Early on the technology really didn't allow us to fulfill customer expectations. If you look at the earliest ebikes such as the Zap bike, it utilized a motor with a friction motor on it that would contact the tire and try to drive it, which was incredible inefficient and noisy. It also wore out tires like crazy and you'd have to lug around lead-acid batteries that weighed 40 pounds and they'd upset the geometry of the bike and affected handling and whatnot. The frame designs were clunky and the bikes were ludicrously heavy. There just wasn't a real good catalogue of technologies we could integrate into the bike and make it valuable as an effective transportation alternative. In the 20 years I've been involved we've seen the evolution of highly efficient, high torque electric motors, brushless, gear-less and, in Pedego's case, brushless geared motors that allow you to generate a lot of torque without a lot of energy drain. We saw the development of lightweight lithium-ion batteries. We've seen a lot of evolution in terms of the aesthetics of the electric bikes. They used to be ugly and now they're sleek and sophisticated and stylish. We've basically adapted technologies from automotive, aerospace and what not and integrated those into what now represents a very viable platform for commuting and recreation. We've come a long way in 20 years I'll tell ya.
Given your new role at Pedego, what do you see happening in the coming years?
From a technology perspective we'll continue to refine propulsion system technology. I mean you've seen the shift from hub motors to mid drives, which allows the motor to take advantage of the gearing that's present in a multi-speed rear hub or in a derailleur system which broadly expands the torque range. The only issue is your customers have to understand the importance of shifting. I like to draw the analogy between an automatic and manual transmission in your car. The benefits of the mid-drive are significant in that they allow you to use the gearing and shifting system to optimize performance but you have to shift it. So I think we can anticipate systems that will automatically shift for us in the future. In terms of battery technology we continue to try and increase the gravimetric energy density of the battery packs but we need to do so without compromising safety. Everybody's aware of the issues associated with fires with lithium-ion batteries if they're not properly designed and maintained so we want to continue to enhance our ability to pack a lot of energy onto the bike but do it safely and in such a fashion that the rider will realize increased utility. But more specifically with respect to my role at Pedego, at this juncture my focus is more on systems development. Pedego has realized incredible success over the six years or so since they've been in existence. The company grew faster than the business systems could keep up with. What I'm working on right now is a data management system that will streamline our ability to spec our bikes, order replacement parts, service our dealers, work with our vendors in terms of product development etc etc. So what I'm trying to do now is try and leverage the experience I have working for big companies to enable the corporate infrastructure to continue supporting the rapid growth.
Where is the industry going to be in 20 years time? Are we all going to be riding electric bikes?
That's a very good question. I've spent the last five years as a consultant and people hired me to come in and assist them not only with technology but also with strategies. One of my clients was General Motors. That company was working on an ebike project and I was very honoured to work with Pam Fletcher, the Executive Vice President in charge of dealing with electric vehicles for General Motors. That's a pretty lofty position and she's an incredibly intelligent engineer as you would expect holding a position like that. I worked with her primarily during a EuroBike Show a couple of years ago. I was asked to introduce her to key players in the industry as GM was looking for supply partners and to listen to Pam explain to these bike companies why GM is messing around with ebikes was really insightful. She was basically saying that GM is wise enough to know that the transportation paradigm in the United States and the world for the matter is changing. The demographics of our society are shifting. People are moving back into the cities. They want to be closer to work and shopping and schools and it's causing a negative impact in terms of traffic and congestion and air pollution. She's saying GM recognizes that people are going to want to see transportation infrastructure that's much more efficient and faster in terms of how long it takes to get from A to B. And within cities, the range of electric bikes are useful. You're not going to need a vehicle to get you more than 15 or 20 miles from point to point to accomplish whatever you set out to accomplish. Electric bikes are certainly going to play an important role in that evolution. The beauty of Pedego is we're on the ground floor and Don and Terry really put their finger on the appropriate business model for success. After all, the idea that you can develop a high-tech electric bike that will appeal to a serious cyclist is kinda crazy. The cyclists wanna be cyclists. The mode of power they apply comes from their physiology, not an electric motor and battery pack. Pedego speaks to the Baby Boomers, which is what Iacocca believed: give people back the fun lifestyle of cycling.