Try before you buy. It's a mantra that's been around as long as currency and it's still good advice today, especially when you're considering buying a vehicle. Most of us would never purchase a car without taking it for a test drive: you get a sense of how it feels behind the wheel, how it handles on the road and how well it responds. The same thing goes for electric bikes: at the very least we recommend taking a bike for a spin around the block before you buy. And the good news is all Pedego electric bike dealers in Canada offer free short-term test drives.
Even better than quick tests, though, is renting an electric bike and spending an hour or a day with it to really get a sense of what it's all about. Consider the case of Forbes magazine writer Scott Kramer who recently did an article about renting a Pedego Trail Tracker in Southern California. In his story, "Gliding Through the Streets of SoCal with Pedego" he writes, "I highly recommend you take one out for a test drive before buying one — just to make sure it's for you." He goes on to say, " While I'd love to own one of these electric wonders, I can't decide if I'd use it primarily as a leisurely method of trucking around town or as a money-saving, emissions-eliminating transportation alternative to my car. I suspect I'd use it for both."
We recommend trying as many different electric bikes as you can. Longer test rides are so much more valuable than discussing potentially confusing specifications, and a great way to help understand what you prefer. With that in mind, here are five businesses around Canada that offer free short-term test rides and where you can also rent electric bikes made by Pedego:
Pedego Victoria
Pedego Victoria
2039 Oak Bay Avenue, Victoria, BC V8R 1E5, 778-432-0255
Store Hours: M–F 9:30am – 5:30pm; and Sat & Sun 10am – 5pm
Not only can you rent cruisers, tandem and Trail Tracker bikes at Pedego Victoria, located in the capital city of British Columbia, on Vancouver Island, you can also go on free scenic tours on specific days of the week. Contact Charles Turner at the store for more info.
 Pedego Qualicum Beach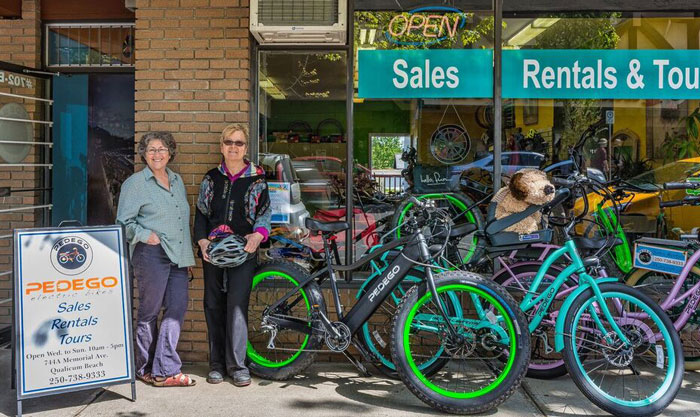 Pedego Qualicum Beach
702 Memorial Ave, Qualicum Beach, BC V9K 2T4, 250-738-9333
Store Hours: Wed-Sun 10am – 5pm
Not only is renting an electric bike the best way to experience the beautiful seaside community of Qualicum Beach, located just north of Nanaimo on Vancouver Island, it's also the best way to test drive a Pedego ebike. Guided tours are also available on request. Contact Julie Edwards and Ruby Berry and Pedego Qualicum Beach for more information.
 Heatstroke Cycle
Heatstroke Cycle
15 Park Place Unit 225 Watermark Beach Resort, BC-3, Osoyoos, BC, 778-437-2453
Osoyoos and the entire Okanagan region in the interior of British Columbia is the perfect place to tour using an electric bike. The hills won't slow you down and the views of the lakes are beautiful! Heatstroke Cycle also offers guided wine tours around this world-famous vineyard region. Contact Rich Cooper for more info.
 EZ Riders
EZ Riders
1372 Danforth Ave, Toronto, ON 416-461-8989
Store Hours: Monday – closed
Tuesday – 12-5
Wednesday – 10:30 – 6
Thursday – 10:30 – 7
Friday – 12-8
Saturday – 10:30 -4
Sunday – 11-4
Rent a bike and sightsee in the city or check out what your daily commute is like on a fun electric bike. Even though Toronto is Canada's largest city, it's made up of small neighbourhoods that you can quickly explore on your ebike. Contact Greg Moore at EZ Riders for more
To learn more about Pedego Canada electric bikes visit any one of the businesses above or drop us a line anytime by calling 1-888-777-2066 or emailing info@pedegocanada.ca.