Pedego Prince Edward County
Sunday
Closed
Monday
Closed
Tuesday
By Appointment
Wednesday
10am - 5pm
Thursday
10am - 5pm
Friday
10am - 5pm
Saturday
10am - 5pm
We are open!
Our Pedego Electric bike store is open again. We are in the store Wednesday – Saturday from 10am to 5pm with a maximum of 4 persons in the store at one time. We will give you plenty of opportunity to test ride the bikes and find the style that suits you best. We will still be keeping to strict social distancing and cleanliness guidelines.
We are still offering a free pick & delivery repair service in The County for all regular bikes and Pedego bikes that need fixing or a spring tune-up.
A big thank you to all the people who recently bought bikes from us as you have waylaid a lot of business anxiety and given us a fantastic start to the season. Call Gillian or the Bear regarding a new bike, a needed bicycle accessory or a little advice. Bear: 613-848-7690 Store: 613-393-9191.
Stay safe and stay positive.
Gillian & Patrick Maloney
Electric bicycle sales, service & rentals in PEC, Ontario Locally owned by Patrick & Gillian Maloney
About Pedego PEC
Prince Edward County is one of the most beautiful areas in Ontario and a paradise for electric bike riders. Located just West of the city of Kingston on a peninsula that reaches out into Lake Ontario, Prince Edward County boasts sandy beaches, quiet country roads, dramatic vistas, quaint towns with 19th century architecture, apple orchards and vineyards. Plenty of bicyclists visit this area every year but because of the occasional hill (such as the one leading to the beautiful "Lake on the Mountain") an electric bike is the perfect way to travel and see the sites.
The best local dealer of electric bicycles in the region is Pedego Prince Edward County, which features the full line of Pedego Electric Bikes. Test rides are always free.
Drop by or contact Pedego Prince Edward County today and plan your trip to the best electric bike destination near Kingston in eastern Ontario.
Rent Me! Explore Prince Edward County on an Electric Bike
It's all fun on a Pedego!
The best electric bicycles in Canada are the ones that fit you perfectly and are fun to ride. When you ride a Pedego, it's not about how great the electric bike is, it's about how great you are on it.
Pedego brings out the best in you. That's why Pedego owners in Canada don't like their bikes – they love them. And you will too.
We are making a cautious start to our 2020 rental season. Because of Covid 19 we have to spend a considerable amount of time cleaning and sanitizing the bikes and helmets between rentals and there is insufficient time to do this between morning and afternoon rentals. This, plus the much reduced rental fleet we have this year, has forced us to offer day only rentals. Rental bikes are available Wednesday to Saturday:
Full-Day Rental – 10am to 5pm
At the moment we are accepting groups of 4 people maximum. Please wear a mask if you are from outside our community.
Thanks and let's all stay healthy and safe!
Customers don't just like Pedegos – they love them!
My wife purchased a Pedego electric bike in 2016. There were some issues at the start and after 3 maintenance attempts with a local shop (not a Pedego store), the issues continued. So we switched to Pedego Prince Edward County and we have to say, Pat is exceptional! He realized the bike was assembled incorrectly by the other shop and fixed it. Now it works better than new!
Best buying experience ever. Patrick and Gillian know their products so well and answered all our questions and left us completely confident and excited with our new bikes. We couldn't have asked for a more a more professional dealership and are highly recommending their business to our friends.
Gillian and Bear are wonderful! I'm going into my 4th year with my City Commuter and it was kind of in rough shape after putting over 5000km on it as well as some shoddy repairs by a 3rd party dealer. My bike basically rides like it is brand new again (and there's still a couple of parts yet to come in)! I could not be more pleased with how nice they are and what a great job they've done. I'm so happy to have a proper Pedego dealer in the area.
The Millennium Trail
The Millennium Trail system serves as a County-wide recreational facility for local residents and visitors. The 46-kilometer trail starts in Carrying Place and winds through The County to Picton with various vistas and natural landscapes along the way. Our store is located at the trailhead in Bloomfield. With such a beautiful and expansive trail, owning or renting a Pedego electric bike just makes good sense. Come see us today and check out The Millennium Trail for yourself.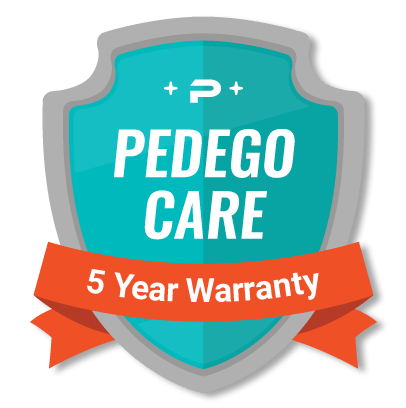 PEDEGO CARE FIVE YEAR WARRANTY
PEDEGO CARE IS MORE THAN A WARRANTY.
IT'S OUR NO EXCUSES PROMISE TO YOU.
Come into our store today to learn more about new 5-year warranty. We are excited to rise above the competition and offer the most comprehensive warranty in the industry!
LEARN MORE
We'd love to hear from you
Sending us a message or give us a call to schedule a test ride or to learn more about Pedego Electric Bikes.