FOLDS IN SECONDS – PERFECT FOR YOUR OFFICE OR CONDOMINIUM.
The first thing you notice when you ride a Latch is that it feels surprisingly like a full-sized bike. It can be adjusted to comfortably fit people of all shapes and sizes. The Pedego Latch can easily be folded in about 30 seconds. Even the pedals fold! An exclusive Pedego latch is engineered for easy folding and smooth riding. Once folded a special clip holds everything together so it's easy to carry. It can be supported by the seat post or tipped over to rest on bumpers attached to the rear rack.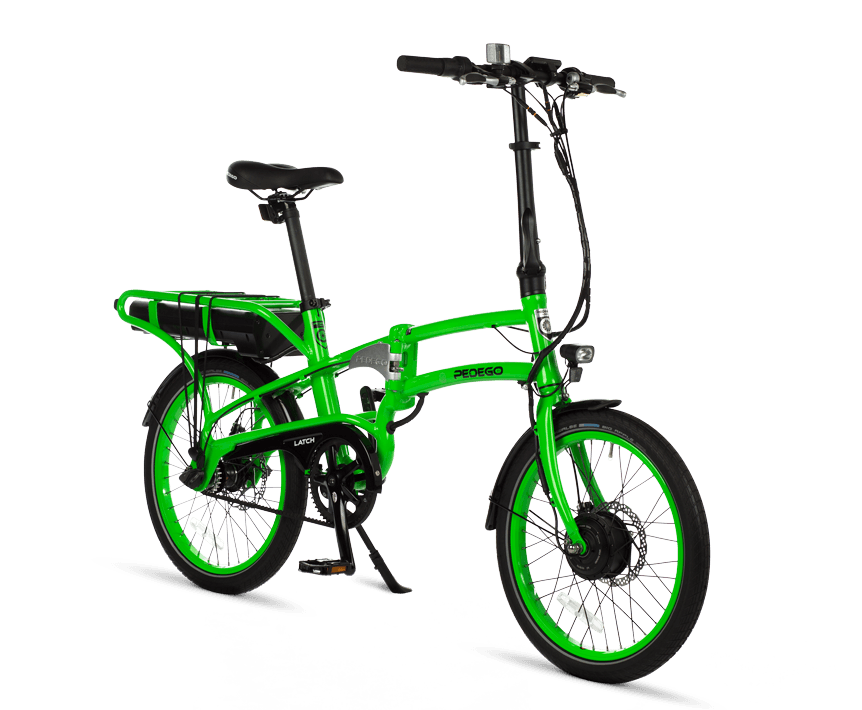 PRACTICAL DESIGN & FIVE YEAR WARRANTY
What really sets the Latch apart from other e-bikes is its design and performance. It's one of the most thougtfully designed folding electric bikes on the market, guaranteed to get you grinning.
Pedego Montebello proudly offers you an industry-leading 5-year warranty on your new Pedego Electric Bike.
SMOOTH RIDE THAT IS CLEAN AND COMPACT
A carbon belt drive gives you a whisper-quiet ride with no messy chain grease. It's been tested to last over 15,000 kilometres – which is almost halfway around the earth. A three-speed internally geared hub provides smooth shifting even at a complete stop.
THE LATCH FOLDING ELECTRIC BIKE