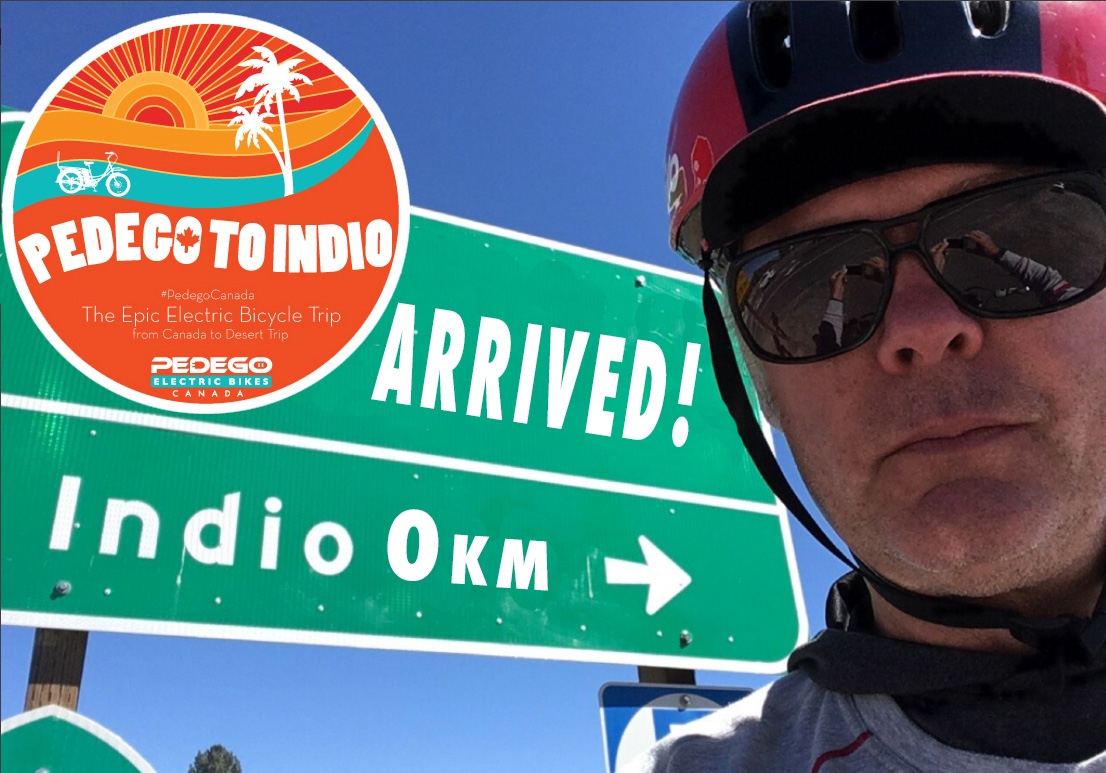 Canadian Man to Embark on First-of-its-Kind Electric Bicycle Trip to See Music Festival in California
For the first time ever, a dedicated music fan will be riding his electric bicycle from Canada to California to attend the Desert Trip concert and see six of the best musical acts of all time. Jon Langille (aged 54) will be leaving his hometown of Nelson, British Columbia, on September 3 and riding his Pedego Stretch cargo electric bike over 2,500 kilometres through four US states until arriving in Indio, California, to attend Desert Trip.
The CBC did a radio feature about Jon immediately before his departure and you can listen to it and learn more about his trip by clicking the play button below:
---
Click here to listen to Jon's interview on CBC:
---
Scroll through the images below to see pics of Jon's journey:
[vls_gf_album id="9900″]
---
Jon says ever since he heard about the Desert Trip concert (which will feature the Stones, Paul McCartney, Bob Dylan, Roger Waters, Neil Young and The Who) he knew he'd attend with his wife Laurie but wasn't sure how they would get there. When it was obvious she wasn't going to be able to take weeks off in order to leisurely make their way south to attend, Jon said in frustration, "Fine, I guess I'll just ride my e-bike down there and meet you."
He then looked it up on Google maps, discovered a workable route, calculated the number of hours involved and realized he actually would be able to ride his bike there. He gave his wife the pitch and she said he should do it. (She'll be flying down the day before the concert begins on October 7.)
"I have some flexibility with my work and am able to take the time off," Jon says. "I contacted Mike at Pedego Canada about the logistics and whether the bike was capable of the journey. He was super supportive and I realized I could really do this."
Mike Clyde, the owner of Pedego Canada, is offering extra electric bike batteries, maintenance supplies and ongoing support for Jon's trip. "This is the first time a Pedego Stretch electric cargo bike is going to be ridden from Canada to the southern United States and I'm really excited to see how well it performs. Plus I give Jon full props for taking on a journey of this magnitude: Pedego to Indio! It's going to be epic."
To download the press release about Jon's journey, please click here: Pedego-to-Indio-Press-Release
Jon's Current Location
It's October 6th and Jon has almost finished his trip. He arrives at the Pedego La Quinta store today at noon for his welcome party! So far he has travelled 2949.9km and spent 132.40 hours on the bike over 19,145m of elevation gain. His longest ride was 157.3km (98 miles) from Klamath Falls, Oregon, to Dunsmuir, California, and his biggest single climb was 1,053m (3,545 feet) to Idyllwild, California.
October 6, 2016: Jon is currently in Coachella Valley, California.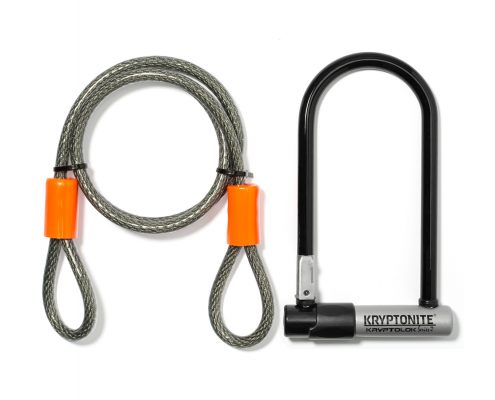 An electric bicycle is an investment and you want to make sure you keep it safe and secure. Here are 3 tips related to security for your electric bike.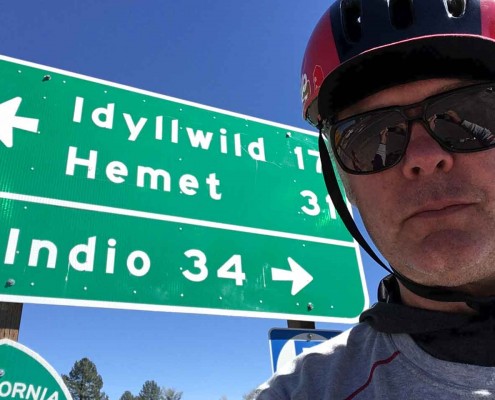 Bike Adventurer Jon Langille is the first Canadian to ride an electric cargo bike 3,000 kilometres on one journey. Here he describes trip highlights.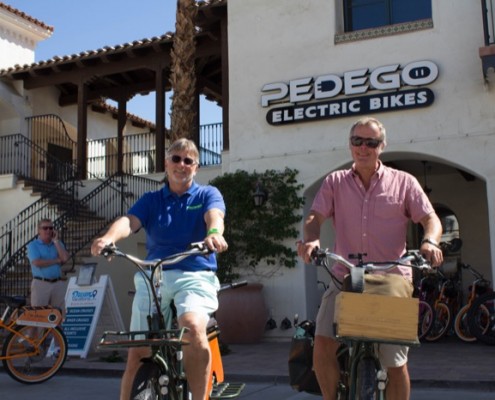 Electric Bike Adventurer Jon Langille describes the strengths and weaknesses of the Pedego Stretch electric bike, which he rode 3,000km in one trip.
The Route from Nelson to Indio
MORE INFO ABOUT JON
Jonathan David Langille

Born 8

th

May, 1961, 54 years old

In the 1980s he rode a regular bicycle in various countries:

Britain and Ireland 1983, 2000 miles

Oregon and California Coast 1984, 1500 miles

Oahu and Maui 1984, 200 miles

Sydney to Melbourne, Australia 1985, 1300 miles

Townsville-McKay and Noosa Heads to Sydney 1986, 1100 miles

Singapore to Surat Thani, Thailand 1986, 1200 miles

Bangkok to Chiang Saen, 1986, 950 miles

He's seen the Rolling Stones live six times from 1981-1994 in LA, Seattle, Miami & Vancouver

He's attended multiple Bob Dylan concerts in Australia, Spokane, Kelowna, & Kamloops over the years

The last time he saw The Who was in 1980 in Vancouver

He's attended the Coachella Festival, held near Indio, California, five times from 2002-2007

He is married and has two young daughters
MORE INFO ABOUT THE PEDEGO STRETCH
48V Lithium Ion battery with Samsung cells

500W brushless geared rear hub motor

Able to reach speeds of 32km/h with maximum motor assist

Five levels of pedal assist mode for a more natural riding experience

LCD display with USB charging port for phone and other devices

Front and rear lights

Twist-and-go throttle for full power on demand

Shimano seven-speed for easy pedaling

Self-sealing tubes help prevent flats

A deluxe saddle with a suspension seat post that provides extra cushioning

A quick release handlebar stem that allows you to easily make adjustments for a perfect fit

Extra wide tires for a nice, smooth ride

Front rack and back rack with special rails that hold standard pannier bags