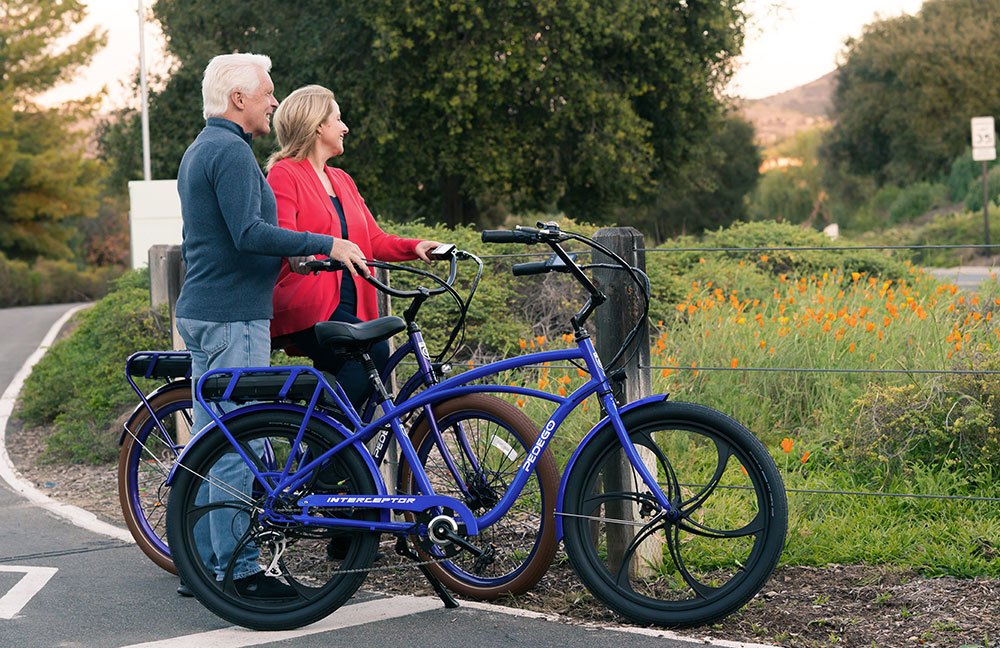 A British study finds equal or more positive health effects for riding an electric bike, compared to riding a normal bike, or not riding outdoors at all.
The study supports the hypothesis that it isn't so much the amount or intensity of the exercise that matters, so whether you ride a Pedego or a regular bike, just getting outside and pedaling provides a health boost to ageing Canadians.
The effect of cycling on cognitive function and well-being in older adults, recently published in PLOS One, examined the cognitive function and wellbeing of people aged 50-83 years.
The researchers split 100 subjects into three groups: non-bikers, regular bikers and ebikers. They asked the subjects to do at least three 30 minute rides per week. Not suprisingly, the group with electric bikes rode for longer time periods each week than the regular bikers (2.39 hours).
The researchers from Reading and Oxford Brookes universities wrote: "Importantly, we showed an equal (if not larger) effect for the e-bike group as well as the pedal cyclists on measures of executive function and well-being."
"Increasing older adults' independence and mobility, reducing isolation and depression, is likely to have a positive impact on their mental health and cognitive function."
The results of the study aren't surprising to us. By riding your electric bike outdoors a few times a week, older people are able to improve their ability to plan, organise and execute everyday tasks.
Read the full abstract here.
One of the most popular online magazines in the United States just wrote a feature about electric bikes and the author touched on something we all need to consider: electric bikes replace car journeys. Called "The Electric Glide — E-bikes are destined for something bigger than replacing regular bicycles" the article appears in February 12 issue of Slate and describes Henry Grabar's experience riding an electric bike around Los Angeles.
Although infamous for its traffic-clogged freeways, L.A. is an excellent city to bike around the writer says because between the clogged arteries are "mile after square mile of low-density, low-stress residential bliss." It was a warm and sunny day when he first got on the electric bike and his description of riding with the motor is typical of most people who try ebikes for the first time. "Reader, I flew, past even the MAMILs (middle-aged men in Lycra) out for their weekend rides. Their glares glanced off my back; other riders seemed perplexed at my speed. I get it. Watching someone ride one of these things is a little like seeing a cat leap 10 feet — it defies what your eyes have gotten used to believing is possible."
"I thought of my e-bike more like a car than a bicycle. And maybe that is the way to think of them: not as high-class bicycles for riders who want to sweat less, but as low-cost, low-maintenance vehicles."
The writer took two long rides throughout the city over the course of the week and came to realize that riding an electric bike, "feels as if you have superhuman strength, and that's how people look at you, too (with a mixture of envy and anxiety."
He then goes on to make the most important point of the article and one that we should all be thinking because electric bikes aren't about replacing traditional bicycle journeys. Many hardcore bikers have the inaccurate notion that riders of electric bicycles are cheating because the motor is assisting in their pedalling. But what would they say if we told them that the other option was driving a car? Because that's the case for many of us: we could burn fossil fuels driving to work or to the store or we could have fun riding an electric bike instead.
In the article, Grabar writes, "I thought of my e-bike more like a car than a bicycle. And maybe that is the way to think of them: not as high-class bicycles for riders who want to sweat less, but as low-cost, low-maintenance vehicles for people who drive three miles to work alone. Think of an e-bike as a replacement for a car, not a manually powered bike, and suddenly it seems cheap. It seems easy. It seems green. Parking is a piece of cake. And unlike a car, it never gets stuck in traffic."
To read the article in its entirety, log on to the story on Slate's website.
One of the great things about owning a Pedego store is you get to meet so many fantastic people. In fact, that's a highlight. As an example, Julie recently told us about how many new friends she's made after she and Ruby opened Pedego Qualicum Beach five years ago. "I could go on and on about how many friends we have now," she says. "We love that people shop locally. For us it's all about service and smiles."
Buying an electric bike at a store is one of the most pleasurable experiences you can have. Especially at a Pedego store because they're so colourful and fun. It's the complete opposite of purchasing an ebike online. Your computer is never going to smile back at you and then tell you all the amazing, secret trails around your area. It's not going to introduce you to others. Sure, it may give you a discount, but at what cost? If something breaks on your electric bike will your computer fix it?
We were inspired by Independent Bike Store Day on March 24th to list the reasons why people should buy an electric bike at a store versus purchasing one online. The exception to that rule is purchasing an electric bike on the products page of our website because in most every case we'll send the electric bike to your closest bicycle store to have them build it and pass along the support you'll need to thoroughly enjoy your electric bike experience.
So, without further ado, here are eight reasons why you should by an electric bike at a store.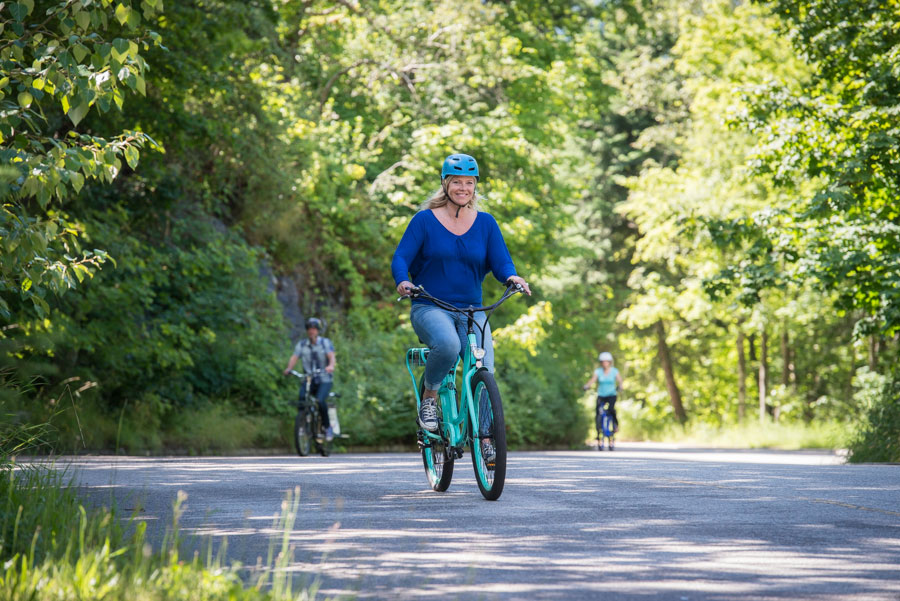 You Can Try A Bike Before You Buy And Compare Models
A bike isn't a book. You have to get comfortable with it and on it. The owners and employees in the stores live and breathe bikes and have the expert information to get you on the right one. For example, do you know the realistic distances you are likely to get on a 48V 10Ah versus a 48V 15Ah battery? It's not the often-inflated claims published online. Or, why does the Stretch cargo bike have a 24-inch wheel and what differences does it make versus the 26-inch and 28-inch options on the City Commuters? We recommend visiting a store and trying them all to decide what's best for you.
Your Bike Is Built For You
Have you ever tried putting together a piece of IKEA furniture? Even those without moving parts can be frustrating to build in your home. There's a reason every bike store has at least one person on site with a mechanic's certificate. It's so they can effectively and safely assemble the bikes, check all the fastenings and set up such important items as brakes. You don't want to mess up setting those up!
You Receive Ongoing Support
This is one of the best reasons why you should buy an electric bike at a store. Electric bike manufacturers that only sell their products online can offer a discounted price but when something breaks, or when regular maintenance is required, you're often left on your own. All Pedego bikes come with a two-year warranty and many stores offer tune-ups as part of the purchase price. Unless you're a bike mechanic, you're going to have to visit a bike store eventually. And there's a chance they may not know how to fix the electric bike you purchased online.
You Make Connections
As mentioned above, buying an electric bike is a fun, social experience. Some people require multiple visits to bike stores to decide on an ebike they want and over time you'll get to know your local store owner and the mechanics. They'll introduce you to others who love to bike and you'll make new friends who will want to go ride with you outdoors rather than just interact with you on social media.
You'll Get Answers & Advice About Upgrades & Accessories
Quick: what's the weight difference between spoke wheels and mag tires? And do you know if that child trailer you're looking at can easily fit onto your ebike? How about what's the best lock to use? Sure, you could spend time looking up the questions to those answers online but what about the questions you don't know that you don't know? A shop owner or employee is there to help answer all your questions and provide advice about what model is right for you as well as what upgrades and accessories you should consider.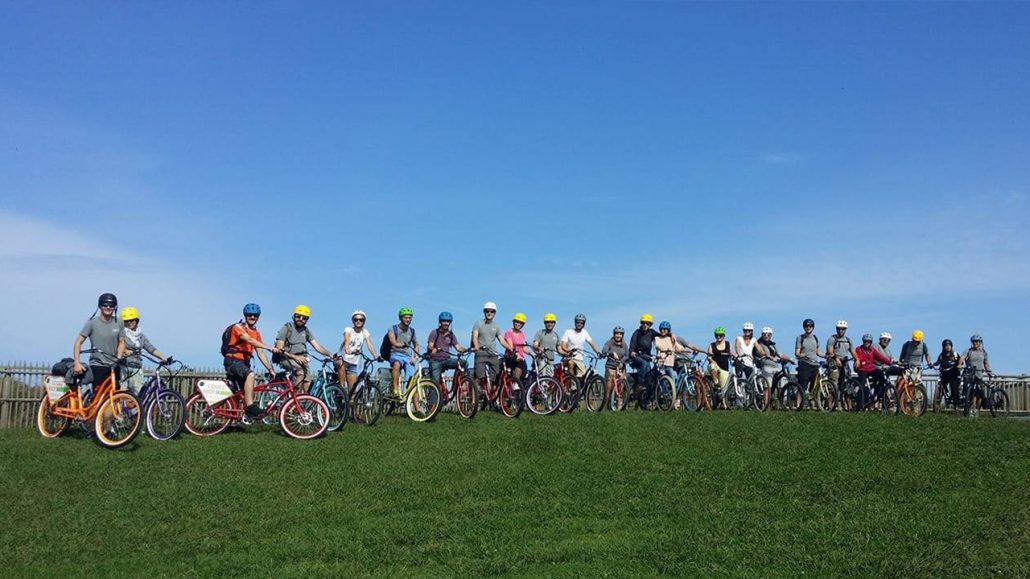 You'll Be Part Of A Community
One of the best things about owning a Pedego electric bike is that there are other Pedego riders out there looking to ride with you. In fact, there's a reason so many bike stores have coffee shops attached to them now — it's because being a bicycle rider automatically makes you a member of a community of other like-minded people. Sure, this can happen online. (For example, we just heard from Pedego owners in Richmond, BC, who met an Oregon couple on the American Pedego Owners Facebook page and they went riding together in California.) But it's a lot easier, faster and more powerful to just head down to your local bike shop and say hi.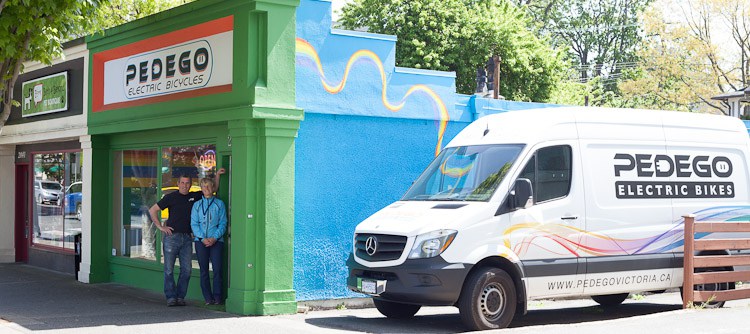 You'll Benefit Your Local Economy
We forget that it's the independent stores that keep our local economies flourishing. A dollar spent within your community stays within your community. By purchasing something online, you're only benefitting the company at the end of the line. For example, think of the little league teams and local charities in your area that are supported by local businesses. Large online corporations aren't doing that.
You'll Get Out Of The House
We all spend far too much time in front of screens in our daily lives. Get off the couch, get out of the house and visit your local bike store. Those first strides out your door will literally be the first steps you take to an exciting and fun new life involving an electric bicycle.
So, to sum it all up, there are benefits for you, for the shop owner and employees and for your community as a whole when you purchase an electric bike at a store. But don't just take our word for it. Why do you shop at your local bike store? Or why do you not? Let us know in the comments section below.