From farms to conservation land, wineries to waterfronts, Ontario is a fantastic destination for bike tourism. Whether you are taking weekend trips from Toronto, or spending the whole summer touring the lakes, you'll experience a huge variety of riding. Single track, double track, converted rail trails, gravel roads, multi-use paths and bike shoulders, there is a great variety in every itinerary.
Going by electric bicycle is a great way to see even more of Canada's second largest province. Just ask any Pedego owner if they ride more since buying an ebike! And, if you need more than 10 rides this summer, grab Ontario By Bikes's 2019 riding guide. If you need an electric bike, visit Pedego Kawartha Lakes or Pedego Prince Edward County: rent for a one-off adventure, or buy one forever.

WALTER BEAN TRAIL, WATERLOO
This 35km return trip starts at Schneider Park and runs along the old Grand Trunk Railway Line to Cambridge. Enjoy river views, historic mills and one of Ontario's prettiest downtowns filled with lovely stone architecture.
STURGEON LAKE, KAWARTHA LAKES
Make Kawartha Lakes your destination for some spectacular lakeside riding, following County Road 24 out of Bobcaygeon along Sturgeon Lake. There are a selection of secondary roads intersecting the Trent Severn Waterway and lock stations. Pedego Kawartha Lakes rents bikes for this route (and the next one)
KEN REID CONSERVATION AREA, LINDSAY
A great ride for novice and intermediate riders is in the Ken Reid Conservation Area a 5km ride north of Lindsay along the Victoria Rail Trail. The 10km trail network is relatively flat with many rest areas and water features on the southern arm of Sturgeon Lake. Even better, the whisper quiet motor on a Pedego won't interrupt the birding. Visit Pedego Lindsay for maps and bikes.
COUNTY ROADS 18 and 16, MORRISBURG
For riding on paved shoulders, the County Roads 18 and 16 provide a 40km lollipop route including the Great Lakes Waterfront Trail. The flat agricultural lands spanning the horizon call to mind The Netherlands, as does the joy of cycling on the road instead of driving a car.

PRESCOTT RUSSELL RECREATIONAL TRAIL, ST EUGENE
The 72km Prescott Russell Recreational Trail stretches from St-Eugène in the east to the village of Hammond in the west. For those looking for a recreational overnight trip, ride from Vankleek Hill to Plantagenet along the trail. Overnight in Plantagenet before pedalling the paved shoulders north and east along the Ottawa River back to Vankleek Hill for a 76km loop.

MILLENNIUM TRAIL, PRINCE EDWARD COUNTY
Acquired by The County from the Canadian National Railway in 1997, the Millennium Trail is a re-purposed abandoned rail line that was converted into a multi-use recreational feature for the enjoyment of County residents and visitors. The 46-kilometre multi-use trail stretches from Carrying Place at County Road 64 to Picton at County Road 49, passing near Consecon, Wellington, and Bloomfield. You'll find Pedego Prince Edward County smack bang in the middle of it, with a large rental fleet including an electric tandem bicycle.

TURKEY POINT, PORT RYERSE
Turkey Point has approximately 65 km of well-maintained and signed singletrack trails both within and adjacent to Turkey Point Provincial Park and St. Williams Conservation Reserve. Beginners have plenty of terrain to explore; and it is possible to rent electric bikes from Ontario's South Coast Bicycles nearby Port Ryerse.
WILDWOOD CONSERVATION AREA, ST MARYS
If you're really into natural surfaces, in Pedego-speak that means an Elevate, Trail Tracker or Ridge Rider, the Wildwood Conservation Area has approximately 30 km of trails, including a 24km loop Lake Trail of mostly single track. It is directional meaning that on even-days it rides clockwise and on odd-days, counter-clockwise.

VICTORIA RAIL TRAIL, FENELON FALLS
The trail takes you from Lindsay north for 22 kilometres along Sturgeon Lake to Fenelon Falls.  During the summer months the bridge crossing this waterway is swung open to allow boater traffic through. Rent a bike from Pedego Lindsay and ride north to the falls and back.
GREAT WATERFRONT TRAIL
The first nine aren't enough? Tackle the Great Lakes Waterfront Trail—3,000 km of breathtaking waterfront on the Great Lakes and St. Lawrence River, running from Sault Ste. Marie to Sudbury!
Electric bikes are a lot of fun to ride in the winter, as we've already said in our previous article, "How to Prepare Your Electric Bike for Winter Riding." But, as that story mentioned, there are key things you can do to get ready for the season, including switching out your tires to studded tires, rust proofing certain areas of your bike and getting warm clothes, winter boots and a waterproof, breathable jacket. But what should you do to maintain your electric bike throughout the winter?
Store Your Electric Bike Properly
If you choose to store your bike between November and March, rather that ride it, there are things you should do to maintain your electric bike. For example, if you're storing it, make sure to keep it in a dry location that's not too hot or too cold. If you have to leave it in an unheated shed over the winter, for example, remove the battery and store it inside the house. Also, don't charge your battery if it's very cold (below freezing) as that does harm to the cells. Instead, wait for it to be at room temperature before charging. And, as mentioned in our "How To Take Care of Your Lithium Battery" blog, make sure your battery is partially charged when storing, preferably between 40% and 80%, and check its charge occasionally.
Wipe Down Your Electric Bike After Every Ride
If you are  riding your electric bike in the winter time, try to avoid doing so when it's very slushy outside as the watery, salty snow can get embedded in your gears and seep into hard-to-reach areas. That said, wiping down your electric bike after every ride will help a lot. We recommend you follow the instructions we laid out in our "How to Clean Your Electric Bike" article. But we also know it can be hard to rinse a bike in the wintertime so instead wipe it down with an old cloth after every ride. This may seem like a lot but it's important that salty water from the roads not be allowed to dry on your bike. Fenders do an excellent job of keeping water from getting into the frame but they don't protect your rims, spokes, chainrings and chain. So give those a quick wipe to dry them before storing for the night.
Clean Your Chain Regularly
It's not enough to wipe down your chain regularly – it's important to clean it and use a bike chain-specific lubricant regularly. If the chain has a lot of dirt or grime build-up, use a chain solvent such as Simple Green or warm water and any degreasing dish soap, and an old toothbrush to scrub away the grim. It doesn't take very long but it will save you money to have a professional unclog all the gunk in your chain later. Then use a bike chain lubricant on it liberally to ward off rust.
One of the great things about owning a Pedego store is you get to meet so many fantastic people. In fact, that's a highlight. As an example, Julie recently told us about how many new friends she's made after she and Ruby opened Pedego Qualicum Beach five years ago. "I could go on and on about how many friends we have now," she says. "We love that people shop locally. For us it's all about service and smiles."
Buying an electric bike at a store is one of the most pleasurable experiences you can have. Especially at a Pedego store because they're so colourful and fun. It's the complete opposite of purchasing an ebike online. Your computer is never going to smile back at you and then tell you all the amazing, secret trails around your area. It's not going to introduce you to others. Sure, it may give you a discount, but at what cost? If something breaks on your electric bike will your computer fix it?
We were inspired by Independent Bike Store Day on March 24th to list the reasons why people should buy an electric bike at a store versus purchasing one online. The exception to that rule is purchasing an electric bike on the products page of our website because in most every case we'll send the electric bike to your closest bicycle store to have them build it and pass along the support you'll need to thoroughly enjoy your electric bike experience.
So, without further ado, here are eight reasons why you should by an electric bike at a store.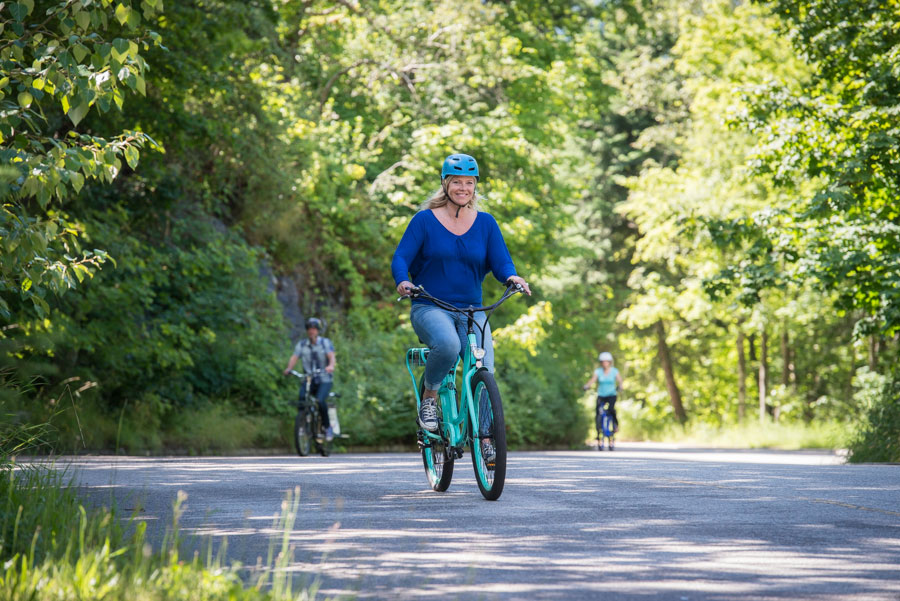 You Can Try A Bike Before You Buy And Compare Models
A bike isn't a book. You have to get comfortable with it and on it. The owners and employees in the stores live and breathe bikes and have the expert information to get you on the right one. For example, do you know the realistic distances you are likely to get on a 48V 10Ah versus a 48V 15Ah battery? It's not the often-inflated claims published online. Or, why does the Stretch cargo bike have a 24-inch wheel and what differences does it make versus the 26-inch and 28-inch options on the City Commuters? We recommend visiting a store and trying them all to decide what's best for you.
Your Bike Is Built For You
Have you ever tried putting together a piece of IKEA furniture? Even those without moving parts can be frustrating to build in your home. There's a reason every bike store has at least one person on site with a mechanic's certificate. It's so they can effectively and safely assemble the bikes, check all the fastenings and set up such important items as brakes. You don't want to mess up setting those up!
You Receive Ongoing Support
This is one of the best reasons why you should buy an electric bike at a store. Electric bike manufacturers that only sell their products online can offer a discounted price but when something breaks, or when regular maintenance is required, you're often left on your own. All Pedego bikes come with a two-year warranty and many stores offer tune-ups as part of the purchase price. Unless you're a bike mechanic, you're going to have to visit a bike store eventually. And there's a chance they may not know how to fix the electric bike you purchased online.
You Make Connections
As mentioned above, buying an electric bike is a fun, social experience. Some people require multiple visits to bike stores to decide on an ebike they want and over time you'll get to know your local store owner and the mechanics. They'll introduce you to others who love to bike and you'll make new friends who will want to go ride with you outdoors rather than just interact with you on social media.
You'll Get Answers & Advice About Upgrades & Accessories
Quick: what's the weight difference between spoke wheels and mag tires? And do you know if that child trailer you're looking at can easily fit onto your ebike? How about what's the best lock to use? Sure, you could spend time looking up the questions to those answers online but what about the questions you don't know that you don't know? A shop owner or employee is there to help answer all your questions and provide advice about what model is right for you as well as what upgrades and accessories you should consider.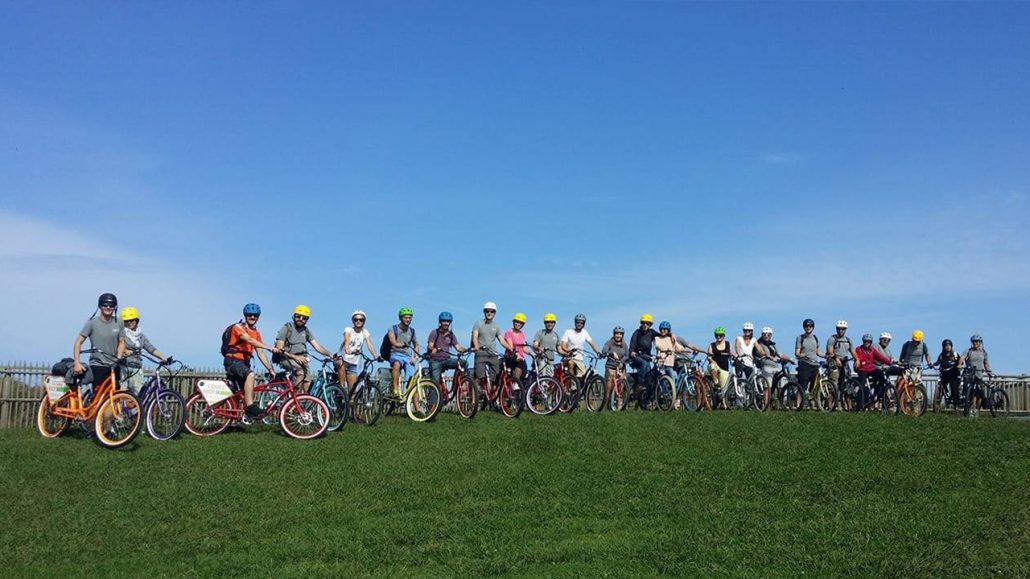 You'll Be Part Of A Community
One of the best things about owning a Pedego electric bike is that there are other Pedego riders out there looking to ride with you. In fact, there's a reason so many bike stores have coffee shops attached to them now — it's because being a bicycle rider automatically makes you a member of a community of other like-minded people. Sure, this can happen online. (For example, we just heard from Pedego owners in Richmond, BC, who met an Oregon couple on the American Pedego Owners Facebook page and they went riding together in California.) But it's a lot easier, faster and more powerful to just head down to your local bike shop and say hi.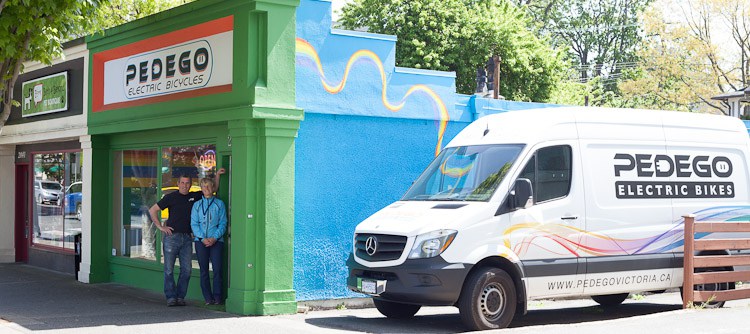 You'll Benefit Your Local Economy
We forget that it's the independent stores that keep our local economies flourishing. A dollar spent within your community stays within your community. By purchasing something online, you're only benefitting the company at the end of the line. For example, think of the little league teams and local charities in your area that are supported by local businesses. Large online corporations aren't doing that.
You'll Get Out Of The House
We all spend far too much time in front of screens in our daily lives. Get off the couch, get out of the house and visit your local bike store. Those first strides out your door will literally be the first steps you take to an exciting and fun new life involving an electric bicycle.
So, to sum it all up, there are benefits for you, for the shop owner and employees and for your community as a whole when you purchase an electric bike at a store. But don't just take our word for it. Why do you shop at your local bike store? Or why do you not? Let us know in the comments section below.