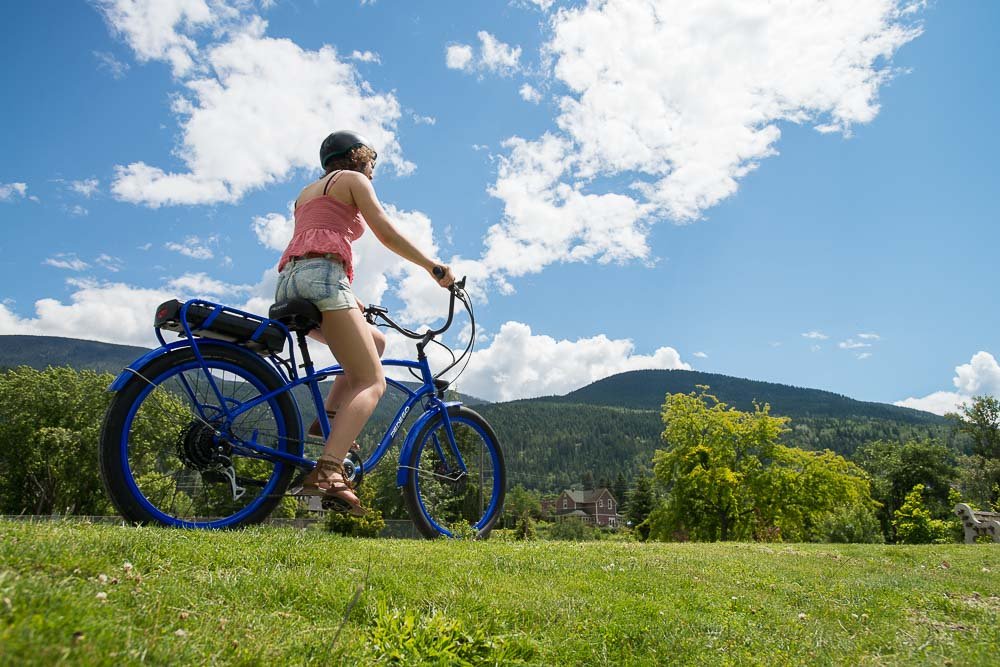 The Province of British Columbia is developing a framework for active transportation called Clean BC. We're at a critical point where government policies will be determined and influenced, and we want you to have a say.
Pedego Electric Bikes Canada has been chatting to the BC government, fellow bikers and the City of Nelson about making transport more active: getting out of cars, and onto bikes. Some of the things we've been advocating for is more bike paths, safe passing laws and waiving the Provincial Sales Tax on electric bicycles (as it is for electric cars and motorbikes).
We attended a Clean BC forum in Nelson last month, along with friends from West Kootenay Cycling Coalition, Selkirk College and Gerick Cycle and Ski. It was our chance to say what electric bike lovers would like to see adopted in the province-wide active transportation strategy.
You don't have to attend a meeting to have input. There is an online consultation until April 15 at https://engage.gov.bc.ca/activetransportation/ You can enter quick answers about how active transport fits into your life, your concerns and challenges, and the most important thing the government could do for your community.
Please, take a minute and lend your voice to this important conversation. Whether we eliminate the PST on electric bikes, or ensure more bike paths and shelters are built (not only roads and carparks), together we can make British Columbia become even more bike-friendly.
Electric bikes are a lot of fun to ride in the winter, as we've already said in our previous article, "How to Prepare Your Electric Bike for Winter Riding." But, as that story mentioned, there are key things you can do to get ready for the season, including switching out your tires to studded tires, rust proofing certain areas of your bike and getting warm clothes, winter boots and a waterproof, breathable jacket. But what should you do to maintain your electric bike throughout the winter?
Store Your Electric Bike Properly
If you choose to store your bike between November and March, rather that ride it, there are things you should do to maintain your electric bike. For example, if you're storing it, make sure to keep it in a dry location that's not too hot or too cold. If you have to leave it in an unheated shed over the winter, for example, remove the battery and store it inside the house. Also, don't charge your battery if it's very cold (below freezing) as that does harm to the cells. Instead, wait for it to be at room temperature before charging. And, as mentioned in our "How To Take Care of Your Lithium Battery" blog, make sure your battery is partially charged when storing, preferably between 40% and 80%, and check its charge occasionally.
Wipe Down Your Electric Bike After Every Ride
If you are  riding your electric bike in the winter time, try to avoid doing so when it's very slushy outside as the watery, salty snow can get embedded in your gears and seep into hard-to-reach areas. That said, wiping down your electric bike after every ride will help a lot. We recommend you follow the instructions we laid out in our "How to Clean Your Electric Bike" article. But we also know it can be hard to rinse a bike in the wintertime so instead wipe it down with an old cloth after every ride. This may seem like a lot but it's important that salty water from the roads not be allowed to dry on your bike. Fenders do an excellent job of keeping water from getting into the frame but they don't protect your rims, spokes, chainrings and chain. So give those a quick wipe to dry them before storing for the night.
Clean Your Chain Regularly
It's not enough to wipe down your chain regularly – it's important to clean it and use a bike chain-specific lubricant regularly. If the chain has a lot of dirt or grime build-up, use a chain solvent such as Simple Green or warm water and any degreasing dish soap, and an old toothbrush to scrub away the grim. It doesn't take very long but it will save you money to have a professional unclog all the gunk in your chain later. Then use a bike chain lubricant on it liberally to ward off rust.
One of the most popular online magazines in the United States just wrote a feature about electric bikes and the author touched on something we all need to consider: electric bikes replace car journeys. Called "The Electric Glide — E-bikes are destined for something bigger than replacing regular bicycles" the article appears in February 12 issue of Slate and describes Henry Grabar's experience riding an electric bike around Los Angeles.
Although infamous for its traffic-clogged freeways, L.A. is an excellent city to bike around the writer says because between the clogged arteries are "mile after square mile of low-density, low-stress residential bliss." It was a warm and sunny day when he first got on the electric bike and his description of riding with the motor is typical of most people who try ebikes for the first time. "Reader, I flew, past even the MAMILs (middle-aged men in Lycra) out for their weekend rides. Their glares glanced off my back; other riders seemed perplexed at my speed. I get it. Watching someone ride one of these things is a little like seeing a cat leap 10 feet — it defies what your eyes have gotten used to believing is possible."
"I thought of my e-bike more like a car than a bicycle. And maybe that is the way to think of them: not as high-class bicycles for riders who want to sweat less, but as low-cost, low-maintenance vehicles."
The writer took two long rides throughout the city over the course of the week and came to realize that riding an electric bike, "feels as if you have superhuman strength, and that's how people look at you, too (with a mixture of envy and anxiety."
He then goes on to make the most important point of the article and one that we should all be thinking because electric bikes aren't about replacing traditional bicycle journeys. Many hardcore bikers have the inaccurate notion that riders of electric bicycles are cheating because the motor is assisting in their pedalling. But what would they say if we told them that the other option was driving a car? Because that's the case for many of us: we could burn fossil fuels driving to work or to the store or we could have fun riding an electric bike instead.
In the article, Grabar writes, "I thought of my e-bike more like a car than a bicycle. And maybe that is the way to think of them: not as high-class bicycles for riders who want to sweat less, but as low-cost, low-maintenance vehicles for people who drive three miles to work alone. Think of an e-bike as a replacement for a car, not a manually powered bike, and suddenly it seems cheap. It seems easy. It seems green. Parking is a piece of cake. And unlike a car, it never gets stuck in traffic."
To read the article in its entirety, log on to the story on Slate's website.