Meet the friendly owner of Pedego Oyama
Meet the Frasers and the Fricks, four lifelong friends who have brought Pedego electric bikes to Canada's beautiful Okanagan Valley.
The F & Fs, as they call themselves, started renting electric bicycles to tourists when a converted rail trail opened along their backyard in Coldstream, British Columbia. The 50-kilometre trail stretches from Kelowna to Vernon, hugging lake shorelines and linking small communities in the valley. Canada's first beachfront store, Pedego Oyama, has sprung up at the half-way point.
It's the perfect location because riders can enjoy the trails here for most of the year! The Okanagan Valley is officially a desert, although one strewn with many lakes including the 135-kilometre-long Okanagan Lake. Low rainfall and high temperatures allow swimming here for six months of the year and riding a Pedego in shorts for even longer!
At Pedego Oyama, Murray Fraser manages electric bike sales, services and rentals while Daryl Frick is backstage looking after the land, building and services. Sheila Fraser and Susan Frick promote the Pedego lifestyle riding in town and along Kalamalka Lake with friends, children and grandchildren in tow. It is hard to talk to four people at once. so here are half the F's talking about their experience opening Pedego Oyama.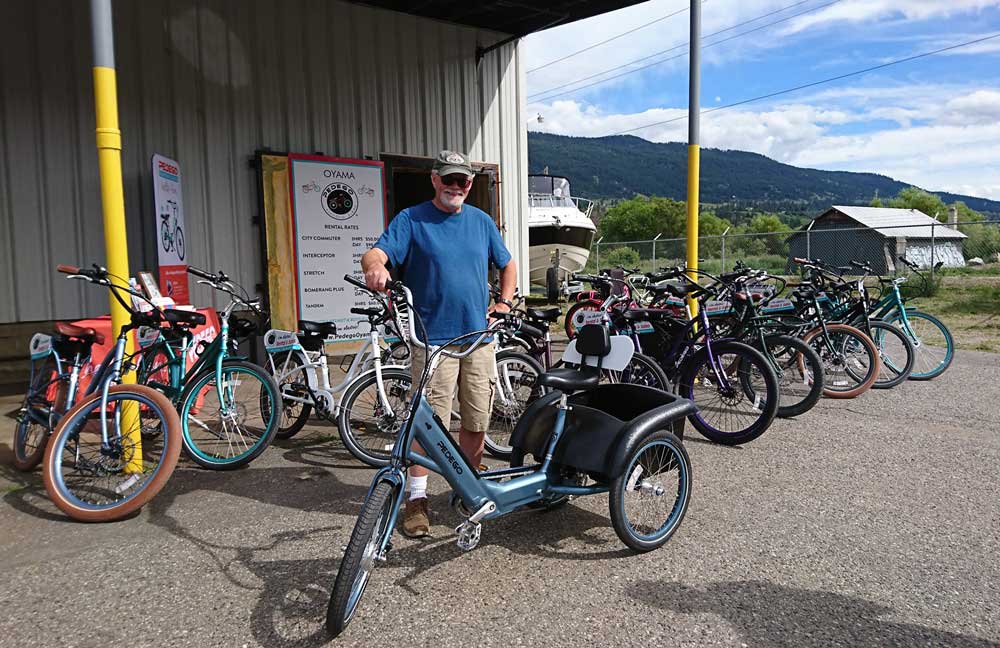 How do you know each other? 
Susan: I was best friends with Murray's sister. Years later when he introduced Sheila to us, it turned out she grew up in the house next door to mine. We are closeknit.
Murray: I met Daryl in grade six when his school burned down and he moved to my school in South Vancouver. One of my first memories of Daryl is looking out the school window to see him driving past, probably about 15. He finished Grade 9 then went out to work installing carpets.
If you all started life in Vancouver, how did you end up in the Okanagan?
Susan: We moved to Coldstream 23 years ago. We had a vacation property here and fell in love with the Okanagan. We bought the Kal Lake Store as an investment. Within a few years the managers left so Daryl and I turned to each other and said: "I guess we're becoming storekeepers". Before then I worked in a bank and Daryl was a builder. We were so out of place at the beginning, we felt like the Beverly Hillbillies!
Murray: Sheila and I would come to Coldstream every holiday. Susan and Daryl would put us to work in the store, we'd all pitch in and have the best time together. Sheila works all over BC and Alberta in retail and I worked as a mechanic, truck driver, salesman and manager for a long time in Vancouver before the time was right to move here.
What made you open a Pedego Electric Bikes store?
Susan: The effort going into building the Okanagan Rail Trail really caught our eye. When we moved here there was a train that ran along it. It was a working railway. Now they are promoting bike riding hugely. I thought people were going to hike the trail but 9 out of 10 people ride. It's amazing to see the people riding they start at 5am in the morning!
Murray: Last year the four of us were in Arizona at the Barret Jackson car auction. Pedego Scottsdale had a set of bikes there and were giving away free rides. We thought this might be a fun thing to do so the next day we went to the store.
Susan: We rode Interceptors and City Commuters. We hadn't ridden for years. We got on these things and went "wow, now I can ride". Then we talked to Kathy a lot about the business and to her mechanic about the bikes.
Murray: Sheila and I went on to Maui, we met the Pedego dealer there and that kind of cinched it.
Pedego Oyama is Canada's only beachfront Pedego store. What's the link to the Oyama Yacht Club?
Susan: Daryl started using it for boat storage about 2015, and it became a yacht storage and valet business. It used to be a fruit packing shed. Murray, when you used to be a truck driver, didn't you pick up fruit from it? Also, there used to be suites above the shed where my uncle, aunty and cousin lived for a few months in 1956. One day we drove past in the boat and they said "wait, we lived there". There is one suite left but I don't know if I would live up there now! It's eclectic, probably the most different Pedego store in Canada.
Murray: Like Lake Country, Pedego Oyama is low key and laid back. It is an outdoor store and we're trying to keep it that way, thanks to the Okanagan weather. And because we're literally within an existing yacht storage facility, it is about boats and bikes. What could be better?
Describe Lake Country and the beautiful Okanagan Valley.
Susan: We have it all: lakes, mountains, orchards vineyards, golf courses, provincial parks. The Okanagan is about relaxation and having fun. It's like Hawaii. People who come are enjoying themselves, and riding these bikes puts a smile on everybody's face.
Murray: The Okanagan is unique because it is a desert within Canada. It is an arid landscape with hot temperatures and low rainfall. Yet we also have water, productive farmland and beaches because of the lakes. There are six wineries west of our store, once construction is finished on Pelmash Way we will be able to tour them by Pedego.
What are your goals for Pedego Oyama?
Susan: I haven't dipped my feet in very much. It is a business for Murray and Sheila to run. Though I can see how positive it is, when Murray comes home he always has a smile on his face.
Murray: I'd like to have three new pairs of shorts, because that's all I need to wear to work. Sheila and I would also like to have sold up in Vancouver and be permanently living here with Daryl and Susan. I'd also like to sell lots of Pedego Electric Bikes.
You guys have a lot of support from the local community don't you?
Susan: We have two sons and five grandchildren and we all live within 300 feet of each other in Coldstream. My son now rides a Pedego to work, he doesn't fight any traffic and it takes about seven minutes into Vernon. He has to get up a hill to get home, this is where Pedegos step in! Our grandkids all want one but we're standing firm: you have to be of age first (16) so they sit on the back of the Stretch quite happily. We are very family oriented. When we moved here from Vancouver, the community supported us 110%. They became our family.
What would you say is the main purpose of your store?
Murray: Lifestyle. It's a more laidback lifestyle renting and selling electric bikes in Oyama. We get to work with our lifelong friends. It is about our lifestyle.
If your company was an animal, what would it be?
Murray: A golden retriever, a cool and neat dog with a great personality that is everyone's friends and is always happy.