Stretch - Electric Cargo Bike
The Stretch is a one-of-a-kind cargo bike that delivers the goods – literally. It empowers you to haul people and stuff with ease.
400 Pound Capacity

The Stretch comes standard with useful cargo accessories to carry loads of all shapes and sizes. You can easily carry kids and grown-ups with optional accessories.

Surprisingly Nimble

The first thing you notice when you ride a Stretch is how nimble it feels. Its relatively short wheelbase, and low battery position make it feel balanced no matter what you're carrying. The front cargo tray is fixed to the frame: it won't tip when turning a tight corner!
Work Horse
The Stretch has extra strength, more torque and a bigger battery making it the "truck" of the Pedego family. It's one of the most powerful electric cargo bikes in the Canadian market, and it's just plain fun and exciting to ride.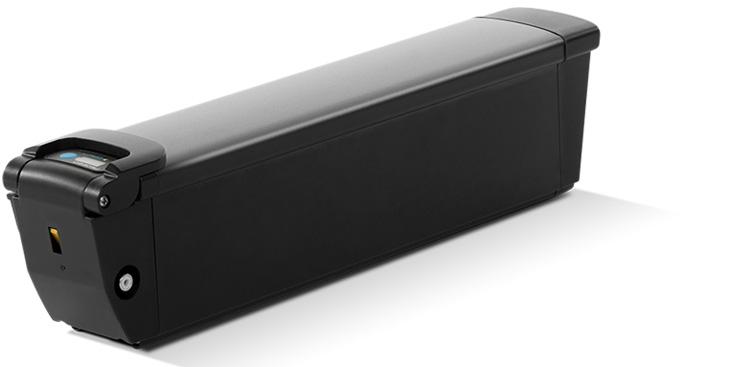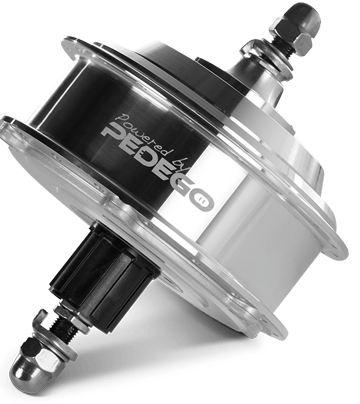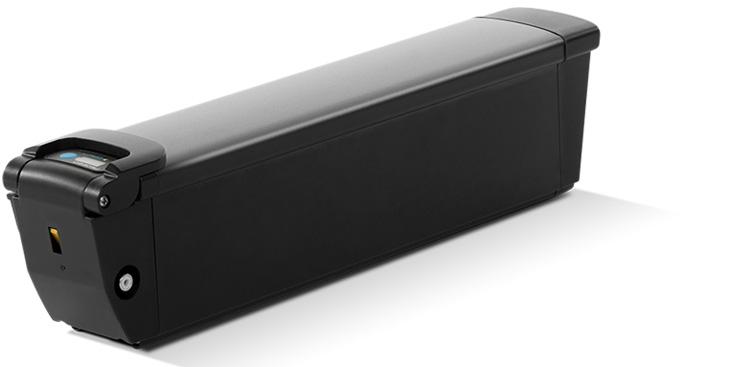 A state-of-the-art 48 Volt battery uses the same advanced lithium-ion cells as an electric car. It can take you up to 100 kilometres on about 10 cents worth of electricity.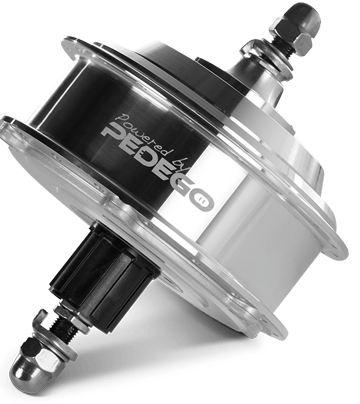 A 500 watt motor delivers a quiet boost to your pedalling, or choose throttle only, helping you bring your kids and cargo along for the ride.
Small Details make a Big Difference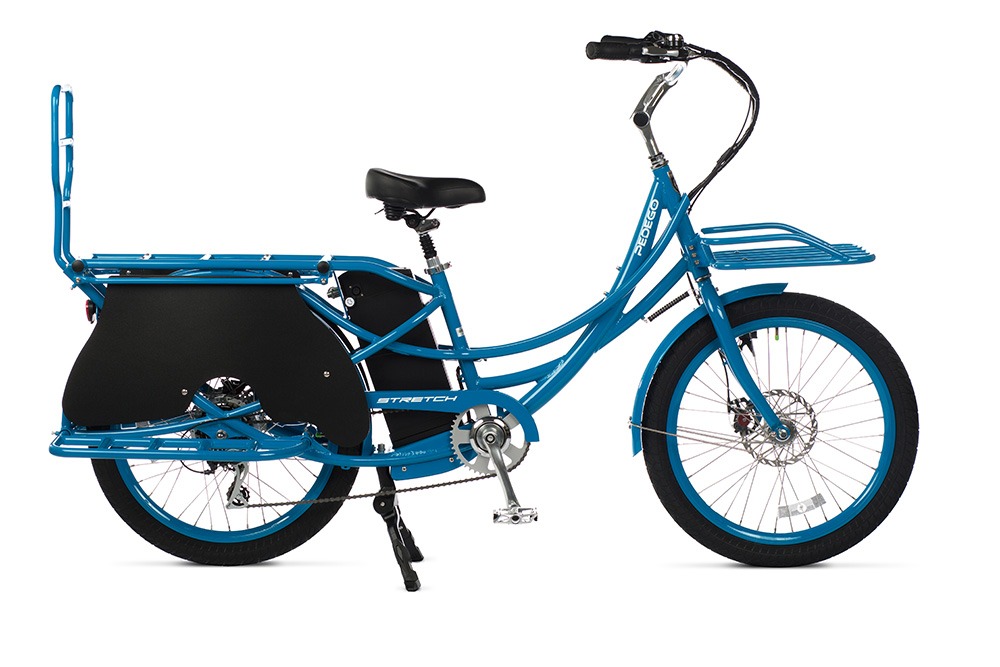 Stretch – Electric Cargo Bike
Stretch – Electric Cargo Bike
"PRICE IS WHAT YOU PAY.
VALUE IS WHAT YOU GET."
Pedego Electric Bikes are not the highest or lowest priced.
They are the greatest value.
SHARE WHAT YOU LOVE ABOUT YOUR PEDEGO!
WHAT CUSTOMERS ARE SAYING
When we say that Pedego Electric Bikes are the best, it's just bragging. But when our customers say it – it's proof!
Find Freedom

I love the ease of the ride. It has alot of power and gets me home at the end of the day up a huge hill. At rush hour, the traffic is moving slow and I get to wave at the motorist as I pass them by. I attached a small dog carrier on my rack and I take my Westie with me all over town an to work. It's a very reliable way to get around town. I ride 7 miles each way to work. It takes me 20-25 minutes. But when I drive it takes me 15-25 minutes, depending on the traffic. I am 57 and a CEO of my travel agency. After a busy day at the office, it's s great way to relax on my way home. Do I need to say more? Get a Pedego and find your freedom.

Two Wheeled Wonder

Our Stretch cargo bike was outfitted to transport a passenger. Both my 12 yo and 6 yo can ride with me on our cargo bike to all of our in town destinations. My husband and I have indulged in many a date evening via our stretch cargo bike. What a valuable & positive impact on both my families ease of use and our environmental responsibility. We love our Pedego family bike.

Durable...Even in the Snow!

We live in Boulder, Colorado. We bought our Stretch from the local dealer. Kingsley and his team are just fantastic. Its like having a pit crew ready to help if anything goes wrong. Always accessible. We ride throughout the year and have even been taking our kids to school in the snow. The Stretch has been a workhorse for use and I wouldn't trade it for the world.

Love to Stretch

We got our bikes at Pedego Henderson, NV. The reason we got electric bikes was the safety factor of knowing that we could get back home even if we got too tired to pedal. I love to bike but have a hip problem and stopped riding until I found the stretch electric model Pedego, this bike gave me the confidence to take longer rides without fear on not being able to get back. We took a vacation in the Florida Keys and took the bikes. We were doing 30 mile trips, visiting the different islands without any issues. Best purchase we ever done.

Ready for adventure!

I never thought I would own a bike with a motor, but the Pedego has been an endless adventure for our family. We purchased the stretch as I am always with one of our three children running to our he grocery store, park or just spending time together! We love being outdoors together and the Pedego makes it so enjoyable. A way to experience natural beauty like never before. We are enjoying the adventure!

Kids and Cargo

We have a 4yo and a 6yo and they absolutely love the Stretch! It's basically like the minivan of bikes (in a good way :)). We put about 1000 miles on it in the first summer alone and plan on many more in the coming years. It's definitely a car alternative – but more than that, it's super fun for us and the kids!

My interest for the Stretch model was the opportunity to explore our city at ease, but have the ability to carry cargo and more importantly our twin boys. My wife and contemplated it decision for a few weeks, its not any easy to swallow purchase.

We pulled the trigger and we haven't looked back. We have enjoyed our Pedego so much we returned and purchased another model for my wife!! We use them more often then our cars for going around for errands and, as foodies, trying new restaurants. You won't regret them. Our experience with Carlsbad Store has been fantastic service. Feel like part of the family there!!

I love, love, LOVE my Stretch

This bike has changed my life completely. I have a four year old, and we go EVERYWHERE with this thing. All over Brooklyn, NY. To school, playdates, classes, the park, on adventures that take us to parts of the city we would have never ventured to. Plus we can make several stops over the course of one day and don't have to worry about parking or public transportation.

The bike feels safe and secure, which was a big must for me. It took be about a week to get used to it (my first e-bike), and I've never looked back. 500 miles and counting.

Hello Fun is real!

We bought two Pedego's about two years ago. Mine, a black Stretch. And my wife's, a blue Interceptor. I will review my Stretch. I fell in love with the Stretch literally from the first moment of my test ride. It felt solid and secure. It handled really well. Turned very easily.Felt very light Ha ha….I usually ride around on an 800 pound motorcycle. So it felt really light. I started playing around with the throttle, and the Peddle assist. A big grin could be seen on my face! How fun I thought! Well, After over 2ooo miles the fun hasn't stopped. I chose the stretch because of its versatility. It is my primary grocery shopping vehicle. I added two baskets and some saddle bags to my Stretch. It can capably hold a ton of groceries. It rides great with a load! We love our Pedego bikes. We ride them everywhere! anything from our regular beach ride to dinner on Friday nights. To hauling our bikes up to Santa Barbara on the back of my wifes car to have dinner, and a see a concert at
Santa Barbara bowl…and use their valet bike parking! It's awesome! We park in the cities public parking lot then hop on the bikes to get to dinner and the concert!

We have had an incredible amount of fun on our Pedego's over the last two years. My Stretch has been great. Hauling groceries…beach chairs….or what ever you want! I made a great choice in buying the Stretch!

We love our Stretch bike!

Our Pedego Stretch bike has been the most versatile and enjoyable bike we have ever owned. We use it for commuting to work and for bike rides around the country side with our kids. We put a 1000 miles on our bike in the first year and its still going strong. One of the cables on our bike was accidentally damaged while we were parking it and the Pedego team sent us a new one with no questions asked.
We have zero complaints!

Biking Together

My wife and I purchased our Pedego Stretch and Trike from the store in Palm Springs. The owner was very nice and helpful in helping us decide on the bikes we chose.

We are both in our 70's and we enjoy riding our bikes to the market for groceries and also to two of our daughters homes when we have time. I can carry 4 large bags of groceries and she carries a flat of water in her rear compartment when we shop. We are planing on taking the bikes to the beach for a ride as we can carry them both in the back of my pickup truck.

We also like riding around our HOA here in Cherry Valley just for exercise.

Hi my name is John I live in hope sound Florida I have been wanting to get an electric bike for a very long time I see other people that had them and I envied them that I had to pedal mine up hills being out of breath I'm 61 years old and it just got to be a little too much for me so I went and started looking at electric bikes and I ended up at Pedgo Juno Beach…. my sales lady was Lise a very wonderful friendly educated person I was very leery of buying the bike because I didn't know how much use I would get out of it and I didn't know if the price would justify the times I would ride it well I have to tell you I write it constantly I write it every day it has both pedal assist and throttle because it's a stretch cargo it can hold two people which is something that most bikes cannot do that was one of the selling points well I decided to buy this and I have no regrets I use it every day sometimes for exercise sometimes just for fun I have met many other people who have electric bikes and it's exciting to talk to them about their bikes how they use them where they ride them whether their mountain bikes or beach bikes and I have made many friends I have no regrets that I bought this and I think the sales person Lise for being so educated on explaining to me how everything worked I have to say it did take a few times of writing it before I got the hang of how to use the different settings and different controls but it only took two or three days before it became second nature I highly recommend a PEDGO bike to anyone who may be considering to buy one I guarantee you will not regret it you will have more fun and meet more friends get more exercise get out of the house more it's fun just to zip over to the store get what you need and zip back to the house without worrying about starting up a car backing out of a parking spot it's just turn on the battery turn on your lights look both ways and go once again I highly recommend buying one of these bikes I am talking some my friends into getting one because they are so much fun and rideRiding in groups can also make it a lot of fun where you can pull over and go to the beach for a while have yourself a sandwich for lunch and then be on your way again in no time at all the battery lasts quite some time I believe it's about 60 miles on a full charge on my particular bike and again on mind being it is a stretch cargo I love to be able to take someone on the back of my bike for a ride Pedego Is the only way to go believe me if you're thinking of getting one take the step you won't regret it

Wonderful Stretch and City Commuter

I have a Stretch and my wife a City Commuter. We cannot say enough good things about the bikes. The Stretch's cargo capacity allows me to do whatever shopping (a week's groceries or anything else within (or even beyond reason) I may want to do. While we have had bikes forever, this is the only one which my wife rides daily. We own 18, including three versions of cargo and shopping bikes (non-electric), vintage three speeds, long distance touring. I averaged about 2000 miles per year on non-electrics, so I really rode them. My only problem is that we love the Pedegos so much that the other sit idle.

Only regret is that I waited three years!

Have had my Stretch for 13 months now and love it. I have discovered a fantastic trail system from Alert bay, Campbell River, Courtenay. Qualicum Beach, Parksville, Naniamo and from Port Angeles to Blyn, Washington. And the fun is just beginning. The two grandchildren sit well behind me and the trailer I made from an old tandem stroller haul my two SUPs effortlessly. The only regrets I have is that I waited three years before buying a Pedego and sometimes feel that I wasted three years of my life, and when the weather gets really fugly it's a bit depressing not being able to ride. Thankfully, Spirit usually sends me enough snow to get up the hill till next riding season

Perfect pedegos

We recently moved to California, and couldn't wait to get to the beach. We rented pedego electric bikes in Huntington Beach and never wanted to turn them back in. We had so so much fun! My husband told me later it was the most fun he had ever had! He started looking online and found the 2 he wanted. We test rode them some more and decided on the stretch(b/c we can put our 2 kids on the back) and the interceptor. We love our bikes! The kids beg us to take them out every weekend! We ride everywhere now and always with big smiles on our faces. Thank you for the FUN Pedego!!!!

LOVE LOVE MY STRETCH

bought this as a delivery vehicle for my biz. Of course people think i am crazy using bikes to deliver food products in AZ. but there is so much technology out there to make it happen.

Purchased through Kathy and Bill at Pedego Scottsdale, AZ. Awesome couple who run a pretty cool store.

My partner now wants one to keep up with me. I mean I love cycling have come from the many years in the cycling industry, but this bike just makes you grin ear to ear (have had the bugs in my mouth to prove it) whilst you are riding it. And I pedal all the way and all the time but I cover ground ground that would have killed me (let myself get unfit and overweight, tore my knee countless times over the years riding trekking etc) but this lets you do it and feel good about it. you can get a sweat on without knocking yourself out for the day. And like i said it is FUN!! Real FUN!!

I think Pedego nailed it.

I spent quite a bit of time on the bikes at the end of last week and I absolutely love them. I love my other cargo bike, but I think the Pedego Stretch is an all around better bike. When I noticed that the cross bars holding the top of the wheel skirts weren't just for support purposes and were standard sized tubing for regular panniers! I almost lost my mind. I think Pedego nailed it. Even the bell style and positioning is great. I don't know if they install the bell or you do, but that finger pull bell is great! I am going to upgrade all my bikes to that bell.

The thing that blew me away the most though, is how incredibly stable the bike is! I was doing some "stress testing" of the bike I wanted to see how stable it actually was. I tried accelerating to top speed with no hands and a loaded front rack. This is something I wouldn't dream of doing on my other cargo bike but the Stretch never even came close to feeling unstable. My other cargo bike gets the speed wobbles at about 10 mph with no hands, this thing was over 25 MPH and I didn't even think twice.
I also have to say the adjustable stem and low stepover height have made these things such an easy sell here. Rather than having specific bikes for each team member, we can just record the ideal riding position of the seatpost and the stem for each team member and in about 30 seconds the bike fits them perfectly.
We haven't messed around with the modular rearend yet, but I think it will be really functional when we need to haul things….
…Anyway, we all absolutely love the bikes. I've received requests for more from the rest of the team. So if we get it in our budget this year you might be hearing from us again.

electric Scooter or Pedeog Stretch E-Bike..it was an obvious choice

We bought the Pedego Stretch to get out son to school (he's five and we live in the city) and it is clearly a much better choice than an electric scooter. We love our Pedego! It's slick, sturdy and such a fun ride. I never worry about taking a corner (unlike when we had our son in a rear bike seat on our regular bike) And we get so much attention when we're on it. We've kitted it out with a phone holder so we can listen to music on our journeys.

1 Stretch & 2 City Commuters

For everyone/ anyone reviewing or thinking about an electric bike – Go with Team Pedego .OMG !! Their Awesome !!!! Sales to delivery there's only 3 words I can proudly submit to you ( Quality Quality Quality ) They have the right professionals and products. I support them and they support me . WOW FACTOR.