Pedego Electric Bikes make riding fun for all Canadians!
The Best Electric Bike
The best electric bicycles in Canada are the ones that fit you perfectly and are fun to ride.
When you ride a Pedego, it's not about how great the electric bike is, it's about how great you are on it.
Pedego brings out the best in you.
That's why Pedego owners in Canada don't like their bikes – they love them. And you will too.
Pedal or Not
An electric bike is like a regular bicycle – only better. You can pedal normally (or not), and get power when you want it.
Freedom & Power
You have the freedom to go farther and faster, and to conquer hills and headwinds with ease. It feels like being a kid again.
Welcome to the Family!
As Pedego owners we share something in common with an entire community of like-minded people. And to solidify that sense of belonging, we've created the Canadian Pedego Owners Group. 
Visit our POG page to register your electric bike, enjoy the best warranty in the business, receive a free welcome pin and card as well as log your kilometres with our Mile Marker program.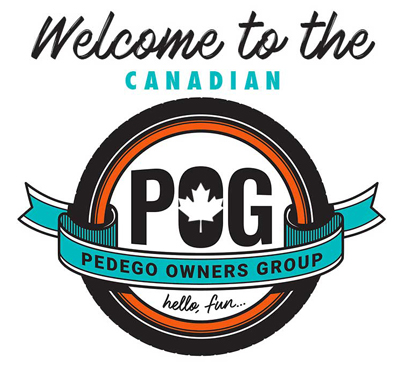 Pedego Stores:
Local Electric Bike Shops
Unique to Pedego is an international chain of stores that will help you find the perfect electric bicycle and get the most out of it.
Pedego store owners have been in your shoes. They start out as customers who fall in love with Pedego Electric Bikes and open stores to share their passion with you.
You'll never find a more hardworking, fun-loving group of people, and they're at your service.
Researching Electric Bicycles in Canada?
Find straight answers to all your electric bicycle related questions.
Here you can find loads of useful information – all in one place for your convenience.
Learn all the important facts before you decide to buy an e-bike.