ELECTRIC BIKE INFORMATION
Choose a topic to continue:
WHY CHOOSE PEDEGO
There are plenty of good reasons to choose Pedego, but the best reason is impossible to put into words… It's the way you feel when you ride a Pedego. Once you try one, you'll know in an instant why those who compare, choose Pedego.
THROTTLE &
PEDAL ASSIST
PEDAL ASSIST
Pedal assist systems sense your pedaling and provide assistance automatically.
They're most popular among experienced cyclists that want a more natural, "bike-like" riding experience.
Pedal assist is also nice for long rides with few stops. You can just relax and enjoy the ride without holding a throttle in place.
TWIST ASSIST/THROTTLE
In Canada, we have the luxury of using throttles on our electric bikes, which are forbidden in Europe.
Throttles provide full power on demand and Canadians love them because they give us complete control.
They're especially helpful for getting started from a standstill (sometimes it can be awkward to gain momentum), getting a quick burst of power to climb a hill, or safely getting through an intersection.
If you can't pedal, or you just don't feel like it, that's okay too. We're not judging!
BOTH IS BEST
Our experience shows that the ideal electric bike has both pedal assist and a throttle, and the next best thing is one with only a throttle.
Most Pedego Electric Bikes sold in Canada have a throttle and the the option of pedal assist.
Most people like having a throttle — they're fun!
HUB MOTORS VS.
MID DRIVES
Pedego offers both options because, well, there are benefits to both. Our philosophy is the best electric bike is the one that's the most fun for you to ride – regardless of the motor.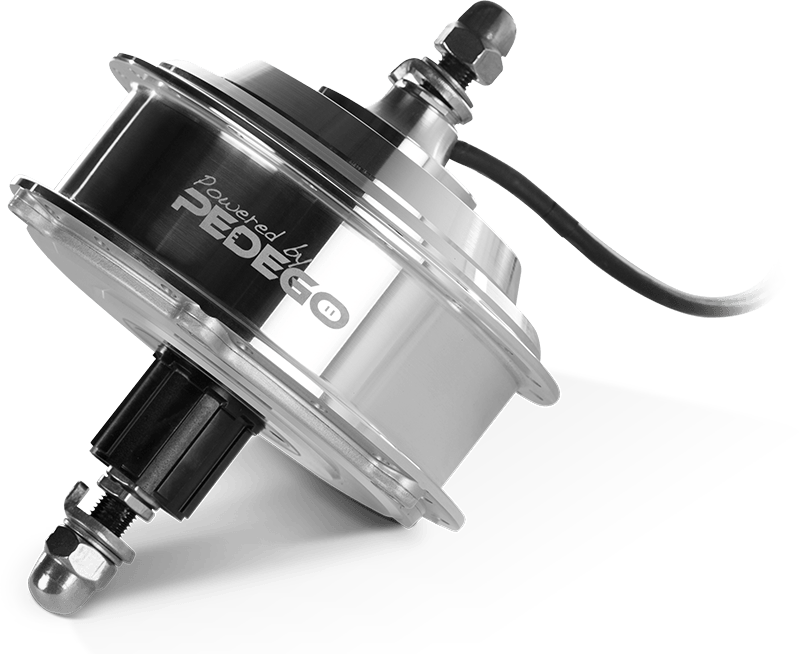 HUB MOTORS
The majority of electric bikes in Canada have hub motors.
They're very popular with Canadians because they're simple and easy to use. They seamlessly deliver power right where it's needed – without any extra gear shifting or wear on the drivetrain.
Every Pedego with a hub motor includes a twist-and-go throttle.
Hub motors are also admired for their breathtaking performance. Most Pedegos sport a 500 watt hub motor with twice the power of a typical mid drive. You can feel the difference!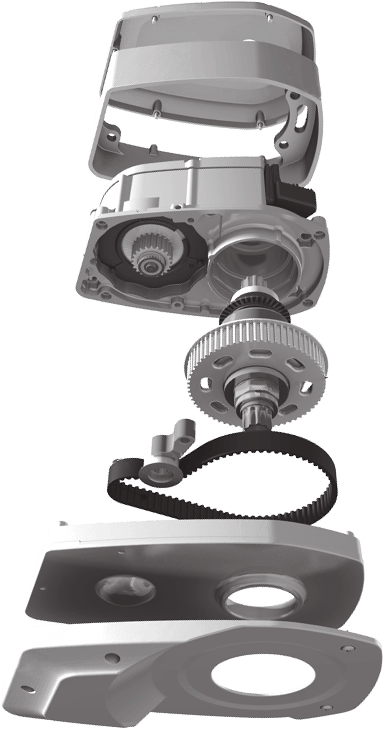 MID DRIVES
While mid drives aren't as common, there are things that they're ideally suited for.
The Pedego Elevate is made for seasoned mountain bikers. Its weight is lower and more centered, and the gears of the bike can be leveraged to navigate off-road terrain.
Note: Mid drives are best suited for capable cyclists who are comfortable shifting gears often. They also require additional maintenance because of the added wear on the drivetrain.
BATTERY PLACEMENT
For everyday riding conditions, the obvious place for the battery is the rear rack. It's the most convenient and logical way to carry extra weight on any bike.
Most experienced bicycle commuters and tourists carry their luggage on the rear rack for the same reason – It just makes sense.
For extreme off-road riding, it's nice to have the weight of the battery more evenly distributed in the downtube of the bike with a lower center of gravity. The Pedego Trail Tracker and Ridge Rider both feature a downtube battery for that style of riding.
But not everyone is a hardcore mountain biker, and the difference is hardly noticeable for the average electric bike rider. For casual riding or commuting on typical streets and paths, it's kind of like splitting hairs.
MAG WHEELS
Mag wheels are made of a special magnesium blend to be incredibly strong. They are a great option for heavier riders that otherwise might not be able to safely ride.
They are maintenance free because there are no spokes to replace or adjust. They also look pretty cool.
Mag wheels are available as an upgrade on 26″ Boomerangs, 26″ and 29″ Interceptors and the City Commuter Black Edition.
PEDALSENSE™
Proprietary software that provides the ideal riding experience. Each model is programmed based on a number of factors that make it unique.
USB CHARGER
Most Pedego Electric Bikes feature a convenient USB port to charge your phone and other devices on the go. It's just one more way we're thinking of you and improving your riding experience.
PRO
TIP:
When comparing different brands of electric bikes, it's wise to use watt-hours instead of estimated range.
HOW FAR CAN I GO?
The most common question people have is how far they can go. The short answer to this question is far enough!
Generally speaking, any Pedego battery should last longer than you. We don't hear many stories of people running out of juice.
With that said, this can be a complicated question because there isn't a "standard" and everybody makes vastly different claims about range. So we'll go over some simple math that can help you objectively predict the range of any electric bike.
All batteries have both a voltage and amp-hour rating. If you multiply the two together, you get watt-hours. Watt-hours is an objective measurement of the actual amount of energy stored in a battery.
Volts x Amp-Hours = Watt-Hours
Battery Life
Lithium batteries usually don't just stop working altogether, what happens is they gradually lose their capacity over time.
Pedego batteries are backed up by an industry-leading pro-rated 5-year warranty on select models.
Charging Time
A battery will charge in between 2-6 hours with a standard wall outlet.
It's equipped with an advanced battery management system (BMS), so you don't have to worry about discharging it completely*, and it's best to recharge it after each use.
It uses very little energy – usually about ten cents worth.
And it includes a smart charger that will automatically shut off when it's done.
*If you do discharge your battery completely, leaving it in an "empty" state for an extended period of time is not advised. We suggest that you fully charge the battery as soon as possible.
Battery Cells
Pedego batteries are made up of individual Li-ion cells designated 18650 because of their size (18mm x 65mm). These are very common batteries found in countless consumer electronics, electric bicycles, and even electric cars.
There are basically two types of 18650 cells- those made by reputable, name brand suppliers, and everything else. The name brand cells are naturally much more safe and reliable than cheaper cells.
Pedego Electric Bikes use premium cells made by name brand suppliers like Panasonic.
Charge by Pedaling
The battery is charged by plugging it into the wall, and the more you pedal the farther you can go. Your pedaling conserves the battery, but it doesn't actually charge it.
The technology does exist that would allow you to charge your bike by pedaling, but it's heavy and expensive and we've found that it just doesn't make sense in the real world.
The main problem is that it makes it hard to pedal, and that's not fun! Even under the most ideal conditions, like riding downhill, the amount of energy you would get back is negligible.
"NO EXCUSES" CUSTOMER CARE
When you invest in a Pedego Electric Bike, you'll enjoy the peace of mind of an industry-leading five-year warranty. We like to call it our "no excuses" promise to you.
Of course, a warranty is only as good as the company behind it. We've seen hundreds of companies selling cheap electric bikes come and go – leaving unhappy customers behind. Pedego Canada, on the other hand, has a rock-solid reputation for world-class customer care.
Even the finest products on Earth (like Pedegos) are bound to have an occasional flaw that needs to be resolved. That's why our team of experts are just a call or click away. We see every warranty issue, no matter how small, as an opportunity to show you how much we care.
You'll probably never need our help, but it's nice to know that Pedego is always here for you.
ANTI-THEFT PROTECTION
We suggest investing in a good, solid lock – available through your local Pedego dealer. Always make sure that what you are locking the bike to is also secure.
The battery can be locked in place or easily removed and taken with you.
Check with your homeowner's insurance policy to see if the bike is covered. If not, there is supplemental insurance available through third-party carriers.
TRAVEL
Many Pedego owners bring their bikes along while travelling. It's the best way to explore a new area!
The Latch folding bike is especially well suited for travel.
Other Pedego models are compatible with many standard hitch mounted vehicle racks. Check with your local dealer for suggestions.
COMMUNITY
The Pedego Owners Group (POG) is a thriving community of fun lovers just like you. It makes it easy to connect with each other by going on group rides, attending fun events, and sharing stories and advice.
Lifetime membership is free, and you'll get a fun gift just for registering. You can also request free collectible Mile Marker pins to track your kilometres.
MAINTENANCE
Aside from keeping your battery charged, maintaining a Pedego Electric Bike is the same as any bicycle. After the bike's been ridden about 100 kilometres you'll need a basic tune-up. This is standard procedure for all new bikes as they're broken in.
The most important (and simple) thing you can do is check your tire pressure regularly, and keep them inflated as indicated on the tire. If you're riding in wet conditions, you'll want to take extra care and make sure you keep your drivetrain clean and well-lubed.
Other than that, you're likely to need minor adjustments from time to time, and even the best parts do eventually wear out. We suggest that you bring it in for a check-up at least once or twice a year to ensure the most safe and pleasant riding experience.
ELECTRIC BIKE LAWS
Federal law defines an electric bike as a two or three wheeled vehicle with fully operable pedals, a top speed when powered solely by the motor under 32 km/hr and an electric motor that produces 500 watts or less.
Provincial and local regulations, while seldom enforced, vary greatly. Check with your local authorities to see what the rules are.
JUST LIKE A REGULAR BIKE – ONLY BETTER!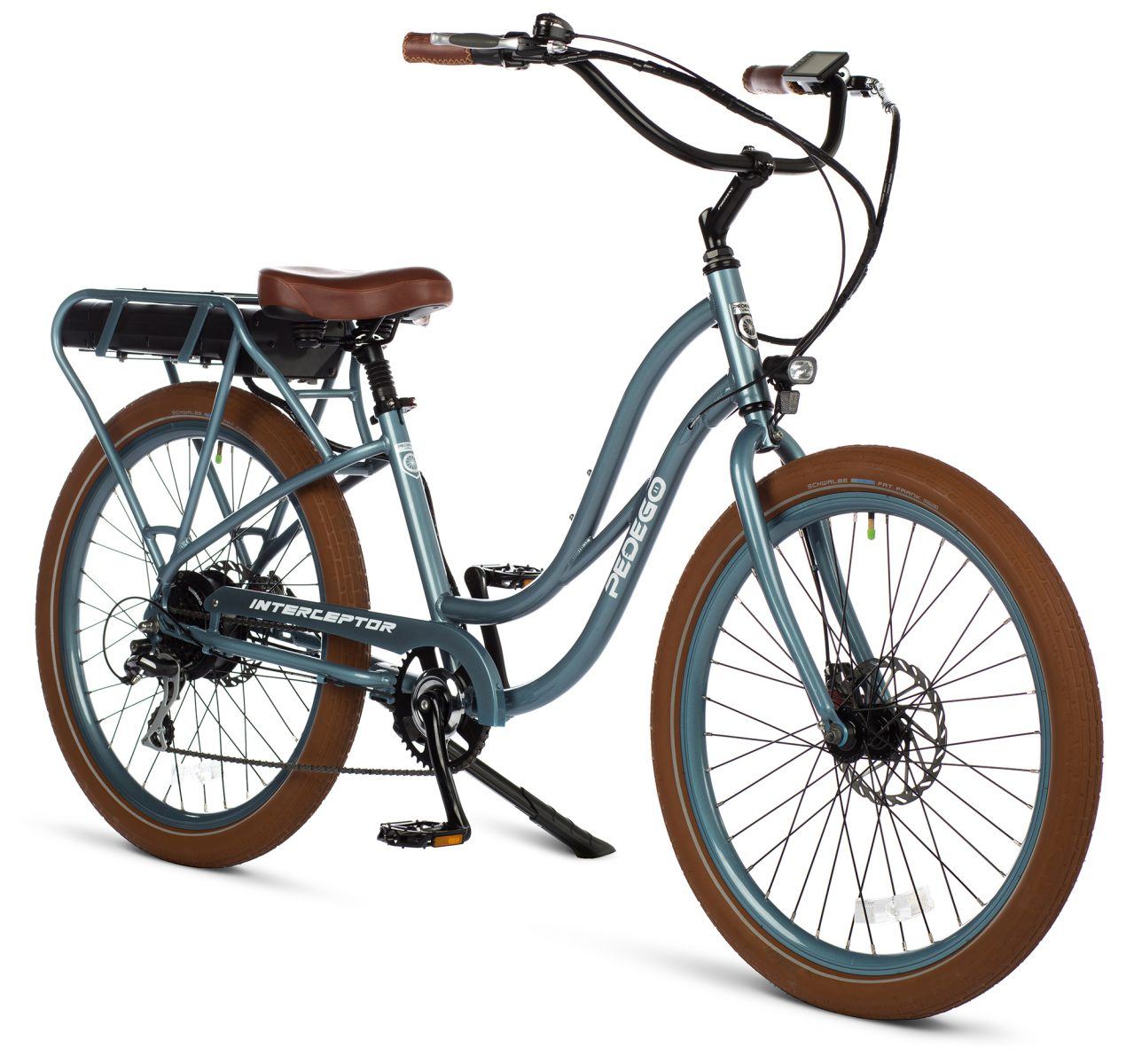 x
Breathtaking Performance:
A powerful, whisper-quiet motor delivers best in class acceleration and hill climbing.
x
Long Range:
A lightweight, long lasting battery will take you anywhere you want to go – and back.
x
Throttle & Pedal Assist:
Exclusive Pedalsense® technology gives you the freedom to ride how you want.
x
Comfortable & User-Friendly:
Choose from over 15 models to find the perfect fit for you.
x
Quality that Lasts:
Premium, name brand components from the ground up and an industry leading warranty.
FREQUENTLY ASKED QUESTIONS
HOW FAST?
All Pedego Electric Bikes are governed at 32 km/hr in accordance with federal and provincial regulations.
HOW FAR?
Range varies between 25-100 km, depending on the battery, rider weight, terrain, weather, speed, and level of pedaling.
HOW LONG TO CHARGE?
The battery takes 2-6 hours to charge from a standard wall outlet. Your pedaling conserves the battery, but doesn't charge it.
WHAT ABOUT EXERCISE?
Pedego owners actually get more exercise because it's so much fun they ride more than they ever would on a pedal-only bike.