Latch - Electric Folding Bike
The Pedego Latch rides like a dream and easily folds in seconds. It gives you the freedom to travel in comfort and style, wherever you may roam.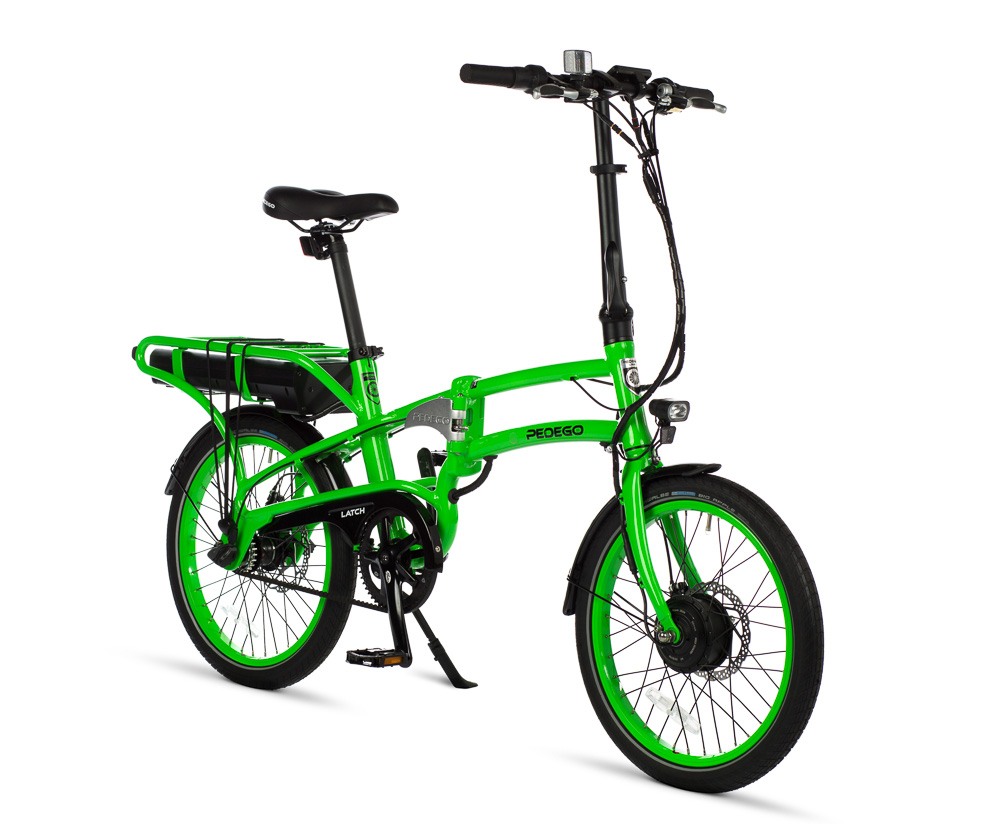 Folds in Seconds

The Pedego Latch can easily be folded in about 30 seconds. Even the pedals fold! An exclusive Pedego latch is engineered for easy folding and smooth riding. Once folded a special clip holds everything together so it's easy to carry. It can be supported by the seat post or tipped over to rest on bumpers attached to the rear rack.

Folded Dimensions: 43cm x 71cm x 92cm

WATCH FOLDING INSTRUCTIONS

Smooth Ride

A carbon belt drive gives you a whisper-quiet ride with no messy chain grease. It's been tested to last over 15,000 kilometres – which is almost halfway around the earth. A three-speed internally geared hub provides smooth shifting even at a complete stop.

Feels Full-Sized

The first thing you notice when you ride a Latch is that it feels surprisingly like a full-sized bike. It can be adjusted to comfortably fit people of all shapes and sizes. It's a perfect fit for snowbirds, boaters and travellers. Fold it up and take it on your trans-Canada, transAtlantic or Pacific Coast adventures!
Breathtaking Performance
What really sets the Latch apart from other ebikes is its performance. It's one of the most powerful folding electric bikes on the market, guaranteed to get you grinning.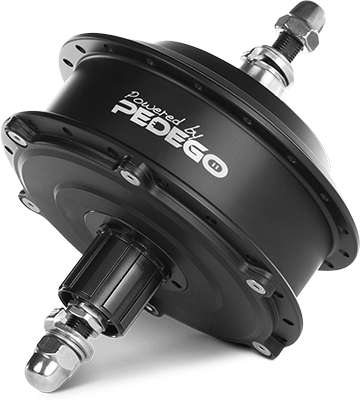 The Latch has a 36 Volt battery with 10 or 15 Amp hour capacity. It recharges in hours and can take you up to 70km on a single charge.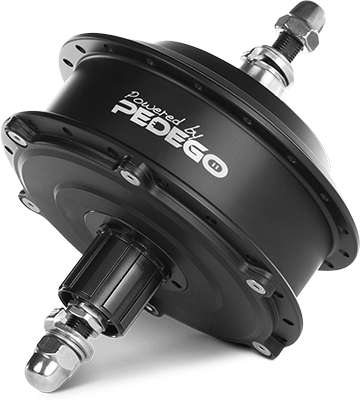 A 250 watt motor delivers best in class acceleration and hill climbing. The sensation of power is surprising given how quiet it is to ride.
Small details make a big difference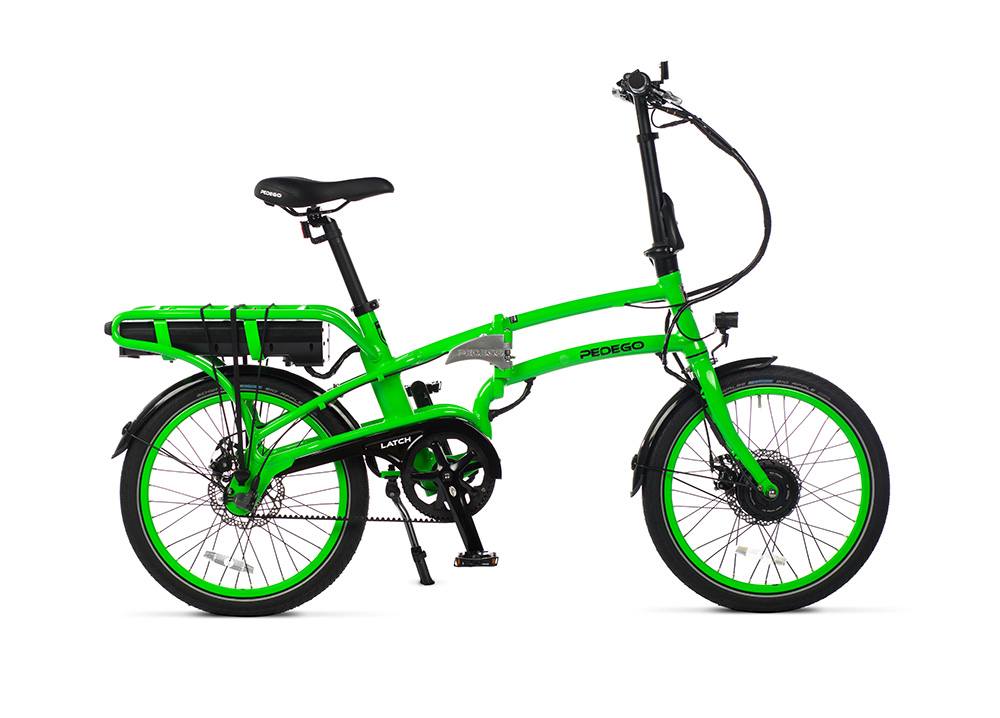 Latch – Electric Folding Bike
Latch – Electric Folding Bike
"A BICYCLE RIDE AROUND THE WORLD BEGINS WITH A SINGLE PEDAL STROKE."
Pedego Electric Bikes give you the freedom to travel around the world.
They are the greatest travel companion.
SHARE WHAT YOU LOVE ABOUT YOUR PEDEGO!
WHAT CUSTOMERS ARE SAYING
When we say that Pedego Electric Bikes are the best, it's just bragging. But when our customers say it – it's proof!
One year anniversary of purchase

In a few days I'll the one year anniversary of the day I walked into my local bike store and bought a Pedego Latch folding bike. One of the first things I did when I got my Pedego was to get rid of my heavy, cumbersome and expensive bike rack. In a matter of minutes, I can have my Latch. folded and in the trunk of my car, heading, with Lady my dog, for one of the numerous and scenic bike paths in the Chicago area.

Since I purchased my Latch, I have logged over 2700 fun filled miles. On most morning. evenings, and many afternoons, you will find me riding my Pedego with Lady trotting by my side. Knowing that has been great for my body and soul.

In conclusion I would like to add that If there ever is a time that you have a question or issue with your Pedego bike, that your bike store is unable to resolve, the unbelievably professional Pedego service center is will resolve it in a courteous and timely fashion.

Surprise benefit Pedego

Being an avid bike enthusiast I like the idea of being my own source of propulsion. My wife however always said €œyou go". I have easily spent thousands on bikes and gear to entice her to participate. Since we've acquired the Pedegos she is very willing to join me knowing she is not holding me back and will be able to enjoy the excursion no matter the terrain or wind conditions. That alone has made me happy we bought our bikes.

Bought my folding Latch bike 2 years ago and love it. It fits in my Prius V with back seats still usable. I can avoid street traffic and drive to the beach and have it out of my car within 2 minutes ready to go. I'm 66 and would never go back to a regular bike. I can go as far as I want without worrying about the hills or wind. Pedego is the only real choice for an electric bike. Great sales and service. Bought mine in Seal Beach, CA.

Fun of Biking Renewed

We travel in our RV and love to Bike where we go. However, as we got older we seemed to bike less each trip. Now with our Pedego Latches, they fit easily underneath our motorhome or back of our small SUV. We now enjoy biking once more and don't worry about how far we have gone or those dreaded hills. Pedego has brought the fun back to enjoying biking again.

Love my Pedego Latch

We travel with our Airstream Travel Trailer. The Latch is a great addition to our traveling experience. The latch is easy to fold and transport in the bed of our tow vehicle. When we get to our destination, the Latch quickly unfolds and is ready to ride around the campground or into town for a light shopping trip.

Pedego changes lives

Riding a bicycle should be a lifetime pleasure, or so I thought. Multiple Sclerosis limited time riding and distance that I could peddle. Interest in riding diminished because I could no longer ride 20 or 30 miles and enjoy the adventures and sights I associated with biking.

But then I read about Pedego! On my first test ride, wow, I was so psyched!!! I could smoothly shift from peddle power to power assist whenever needed. Less fatigue!

On my 2016 Pedego Latch, I'm back on rail trails and bike paths all over New England!!! Adventures again! Thank you, Pedego, this bike made it possible for me to enjoy the ride again!

Quality bikes

We have 2 lime green Latch and love them. When we ride the around the neighborhood comments are made about what good looking bikes. For camping trips we fold them and take the with us. You can get a regular folding bike at Camping World but it is nothing like an e-bike, nor the great quality.

Best electric bike on the market!

Wow! This company and their products are amazing! We purchased our Latch electric bikes from a fantastic dealer in Florida and couldn't be happier. We travel all over in our Airstream Travel Trailer and our bikes give us a great opportunity to get out and explore the cities, resorts, parks, or campgrounds we are staying in. The compact folding size make them perfect for traveling. Would highly recommend this company and their products to anyone looking for a high standard in electric bicycles.

The best choice ever!

For a couple years, we looked at and test drove the Pedego bikes. I finally bought a Pedego Latch. I love it so much! Now I see why so many people rave about these bikes. I get my exercise and when I want to relax I can still go for a ride. This is such an amazing experience to be able to get outdoors more. When I have free time I just want to go for a ride. I love the latch because I can drive to a new area with the bike in the car, and explore other parts more easily. It rides like a regular bike and I don't give up anything with this model.

A Dream Come True

Have you ever dreamed of riding a bicycle while enjoying the scenery around you, and not have to huff and puff up that dreaded hill? Your dream can come true!

The way this bike functions, is truly incredible. The model I have folds in half. I often go to scenic attractions that are out of state. I fold up my bike, put it in the back of a RAV4 along with my friend's trike. I love that I can use as much resistance as I chose while peddling. This allows me to get a workout if I choose. I am able to keep up with other bikers. One of the best attributes is the long distances I can go. I often ride to town to do my errands. And boy, do I get looks! This is a beautiful bike. I can honestly say it is one of the best purchases I have ever made. So looking forward to warmer days.

Pedego Latch

I recently had a plate put in my leg from an injury and needed a way to ease back into my active life style.

The Latch bike is great for me since the power on front wheel is independent of the back wheel which my legs power.

I've rented other electric bikes and did not like that I had to put enough force on the pedals before getting any assist from the motor which was painful due to my surgery.

I love my Pedego Latch so much that I bought one for my wife.

Happy Biking!

Fun to ride, not very durable

The latch has a lot of great features. It can fit in almost any vehicle. The distance and speed are good. However, it has not held up well to the Atlanta pot holes. The battery is mounted in a precarious place over the rear tire. This puts the center of gravity quite high making the bike difficult to move when collapsed. Also the mounts have cracked and broken loose twice now. The first time I replaced the battery sleeve. The second time I put a whole bunch of cable ties around the sleeve to help distribute the stress back out to the frame. So far that is holding.

In Love with the Pededgo Latch

I have to start out by saying that my husband was the first to buy this bike. I remember the day it got delivered and we took it out of the box and figured out how to unfold it (which was not hard,) and I thought how cool it was!

Then I took over his bike and so I went and ordered one of my own! I love, love this bicycle for the fact that I can fold it up, put it in my trunk, drive to wherever and then take it out unfold it, and ride with the wind!

It is so simple to fold and unfold. I love that you can adjust the bike to fit you personally. I love that I can choose how much pedal assist I want or I can just ride on electric power if I'm feeling tired.

The only thing I can think of to make me pause is: why did we wait so long to purchase a pedego? It was the best money we ever spent and it truly is so much fun!

Love the Versatility!

I LOVE my Pedago! I purchased my bike in October 2018, and I've loved it every day since. After checking out and test riding various models, I went with the Latch – folding version, as I can throw my bike in the trunk of my small car and go on an adventure any time I want. With the extra "umph" of the electric power, I no longer worry about whether or not I can make it back home or back to my car without tiring out or hurting myself, so my adventures are limitless. Because it's simply FUN, I use my Pedago way more than any regular bike, and I'm WAY more active than I used to be because it's simply more fun. I still get a burn and push myself when I want to, so I'm also seeing results from my more active life style. I'm so glad I went with the best – Pedago!

Pedego Latch Fits Our Needs

Two long term bike riders now in our mid 70's live in a hilly area at the foot of the Blue Ridge Mountains in Virginia. Did not wish to stop our biking as we aged, but the hills did reduce our riding times.Not any more, in late 2016 we purchased two Pedego Latch bikes and zoom up the hills! We travel in a small RV,fold the bikes and they fit perfect in the RV storage without racks. The bikes go everywhere with us and provide transportation at our destinations. Could not more more pleased with our trouble free Pedegos.

I my very pleased with my purchase on 12/23/2018. The bike has alot of power, can't wait until this summer to take it to the smokey mountains.

I like the handle bars, don't have to bend over saves on the back. I like the color violet of my bike, the basket I had put on. I love the seat it is so comfortable can take long bike rides without getting a sore bottom and the compliments we get on our bikes. Love it.