Ridge Rider - Electric Mountain Bike
The Ridge Rider is ready for adventure. It gives you the freedom to venture off the beaten path and enjoy the great outdoors.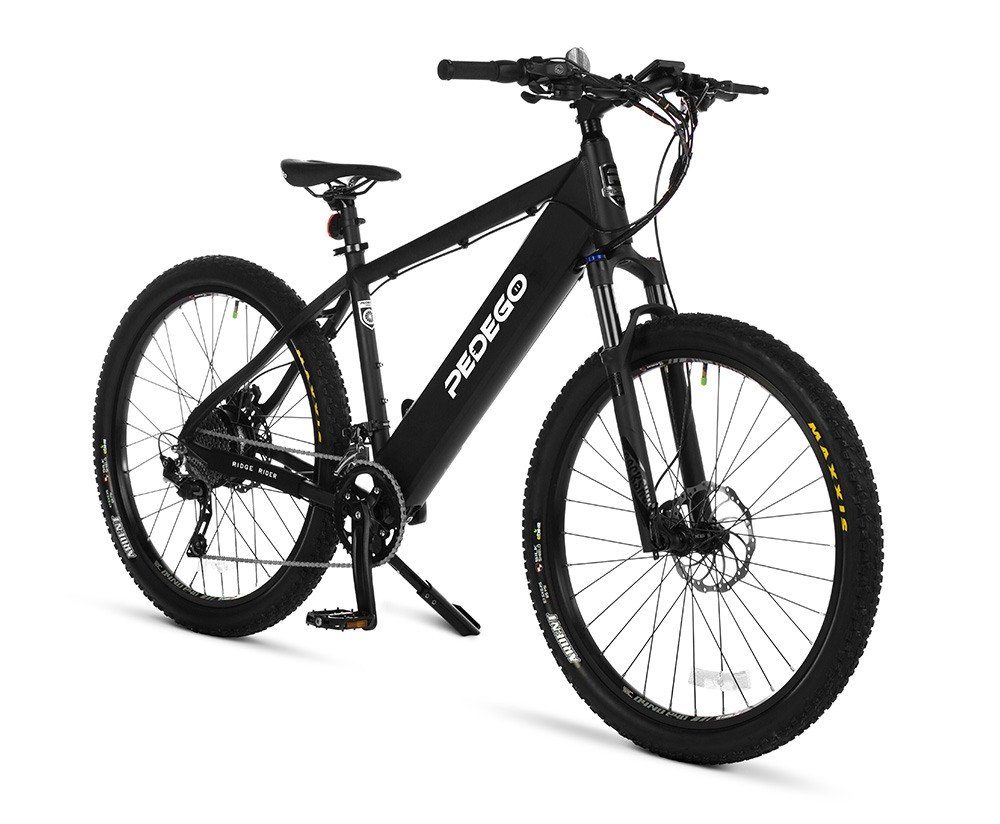 Premium Components

A Shimano SLX drivetrain provides easy pedaling and smooth shifting. Magura hydraulic disk brakes stop on a dime. And a RockShox suspension fork helps you maintain traction and ride comfortably over rough terrain.

Rides Like a Dream

Finely-tuned frame geometry makes you feel like you're one with the bike! Popular 27.5" wheels are responsive and stable. And the battery is built into the frame for sporty handling.
Breathtaking Performance
What really sets the Ridge Rider apart is its supercharged performance. It's recognized worldwide as one of the most powerful electric bikes on the market, and it's just plain fun and exciting to ride.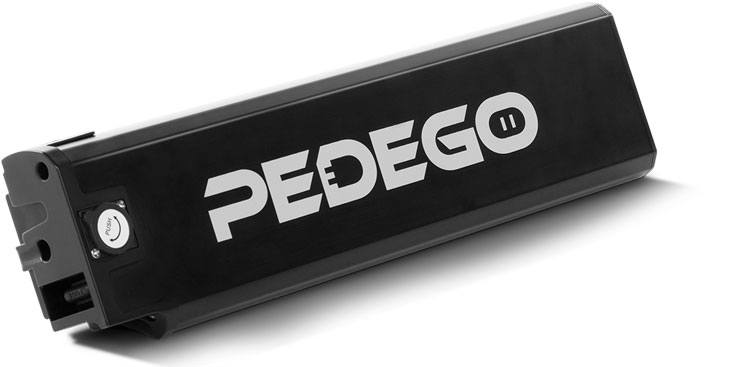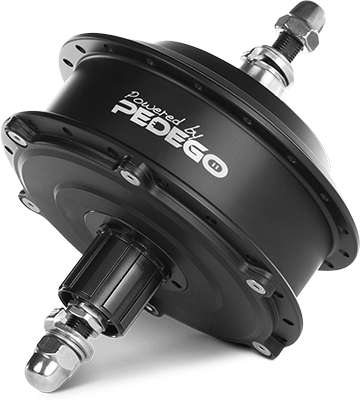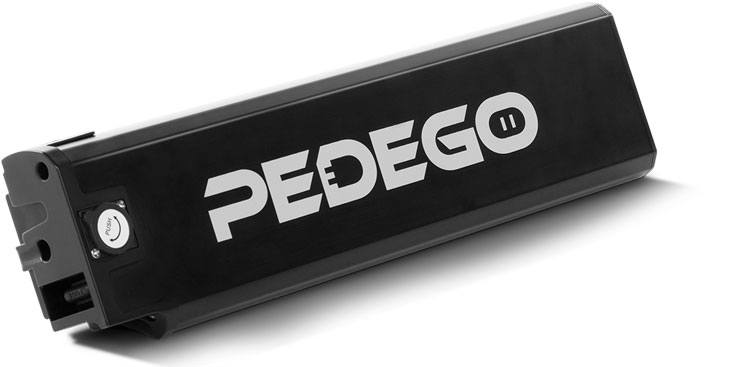 A 48 Volt battery contains premium lithium-ion cells from the world's best manufacturers. It costs about 10 cents to charge and can take you up to 80 kilometres.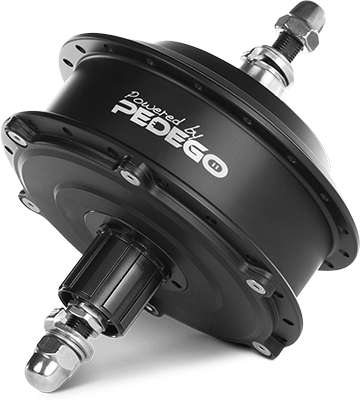 The 500 watt hub motor delivers so much power that you'll be thrilled by the sensation of accelerating up hills and over difficult terrain.
Small Details make a Big Difference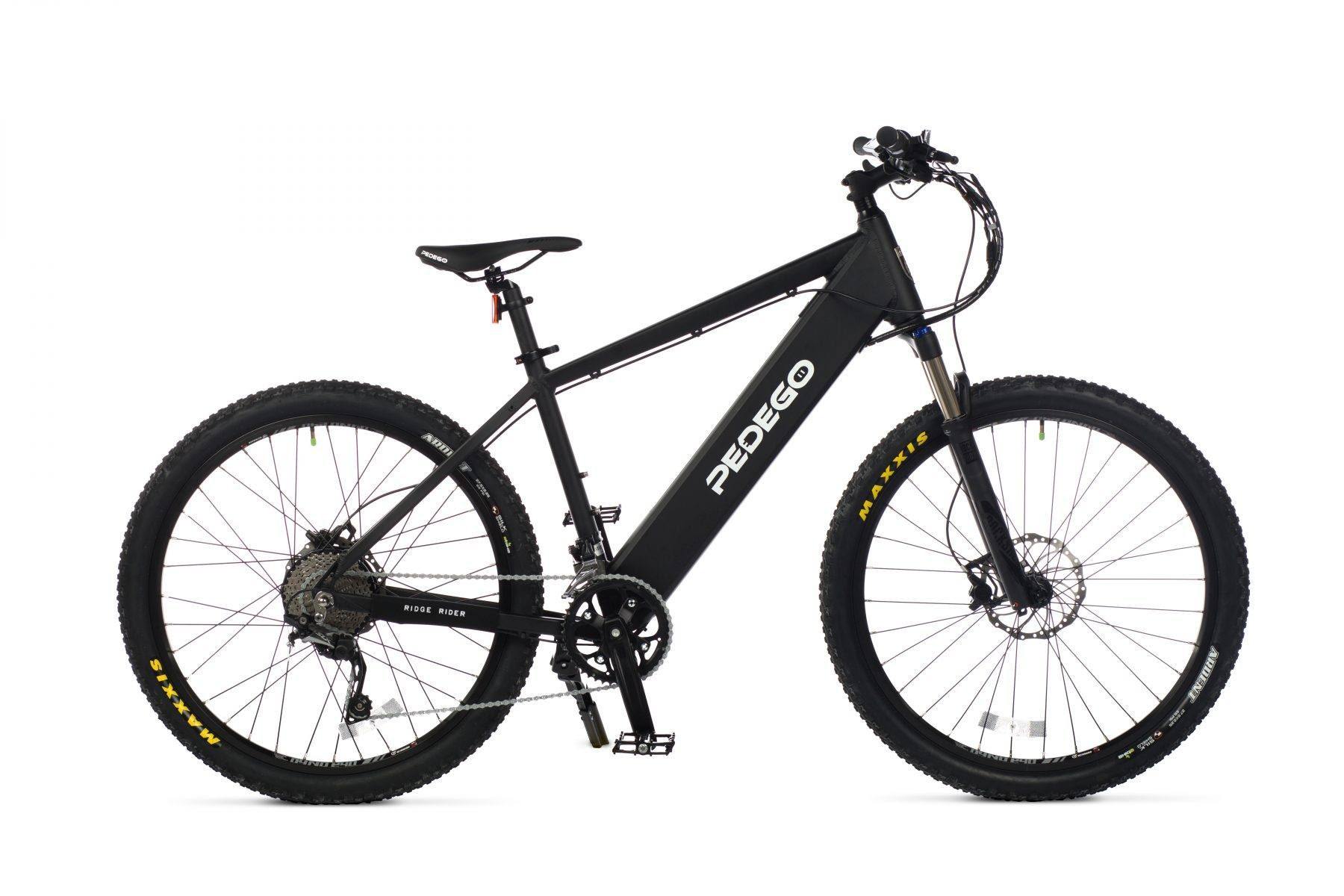 Ridge Rider – Electric Mountain Bike
Ridge Rider – Electric Mountain Bike
"PRICE IS WHAT YOU PAY.
VALUE IS WHAT YOU GET."
Pedego Electric Bikes are not the highest or lowest priced.
They are the greatest value.
SHARE WHAT YOU LOVE ABOUT YOUR PEDEGO!
WHAT CUSTOMERS ARE SAYING
When we say that Pedego Electric Bikes are the best, it's just bragging. But when our customers say it – it's proof!
Stay Fit, See More!

I retired this year and needed to find a new hobby. Due primarily to neuropathy I can no longer play tennis or hike. I love the outdoors and being active and was looking for an activity I could enjoy. I found biking is it.

I knew nothing about ebikes, but accidentally ran into some online articles when researching bikes. I ended up buying a Pedego Ridge Rider with the help of my local Pedego dealer. I wanted a bike to ride off-road on gravel paths and mountain trails. I've had the Ridge Rider for two months and it's exceeded my expectations.

The Pedego Ridge Rider allows me to get the level of workout I desire, see and spend more time outdoors by riding 2-5 times the distance I would on a manual pedal bike, ride more often (almost every day), and enjoy my rides to the fullest. It helps my neuropathy, I have less pain. It helps control my diabetic sugar levels. It also is very therapeutic mentally. I'm the healthiest I've been in years.

The different levels of pedal assist allows me to choose the level of workout and riding pleasure I desire depending on the goals of my ride for the day. It allows me to push myself and not worry about getting back home. I I'm able to ride 50-60 miles on my battery. Now I want a second battery so I can go further.

My ebike has given me a new passion that has improved my health and spirit. I've since tuned up my manual pedal road bike for short rides on the paved canal paths near my home. I will not ride roads. But my Pedego is my primary ride allowing long rides and exploring the great outdoors. The options the two bikes give me are endless.

I've bought a cargo van to keep my bike protected and for camping so I can take short and long trips around the country to experience biking and the outdoors in many beautiful places.

My Pedego Ridge Rider ebike has filled a void that I needed to fill to be physically active while exploring enjoying the outdoors. I couldn't be happier!

Best thing ever bought, had and owned

Best thing I ever bought, best thing I've ever had, better than any car I've ever owned, better than any motor bike I've ever owned, cheaper than a car to get to work and heaps more fun!
I bought my Pedego eBike from Electric Bikes NZ in Auckland and had to wait a bit but it was well worth the anticipation, fun every day, cheap, cheap, cheap and I ride rain or shine to and from work, very very happy with my Pedego Ridge Rider and I enjoy the ride every day, I'm totally totally happy and it exceeded all my expectations

5 Stars and it is amazing. 40 miles range on full assist

My second e-bike, and it is amazing. 40 miles range on full assist, 4 levels of torque sensor assist, one level cadence sensor assist, one level throttle only, forks have 120mm of range, and the 500 watt battery is very powerful. The seat was too hard, so I replaced it with a gel seat and installed a BodyFloat under the seat. Also installed a rack.

I NEVER thought it could be this much fun!

A couple of days ago I went out with my 16yo son on our regular bikes. I soon realized that I can, at 52, no longer keep up with him and pushed myself way beyond what I should have. When we got home I seriously thought I was going to have a heart attack and had to lie down. I was very upset as it dawned on me that as my son got faster and faster I would get slower and slower and that meant I would hold him back on our rides. I decided to investigate and went online to see what was available to help me. I had never heard of Pedego but on a search a Pedego store came up that was a few miles from my home in Fort Worth, TX. I called and spoke to owner Vicky. I asked what time the store stayed open till and she said 5pm. I said j worked until 5pm and she immediately volunteered to stay open later for me to go down to the store. I arrived at 5.30pm and by 5.45pm after a test ride I had purchased my brand new Ridge Rider!! WOW! What a spectacular machine! I drove home perhaps a tad faster than I should have and my son and I went out for a ride. We did the same ride from a couple of days earlier and although I broke a sweat I got back home and felt great! Thanks to the amazing torque of the APS and buttery smooth gear changes I managed all the hills and slopes with ease and saved the flats for actual pedaling under my own steam. Thanks Pedego, you might just have saved my life!!

Truly an amazing experience.

Rarely does one have a retail experience this favorable. First, the product is first rate. I can't say enough about the Pedego Ridge Rider I bought, just an amazing e-bike at this price point. Second, to have customer service that is also outstanding is just amazing. The owners are genuine, knowledgable, and do everything in their power to give the customer a positive experience. Third, try an electric bike by Pedego, they're truly an amazing experience.

Joy Again After Two Years Sidelined by Knee Pain

I took my new Pedego Ridge Rider for my first ride today – a 25 mile single track trail. I have been riding all my life and knee pain ended my daily club rides one year after retiring. My Ridge Rider makes me feel like a Titan! I have a mountain bike that was more expensive than the Ridge Rider and I must say that the Ridge Rider rivals or exceeds the quality and ride "feel" on my non-electric mountain bike (which I can no longer ride due to the extreme pain it creates on my knee). The Ridge Rider provided 100% joy and 0% pain. What can be better! The Ridge Rider is a no compromise bike with great running gear and amazing battery life. I rode 13 miles on assist level 3 and about 12 miles on assist level 4 and made it home with 15% battery life even though the temperature was about 43 degrees F. This is the best purchase I have ever made. I second all the other reviews. This is a fabulous bike supported by a fabulous manufacturer. I can't give enough praise to Fitness Central in Schnecksville, PA. The owner and staff gave me better advice and attention than I could have hoped for. Thanks to one and all!

The more I ride the more I like my Ridge Rider e-bike.

After 2 months of online research and talking to people that owned e-bikes I walked into the Glendale, Arizona Pedego store. I met the owners Sherry and Steve. They suggested I try the Ridge Rider as it might be a fit for me. I test rode it for about 45 minutes to an hour and was somewhat convinced this could be the bike for me. I went home and did more research on the Ridge Rider. After careful thought I decided to purchase one the next day. Since then Steve, the owner, has worked with me to personalize my bike so that it is as comfortable on the trails as it is on the road. I cannot say enough about the after sale experience I have received from Sherry and Steve. I would recommend them and their store to anyone interested in an e-bike.

Lovin' this bike so much!!

I purchased my Ridge Rider at the Pedego dealer in Portland, OR. I am extremely particular, and a bit demanding, yet Tommy did everything to meet my needs and requests.

On mine I got the Topeak front and SKS rear mud guards, an Axiom rear rack, front and rear lights. They didn't have a headlamp with the lumens I wanted, so Tommy the owner went ahead and ordered one for me! He was always available for any question I may have had through his mobile phone, and updated me with pictures showing me different possible setups to see if I would like it.

This bike, as naturally heavy as it is (being an e-bike), handled surprisingly well. The 500w motor on this thing is incredibly zippy. With throttle assist, I have not found a hill I cannot climb. I'm about 5'8″-5'9″, and it's perfect on me. Truly a fun and capable commuter/trail bike.

I took it to Sedona a couple days after not knowing these weren't allowed on the trails there, but I managed to squeeze out a couple runs before I learned that I wasn't allowed. I couldn't believe how much easier the trails were with this motor. I felt like I was cheating, but wow, it was so much fun I forgot about that really quick.
The trail was rocky, and had a many drops and gaps. The Ridge Rider was laughing the whole way down, AND back up the trails!!!

The only down side for me, personally, is that the seat was a bit too hard for my bony bottom. I will invest in a bodyfloat just like one of the previous reviews stated.

The battery life, however, is outstanding! My brother has a similar e-bike that uses the exact same motor, but mine seems to get nearly double his range. I'm pretty sure that is not the case, but that is what it seems like. I'm pretty sure it's more like a third, but at any rate, there is a clear difference. 40 miles on a charge, never without throttle assist + heavy throttle use with this amount of power is truly impressive.

So, yes I am happy with the Ridge Rider. If you happen to be living in the Portland area, go pay Tommy and his staff a visit because they will go the extra mile……… or two (as they did in my case) for you. Thanks guys! I really appreciate it, and I'm enjoying the Ridge Rider every day!