City of Kawartha Lakes Police add electric mountain bike to fleet
July 2, 2019
The Lindsay Advocate features a photo and story on City of Kawartha Lakes police officers with their new Pedego Patroller, donated by Allen Hussey just in time for use on Canada Day.
Hussey, owner of Pedego Kawartha Lakes Lindsay and Bobcaygeon, brought Pedego's customised Ridge Rider: Patroller Edition to demonstrate for Ontario police. The electric mountain bike was designed to empower law enforcement personnel to cover more ground faster and increase their response times while reducing operator fatigue.
The Lindsay Advocate explains how the electric bike will enable an officer to patrol the community and cover great distances while reducing the carbon footprint of the police service.
City of Kawartha Lakes Police Chief Mark Mitchell and Constable Kevin Walden were glad to patrol festivities in Lindsay with a high-performance electric mountain bike.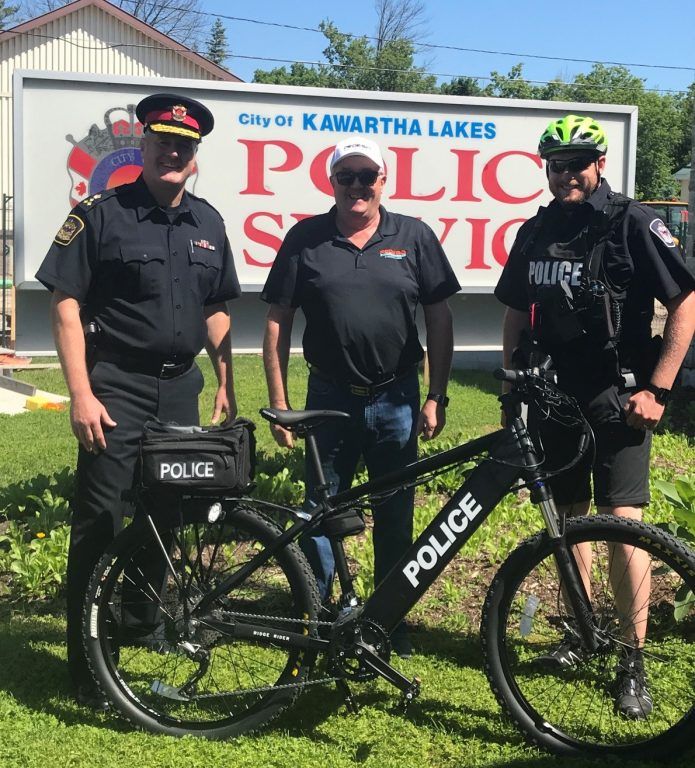 Bear and Gillian in tandem on an excellent adventure
May 22, 2019
Grapevine Magazine interviews the owners of Pedego Electric Bikes Prince Edward County to find out why they started an electric bike store in this beautiful part of Ontario.
Grapevine credits a life long interest in hiking and cycling for leading Patrick 'Bear' Maloney and his wife Gillian to open a Pedego pop up shop during the summer of 2017, and a permanent store on the Millennium Trail the following year.
Grapevine is a lifestyle magazine featuring arts, culture, food and wine for Prince Edward County, Northumberland, Hastings, Quinte, Kingston, Ottawa and beyond.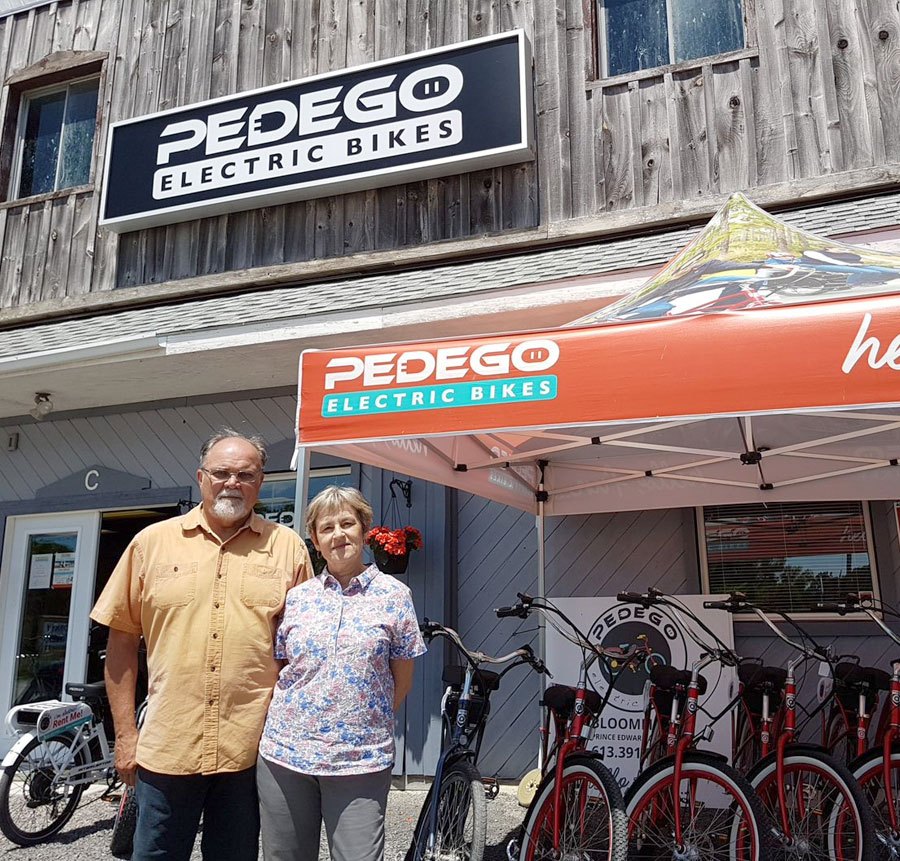 People who haven't ridden a bike in thirty years are trying them out and remembering what fun it was to ride a bike.
One can rent a bike for a few hours and reconnect with nature and childhood.

E-bike store opens next to rail trail
May 13, 2019
Kelowna's main newspaper  The Daily Courier profiles Murray and Sheila Fraser from Pedego Oyama, interviewing them about why they opened an electric bike sales and rentals shop in the Okanagan Valley.
As well as talking about their backgrounds in sales and the automotive industry, Sheila and Murray talk about why it is so much fun to ride Pedegos on the Okanagan Rail Trail.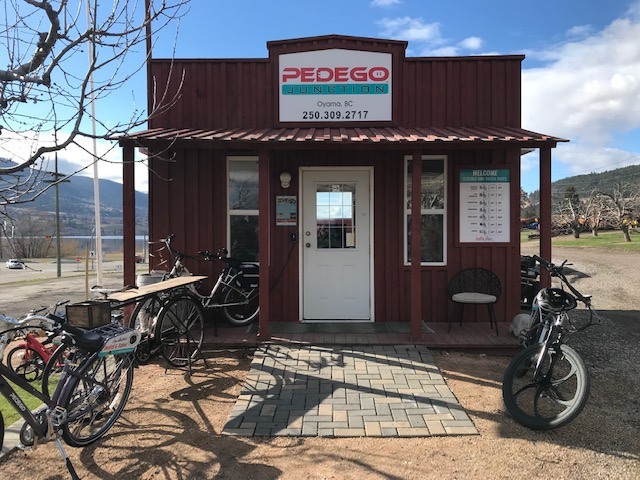 "It's well-suited for the Okanagan Rail Trail and city riding with a comfortable ride on pavement as well as the packed gravel. It handles the hills up to Intrigue Winery and home to Middleton Mountain in Coldstream with ease — even when my panniers are loaded with groceries,"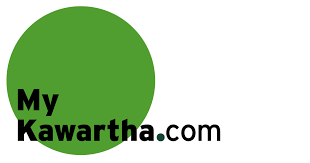 Bobcaygeon-based e-bike business expanding to Lindsay
May 8, 2019
Kawartha Lakes This Week reports about local businesman Allen Hussey expanding his Pedego Electric Bike business to a second location.
Al, the owner of Pedego Kawartha Lakes in Bobcaygeon, Ontario, is about to open a sister store in nearby Lindsay.
Reporter Bill Hodgins describes the location as near a high-visibility intersection, and not too far from the Trans-Canada Trail entrances, heading north to Haliburton and east to Peterborough.
The reporter also notes how Al has hired well-known bike mechanic Mike Gorman to run the store.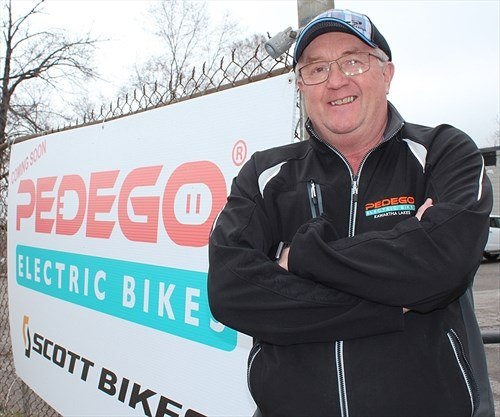 When he heard Gorman was closing his Spokes for Folks business in Cambray, he reached out to gauge his interest in working at the Lindsay outlet. Gorman jumped on board.
For him, the chance to still work with bikes appealed, as did the three-day-a-week schedule. For Hussey, it's having someone with the reputation and talent of Gorman at the helm that appealed.