City Commuter: Lite Edition
The Lite Edition proves that sometimes less is more. It has everything you need, and nothing you don't – all for an irresistible price.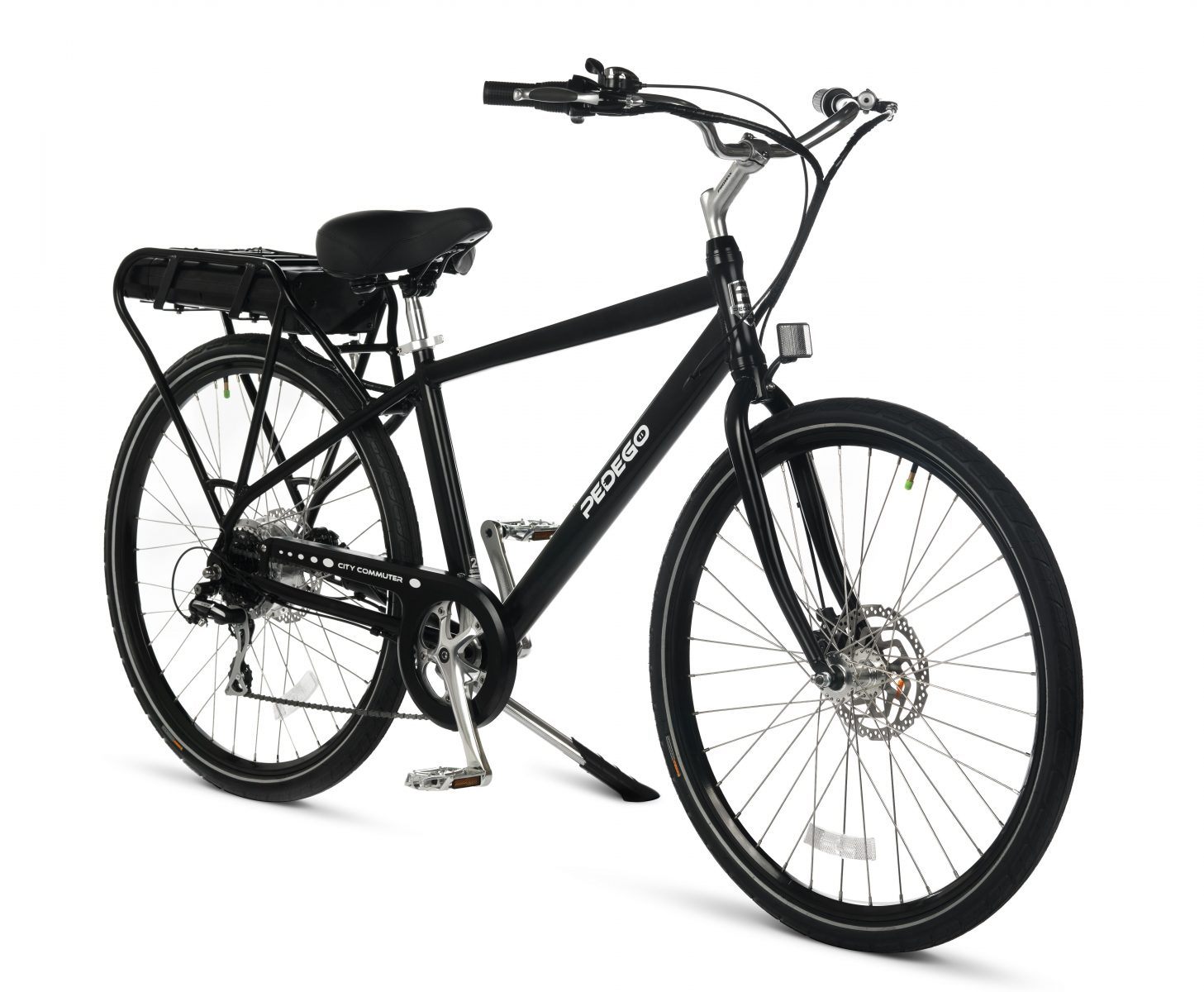 Made For You

The first thing you notice when you ride a Lite Edition is how comfortable you feel. You'll swear it was made just for you – because it was! The most important part of any Pedego is the person riding it, and the Lite Edition is built with only one thing in mind: YOU.

User Friendly

The Lite Edition is fully loaded with user-friendly features that make riding even more fun. From the simple pleasure of a built-in bell, to innovative Smart Bike Technology including a Bluetooth connected smartphone app; we've thought of everything!
Breathtaking Performance
The Pedego City Commuter: Lite Edition is the perfect everyday electric bike. It gets you from A to B with no fuss, and a huge amount of fun.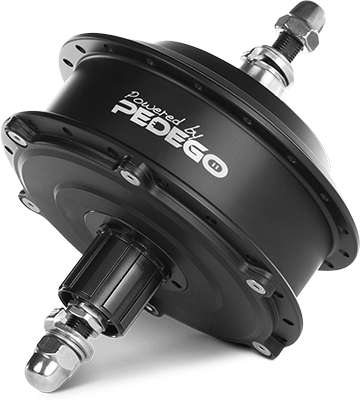 A state-of-the-art 36 volt battery uses the same advanced lithium-ion cells as an electric car. It is smaller than a shoebox and can take you up to 70 kilometres on about 10 cents worth of electricity.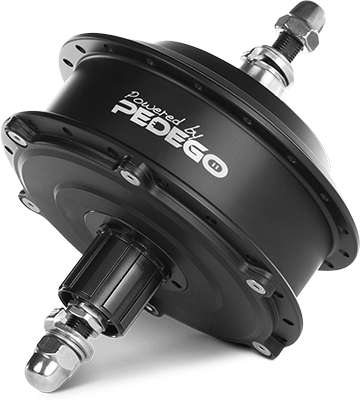 The 500 watt motor delivers best in class acceleration and hill climbing, and it's as quiet as a mouse. The sensation of power it gives you is exhilarating.
Small Details make a Big Difference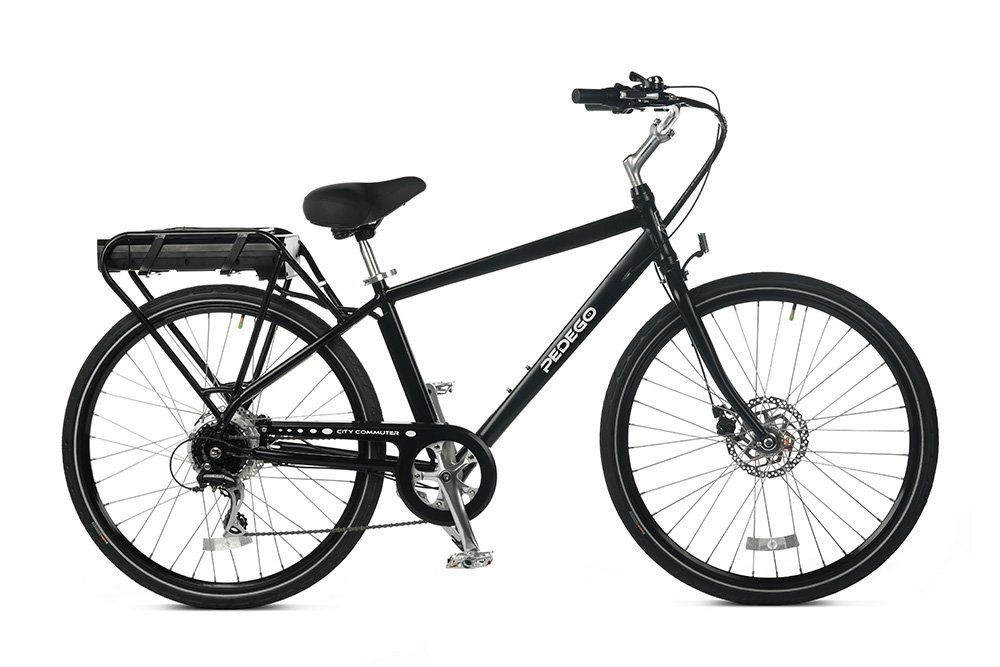 City Commuter: Lite Edition
City Commuter: Lite Edition
"NOTHING COMPARES TO THE SIMPLE PLEASURE OF RIDING A BIKE."
Pedego Electric Bikes are not the highest or lowest priced.
They are simply the most pleasurable.
SHARE WHAT YOU LOVE ABOUT YOUR PEDEGO!
WHAT CUSTOMERS ARE SAYING
When we say that Pedego Electric Bikes are the best, it's just bragging. But when our customers say it – it's proof!
Nearing 2,000 miles!

Bought the bike March 2018. Closing in on 2,000 miles.

Works great. Consistently getting 45+ miles per charge on the battery.

I normally ride with the Pedal Assist set at 2. But I crank that up to 3 in the hot FL summer; lets me ride fast enough to actually keep cool despite the temp and humidity.

Lots of speed bumps on my regular route; the air suspension front fork does a great job of smoothing out the bumps.

Jason and Emily run a great store at Pedego30A between Destin and Panama City Beach.

Stop in for a test ride!

amazing ride

I've had my Pedego Black edition for 6 months now and it's an amazing bike. I ride the PCH in San Diego 3 times a week for about 40 miles and it's a breeze and a workout. I've had several e-bikes in the past and this by far is the best. The customer service after the sale has treated me just as well as when I was buying the bike and for that reason I'll always be a Pedego customer for life.

Love my City Commuter!

I purchased the City Commuter Black edition 2 months ago and I've already put over 250 miles on it…and its winter!

I live in an urban residential area. After thinking about the typical traveling I do in a given week I realized 90% of my driving was within 4 miles of my house. I already had a bike but my city is pretty hilly so I would frequently talk myself out of riding it around town for errands. The Pedego solves this for me. Now I can use the pedal assist to help with those hills.

I decided to go with a Pedego because there is a store located in my neighborhood. This allowed me to test out various models and get the one that fit my needs best. The folks at the store are very nice. I've dropped back by to ask questions and have them tweak a few things. They are always helpful.

In choosing a bike, the City Commuter ended up being the best fit. I decided to upgrade to the Black edition because I'd read that hydraulic brakes are very low maintenance.

I can't recommend Pedego enough!

Better than expected

After reading numerous reviews of electric bikes on line, I decided on the pedego city commuter. after reading up on the choices I decided to treat myself and go with the model I felt offered what I was looking for. Never thought I would be so pleased with my choice. I never owned an electric bike and was happily surprised with it's power and ease to operate. Thank you pedego for an outstanding product.

Initial Impressions

We visited some friends in Florida last summer who had Pedego Commuter bicycles. They talked us into renting a couple from their dealer in Dunedin. We really enjoyed the experience and started researching what was available. We also have an RV and started noticing that a number of RVers had electric bikes for short commutes from their campsites. After checking out all of the brands available we decided that the City Commuter Black Edition was the best fit for us. Pedego of Topeka (an awesome dealer) delivered our bikes the first week of December. Even though the weather in Kansas City has been horrible this winter we've been able to put just under 100 miles on the bikes in the last six weeks. We live in a hilly area and it's really a joy to ride up and down the hills with little effort and have found that it's a great way to exercise our 66 and 71 year old legs. Next week we are loading them up on our RV and heading south for the rest of the winter. We know that our Pedegos will greatly enhance our life on the road. We had no idea getting from one place to another and than back could be so much fun.

What A Bike!

I have had 2 Pedegos over the years and just love the brand! It makes taking a long ride so enjoyable. Time is important to me and when you do something you should enjoy it…as they say life is short. When I'm on my bike there is great sense of freedom. And if you really want to enjoy yourself, rent one when you're traveling. My wife and I rented a couple while visiting on Martha's Vineyard and had a great time. What a way to see the island!
Hello Fun!!!!

Best decision! Awesome bikes!

My wife and I rented a couple of Pedego bikes while on vacation in California, and we had a great time. So, when we returned home (Utah), we went to our local Pedego store to test ride the different models. We both found one that worked for us and decided to invest in our health. Okay, it was mostly for fun, because these bikes make getting some exercise outside so much fun that I can't really call it exercise even though we can get a good workout if we choose–or we can rely more on the battery and just go for a cruise. What a blast!! Buying these bikes just might be one of the best decisions we've made in a long time. We're thoroughly enjoying going for a ride together touring the city and stopping at new lunch spots for a snack before exploring some more. We bought a great bike rack at the Pedego store and even took the bikes to a family reunion–back in California (ha!). Other family members had bikes, too, but our Pedegos were garnering all the attention. Everyone wanted to "take them for a spin". Each day we would take a 25 to 30 mile ride and still have plenty of battery power left. I haven't yet let the battery run all the way down, but I can easily see us getting up to 50-60 miles on a charge. The bottom line is we love our Pedego bikes! My wife and I are in our early 50's, but our children and our nieces and nephews have just as much fun on the bikes as we do–that is when we're willing to share. As I said earlier, getting Pedegos is one of the best decisions we've made in a while. Here's to many more miles on the road! I can't wait to rack up some serious Pedego Mileage Pins.

City Commuter best way to get around

I purchased the black city commuter in RSM after much research on the web regarding e-bikes. I found that pedego brand was the 0only one that not only sold a great e-bike but also stood by the product and serviced the -e-bike if and when needed. Unlike other e-bikes out their and there are many only pedego has the independent shops to take care of all my needs with service, questions and upgrades if needed. I have had the bike for almost 2 years not and if runs flawlessly. I weigh 192 and my 48v bike can get me up hills and beyond with little help on my end. Thanks pedego for a great e-bike.

Life time biker

On February 14, I will turn 70. My wife and I both bought Pedegos in San Diego a few months ago. We live above 9,000 feet in Colo. We raised our family in Denver. I rode my regular bike to work regularly Over 10,000 miles total.

When we moved full time to the mountains most of our bikes (tandem, road and mountain bikes)sat idle most of the time.

But the Pedegos have made biking fun again.

Bought my Pedego last June as a birthday gift here in North Florida. Fairly flat terrain changed dramatically that summer as I attended a week long music camp in the mountains of West Virginia. My City Commuter got me up and down hills all over the varied landscape of the campus. As an older guy, I don't think I could have gotten to classes, jam sessions and meals without being totally exhausted. That Pedego saved my energy and made it pure fun to navigate through the days.

Black Edition Rocks

I have ridden about 400 miles on my Black Edition 28″ Mag Wheel version and I commute 15 miles each way from my home in Alexandria, Virginia to Washington, DC. I have ridden this bike in all kinds of weather, including rain, snow, wind and ice and I am here to tell you this bike is the champion of all bikes. I will also tell you that this is a large bike and it has a lot of weight but it also has a lot of power. I average about 19 miles an hour uphill and I get to and from work in less than an hour. I also get 2 hours of exercise every day. I have only had two incidents and neither caused me to fall but be careful on ice and get yourself a rearview mirror. It is a life saver and I would be interested in hearing from others about the horn – bell – we need a little more power for a bell. I have ridden thousands of miles on a regular bike and I am very happy with this brand.