Interceptor: Platinum Edition
The Pedego Interceptor: Platinum Edition is for those who refuse to settle for less. It makes this best-selling electric bike even more lovable with premium upgrades.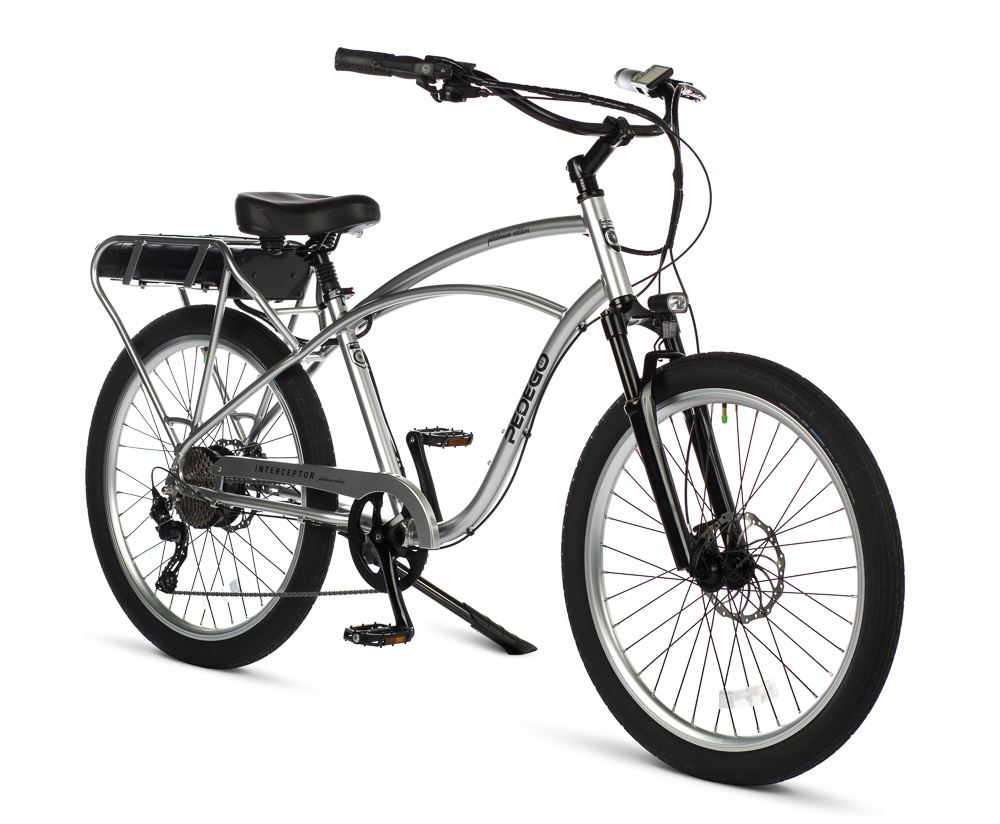 Smooth Ride

A high-end suspension fork allows you to effortlessly glide over bumps in the road. A simple lockout switch saves energy when you don't need the suspension.

Stop on a Dime

Top of the line hydraulic disk brakes stop on a dime with the greatest of ease. The levers are easier to pull than normal disk brakes, and they feel more responsive.

Easy Pedaling

A larger front chainring and deluxe 10-speed drivetrain provide fluid shifting and comfortable pedaling – even at high speeds.
Breathtaking Performance
What really sets the Interceptor apart is its supercharged performance. It's recognized worldwide as one of the most powerful electric bikes on the market, and it's just plain fun and exciting to ride.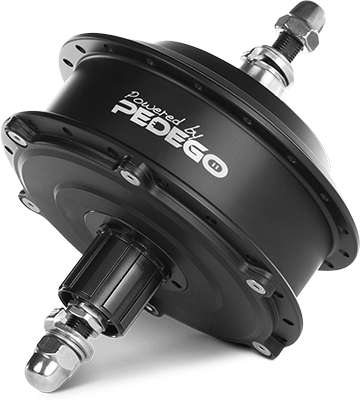 A state-of-the-art 48 Volt battery uses the same advanced lithium-ion cells as an electric car. It weighs less than a jack rabbit and can take you up to 100 kilometres on about 10 cents worth of electricity.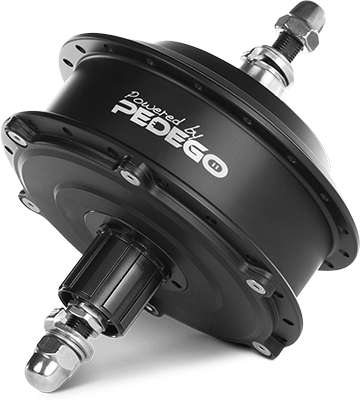 A whisper quiet, 500 watt motor delivers best in class acceleration and hill climbing. The sensation of power it gives you is exhilarating.
Small Details make a Big Difference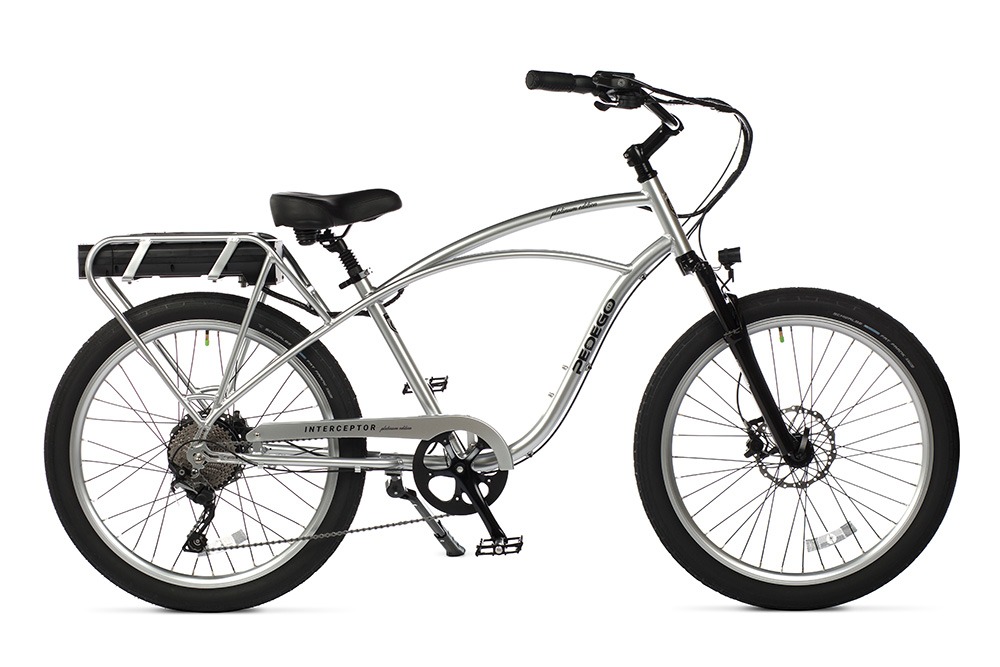 Interceptor: Platinum Edition
Interceptor: Platinum Edition
"PRICE IS WHAT YOU PAY. VALUE IS WHAT YOU GET."
Pedego Electric Bikes are not the highest or lowest priced.
They are the greatest value.
SHARE WHAT YOU LOVE ABOUT YOUR PEDEGO!
WHAT CUSTOMERS ARE SAYING
When we say that Pedego Electric Bikes are the best, it's just bragging. But when our customers say it – it's proof!
Prompt, pleasant and positive

My partner and I purchased a couple of interceptors last year in late Spring, truly fantastic bikes, quality products!  There have been a couple of technical issues working out the bugs of a relatively new product.  In this regard, I wish to express my gratitude to the technical ability and incredibly prompt service from our Pedego area representative in Nelson British Columbia.  My experience has been that I have not encountered this level of service with any other purchase I have made, including major ones such as vehicles.  Great job Mike, I am happy to give credit where it is due and provide an accolade where it's deserved, it certainly is in this case.  Thanks for making this a pleasant and positive experience rather than "why on earth did I give those guys my money".

Love the Pedego Portland, OR store

We can't say enough great things about Tommy Connell , owner of the Portland, OR Store. We were so pleased that we choose the fantastic Pedego Electric Bikes and really happy we choose Tommy's store. After using regular mountain bikes for many years and recently having hip surgery we thought our mountain bike riding days were over. Refusing to give up on our desire to do what we loved, we started to research other options like electric bikes, since we needed a little help on the trail now. After researching many options, we came across the Pedego Company and loved all the positive feedback we were hearing from people like us and how they were loving how the bikes were putting the fun back in biking for them.

We called up Tommy and asked a few questions about the bikes and decided to take a drive down to his store in Portland, OR. Tommy was so helpful and has such a wealth of information about the Pedego Electric Bikes and biking in general we knew we were in good hands with our decision to go with Pedego. Tommy was so patient and helpful explaining all the features of the bikes we were interested in and making sure he recommended the right fit for our needs.

We both did a test ride and were so impressed with the overall quality and design of the bikes, along with how much thought went into every detail of the bikes we were interested in.

After the test rides we were sold and ordered the Ridge Rider and the Platinum Interceptor. Tommy took care of everything and the bikes were ready for pick up the next week. From start to finish we had a great experience and we are really enjoying our new Pedego bikes.

So instead of looking to less biking with our old bikes we are now looking forward too much more biking now and into the future.

We highly recommend the Pedego Electric bikes and the Portland, OR location and the great owner Tommy Connell.

Health and Freedom to Ride

As a 73 year old with the loss of two lobes of my lungs the Pedego gives me the freedom to take advantage of the joy of riding in all types of terrain. I am able to tackle long rides of 50 miles and not worry about bouts of over exertion by adjusting the various levels of assist. The Platinum Interceptor is just plain fun and is easily used for short errands as a daily substitute to a trip in the car. More importantly I am able to ride with my wife who enjoys her 24 inch Rasberry colored interceptor.

Batteries Make It Better

After months of investigation, I decided that the Pedego Platinum Interceptor would be my Happy 70th Birthday present to me. Many hundred miles later I can affirm that purchasing this bike was one of the best decisions I've ever made. My Pedego is an investment in my mental health and physical wellbeing. We all know that we should exercise, but I don't like treadmills and I don't like stationery exercise bicycles. And if you live in California, who wants to stay inside? So several days a week I'll mount up and just take off. Many times I haven't even decided on a destination or route until I'm well underway. I start out with the assist on #1, which means that I'm utilizing significant leg power. When I find myself going uphill, or perhaps going into the wind, I can either shift to a lower gear or kick the assist up notch to let me keep my desired pace. I'll normally start with the assist on #1, and as I tire I'll bump it up to #2, and then to #3 and sometimes #4 if I'm particularly tired or if it's been a longer ride than usual. Even if my return finds me going constantly uphill or facing a stiff breeze, it does not matter! I've got Pedego power. When the battery gauge hits 3 bars, I know it's time to think about returning home. I've taken trips in excess of 40 miles and have never gotten close to losing power (battery power that is, personally I'm pooped!)

There are hundreds of miles of paved trails in coastal Orange County to explore. These paths are shared with other bike riders, pedestrians, joggers, dogs on leashes, parents pushing kids in strollers and even horses. I find Pedego riders to be among the most courteous of all those sharing these wonderful trails, and let me tell you why. First, our brakes are fabulous €" most like mine boast hydraulic discs on both ends that have miraculous stopping power. Even if I'm speeding downhill on a pedestrian trail, if I'm approaching others sharing the path, particularly parents with kids or with dogs on leashes, I can scrub off speed by squeezing my superb brakes so that I just crawl until I'm safely past them. Regular bikers hate to lose their speed at the bottom of a hill, but with Pedego I don't fear losing my momentum at the bottom because I know that my Pedego power is a simple twist-of-the-wrist away. I hit the power once I've safely cleared the walkers, then add a downshift or two and I'm right back on my pace €" even as I head uphill. The smiles and occasional €œhello's"" exchanged with others enjoying the outdoors who I carefully pass are evidence that this consideration is appreciated.

Even with the many available trails, it's still usually necessary to ride on a public street from time to time. I feel safe on my Pedego for a few reasons. Obviously, I purchased a high quality helmet and never go riding without it. When stopped in the bike lane for a red light, it is hugely confidence-inspiring to know that you can blast off when the light turns green. There's no wobble. No hesitation. A twist of the throttle and you are up and out of the way of traffic. The boost is there when you need it, and merely assisting you when you don't. It is also safety-smart to be as visible as possible. My Pedego is wired so that the headlight and taillight can be continuously turned on when riding. The battery drain is minimal.
There is an old motorcycle joke that goes €œHow do you tell a happy motorcyclist? By the bugs in his teeth." Many of my Pedego miles have been accompanied with plenty of toothy smiles but fortunately – no bugs.

I purchased two Pedego bikes 4 months ago. My girlfriend and I love our bikes and go for a ride almost every day. The step through bikes are easy to get off and on. The pedal assist choices and the ability to €œthrottle up" are awesome. Even when we are tired, the Pedego's allow us to hit the road and just use a little extra assist. No excuses!

I have had two Pedego Bikes and loved them both. I especially like my Interceptor. My wife and I ride every chance we get. I have gone 30 plus miles several times and enjoyed every foot of it.
I got my first Pedego 4 years ago and lost 45 pounds in the first summer. I have managed to keep it off by riding. I love it.

Comfort, freedom, fun....

I love my Pedego. After having major surgery I needed to focus on my health and my Pedego allowed me to do that. I originally rented a Stretch and found that it was not the right fit for me so I purchased an Interceptor: Platinum Edition. In just a few months I managed to put 250 miles on it riding to work and on the weekends. I cannot wait for winter to subside so I can get back to it! Since I first rented a bike in Myrtle Beach to the purchase we made in Spring Lake everyone on the Pedego teams have been great to work with and always helpful.

I love my Bike!

When I purchased my Pedego I thought I would enjoy having this bike but I never knew how much it would change my life! I ride my bike all the time whether it is just cruising through town or going on an adventure into a new area or running a quick errand to the store! This was the best decision I have made in a long time!

Great bike well made with quality parts and workmanship We purchasers are bikes at the Myrtle beach Pedgo dealer my Wife has Black edition City comuter I have a Platiom Interceptor our first bikes were City Comuters Pedegos but we're purchased from a bike dealer in CT that sold many different kinds still great bikes but coustmer service was nothing like the service we receive from Pedgo dealers Before we experienced that service we may have purchased something other then a Pedgo we truly are Pedgo people now

Love at first ride. This bike is pure exhilaration. A whole new world has opened for me with this bike. New friends, new places to go, new things to see and exercise. Imagine having fun exercising. Well this is it! Make time to go for a test drive it will change your life. It may even save your life.

Amazing Platinum Intercepter

Due to an ankle injury I am no longer able to run, but biking is a low impact exercise that I really enjoy.

While I have other bikes, I wanted something more comfortable and able to haul some groceries if I wanted.

The Pedego Platinum Intercepter which I purchased last October is AMAZING. It is super comfortable with an upright seat in this cruiser style bike. Buttery smooth brakes and shifting, and when I need it – five levels of electric assist. This allows me to comfortably go the five miles to the beach as well as the 3 miles to the grocery with ease. I can also take longer day trips of 20 or more miles.

The sales and support staff at Pedego has been excellent.

I have been really happy with my purchase and look forward to years of comfortable biking.

I highly recommend anyone looking at electric assist bikes consider, and test ride, a Pedego.

More Places to Enjoy Riding

My Pedego is not only fun to ride, whether for recreation or simply to go shopping, it extends my horizons. I live in a hilly area. On a standard bicycle there were roads I dared not travel because the hills were too steep. I could only walk my old bike up the hills. On my Pedego I can go almost anywhere. The most challenging hills are easy as my Pedego helps me pedal up steep inclines. Long hills feel shortened. It's almost like the Pedego flattens the terrain for me. The bike is so much fun to ride, I bike almost every day.

"I previously owned an electric bike and had major issues with it so I looked into Pedigo. Went and tried one out and bought one on the spot. Sales staff was very knowledgeable and helpful. Rode all summer and no issues.

Being an older adult I never thought I could ride a bike again but now I go out all the time!!

Love this bike! Recommend it to everyone! "

Restored My Ability to Ride!

I've been an avid bicyclist for many years. At age 72, I was getting to the point where I couldn't ride as far or as frequently as I once did. Many of my favorite trail locations were no longer accessible. I decided to try an e-bike and WOW, what a difference! I now ride farther and more frequently than I ever did on my conventional bike! As a result, I'm also getting more exercise!

I did quite a bit of research on e-bikes before buying and decided on the Pedego Platinum Interceptor. I chose Pedego for it's well designed features, quality components and FANTASTIC customer service!

My wife and brother are also hooked on e-biking and I'm now the proud owner of three Pedego's!

In short, if you're thinking of giving up cycling due to age or health reasons, try an e-bike. I guarantee you won't be disappointed!

Pedego-ing For Better Health

I bought a Pedego Platinum Interceptor from Ashland Electric Bikes about 18 months ago. I immediately loved the bike, and I am happy to report I still do. It's been everything and more than I hoped for, and the service at the Pedego dealership has provided has been top-notch.

One of the reasons I bought a Pedego was to improve my health. I'm middle-aged and am not as fit as I used to be. So I started looking into getting back into cycling, which I used to do a lot of when I was younger, and in the process I found studies and articles like this one [ goo.gl/h6hCqk ] that inspired me to talk to my doctor about the health benefits of an e-bike. My doctor agreed it was a great idea.

Recently I went back to see my doctor and she was amazed at the results. In the 18 months since I bought my bike I have lost 35 pounds. What's more, my blood pressure, which was a bit high, is now down to normal levels. Also, several other of my "levels," which were edging into the worry-zone, are now back to normal. I feel better, look better, and have way more energy than I did 18 months ago.

If you are considering buying a Pedego but aren't sure if it will really help you get in better shape or not, I hope this testimonial will inspire you to give it a chance. It worked wonders for me and I hope it might do the same for you, too.

With a Pedego, I can ride again (with COPD and Afib)

Two years ago I was diagnosed with COPD and atrial fibrillation. I found I had to slow to a crawl for biking up even the gentlest inclines. I thought my biking days were over. I rented a Pedego one weekend and rediscovered the joy of biking. Seeing my joy, my wife bought me a Pedego one year ago for my birthday. I can now tackle even the steepest of inclines. My conditioning is improving and I'm able to "dial back" the power assist more and more on each ride. Loving my Pedego for bringing the joy of biking into my life!

Super Senior gets out-of-the-house thanks to Pedego

I am an old guy who never rides bicycles and stays home most of the time. In 2018, I purchased an Interceptor. The bike is fantastic and allows me to get out of the house to many fun parks in the City. I also ride to the beach and can go along the path for many scenic ocean view miles. I am now healthier and happier thanks to Pedego !

Exactly what I expected and wanted!

I had rented an electric bike in Prague last year and loved the experience. I have always enjoyed riding a bike but currently live in an area with quite a bit of hills that were enough to limit my riding quite a bit. At age 68 I didn't want to get so "gassed" on the hills that I couldn't really enjoy the rest of a ride. The Pedego addressed my concerns perfectly and has allowed me to ride more than I even anticipated. The "hills" don't hamper my rides in any way and I quite often ride 20-25 miles at a very swift pace to get great exercise and the enjoyment of taking advantage of most of the bike trails in the area. My wife honestly questioned the cost of the bike but fully agrees today it was a great investment!