Tandem - Electric Bicycle Built for Two
The Pedego Tandem is the world's first electric bicycle built for two. Riding is twice as much fun with someone you love.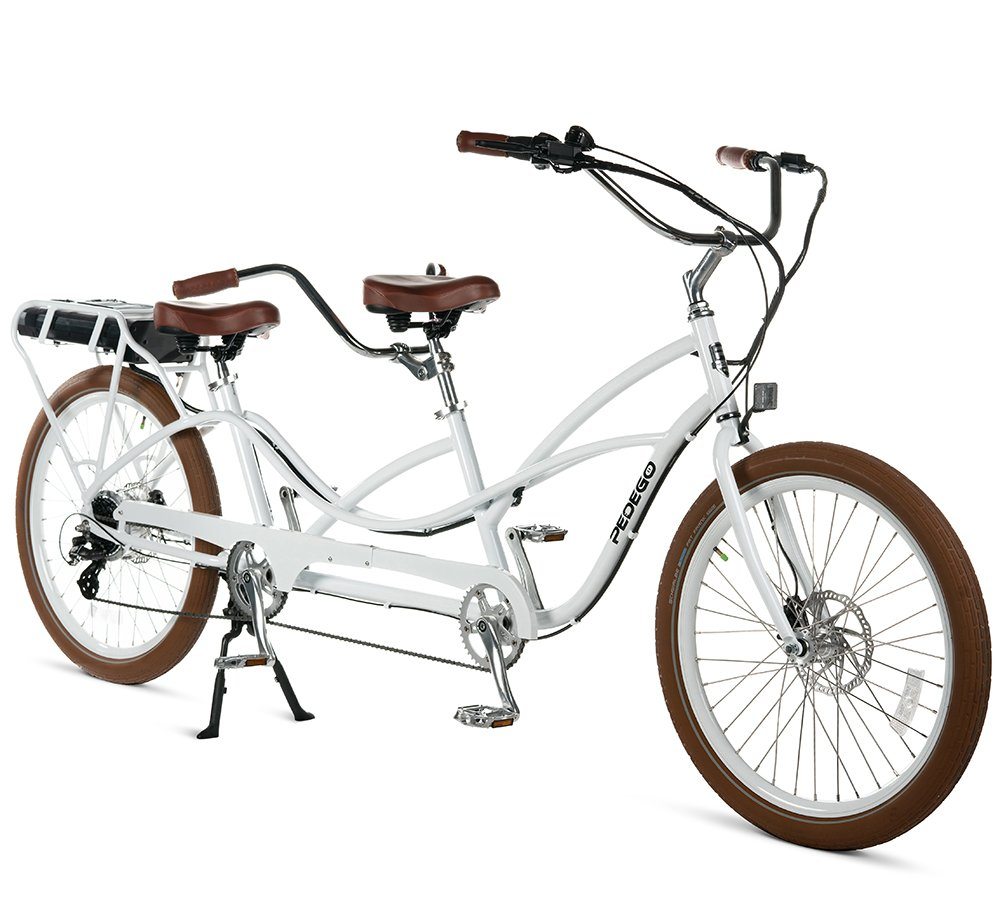 Breathtaking Performance
What really sets the Tandem apart is its performance and style. It's the most powerful tandem electric cruiser bike on the market, and it's just plain fun to ride.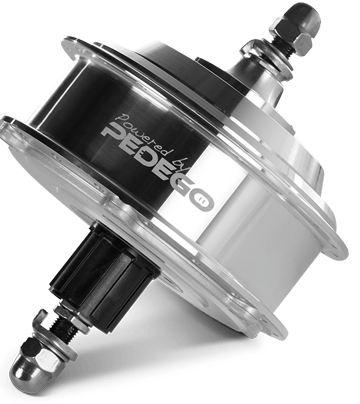 A state-of-the-art 48 Volt battery uses premium lithium-ion cells and can take you up to 100 kilometres on about 10 cents worth of electricity.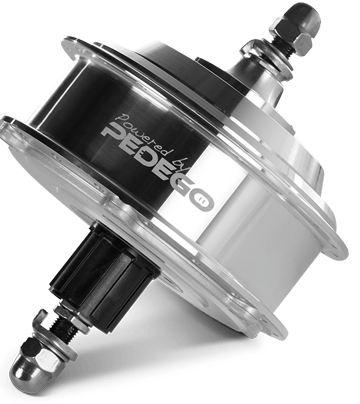 Its quiet 500 watt motor provides a sensational amount of power, it's like having an invisible third rider doing all the hard work.
Small Details make a Big Difference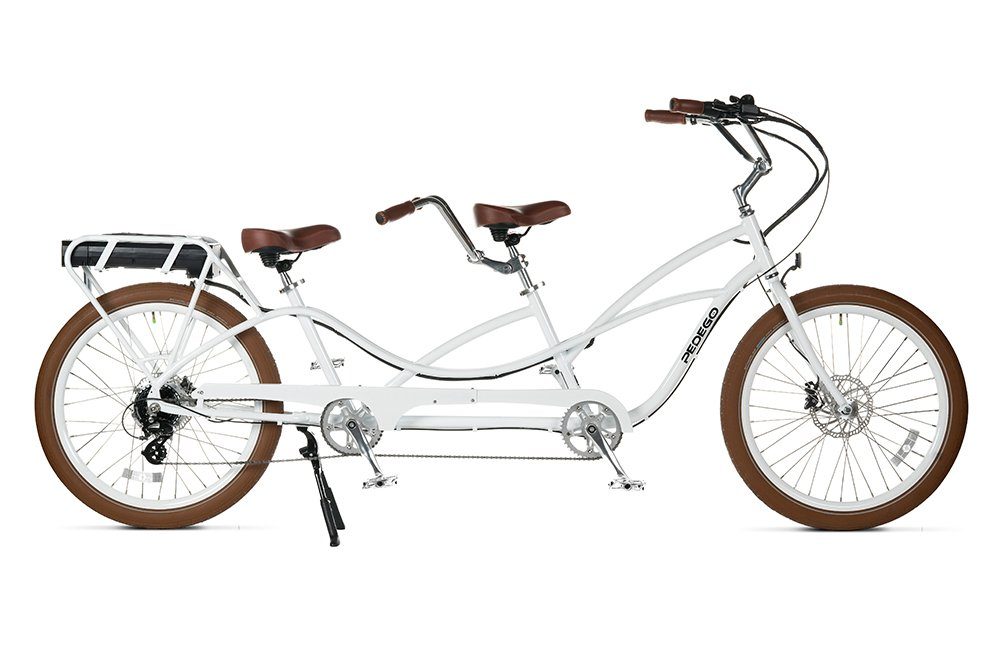 Tandem – Electric Bicycle Built for Two
Tandem – Electric Bicycle Built for Two
"YOU'LL LOOK SWEET ON THE SEAT OF A BICYCLE BUILT FOR TWO!"
Pedego Electric Bikes make the sweetest electric bicycles.
Including this one with two seats.
SHARE WHAT YOU LOVE ABOUT YOUR PEDEGO!
WHAT CUSTOMERS ARE SAYING
When we say that Pedego Electric Bikes are the best, it's just bragging. But when our customers say it – it's proof!
Pedego sets the bar for tandem electric bikes

Our tandem is the best purchase in a long time. We moved within 1 mile of the beach and enjoy our tandem to ride to dinner, happy hour or just a cool ride along the beach. The power is just right and have never had an issue with battery strength or range. 1 year in and we are stoked.

Strengthen Your Marriage

There is no finer way to bike with your mate then to do it on a tandem.

No more shouting to your partner on the bike next to you or ahead of you. No more waiting for the person to catch up to you or feeling left behind if you are the slower one. No more stopping to discuss which fork in the road to take.

Instead you can carry on a conversation, you can laugh, talk about the sights and learn to work in tandem, (pardon the pun). You quickly learn the ""Captain"", in the front, controls the bike and the ""Stoker"" in the back provides the extra power when needed.

However without good communication by the captain, such as ""we are turning right"", or ""we are stopping"", frustration quickly comes. This increased dialog carries over into everyday life.

When riding a tandem you find that you had so much fun you can't wait to get out and do it again.

Awesome and fun

We are so glad that we purchased the tandem. We were worried that it would be difficult or we would be to uncoordinated but happily that was not the case. The learning curve was extremely short. The ride is smooth and we haven't ran out of battery once even though I suspect the captain slacks on effort on occasion.

First Pedego

Having ridden my Tandem for a week now, I can say that I like the throttle. My Pedego Tandem is my second electric bike. The De-railer is also superior to my first one. The best feature is the disk brakes. They are much more efficient than other caliper type bike brakes I've used. And lastly, although I had my doubts about the battery capacity versus the motor size, I am pleased with the range. Even though this battery has a smaller ampere-hour rating than my previous bike. And the motor is also smaller. I find that 25 mph is sufficient, and the range is 30 miles+.

Our tandem electric Pedego-GREAT !

We are Senior citizens,& think the bike is everything bragged about in the advertising. We are noticed everywhere we go it turns heads & folks are impressed. It's fun again to be young & feel the breeze we felt as kids. I have an implant in my heart,& the electric assist on the bike really makes it possible to get the exercise I need without tiring me out.It's FUN again, at ANY age.I reccomend it to anyone who wants to experience this sensation again.It's as much fun as you can have with your clothes on.

Amazing way to get back into shape

I Rented a pedego tandem from PEDEGO CARLSBAD ln California last month. After 30 minutes of riding I was hooked!
I went back the next day and bought a City Commuter and have been on several 50 mi. Plus rides with battery power to spare.
I plan to hit the road in June for a 3-4 DAY ride in the central coast area of California.

Our family can bike together again!

We were tentative and excited at the same time when we found out there was a tandem electric bicycle. Our son, who was growing quickly, has a delayed ability to ride a bike which is what lead us to consider an e-bike. He had grown out of the children's traditional training bikes and we wanted to find an alternative. Since bringing home the shiny new red bike, he asks us to go biking on a daily basis. By using the tandem, we quickly saw our son begin to learn the peddling motion, continue to strengthen his core muscles with the movement of the bike, and build confidence that he can go biking. It has also been a great teaching bike so that we can work through his biking struggles while keeping the bike moving by using the bike throttle. The Tandem has given our family a chance at biking together again and we thank the group at Crazy Lenny's E-Bikes and Pedego in helping us through our first e-bike purchase and follow-up questions supporting the bike product.

Beyond fun

My wife and I did lots of tandem riding when we were in our 40's and 50's. Stopped riding tandem until now because our kids gave us a tandem for our 50th wedding anniversary. Wow, this is a game changer. My wife is after me to ride all the time. We named it the Red Zephyr. We go where ever we want and only consider the safety but never the distance or climbing involved. The 7 gears with the electric motor always there for help we fly. SOOOOOOOO much fun. We love the bike and our kids for such a wonderful gift.