Trail Tracker - Electric Fat Tire Bike
The Trail Tracker is the monster truck of electric bikes. It can go places and do things that no other bike can.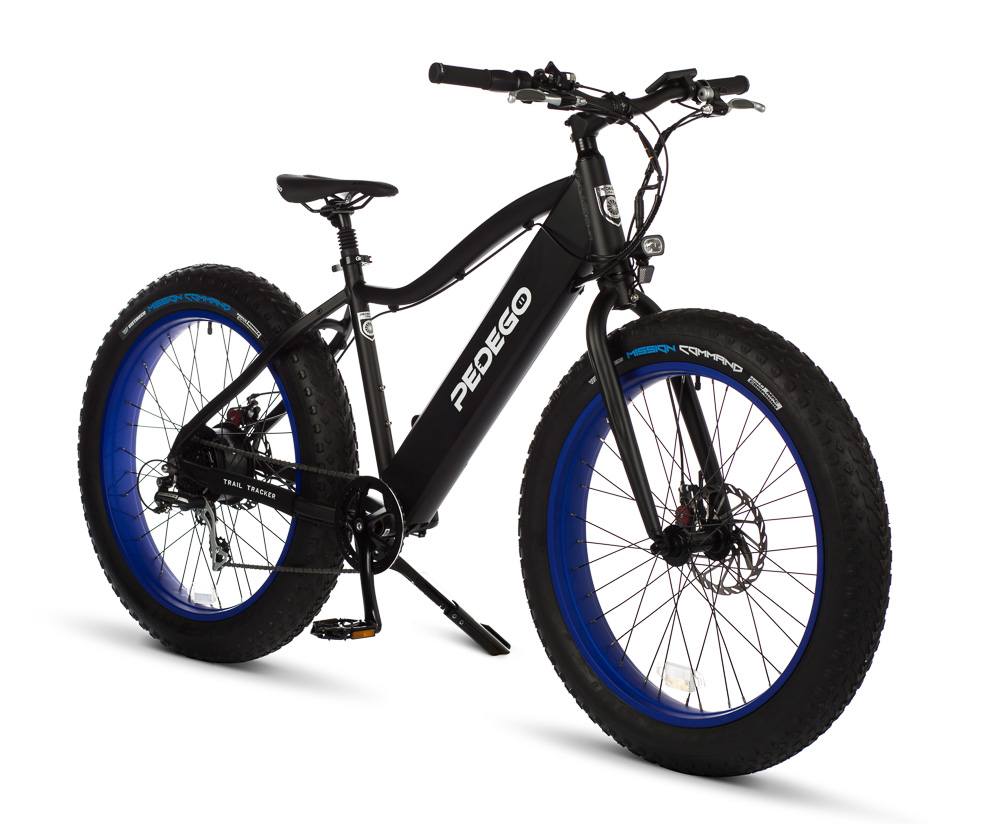 Comfort & Performance

Balanced frame geometry feels just right – relaxed yet responsive. It handles like a dream when you're riding off-road (or no-road), and yet it's still comfortable when you just want to cruise.

Unstoppable

4" wide tires empower you to effortlessly float over sand, mud or snow. From Tofino beaches to the frozen tundra, it handles all Canadian terrain.
EXHILARATING POWER
What sets the Trail Tracker apart is its incredible performance. It's one of the most fun electric bikes ever built, with dynamic input from its 500 watt motor.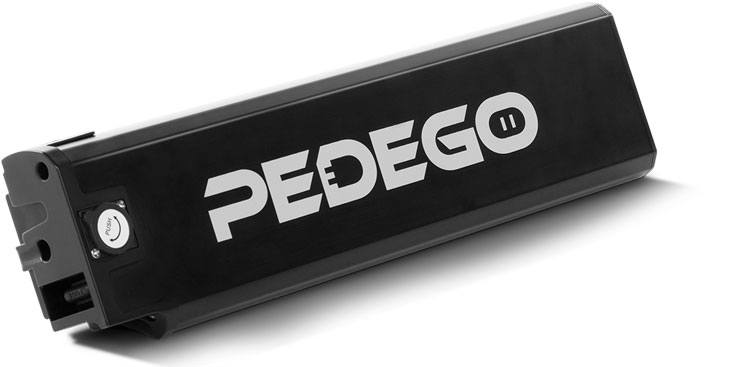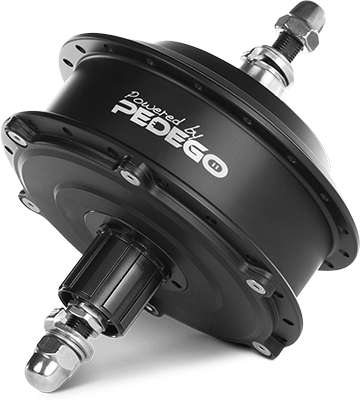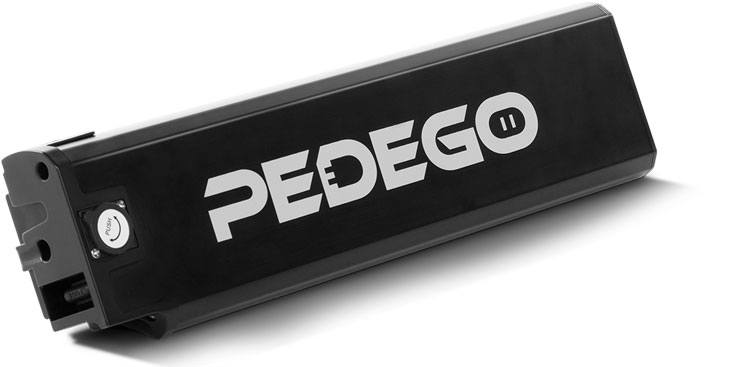 A state-of-the-art battery uses the same advanced lithium-ion cells as an electric car. It weighs less than a chainsaw and has a two year warranty.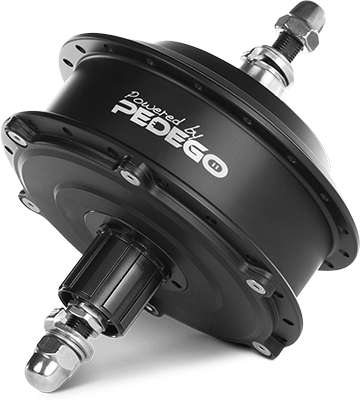 The rear hub motor delivers class-leading acceleration and power, resulting in more smiles per miles.
Small Details make a Big Difference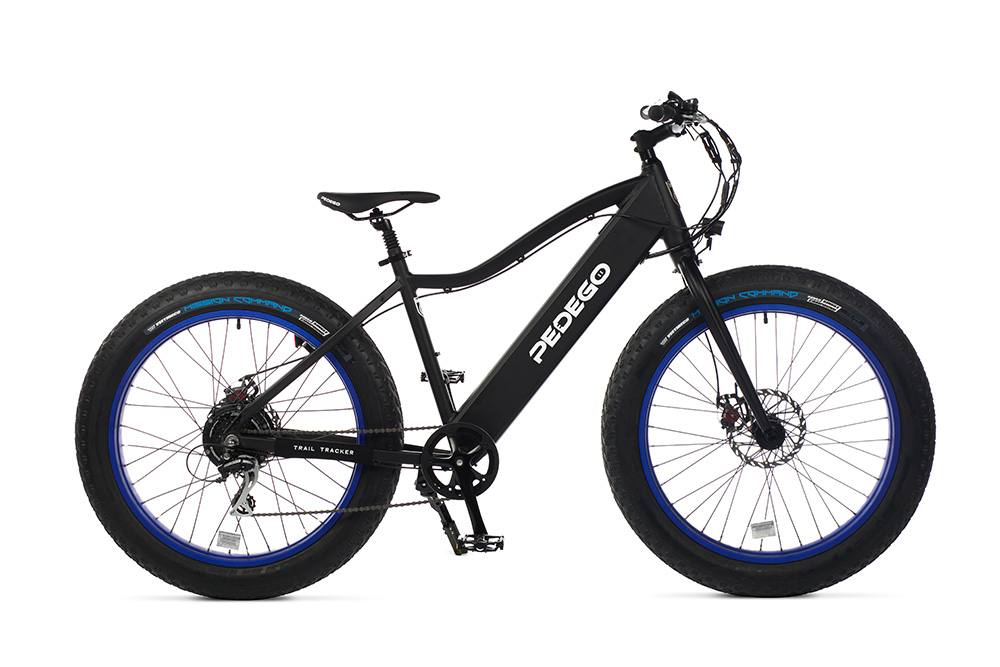 Trail Tracker – Electric Fat Tire Bike
Trail Tracker – Electric Fat Tire Bike
 "THE PRICE OF ANYTHING IS THE AMOUNT OF LIFE YOU EXCHANGE FOR IT"
Give a little of your life for a Pedego Electric Bike, and gain a life of fun and freedom.
It is a great exchange.
SHARE WHAT YOU LOVE ABOUT YOUR PEDEGO!
WHAT CUSTOMERS ARE SAYING
When we say that Pedego Electric Bikes are the best, it's just bragging. But when our customers say it – it's proof!
SO MUCH FUN!

I rented a Pedego while on vacation in Boulder, CO. After riding all over town, up and down the foothills, having a blast exploring, I returned home and immediately found the nearest dealer. I bought my own Pedego sight unseen, and the super cool dealer delivered it to me. I've never had so much fun in my life. The fat tires take me all over, beach to trail to forest. I'm so glad I found Pedego.

Trail Tracker opens up my life

I've had my Trail Tracker for a year and a half. With the river valley and long hills it opens up the range of my daily rides. The assisted ride gives me at least five times more distance and I still get great exercise without a bit of mechanical trouble. I enjoy it very much. Always get compliments out on the trails.

Fantastic Ride!

I was a slow convert to Pedego. We went to the dealer to try them out, and at first, I was not sold on the idea… I tried several cruiser-style bikes and just didn't find one that I was comfortable on. Then I tried the Trail Tracker, and discovered I was on to something. After a few customizations, I had found my perfect bike!

What I discovered was that there is no one ""perfect"" Pedego for everyone. The key is to keep test riding different models until you find that one that is perfect for you.

Overall, the Trail Tracker has performed very well. I've had a couple of issues, and it's over 100 miles to the dealership – but I'm quite good fixing bikes, and a quick email to the Pedego support has whatever I've needed mailed to me quickly.

I live in a bike-friendly town, and I thought my days of riding were long gone. But with my Trail Tracker, I am now able to ride all over town. My goal from here out is to ride my bike on errands as much as possible.

Trail Tracker

I am 76 years old. My Pedego Trail Tracker has allowed me to have so much more fun riding on trails other than paved. My wife also has a Trail Tracker and together we find beautiful little used trails here in the Northwest to explore. Can't say enough good things about the service from Pedego. A life changer.

Purchased 2. They are the best!!

We purchased Two trail trackers.

We are very happy with our trail tracker purchases.

These ebikes are great!

Easy to to use and tons of fun to ride.

We live in a hilly area and the throttle and pedal assist make our rides easy as we want them to be or as challenging as we want them to be. Our choice!!

Lucky Find

We are so happy to have found this place. We bought our 12 year old son an electric bike a few months ago and it's probably one of the best purchases we've ever made for him. And when our son got a flat tire, we brought the bike back to the store and Linda and John couldn't have been more helpful. Besides fixing the problem, (at a very reasonable price) John also added some kind of gel to the inside of the tire which will prevent punctures in the future. We plan to bring our out-of-town guests to Pedego Westlake Village so we can all partake in one of their bike tours.

The best of the best. Hands down.

I picked up my Trail Tracker at Pedego Irvine in February of 2013.
It was love at first sight. Pedego Hunington Beach did some excellent upgrades. The upgrades made it my own, all me.

I have been on it ever since. The looks and comments I get make
me proud. It always looks good and runs like the wind. It performs
exactly as designed. Try it and you too will be a believer.

I have one hard and fast rule " you can borrow my truck but don't
even ask about my Pedego Trail Tracker."

Excellent experience

I just purchased the biggest mens electric bike possible. It is a total monster on the street and sidewalk. Rides out nicely and with a great center of gravity the bike experience you won't want to end.

When you ride a Pedego you have total command of the bike and road. You just want to keep riding and riding.

rail Track G3 with upgrades bought at Pedego HB.

I must say, I rented a trail tracker for one day and was stunned by the performance and looks of the bike. When I returned it the next day, they asked me if I wanted to buy one. I thought. Hmmm… It is a darn good looking bike and nice hitech ride. So, they showed me a tan Trail Tracker with beau coup upgrades and got a great price and deal on that puppy from the shop. Rode it for the rest of my trip in Irvine. Rode it 18 miles round trip to Pedego HQ from my hotel by the Spectrum mall on a half charged battery to get a new charger. The guy greeted me around back and swapped out my charger. He also gave me one of the new Pedego tool kits that just came in. Totally cool and excellent service! The next day, the mount broke on my LCD. Went to the Irvine retail store and they replace my LCD, no questions asked. Also, later the same day, the HB Pedego store upgraded my seat mount with stronger springs. No hassle! I then took the bike to La Jolla for a week. Took it onto some steep trails that go up over the La Jolla caves. Dang thing was like a stealth mountain goat! Plus, dealt with the La Jolla hills easily. Day before we left, took it around Pacific Beach and Venice beach. Did well on soft sand and grass. Once my work week was done, had to take the bike back up to Pedego HQ in Irvine so they could ship it back to me here in Annapolis Maryland. I can only imagine all the oogling I'm going to get here in Maryland! Can't wait for it to arrive. Maybe I'll get a chance to ride it in the snow.

Thank you Pedego! You're the way to go.

Bring it on!

We would like to contribute a review about our Trail Trackers:

We bought our Pedego Trail Trackers two years ago to use when geocaching on the back-country roads of Vancouver Island. The rugged frames stand up well to the terrain and the fatboy tires easily handle rocks, mud and everything in between. The batteries give us the luxury of tackling longer trails and steeper slopes. That means more caches and more fun.

These bikes are attention grabbers. We are constantly being stopped by people who want a closer look and more information. Teenagers flash us high signs and tell us the bikes are really cool. Did I mention we're in our seventies?

Our son and his wife are keen cyclists and when they invited us to ride with them we didn't hesitate, knowing that with electric assist we could keep up with them, and we did. This spring we tackled a three-week cycling trip in Holland, an awesome experience and one we would never have taken on without the confidence we gained from riding our Pedegos.

The level of service from the company is icing on the cake. When a battery recall happened recently, Pedego dealer Julie in Qualicum Beach personally phoned us to make sure we were aware of the recall and guided us through the process. Brand news batteries were delivered to our house, with a follow-up phone call to make sure we received them in good order.

For our next adventure we plan to ride parts of the Trans Canada Trail on our Pedegos. Bring it on!

The Pedego Trail Tracker is Amazing

About 2 months ago, I sold my Harley Davidson Softtail Deluxe because I was not riding it much. I bought a Pedego Trail Tracker with the Huge Tires for myself and 2 Pedego bikes for my wife and 11 year old daughter. Since we have purchased the bikes, we have gone for a bike ride almost every day. My kids beg me to take them on rides when I get home from work. These bikes are the most fun I have ever had on a bike. The bikes are quiet, fast, handle hills like a champion. I could not give higher reviews for these bikes. Fun, fun, fun. The staff at the CDM location have been super helpful and I highly recommend Pedego to all of my friends and family. Keep up the great work.

Pedego Rules

I have two bikes,my Tommy Bahama cruiser is in Lido beach Florida and my Trail Tracker at my northern home in WNY.

Pedego is a great company,they have sent me touch up paint,a new battery and assisted me with e-bike questions.

Every time I get on my bike I smile,totally silent transportation with 20-25 mile range and more if I peddle.

The only problem is all the questions I get about the bikes every time I stop!

Pedeco Bikes

I had bought a new Trail Tracker I love this bike I do my workout and I can travel further than I usually can and if I'm tired I have the option to ride home via battery power. I love the bike that I bought 2 interceptors for my spouse and and daughter we put them in my pick up and we go every where the boardwalk different parks it's a good way to unite the family Pedeco bikes are well made and if you ever get to see one you will know that they are far ahead of other electric bikes the Quality the look and to ride one you will definitely purchase one