Trike - Electric Adult Tricycle
The Pedego Trike is built for optimal comfort and stability. It empowers more people to safely enjoy riding.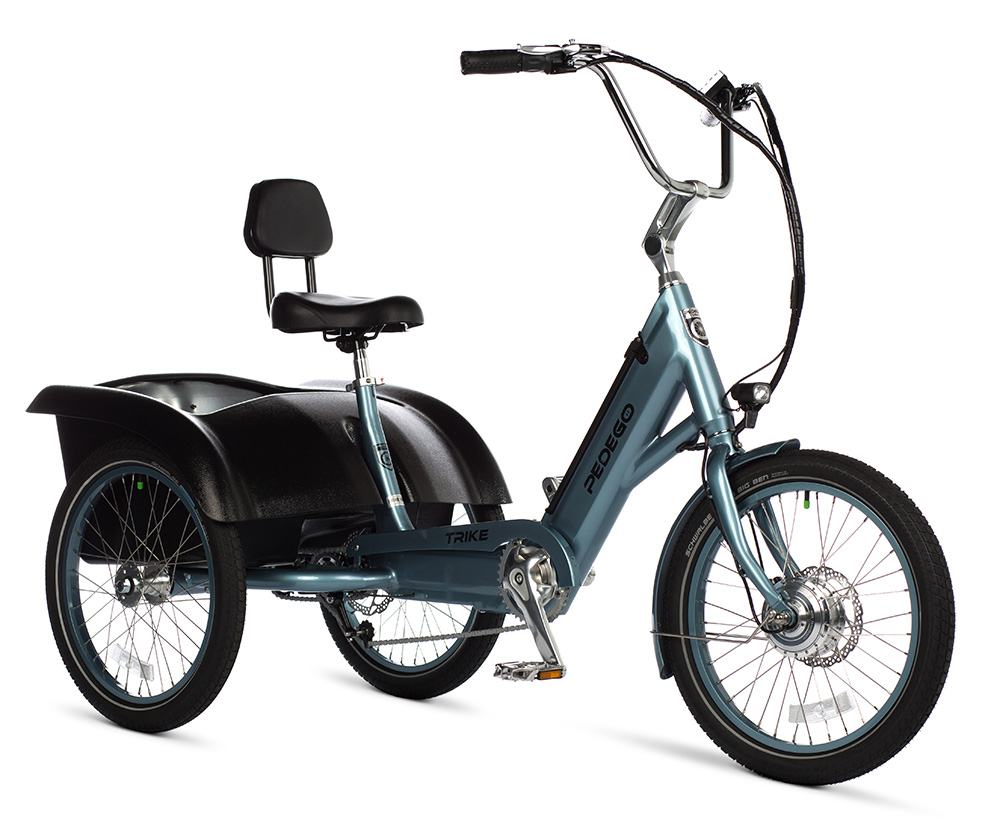 Maximum Stability

You can ride with supreme confidence knowing that our design team spent years perfecting the stability of this tricycle. An extended wheelbase, low center of gravity, and finely tuned computer software all work together to set a new standard for safety and control.

Made for You

The first thing you notice when you ride a Trike is how comfortable you feel. You'll swear it was made just for you – because it was! The most important part of any Pedego is the person riding it, and the Trike is built with only one thing in mind: YOU.
Impressive Performance
Our electric tricycle is so easy to ride, it's sure to leave a smile on your face. A comfortable and stylish three-wheeler that brings the joy of cycling to everyone.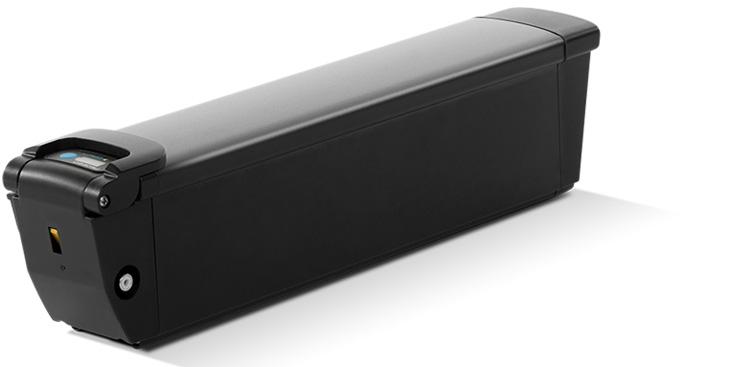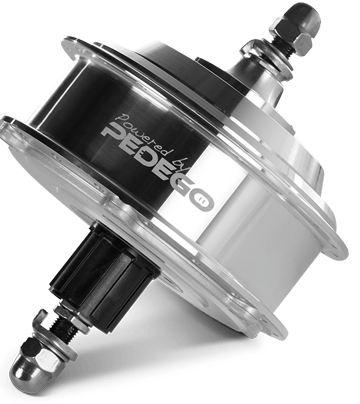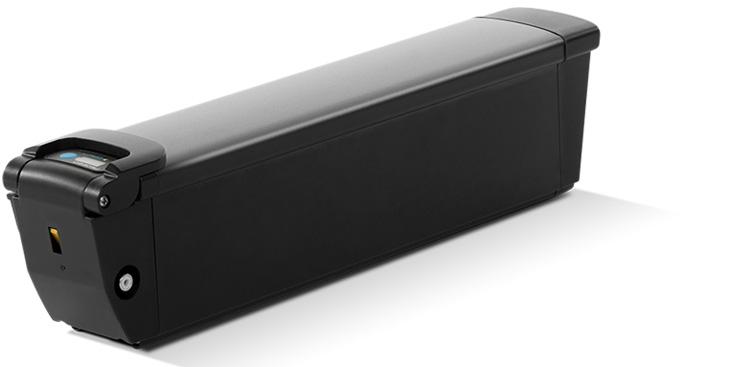 A state-of-the-art battery uses the same advanced lithium-ion cells as an electric car. You can tricycle up to 50 kilometres on a single charge.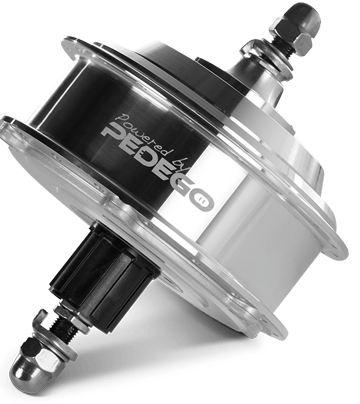 A whisper quiet motor delivers the perfect amount of acceleration and hill climbing power. It's fun and exciting without being overwhelming.
Small Details make a Big Difference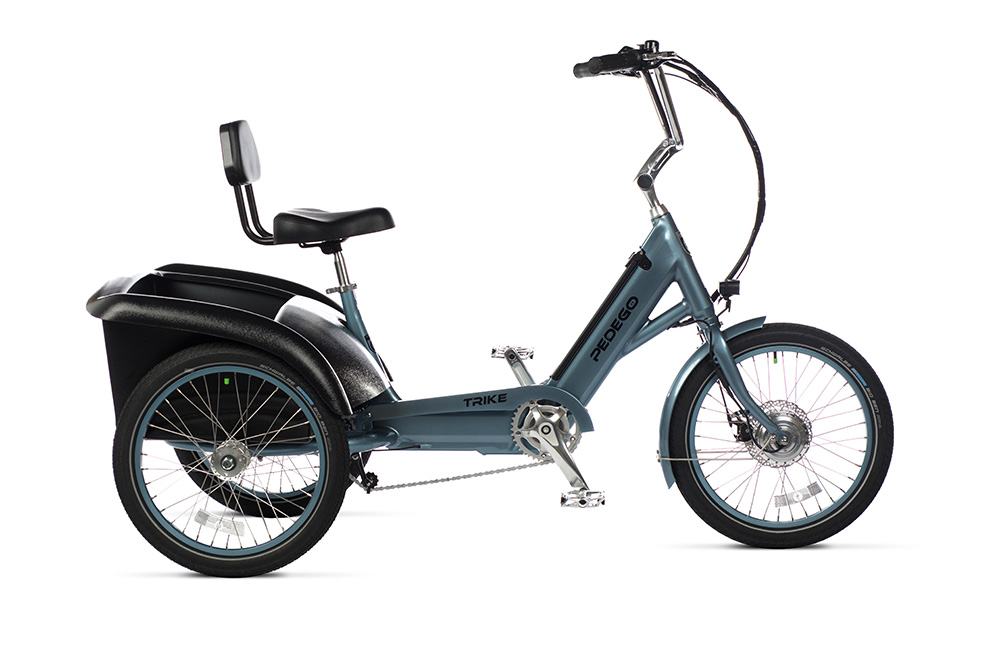 Trike – Electric Adult Tricycle
Trike – Electric Adult Tricycle
"PRICE IS WHAT YOU PAY.
VALUE IS WHAT YOU GET."
Pedego Electric Bikes are not the highest or lowest priced.
They are the greatest value.
SHARE WHAT YOU LOVE ABOUT YOUR PEDEGO!
WHAT CUSTOMERS ARE SAYING
When we say that Pedego Electric Bikes are the best, it's just bragging. But when our customers say it – it's proof!
Freedom again

Since buying my trike and my husband's Comfort Cruiser we have felt free to venture much farther from home than on our old non-electric models. We know that if we get tired we can use battery power to get home. The funny part is that we rarely need the power except for uphill or into a strong wind. We use it more now than we did a few years ago as we age but it still gives us freedom to get out and enjoy getting exercise.

Only the old ride young

Getting on in years does not mean staying at home. After my 2 wheel bike became really hard on my neck and balance an issue, I discovered the Pedego Electric Trike. I have ridden places I only would have dreamed of going, can look up at the architecture and trees, around at the gardens and never lose my balance and never worry about having enough energy to pedal the whole way home. The electric assist has given me a whole new life. And I am not exaggerating!

FREEDOM

LOVE bike riding. But after a mugging while riding in NYC 40 years ago, had put it aside. Fast forward to an older woman, with bad knees, poor balance, finding herself trapped by local traffic in a small city in AZ. A two wheel bike seemed daunting, but a Trike? Now that had possibilities. Traffic does not stop me. poor balance doesn't stop me. Power assist means my knees don't stop me. a basket means I carry my groceries safely. I go with a smile, with joy, and always with a sense of accomplishment. FREEDOM has never been so sweet!

Back in the Saddle Again!

After spinal surgery, my balance is still floating, trying to find center. One of my goals continues to be returning to bike riding. While in Tucson, we went to Pedego to rent bikes to ride the Rillito River Park Trail. I didn't feel quite comfortable on my choice of a step through bike, and kept eying the trike. When I sat on the trike, with the optional wide saddle seat, I felt freedom and joy I hadn't had for quite some time! After renting and riding, I had to have this awesome bike! Pedego shipped a new trike to my home, where I continue to ride. I love the freedom the trike gives me! Riding is pure fun again!

Trike

I bought my Trike on 10/26/2018 at Mr. B's Bicycles, Yuma, Az. Today at 3:00 p.m. 1/31/2019 I reached my goal of 1000.00 miles. I 'm 73 years young, have an ICD and a prosthetic below the knee on the right side. My Trike is worth every penny and I highly recommend it to anyone who needs to get more exercise.

Senior fun on a trike!

I am a senior (active adult) and my husband & I have owned a Pedago tandem for a few years. However, I decided that it was time for me to have some fun on my own bike for a change. So I bought a trike and it's so much fun to see where I'm going instead of being behind my husband on the tandem. My trike fits in our van so off we go!

Finally found a bike I can ride!

I love my new Pedego Trike. I', a 72 year old woman who had a total knee replacement two years ago. It wasn't as successful as I had hoped it would be. I can't bend my knee very far. I tried riding my regular bike but I had to raise the seat so high to pedal it that I didn't feel safe. The pedals on the Trike are farther forward so I am able to pedal. Between that and the three wheels I feel safe. I am so excited to be riding again. I'll also admit that I love the pedal assist and the opportunity to go totally electric. I'm a happy camper with my new Pedago Trike!

What a Fun and Safe Ride

I'm very happy with my trike from Pedego. Since my double knee replacement surgeries, I thought bicycling was a thing of the past. However, with power assist I'm able to go up any hill and quite easily too. And by riding my trike, my knee mobility has great improved. The trike is easy to maneuver, stays level on the ground, and safe. I only wish I would have bought my trike earlier!

Recently bought a Pedego trike from the Pedego shop in Alexandria V A Old Town.
The customer interaction was great,way above my expectations. Todd Sketch, the owner of the shop, went out of his way to meet my needs!

Have used the trike several times now: Great riding comfort, solid breaks and smooth gear transition. The e- motor assiting function performs as advertised and is definitely of great help specially in hilly terrain.

Have not tried to use the battery to its full extend as have not clocked the miles yet.

Word of caution for new trike riders:
Taking turns is definitely different than on an.ordinary two wheeler. You have to make a wider turn otherwise the bike becomes unstable. Traffic humps on the road should be approached straight on not in angle to ensure the trike remains stable.

Suggest the manufacturer installs rear wheel suspension in future bikes to improve general stability.
Overall the Pedego Trike is a wonderful product.

Pedego Trike

My wife loves her trike! She is no longer able to ride a bicycle and her ability to maintain a steady speed has been problematic. When she saw the Pedego Trike she felt she had achieved her independence again. The trike specifications say it fits riders from 5'0″ and up. It is a stretch for a 5′ lady to reach the pedals and still maintain a slight bend of the knee and not overextend. To solve the problem I installed wooden blocks on the pedals, she now rides in comfort. My current concern is my ability to maintain her pace on our next ride. 🙂