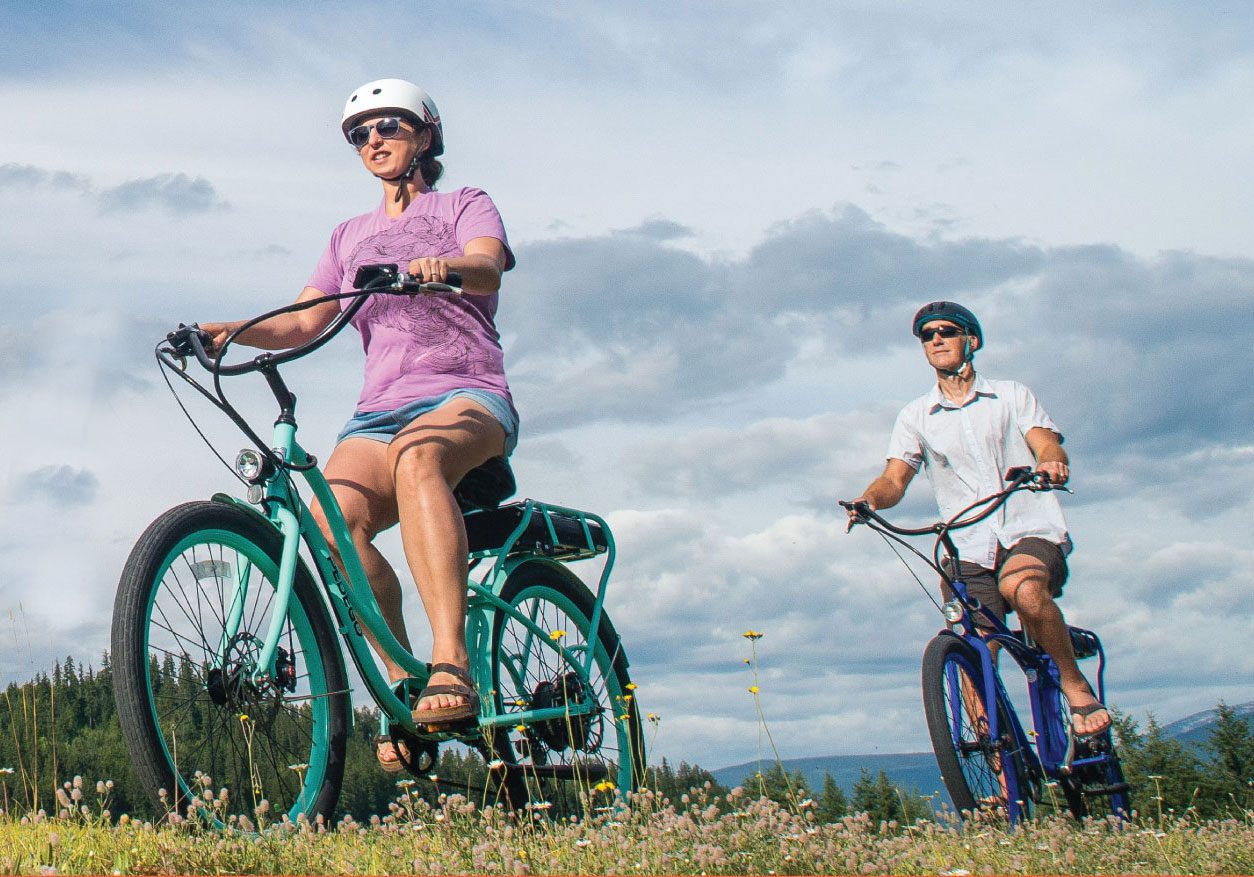 The BC Government Finance Committee has recommended that the provincial services tax (PST) be eliminated on electric bikes.
It is one of 106 recommendations made by the committee – a group of seven MLAs – after public consultation for the 2020 Budget.
Currently, the 7% tax is charged on electric bikes sold in British Columbia, but not on conventional bikes.  It's a sore point for electric bike owners, bike shops and active transport advocates. And unlike electric cars (and even motorbikes), electric bikes are not eligible for clean energy rebates. Our previous article Support Tax Rebates for Electric Bikes Now! explains how the unfair situation came to be.
Pedego Canada has contributed by supporting the BC Cycling Coalition's lobbying efforts, by attending Active Transport consultation, and, just recently, by making submissions to the Finance Committee (thanks also to Pedego Oyama and Victoria Electric Bikes).
You can read the full Finance Committee recommendations here. Under Active Transportation, page 78, it mentions the environmental and public health benefits that accrue from encouraging a shift from vehicles to electric bicycles.
It is exciting to see eliminating the PST on electric bikes as a recommendation for next year's budget. As Fiona Walsh put it to the committee: electric bicycles enable seniors and others with physical challenges to cycle and travel longer distances than they would otherwise be able to; however, the cost can be prohibitive.
Thank you for those individuals and groups continue to speak up for biking.
Pedego Prince Edward County has donated half of the new Stretch electric cargo bike working this summer in Sandbanks Provincial Park.
"We're pretty excited. Sandbanks is a special place and we think the step to buy an electric cargo bike for its staff will have a huge benefit," says Gillian Maloney, owner of Pedego Prince Edward County.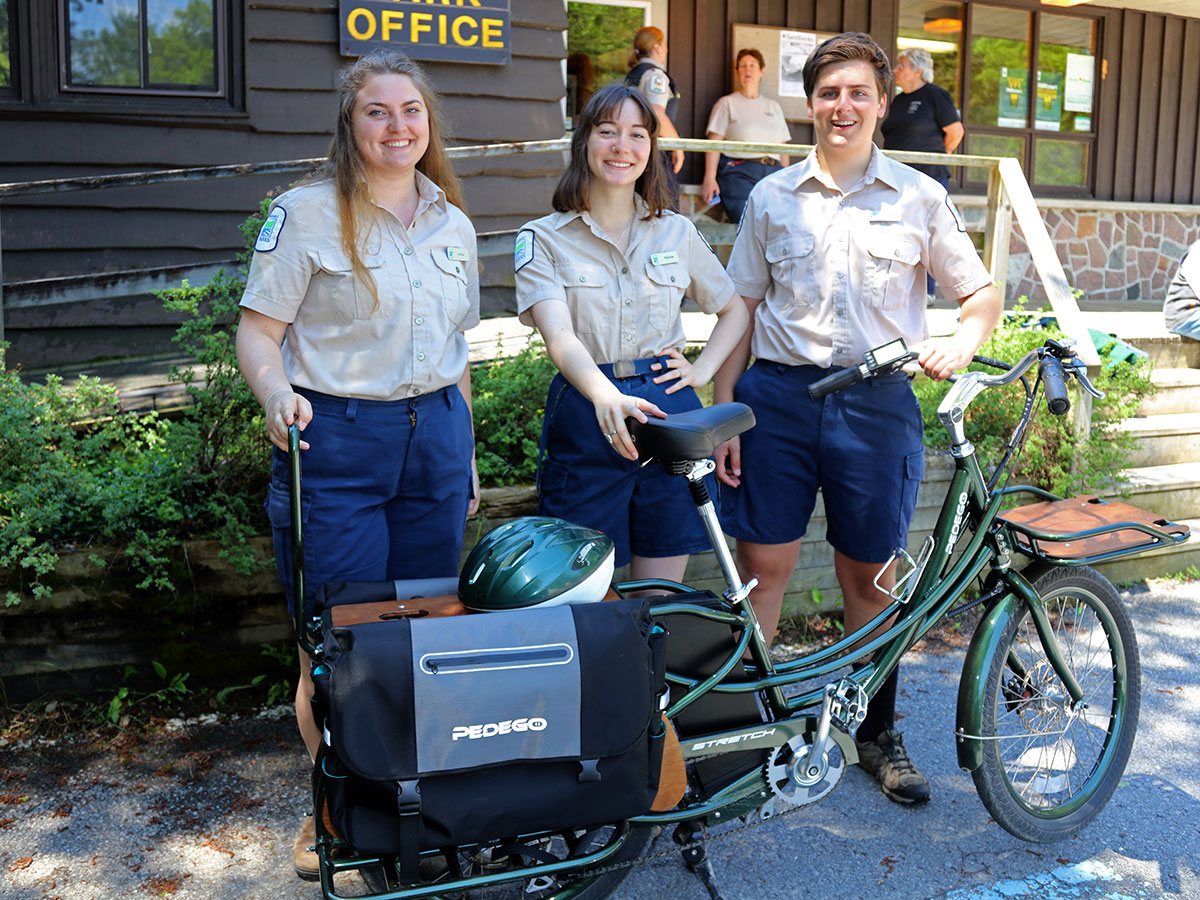 The Pedego Stretch has 400 pounds carrying capacity, a low center of gravity, and handles all shapes of cargo and even passengers. It is used for staff transportation, camper education, site monitoring and all types of errands and jobs for Sandbanks employees.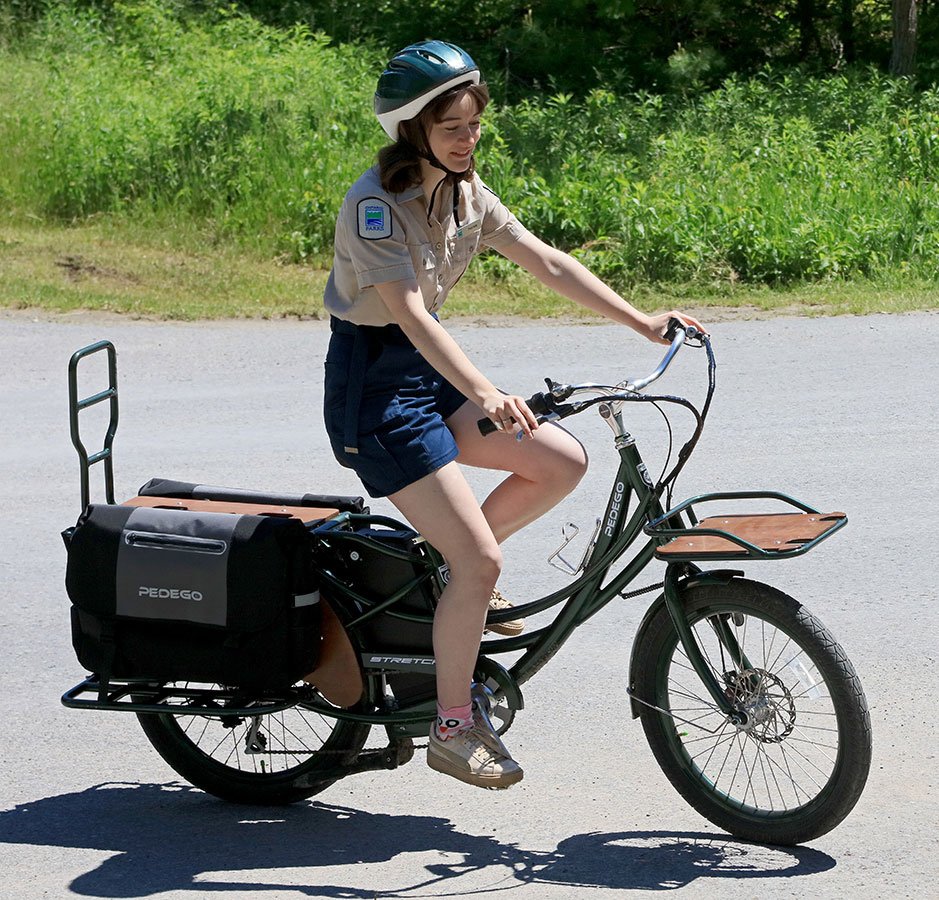 Park superintendent Robin Reilly sees electric bikes as a wonderful solution for many transportation needs within the park.
Gillian's husband Patrick (Bear) Maloney agrees: "An electric bike has so many advantages over a vehicle. Students can ride it, it is ecologically friendly, it has less impact on the ground and can travel along narrower paths. It is a much more flexible form of transport."
Gillian and Bear are no strangers to biking in Sandbanks Provincial Park. They first cycled there with the Toronto Cycling Club in 1976, and they regard it as the premier cycling destination in Ontario. Sandbanks does not have dedicated bicycle trails but cyclists can explore the park along campground roads. Prince Edward County, beyond the boundaries of the park, is a favourite destination for bicycle touring.
"Sandbanks Provincial Park is the cornerstone of tourism for Prince Edward County, the county wouldn't exist without it," he says.
"Funding for parks is always tight, and it has been a pleasure to help such an important cause," adds Gillian.
Meet Jim and Dawna Gilbert from Fredericton, New Brunswick, who are very excited to be bringing Pedego Electric Bikes to the Maritimes. Both Dawna and Jim feel good about adding a healthy green component to their long-established, family-owned business: Wheels and Deals "Canada's Huggable Car & PowerSports Dealer".
It was their desire to keep in shape, stay cycling and make it up those dreaded hills, while towing their bulldog Chrome and their grandkids, that led this couple into the world of electric bicycles.
Jim, you are known about New Brunswick, have you always lived there?
I was born in Quebec City. My father served in the Canadian Armed Forces so we moved around and lived in different places but Fredericton is where I call home and where I have lived most of my life. My beautiful wife Dawna was born in Durham Bridge, which is where we started our used car business forty years ago (with one car, two gas pumps and a $10,000 loan from Dawna's father).  We worked 24/7, poured every cent back into the business, and eventually moved into New Brunswick's capital city.
I hear you live in a pretty nice spot.
Yes, the Saint John River is at our back door where we keep our boat docked. A real nice wooded trail called the Salamanca Trail cuts through our property. Across the street there is a paved bike path on a converted railroad bed. Our commute is only six kilometres and we use the bike path as much as possible. The path takes us right to the foot of Saint Marys Street where Wheels and Deals is located. For many years, I would ride my pedal bike to work while towing Chrome in her trailer. But the last kilometre always found me pushing bike, trailer and dog up the hill. That's when the fun of biking and the desire to exercise fades fast.
Is that what got you interested in electric bikes?
Having over 115kms of biking trails in and around Fredericton, Dawna and I ride a lot. Chrome weighs 60 pounds and her carrier weighs another 20, so I do a lot of pushing uphill. One day I met a friend called Ross pedaling along, and I knew that he lived 20km outside Fredericton. I was surprised to see him biking. His doctor had told him "exercise or perish". He bought an electric bike and got back in shape. He explained the pedal assist function, how he boosts the power for the hills. Ross's excitement grew as he spoke, he said it had added years back on his life. We must have spent 20 minutes talking about the virtues of an electric bike.
I'm 62 years old, I like biking but I don't enjoy it when the hills and the starts make my knees sore, so I thought maybe I need an electric bike. We have some good local bike stores so I checked with them but unfortunately their electric bike selection was very limited. We were looking for flair! Buying local is important to me but sometimes it is not an option. So I ordered a bright red bike online and when it showed up, it was love at first use. Dawna was skeptical to say the least. I coerced her into trying it by saying "Dawna, you have to try this bike: you need to use your brakes going up a hill."
What was the draw to Pedego electric bikes?
I have to say the colours appealed to Dawna. She saw Pedego's pink cruiser bike online, smiled and said that's the one. Being a good husband, I waited for her to fall asleep then ordered her a Raspberry 26″ Step Thru Interceptor. I tow Chrome, and Dawna will have a double kid carrier behind her dream bike (having six grandchildren, four under the age of four, we'll be biking and towing kids for a quite a few years to come!).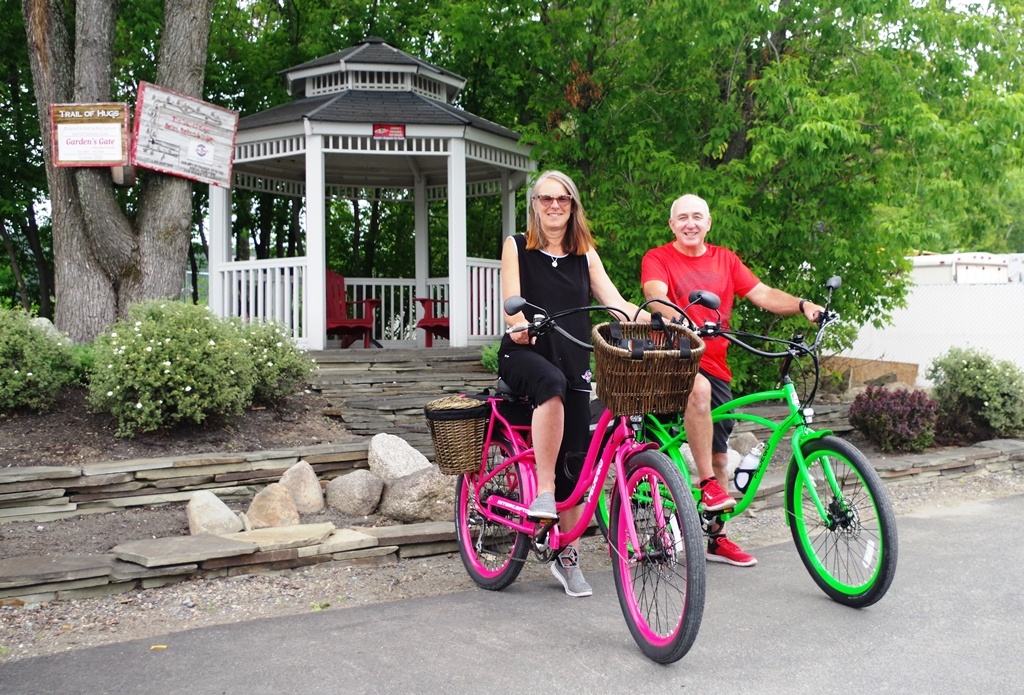 How did you become the first Pedego store east of Ontario?
Dawna and I have worked our whole lives, starting with that one used car and those two gas pumps in Durham Bridge to becoming the largest independent used car dealer in Atlantic Canada. We added Kawasaki last year and we're already its number one dealer here. Fortunately our children Alex and Chelsea work very hard in our family business. They run the day-to-day operations of Wheels and Deals giving Dawna and me the opportunity to get out and enjoy life. We all felt that adding the niche of electric bikes to our offering was a smart move. Giving our customers more choice, and a healthy choice, feels good. We're going to be the first Pedego store in Canada to be surrounded by eight acres of various types of wheels and we are going to pave a yellow brick road to lead people to Pedego Fredericton, located plum in the middle of Hug Central!
You've been selling cars in Fredericton for four decades. How do you think Fredrictonians are going to take to electric bikes?
We're the heart of New Brunswick, with government offices and services, two universities, museums, arts and cultural organizations. We have an active, environmentally aware, outdoorsy population. Fredericton attracts lots of retirees, and tourists, that come to enjoy our beautiful trails and walkways. The Saint John River is magnificent and our lighthouse trail is an iconic place to ride along.
What's your goal for Pedego Fredericton?
We're excited to offer Maritimers a new lease on life. Getting outdoors and riding a bike will extend your years without sore knees or exhausting hills. Maybe you've had triple bypass surgery. Maybe you're retired and getting older, or maybe you just want something fun to do, to get out, ride and feel good again. Pedego bikes will move your joints… and get your blood flowing again… and allow you to go even further and last longer than ever before!
I can tell you, this very morning, I caught myself looking for the longest possible route to work on my Pedego Electric Bike. That's not me! I've never gone the longer way on purpose before. Electric bikes are a game changer. Hello, fun!
Learn more about Pedego Fredericton