Award-winning cinematographer
Derek Frankowski
has made this beautiful film about his father riding a Pedego electric bike.
Derek uses a Trail Tracker to film exquisite natural footage in the mountains and snow around Rossland, British Columbia. He recently got another electric bike for his Dad and filmed him riding it.
Derek says his Dad's electric bike is a way for him to reconnect with nature and remember how great it is to move through the world on a bike. It keeps his father in touch with his community, with the natural world, and the experience of riding a bike. We're delighted to share it with you for Fathers Day 2019.
It speaks the truth: our fathers' hands that are shaped by hard work, gripping the handles of an electric bike that allows them to connect with nature in way they taught us, in a way they may have been unable to do for years.

It's perhaps not the first time you've seen Derek's work. He is renowned for the mountain biking film Life Cycles which shares the theme of riding a bike in nature, at a different level. He films nature documentaries for the BBC such as Planet Earth, and shoots some of the world's most beautiful natural phenomena. Derek uses his electric bike while creating content for films. For example, he transports photography equipment over long distances to document natural settings. Its quiet operation and maneuverability give him an advantage over snowmobile or ATV use. You can see him capturing great footage from his seat on the Trail Tracker below.
We think none of it is better than the incredible shots of the fall and winter scenery shot near Rossland recorded in "A Ride with Dad."
Happy Father's Day.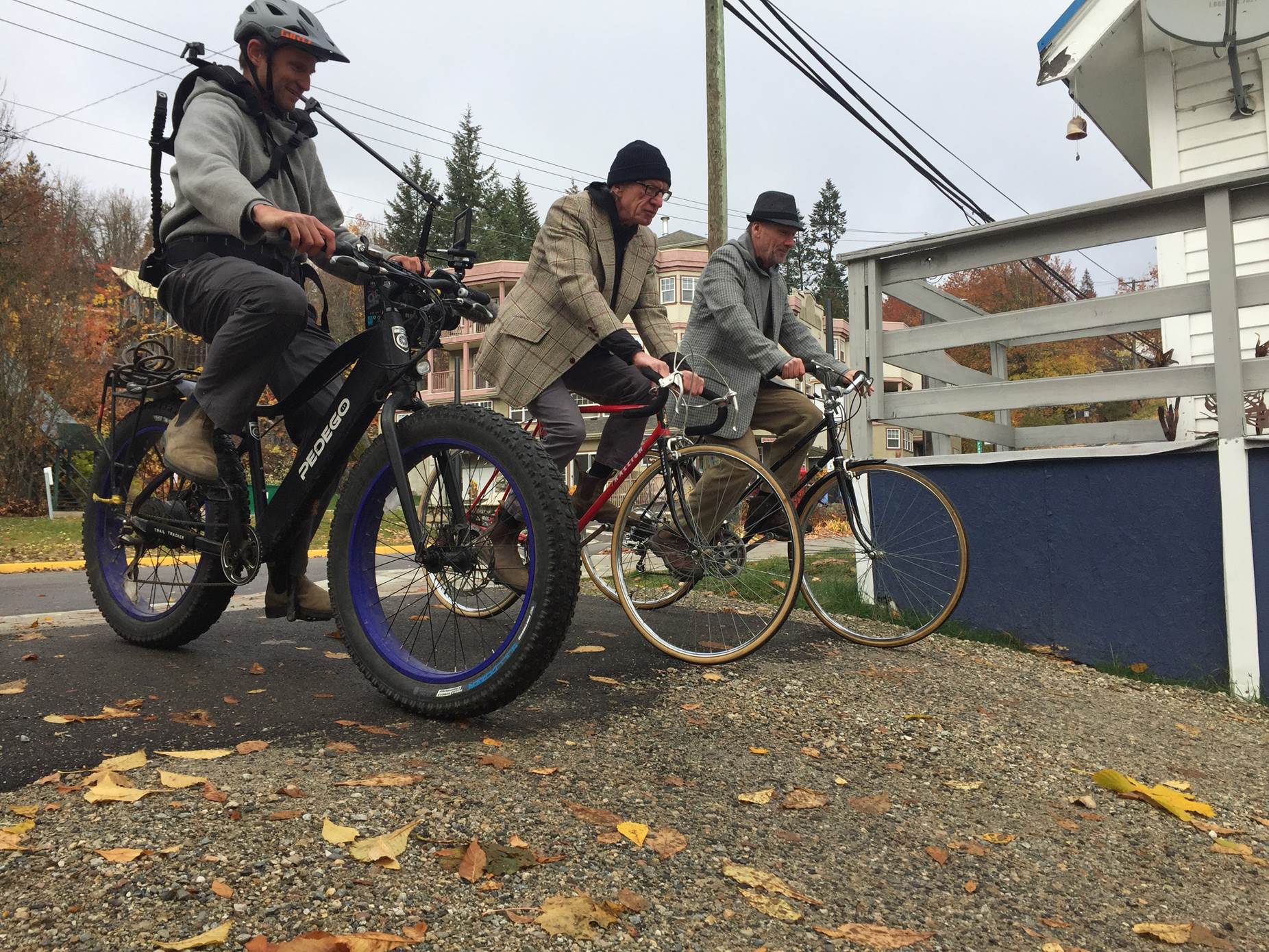 Remington Pringle recently joined Pedego Prince Edward County to train as a bike mechanic under the expert teachings of Patrick "Bear" Maloney. Rem enjoys cycling and for the first time he has an electric bike to ride to and from work, and use as his primary mode of transport. Meanwhile he is learning to build and repair customer bikes. We took five minutes with the trainee mechanic to find out what it is like to work at a Pedego Electric Bike store.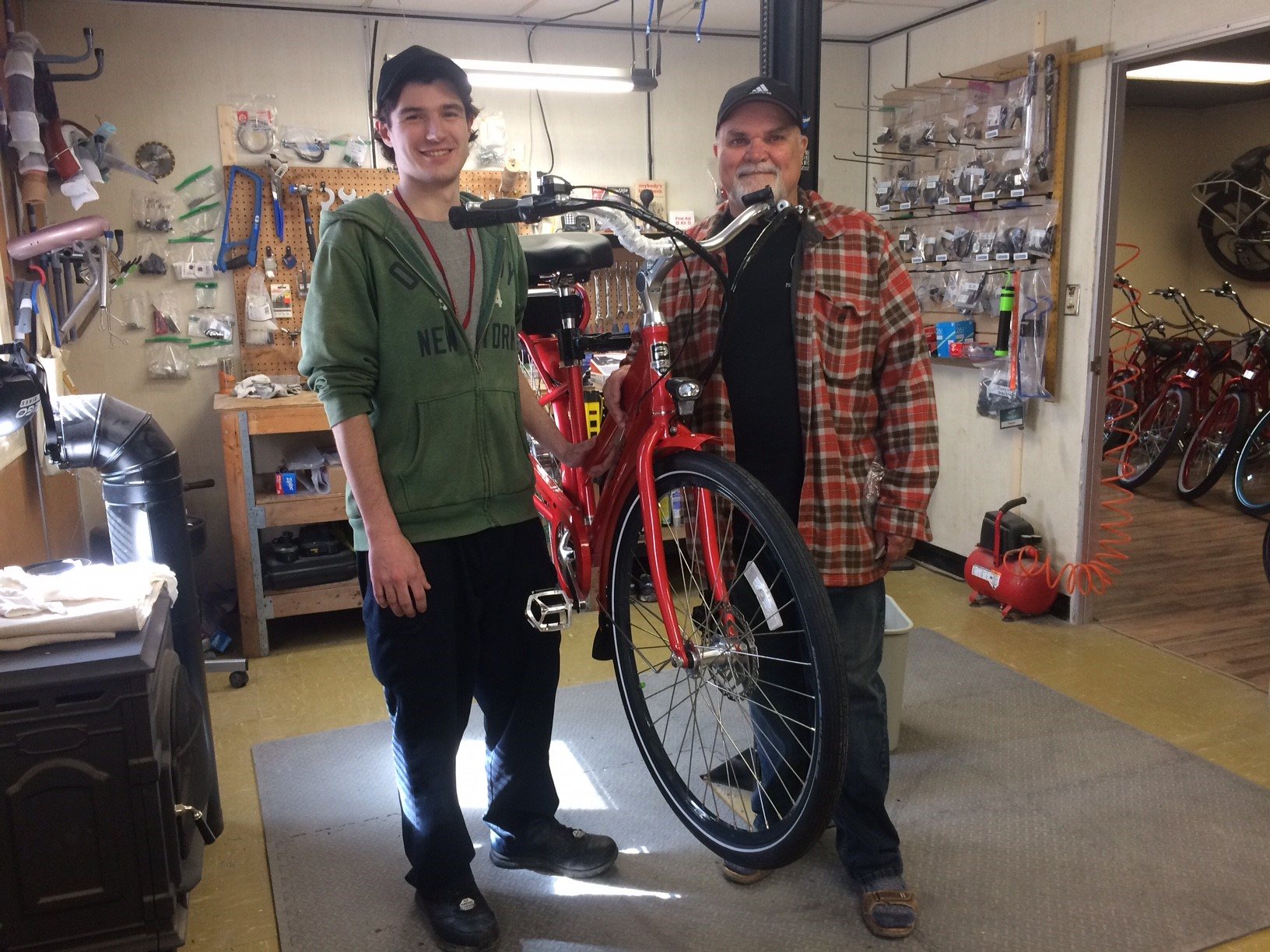 Where do you live?
Picton, Ontario. Born and raised there. I'm 25 years old.
How did you find out about Pedego Prince Edward County?
I saw a job posting on Facebook and thought: it's not my line of work, but I'll see how it goes. I had seen electric bikes around, but I didn't have much knowledge of them.
Do you have a special interest in bikes?
When I was younger, it was hard to get me off a bike. My favourite was a Shimano 7 speed bike that I could pedal up to top speed really quickly and it had great suspension. It was bright white, and every time it got ridden, I'd bring it back and it would be mud-coloured. We have some fun trails around Picton.
When was the first time you rode an electric bicycle? What did it feel like?
It was my first day at Pedego Prince Edward County. I started on a Comfort Cruiser, and graduated to an Interceptor with pedal assist. I love the pedal assist, it's as much as you want it to be, or as a little. It makes me feel really free, I can go everywhere and travel around.
How much are you learning about bikes from Bear?
There's a lot of things I could say. He had me taking off the back wheel the other day, next thing I am disassembling a BB7 brake and putting it back together. Learning about batteries, running through the cables… it's more like: what am I not learning about a bike at this stage?
Where is your favourite place to ride a bike?
Definitely the Millennium Trail. I ride from Picton to Bloomfield everyday for work. You have got so many views, and the Interceptor handles the gravel surface really well. The only thing it doesn't handle so well is a lot of sand, that's more suited to a fat tire electric bike like the Trail Tracker.
What is the Career Edge program and how does it help you?
I first used it in a restaurant, that's how I knew about it, it is an Ontario government program that helps get people training spots, help with jobs and pay for training.
What's your favourite Pedego so far, and why?
Currently it's the brushed aluminum classic Interceptor. I ride it everywhere. If my battery is dead, I'm not leaving the house.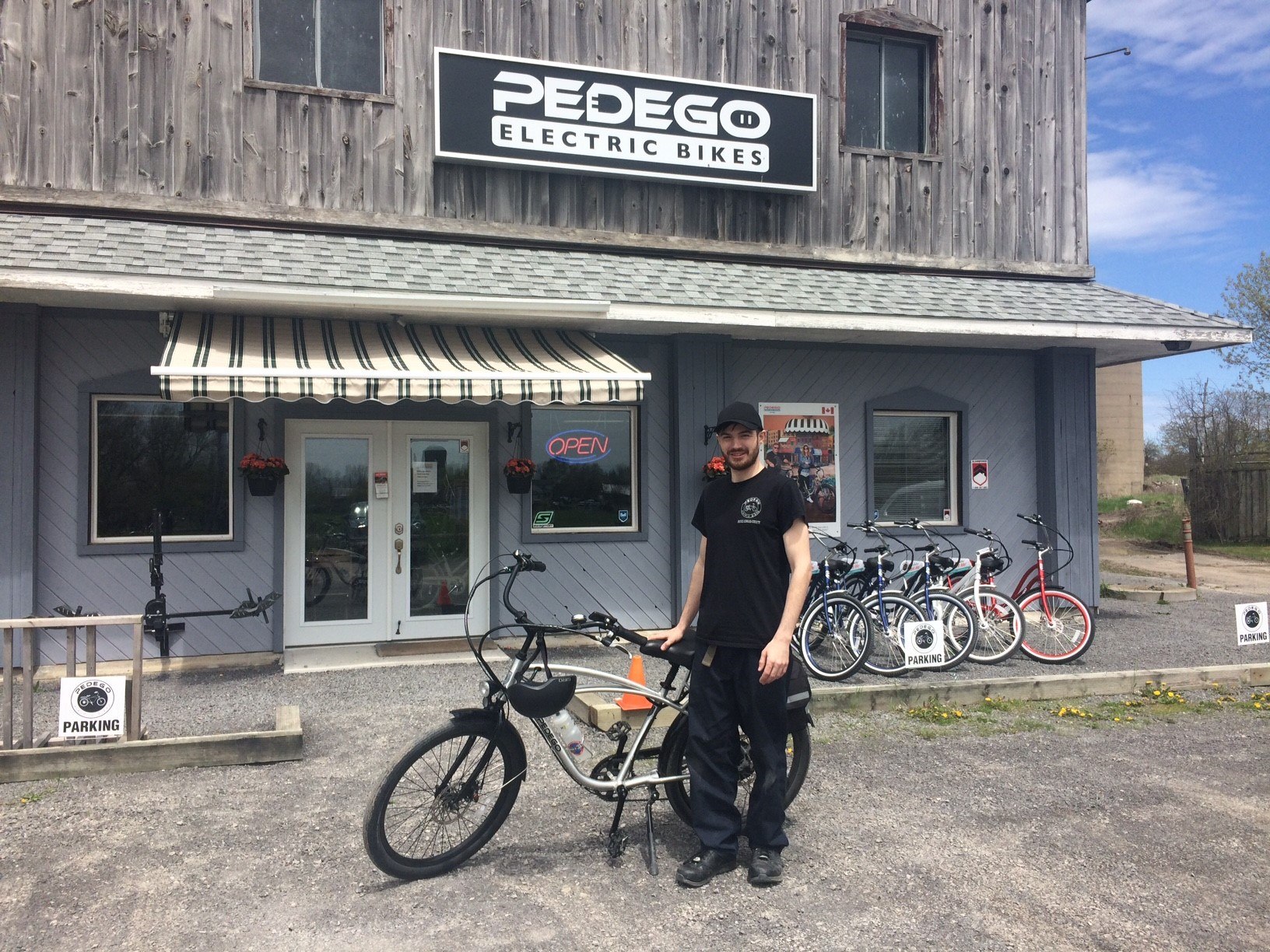 Over the last 5 years we (Julie and Ruby, owners of Pedego Qualicum Beach) and our amazing staff launched the first Pedego Dealership in Canada. Since opening, we've hosted thousands of test rides and sold more than 500 Pedego Electric Bikes to Vancouver Island riders.
Thanks to you, our amazing Pedego customers, this has been the best job ever. Both now in our 60s, we feel satisfied that we picked a great product to delight our customers and make life more fun. Pedego had just five styles when we started — now there are eighteen! Our humble beginnings have lead us to a point where we need to grow to meet the needs of our customers, but the vast number of Pedego products available, and the ongoing delight of our customers has kept us in pedal assist mode as we try to keep up!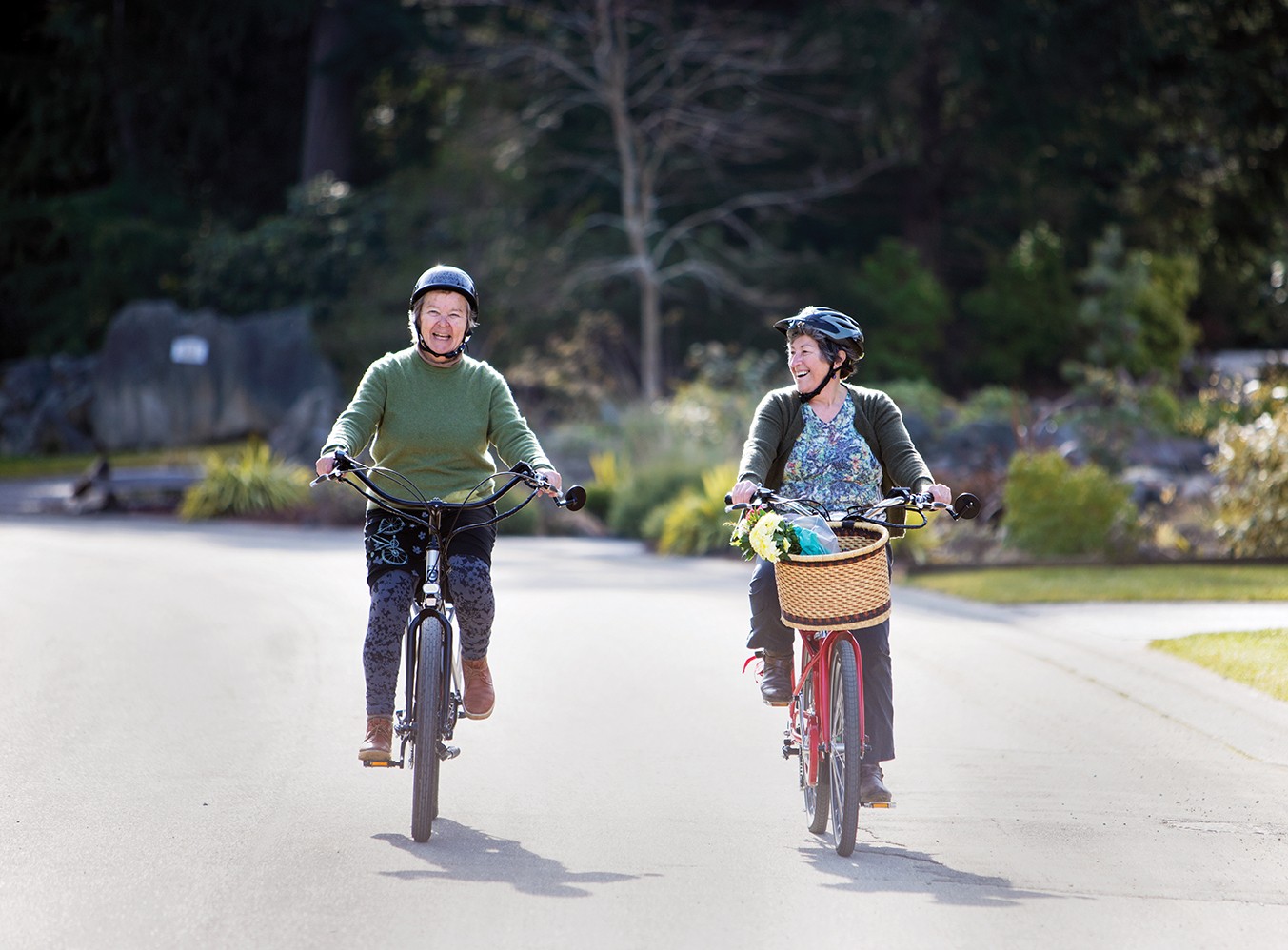 This spring we are happy to announce our retirement from our Pedego Qualicum Beach store. We've been so grateful to bring Pedego bikes to Vancouver Island north of the Malahat, and we are thrilled to welcome our new Pedego store owner, Cal Whiting! Cal's wealth of adventures, family, and history on Vancouver Island combined with his experience as owner of the Pedego Calgary store will help him to bring fresh vitality and the reliable service you count on to Pedego Nanaimo!
Julie will be continuing to lend her expertise at the new Pedego Nanaimo store, so you will find a familiar face to greet you there and introduce you to the new store.
Pedego Nanaimo will be opening soon on the old Island Highway at 101-5200 Dublin Way, off Metral in Pleasant Valley area of Nanaimo. Many great rides are close to the new location! Taking off from the store you can access via Dunster to Northfield Trail, Brennan Lake Trails, or stay on the East side and take the E&N trail downtown.