Kelowna's City Workers Using "Futuristic" Pedego Bikes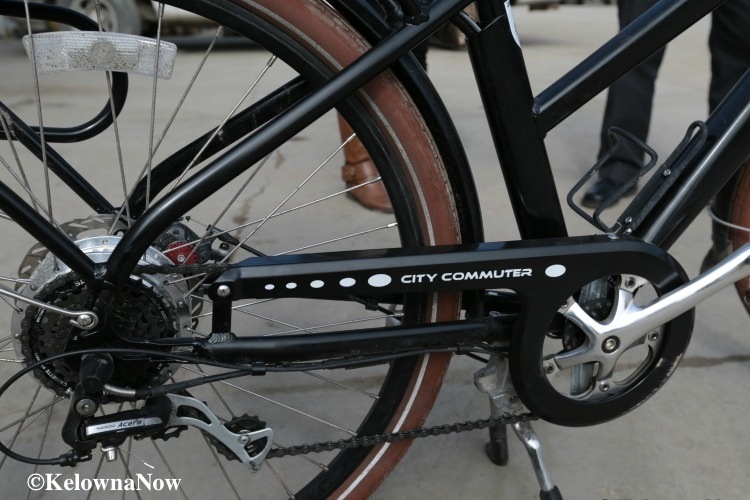 Kelowna is the largest city in the interior of British Columbia and it boasts some of the best weather, wineries and water sports in the entire country. It's also an excellent area to bicycle in because of the relatively arid climate, beautiful views and dedicated lanes and lakeside pathways. But it's also a hilly place and one that city workers can find difficult to get around because of the topography and excessive motor traffic.
Pedego Canada helped solve those problems with, what news site KelownaNow is calling "futuristic" and "wonder bikes." In a recently published article writer Cassandra Jeffery interviewed Alf Soros, the Fleet Services Supervisor for the City of Kelowna who discussed the Pedego Electric bikes they now use on the job.
Cassandra writes: "Soros said employees typically pedal where they can and then use the motor to zoom up hills with ease. Running on a full charge, these wonder bikes can motor for at least 50 kilometres. After a day's work, City employees simply plug their bikes into a docking station for a nightly charge….these electric assist bikes are much cheaper than your average work vehicle and require less maintenance; not to mention the added savings on fuel costs."
At Pedego Canada we believe this is only the tip of the iceberg and that many cities and municipalities around the country are going to turn to electric bikes for their employees. Everyone from bi-law officers and parks workers to sidewalk inspectors and survey engineers can benefit from an electric assist bike because:
They don't have to worry about parking
There's no chance of getting stuck in traffic
They don't have to waste time filling up at the gas station
They're easy to use
And above all, they're way more fun than driving a car!
Canadian tax payers will also benefit from a city's decision to utilize a fleet of electric bicycles because:
They're tens of thousands of dollars cheaper than trucks and cars
They don't require as much maintenance
There's no fuel costs
And, ultimately, employees are happier and take less time off when they're riding bikes in the great outdoors!
To read all of Cassandra Jeffery's excellent article on KelownaNow, click on the photograph below of Alf Soros and his latest "futuristic" city vehicle.