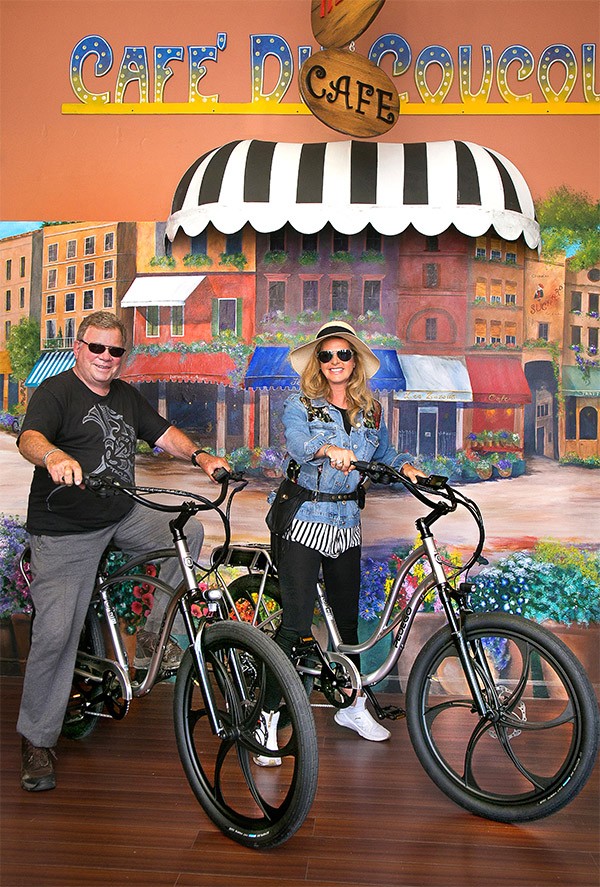 William Shatner, best known for his role as Captain James T. Kirk on the hit TV and movie franchises Star Trek, was recently interviewed by Tom Power on CBC Radio's Q show. He talked about his new book, his five decades in the movie and TV industry and … why he loves Pedego electric bikes!
"Pedego bikes: go get on a bike and pedal and then if you get tired, hit the electric switch!" Shatner says during the discussion. "The world is alive and waiting for you if only you just say yes to it."
The entire 20-minute interview can be listened below or at CBC's website and in it the 87-year-old actor talks about how he stays so active with all his projects. He has a country music album out now as well a book called, "Live Long and … What I Learned Along the Way" and a Christmas album called "Shatner Claus" coming out in December and he says the secret to his zealousness is, "Just say yes to life. Say yes to it all."
Shatner: "Pedego bikes. Buy a Pedego bike."
Power: "Is this the bike again?"
Shatner: "That's right. It's like a little motorcycle if you wish, or you pedal away. You pedal your little rear end off."
Power: "I gotta admit to you Bill, I'm curious about that thing."
Shatner: "You gotta try it. Fifteen member of my family, we have a close-knit family anyway, but imagine 15 people going out on a bicycle trip and everybody hanging together because nobody is faster than the other. Pretty good right!?"
Power: "Yeah, not bad."
Shatner: "No no, that's a Canadian-ism. You gotta get rid of 'Not bad.'"
Power: "Extremely good!"
Shatner: "Now you sound like a positive Canuck."
Shatner was born in Montreal, Quebec on March 22, 1931. He attended McGill University and his first job out of school was business manager for the city's Mountain Playhouse. From there he joined the Canadian National Repertory Theatre in Ottawa and his acting career flourished on the stage and screen.  Today Shatner lives in Southern California and regularly spends time with his extensive family. He loves nothing more than getting together with all of them for family dinners, get-togethers on the beach and during fun rides on their Pedego electric bikes.
He and his wife, Liz, fell in love with their first pair of Pedego Electric Bikes back in 2012. Today, the family owns 16 of them: everything from the beautiful Platinum Step-Thru Interceptor to the sporty Ridge Rider. "The first thing that comes to mind with Pedego is the ease with which you can use it," he says, "It's so easy! It's simplicity itself."
To learn more about Shatner's love affair with Pedego electric bikes, read our story, "Why William Shatner Loves Pedego."
The CBC has reported that Calgary plans to bring in a city-wide electric bike sharing service this week owned by U.S. company Lime. It joins a handful of similar electric bicycle offerings in Canada, including one in Montreal that runs under the Bixi brand.
The difference between Lime and Bixi is that the 375 Lime ebikes will be dockless, meaning once a customer has finished a ride, they can leave the self-locking bike anywhere within the home area, whether on the sidewalk, a parking garage, etc. It's then available for another user to rent by the minute. The whole model is similar to Car2Go in that a mobile app is required to determine the ebike's location and then to unlock it.
The CBC goes on to quote Scott Harvey, Lime's operations manager for Calgary, who spoke of his "commitment to reducing barriers for active modes of transportation and are looking forward to helping empower Calgarians with this greener, more efficient, and affordable transportation options."
There are only a handful of electric bike sharing services throughout Canada including the Bixi model in Montreal.
After reading the CBC story, a friend called us here at Pedego Canada to ask us our thoughts about the electric bike sharing services. We only had one thing to say: They're great!
Some might assume that services such as Lime and Bixi are disruptive to our business model but in fact it's the complete opposite. Our goal is to get more people out of cars and off their couches and riding electric bikes. And Lime and Bixi do exactly that.
Tourists to Calgary and even residents will now have the opportunity to experience how much fun electric bicycles actually are and they only have to rent by the minute to do it. Of course, if you're planning on spending an hour or more on the ebike, we suggest you rent one at Pedego Calgary because it will be cheaper and there's more variety to choose from. Likewise, if you're going to use the dockless ebikes regularly, we recommend you purchase your own electric bike from Pedego Calgary.
Vancouver is the next Canadian city that's looking at an electric bike sharing service and Victoria may not be far behind. For residents and visitors to those cities, we encourage you to enjoy taking those electric bikes for a spin to see how much fun they are. But again, if you're planning on a trip longer than an hour, consider renting electric bikes instead at Pedego Vancouver and Pedego Victoria.
Alternatively, drop into the stores and enjoy free test rides and chat with the owners and staff about what makes a great ebike. You may find that you like them so much, you need to have one of your own.
No matter what you decide, though, we guarantee you're going to have fun.
The lime green Interceptor electric cruiser bike with Calgary in the background.
One of the most popular magazines in North America has just featured electric bicycles calling them "the vehicle of the future." In an online May 13th article Wired Magazine writer Clive Thompson discusses how transportation technologies such as self-driving cars and drones big enough to carry people get a lot of media attention but "the most exciting form of transportation technology is more than 100 years old – and it's probably sitting in your garage. It's the bicycle."
The article, entitled "The Vehicle of the Future Has Two Wheels, Handlebars and is a Bike," discusses all the recent advancements bicycles have undergone in the past five years and plays up the fact that ebike sharing has come into its own thanks to technology such as GPS, Bluetooth and mobile-payment systems that allow users to track where the electric bikes are and to rent them easily.
This type of future-prediction-type article is standard for Wired magazine, which is owned by publishing powerhouse Condé Nast. Headquartered in San Francisco, California, the magazine has focuseed on how emerging technologies affect culture, the economy, and politics since its founding in 1993.
The "Vehicle of the Future" article goes on to say that American interest has grown from 320,000 rides in 2010 to 28 million in 2016, an increase of over 8,500 percent! "The number of people who are willing to ride electric bikes is probably ten times that of people who are willing to ride a regular one," the article quotes Ryan Rzepecki, CEO of a dockless electric bike firm.
Thompson continues to write that Elon Musk, the founder of Tesla electric cars, is delving into the world of hyperloop tunnels as possible solutions for transportation congestion in the future. However, he can "bring on self-driving cars [and] hyperloops. But for a world that's rapidly urbanizing and heating, the truly cool tech is bikes….it relieves pressure on public transit, produces vanishingly small emissions compared to cars, and…boots the overall exercise level."
"Best of all, the bike-tech revolution reminds us that innovation isn't always about the totally new," Thompson writes. "It's often just as powerful to blend a robust, old tool that works well with a bit of new tech to make it better. Sometimes you truly don't need to reinvent the wheel."
To read the article in its entirety, log on to the story on Wired's website at: "The Vehicle of the Future Has Two Wheels, Handlebars and is a Bike."