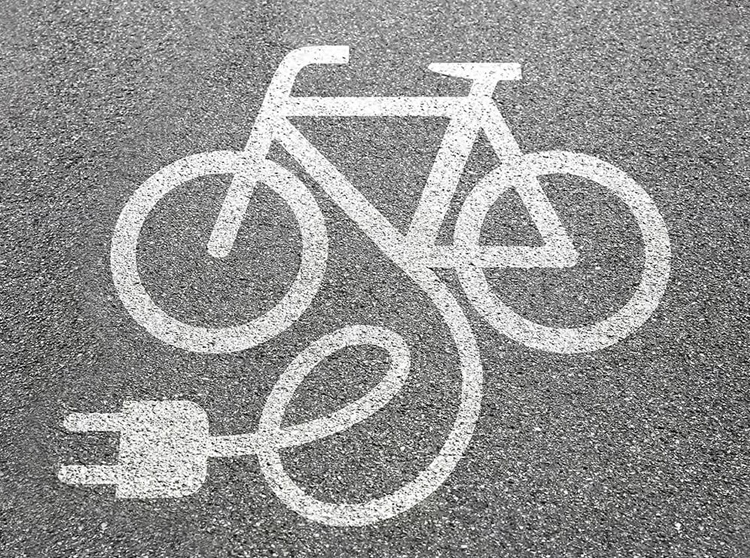 Canadian electric bike integration:
new rules afoot
We enjoyed reading Leading the Charge on Canadian Electric bike Integration: A Discussion on the Emerging & Unchartered Role of Micromobility a white paper recently released by engineering consultants WSP Global. It's a 60-page document that covers the status of electric bikes in Canada, future trends, current legislation and makes useful comparisons to foreign countries.
We especially like the way it defines electric bikes primarily as "Bicycle Style E-Bikes" and "Scooter Style E-bikes". In Canada, on a federal level, there is essentially no legal difference between these two styles of electric bikes. One is designed to be pedaled, the other is designed to pushed by a motor, but they both have pedals in order to meet the Transport Canada classification for a "power-assisted bicycle". The reality for most scooter-style bikes is that the pedals are a token effort designed to achieve the classification. If you try to pedal one of these you will see it is impossible to move any distance under your own power!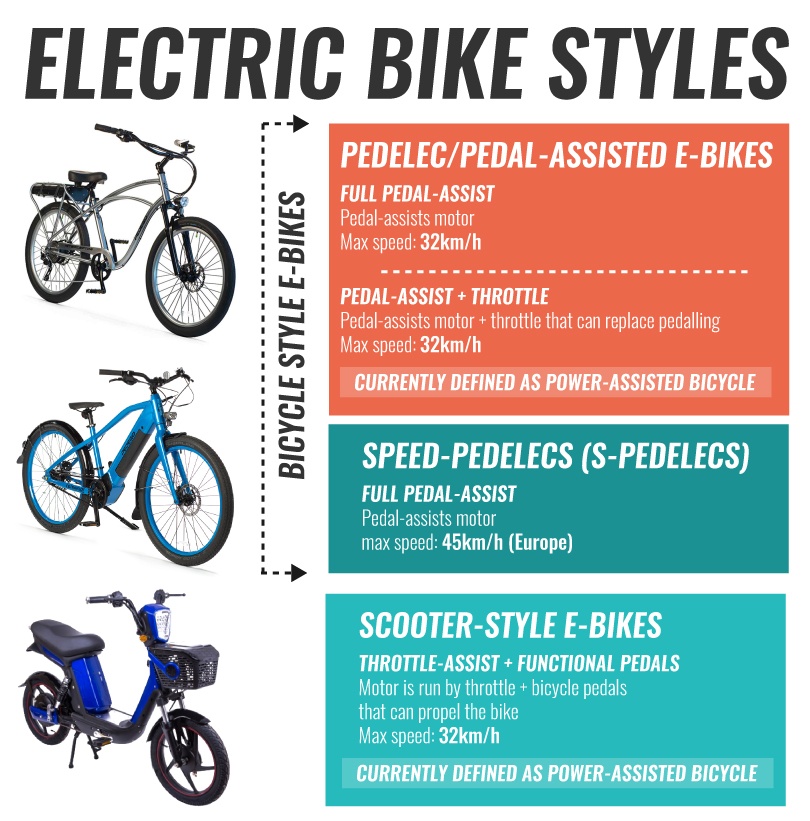 There are a multitude of other ways people try to segregate electric bikes, for example by size of motor, presence of throttle, max speed or wheel diameter. But we agree with WSP, the best way to distinguish between electric bikes is by making a line between bicycle-style where the motor is generally intended to assist pedalling (the throttle is optional), and scooter-style where motor runs independently from pedalling (pedalling is optional but not realistic usually). Another big difference is weight: a Pedego weighs about 25kg with a 4kg battery, while a scooter style e-bike weighs 75-100kg.
Visually, these two styles of bikes are usually easy to pick. Look at this handy graphic that shows the huge visual difference in electric bikes currently legal in Canada:
On page 18 there is a table comparing the legislation in each province, taken from our "Are Electric Bikes Legal in Canada?" article. Then the authors go on to compare us to international legislation, showing how what is considered an e-bike in Canada is not the same as an e-bike in the USA, again not the same as an e-bike in Europe.
The paper flags an upcoming change: the Canadian government is proposing to deregulate power-assisted bicycles. This means that the Motor Vehicle Safety Act would no longer be the umbrella legislation and Transport Canada would no longer define "power-assisted-bicycles" with the provinces having to adhere to this definition. The intent, according to the White Paper, is to bring Canadian legislation into line with the USA, therefore, removing trade barriers. Rest assured that we'll keep you up to date with any changes that may affect electric biking in Canada.
The paper identified some barriers to widespread adoption of electric bikes in Canada. These included weight, cost, range anxiety, stigmatization, confusion, and lack of exercise. We're doing our part to reduce these barriers, and for more informative and useful tools take a look at Electric bike info, or call one of our dealers to have a chat about everything e-bike. It's the transport of the future!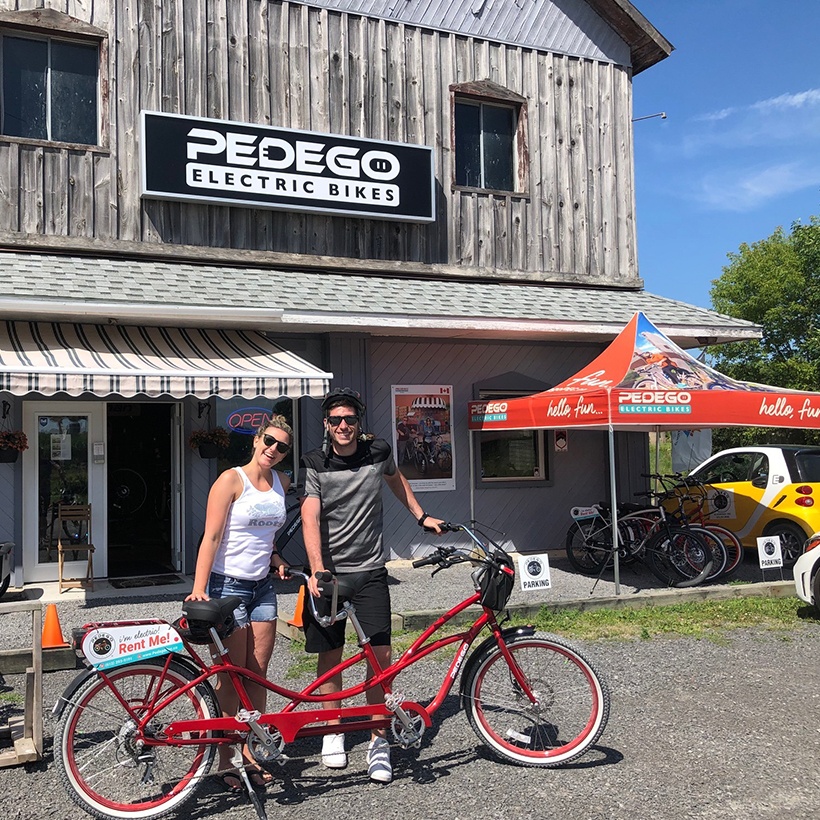 Plenty of couples want to try tandem bike riding, but there is a way to do it right according to Patrick (Bear) and Gillian Maloney, owners of Pedego Prince Edward County.
They've been sharing a bicycle since the 70s, they've owned three tandems, including one they rode around New Zealand for five months.
It is no surprise that their picturesque store in Bloomfield has become Canada's most popular destination for renting an electric tandem bicycle.
The beauty of an electric tandem is that the motor can pick up any slack and potentially avoid some arguments.
However, there's still plenty of areas for negotiation and collaboration when two people are riding one bicycle.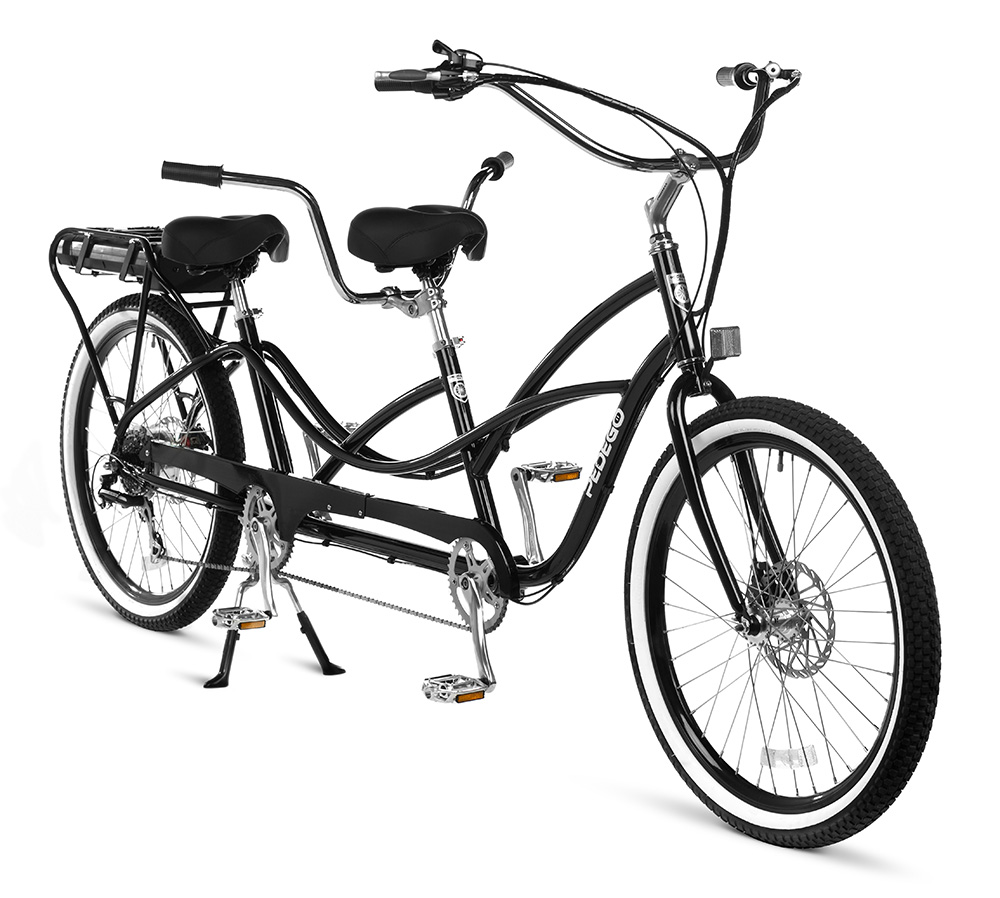 To help out any young lovers who may be hiring or riding a tandem bike, we bring you "Bear & Gillian's top five tips for Tandem Biking."
1. Communicate, communicate & communicate
2. Rent before you buy.
3. Be comfortable with speed because tandems can be very fast.
4. Practice climbing on smaller hills before the big ones.
5. Relax and enjoy the fun.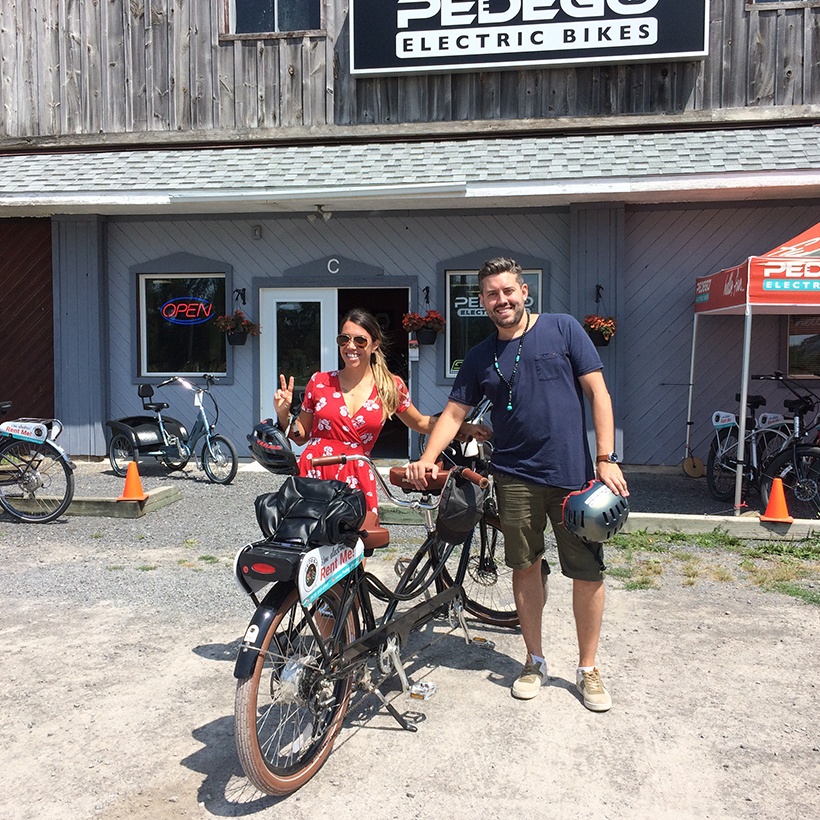 Pedego made the world's first electric tandem, and while other electric bike companies have cottoned on to the popularity of this traditionally fun bike, we think Pedego's beach cruiser is still the most lovely one around.
It's for sale in red or black with balloon tires in four colours or rent one at Pedego Prince Edward County or Pedego Oyama, British Columbia. Riding is twice as much fun with someone you love!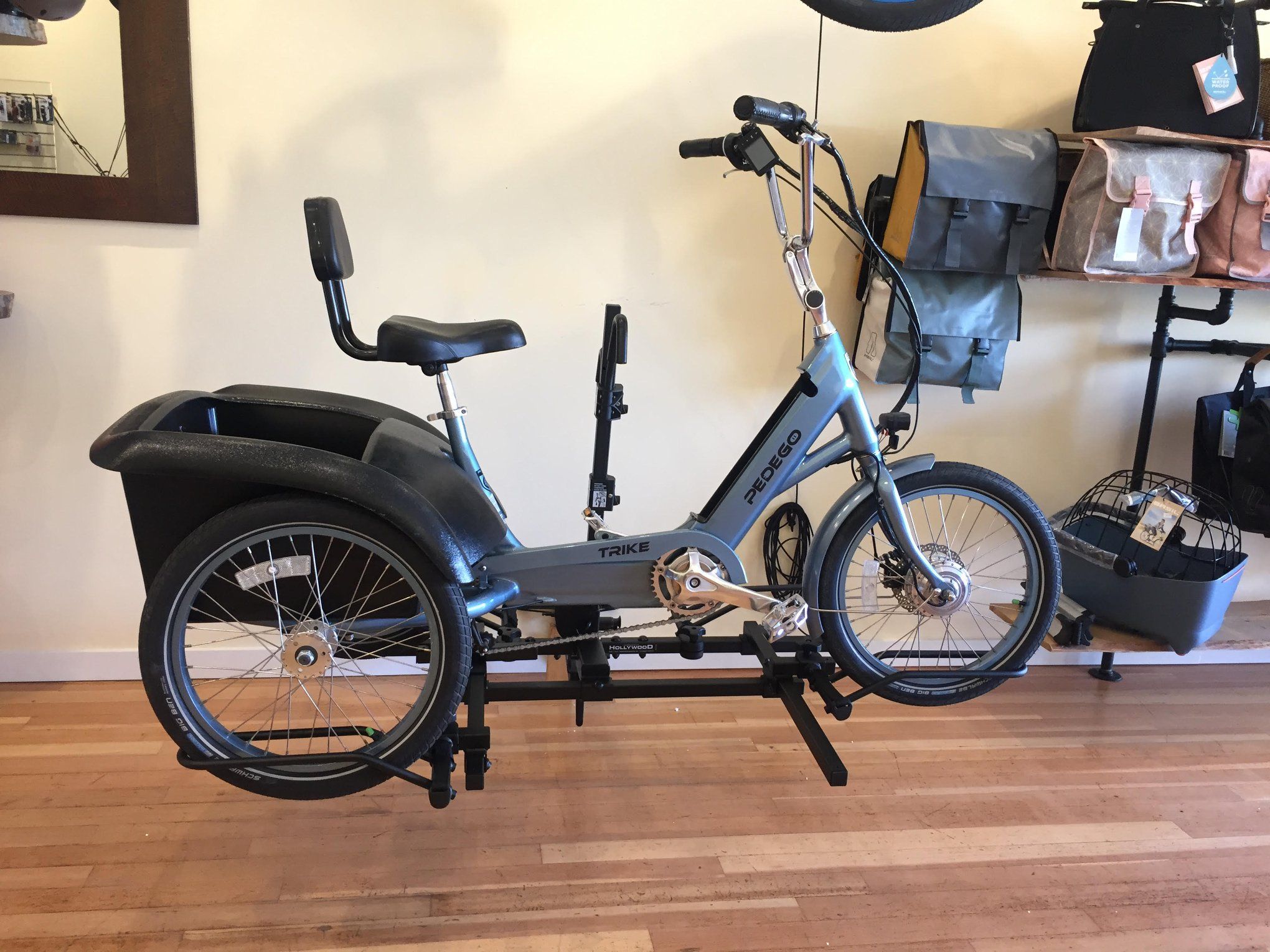 You've bought a brand new Pedego electric bike, you've ridden it around your neighbourhood, and now it is time to transport it to a distant trailhead, another town, or take it on vacation.
We think the easiest way to transport a Pedego – without pedalling it – is with a platform rack on a two-inch hitch. We've written a lot about racks in an earlier post The Best Car Racks for Your Electric Bike. We recommend this system because a platform distributes the weight of an electric bike and a big hitch reduces wobbling. Most of all it lets you carry more than one bike, and who wants to Pedego alone?!
Other tips for taking care of your rack is to remove it when you are not using it, especially in winter, to reduce wear and rust. Be sure to lock your bikes to the rack when leaving your car parked for a length of time.
While the platform racks such as Thule and Swagman are rated for the full weight of your electric bike, it is a good idea to remove the battery for long trips to reduce the weight of the bike on the rack. Be careful not to leave a lithium-ion battery inside a car in very hot or cold weather, however.
Similarly, some motorhomes and vans are large enough to fit your electric bike inside. This reduces the risk of theft and weather damage during transport, although be careful of the battery storage.
Rack manufacturers will identify those that are rated for attaching to the bumper of RVs and motorhomes. Generally, they will be the sturdier carriers that are also rated for electric bikes, with a two inch hitch, for two bikes only.
Then there are specialty rack manufacturers that build racks for tricycles and cargo bikes. We like Hollywood Racks, and Pedego Vancouver carries its trike rack in store.
It is also possible to transport your electric bike upright in a rack that sits in the back of a truck tray, or in an enclosed trailer that people use to haul a variety of toys.
Find out what suits your vehicle and your lifestyle, then try transporting your electric bike. Once you're comfortable taking your Pedego electric bike some distance, browse our Adventures page for inspiration of the places where you can enjoy electric biking.