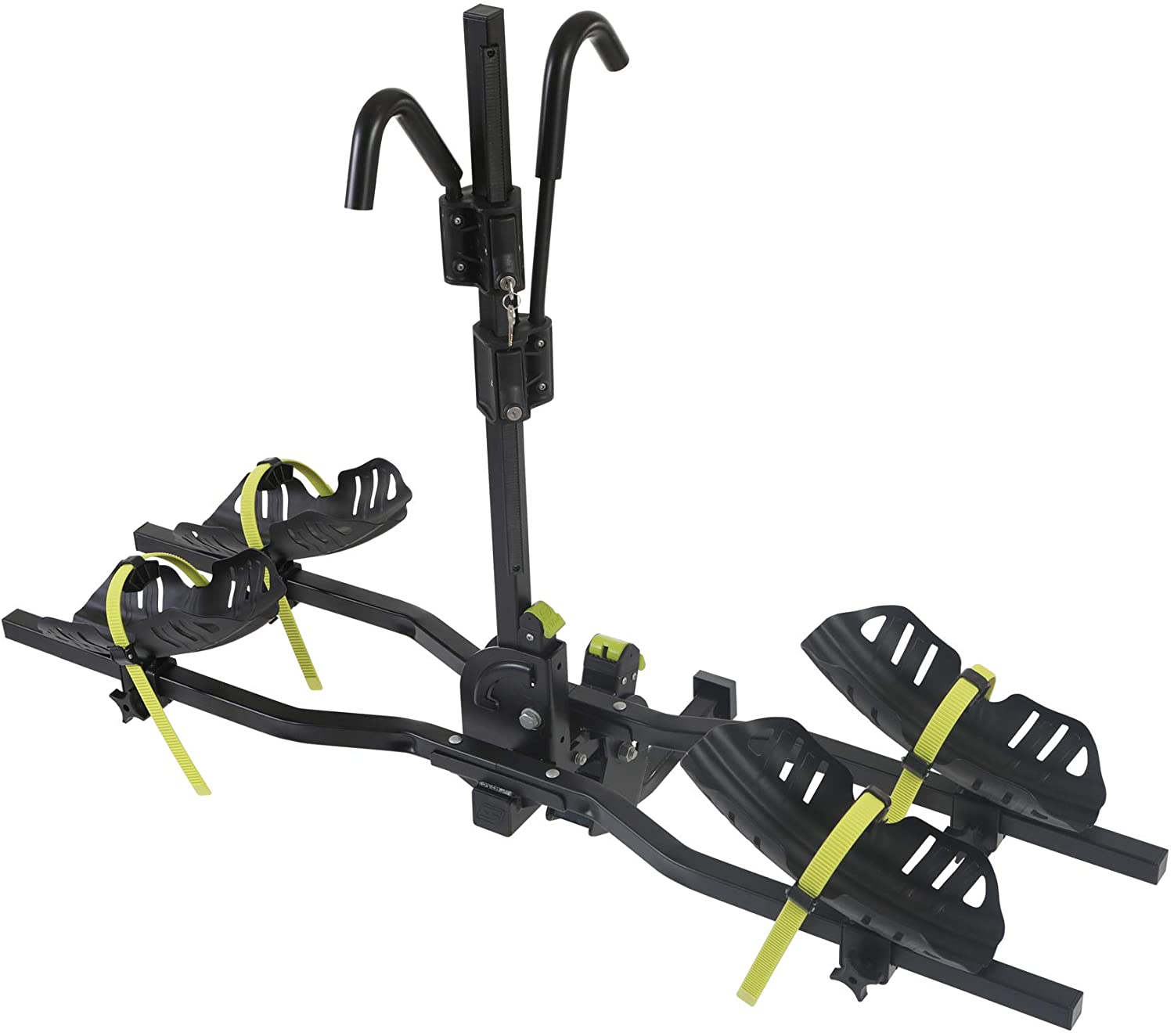 New for 2020 from Canadian bike rack manufacturer The Swagman CURRENT  a new heavy-duty platform hitch-mount bike rack. The CURRENT is e-bike approved supporting a higher weight capacity and 1-1/4" or 2" hitch receiver options, as well as a tilt and fold feature for those times when you forgot something in the back of the vehicle. We've been testing the CURRENT for a few weeks with a variety of different Pedego bike models, as well as some non-electric mountain bikes. We think the bike rack is practical, easy to use and we like it a lot.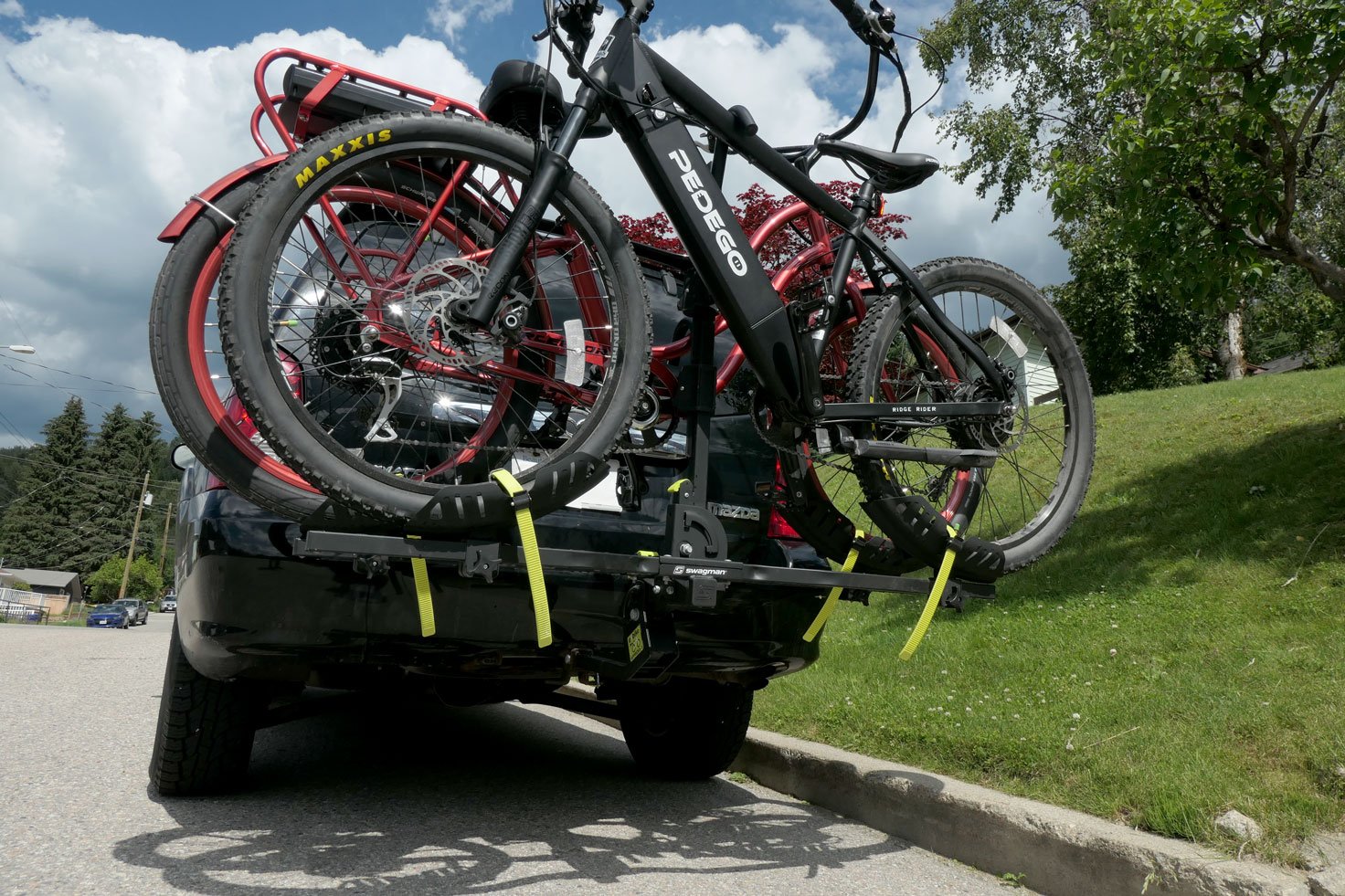 We are really excited about this bike rack because having a proper rack to transport your electric bike plays an important role in the overall care of your bike. Improper transportation is one of the leading reasons we see scratches, dents and even broken derailleurs and spokes.
The CURRENT is Swagman's second-generation electric bike rack, a dramatic improvement from their ESCAPEE – which we felt did the job, but didn't quite have all the features that we think make up a great bike rack. The first thing that stood out to us was the stability, with the center ratchet arm and tire straps this rack provides stability and confidence, your bikes are not going anywhere.  The ability to mount the rack on both 1-1/4" or 2" hitch receiver is another excellent feature. Even with the smaller 1-1/4" mount, the rack was stable on our test vehicle. Other CURRENT Electric bike rack features and comments from our testing are:
•  Higher weight capacity – 60lbs per bike
•  Large wheel holders that fit tire widths up to 5" –
hello Fat Tires!
• 
Tilt and folds away from the vehicle while the bikes are loaded
•  Locking ratchet arm that fits a Step-Thru City Commuter and our classic frame bikes. However, you will need the 
Bar Adaptor
 for step-thru Interceptors and Boomerangs
•  Easy to load and unload bikes – even the back rack, there is plenty of room between the rack and the vehicle
•  Easy to unfold and refold the bike rack – Bright yellow latches that smoothly unfold the rack and release the upright ratchet arm – Careful though! They do snap back quickly, we have had a few pinched fingers
•  Locking hitch pin and cable for keeping your bikes extra safe from theft
•  Stability – both the bikes to the rack and the rack to the vehicle, even with the 1-1/4″ mount
•  Easy to assemble and attach to the vehicle
•  Bright yellow accents – classic Swagman


The CURRENT is a solid bike rack at a price point that won't empty your pocketbook with the added value of supporting a Canadian company. We think it is great bang for your buck.
We like a lot of things about the CURRENT, but the thing we love most right now: they're in stock! Contact your local Pedego Dealers to learn more.
Lake Country Art Tour on a Pedego
Time: 3 hours – including stops
Distance: 21km
Tour: Self Guided
Lake Country is a gem. Located in the beautiful Okanagan Valley in British Columbia, the area boasts serene lakes, bountiful orchards and vineyards, and sunny weather. Made up of four distinct wards, Carr's Landing, Okanagan Centre, Oyama, and Winfield, the District of Lake Country is home to only 14,000 people so there is plenty of room to roam and enjoy the peace and quiet. This is life, the Okanagan way.
The vibrant, tight-knit communities of Lake Country are also rich in culture, arts, and entertainment. They're a perfect balance of rural and urban experiences. To fully enjoy all the artistry of the area, we recommend the following three-hour tour, which you can do on your electric bike or on one that you rent from us. Total distance is 21 kilometres and many of those are on the flat and relaxing bike trails, which offer stunning lake views.
Swalwell Park
From Pedego Oyama, ride east onto the isthmus and follow the Rail Trail 7 kms along the east shoreline of Wood Lake. Cross Woodsdale Rd. and continue on the trail for another 4 kms to McCarthy Rd. where you'll find a historical marker. Turn right onto McCarthy and then right again on Bottom Wood Lake Rd. Follow this through the roundabout to the west and enter the parking lot of Swalwell park.
This community park has a picnic area, skatepark, pavilion, softball field, and waterpark. It also harbours some beautiful artwork including:
Town Walls – Paintings by community citizens in 2005
Circle of Life – Carved marble by Toru Fujibayashi
Funky Pear – A fun sculpture by Ede Axelson
Entrance to the Valley – A large sculpture by Shangxi Zhu
Berry Road Bike Lockers
From Swalwell Park turn left out of the parking lot and ride through the roundabout to the bike storage locker at the transit stop on Berry Rd. Here you'll not only see the unique work of Sheila Tansey on the bike locker, you'll also have a good view of the mural on the end wall of the hall.
In 2016 Tansey was commissioned to decorate two bike lockers in the area as part of a public art series promoting active transportation. She was the perfect person to appreciate them as she's been using bike lockers since the first one was installed in Surrey in 1993. Residents rent space in the locker so they can store their bikes safely and out of the rain.
Berry Road Birdhouse Sculptures
Continue biking west on Berry Rd. and cross Hwy 97 when safe to do so. Along the way you'll spot multiple birdhouse sculptures done by a variety of artists including Denise Wandt, Jeff Bouladakis, and Larry Hunter. The birdhouses were a project of the Lake Country Public Art Commission in 2017 and you'll see everything from colourful wooden bird condos to spiraling glass structures.
At this point we recommend stopping at the Dairy Queen parking lot, which is a great place to refresh.
Once you've rested, return east along Berry Rd., crossing Hwy 97 safely, until you spot the Robotic Tree at the corner with Main Street. This large, outdoor sculpture is made of metal and plexiglas and was designed by Ottawa artist Karl Ciesluk who said he wanted to capture the whimsical representation of the future of orchards with a tree that harvests itself.
Lake Country Art Gallery
Continue along Berry Rd. until the roundabout and turn north on Bottom Wood Lake Rd. Follow this for 1 km and turn left into the Lake Country Art Gallery and Coffee House. There you'll find revolving collections of local and foreign artists.
Pelmewash Parkway Cycling Path
After you've enjoyed a coffee, snack, and seen the latest exhibitions, turn left out of the Lake Country Art Gallery parking lot onto Bottom Wood Lake Rd. and continue north. You'll pass the entrance to the Winfield Community Garden, which is marked by a sculpture called The Working Carat. The giant oxidized carrot was designed by Ed Goodon from Metal Dream Designs in Vernon, and if you look closely you'll see gardening tools inside its structure.
Continue north to Woodsdale Road, turn left, cross Hwy 97 at the lights and then turn right on Pretty Road. Continue to the cycling path that ducks under the highway and onto the scenic, flat, and calm Pelmewash Parkway, which follows the west shore of Wood Lake for 6 kms. You'll spot three Indigenous sculptures during this section of the tour including the Four Foods Chief, Canoe, and Feather.
Four Foods Chief – Clint George and Les Louis
Canoe – Clint George and Les Louis
Feather – Clint George and Les Louis
These pieces were designed by Clint George of the Penticton Indian Band and Les Louis of the Similkameen Indian band. "The Four Food Chiefs sculpture carries infinite meaning and reminds us to seek information about why preservation of our valleys, mountains, waters, and sky are so important," the artists said. The Canoe sculpture shows the traditional transportation of the Sylix people and is a reminder of the importance of working together. And the Feather sculpture, which includes a medicine wheel, sun-star blanket, and depictions of Okanagan pictographs, is symbolic of harmony between the First Nations and the settlers.
Your ride along the Pelmewash Parkway will take you right back to Pedego Oyama where it all began. This tour is a great snapshot of the amazing artwork that can be discovered in the Lake Country but there are many other pieces that can be seen throughout the area. For more information, visit the story maps on lakecountry.bc.ca.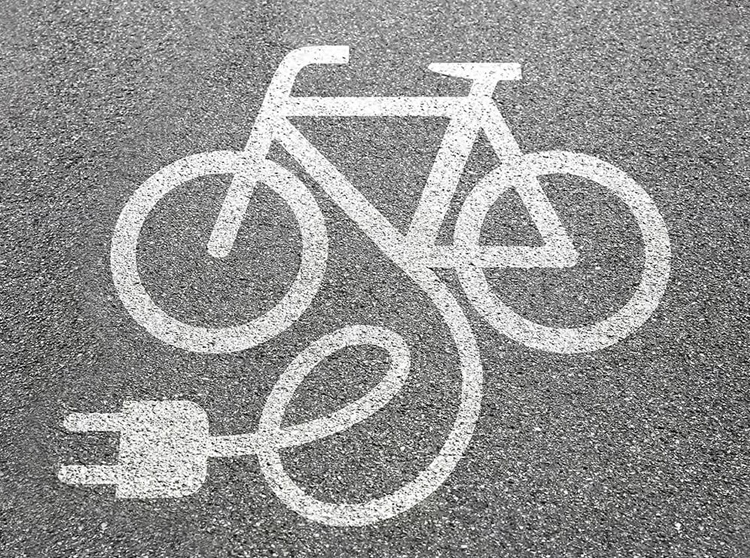 Canadian electric bike integration:
new rules afoot
We enjoyed reading Leading the Charge on Canadian Electric bike Integration: A Discussion on the Emerging & Unchartered Role of Micromobility a white paper recently released by engineering consultants WSP Global. It's a 60-page document that covers the status of electric bikes in Canada, future trends, current legislation and makes useful comparisons to foreign countries.
We especially like the way it defines electric bikes primarily as "Bicycle Style E-Bikes" and "Scooter Style E-bikes". In Canada, on a federal level, there is essentially no legal difference between these two styles of electric bikes. One is designed to be pedaled, the other is designed to pushed by a motor, but they both have pedals in order to meet the Transport Canada classification for a "power-assisted bicycle". The reality for most scooter-style bikes is that the pedals are a token effort designed to achieve the classification. If you try to pedal one of these you will see it is impossible to move any distance under your own power!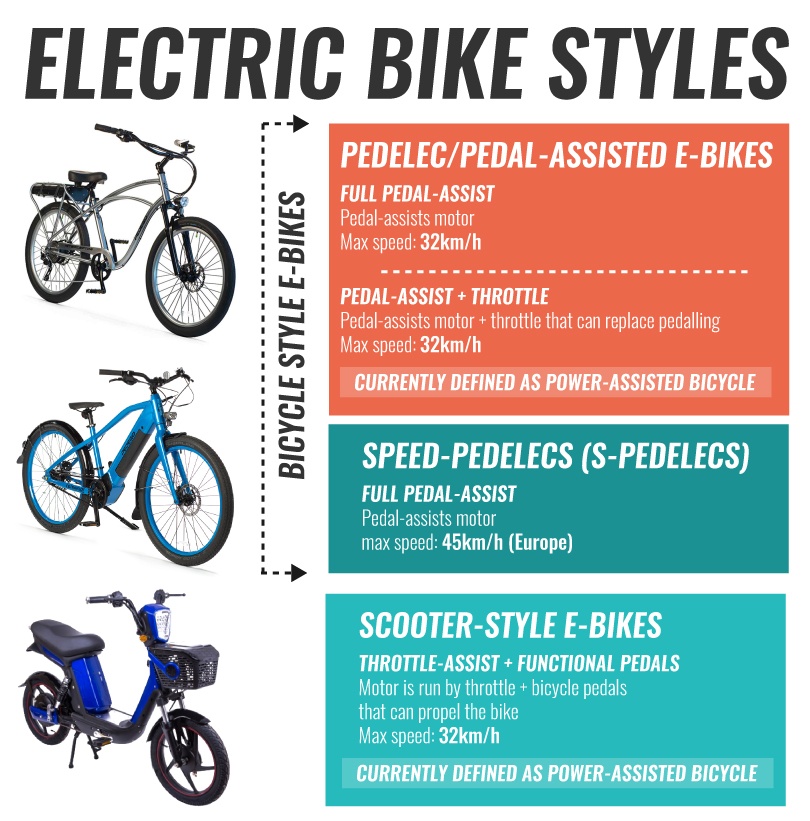 There are a multitude of other ways people try to segregate electric bikes, for example by size of motor, presence of throttle, max speed or wheel diameter. But we agree with WSP, the best way to distinguish between electric bikes is by making a line between bicycle-style where the motor is generally intended to assist pedalling (the throttle is optional), and scooter-style where motor runs independently from pedalling (pedalling is optional but not realistic usually). Another big difference is weight: a Pedego weighs about 25kg with a 4kg battery, while a scooter style e-bike weighs 75-100kg.
Visually, these two styles of bikes are usually easy to pick. Look at this handy graphic that shows the huge visual difference in electric bikes currently legal in Canada:
On page 18 there is a table comparing the legislation in each province, taken from our "Are Electric Bikes Legal in Canada?" article. Then the authors go on to compare us to international legislation, showing how what is considered an e-bike in Canada is not the same as an e-bike in the USA, again not the same as an e-bike in Europe.
The paper flags an upcoming change: the Canadian government is proposing to deregulate power-assisted bicycles. This means that the Motor Vehicle Safety Act would no longer be the umbrella legislation and Transport Canada would no longer define "power-assisted-bicycles" with the provinces having to adhere to this definition. The intent, according to the White Paper, is to bring Canadian legislation into line with the USA, therefore, removing trade barriers. Rest assured that we'll keep you up to date with any changes that may affect electric biking in Canada.
The paper identified some barriers to widespread adoption of electric bikes in Canada. These included weight, cost, range anxiety, stigmatization, confusion, and lack of exercise. We're doing our part to reduce these barriers, and for more informative and useful tools take a look at Electric bike info, or call one of our dealers to have a chat about everything e-bike. It's the transport of the future!