Pedego Avenue Ebike: Minimalist Design with Maximum Utility
April 14, 2023
Photo Credit: Pedego Electric Bikes Croton-on-Hudson
Avenue Owner Shares the Excitement of a New Bike!
Mike Stolte of Nelson, British Columbia is new to electric bikes having purchased a Pedego Avenue in summer 2022 soon after the latest model hit the market. Mike looks forward to his first full season of riding and is happy to share his Avenue experience so far.
Why did you choose the Pedego Avenue as your first electric bike?
It caught my eye! I loved the look of it! As a long-time cyclist and owner of many bikes over the years, the Avenue definitely has a classic timeless design. It looks like a traditional bike, reminding me of that classic 80s, 90s mountain bike look – solid and attention grabbing.
I never expected to be in the market for an ebike but as I get a little older, I appreciate extra power. I also need to be able to keep up with my girlfriend. She's not a cyclist so got an ebike to keep up with me – ironically. Now, she's way ahead! With an ebike, I also got excited about increased exploration opportunities. I can ride to destinations beyond what I could reach before on just my own pedal power.
How are you finding the Avenue adds to your already vibrant cycling life?
I find I jump on my bike more often now that I have an electric option. I live in a hilly mountain town and motivating for the uphill is sometimes a barrier to riding. I appreciate that I still feel like using my bike to ride up the hill to ball hockey at the end of a busy workday.
I also find there are streets in my own community that I've never cycled up – because they are just too steep. Now, I'm exploring every one of them and it's really been fun! I also like to ride the rail trail and now I don't have to drive up to the trail head with my bike on the car rack. I can ride up to the trail I want to do.
What I also really enjoy is that my girlfriend and I can go off and explore beyond what we could on just a pedal bike. We can pack a picnic and find a new spot. The opportunities are endless. We got a great Thule rack for the back of our car, so we plan to take our bikes with us everywhere this summer. We are both very excited.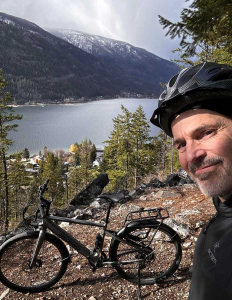 What is the Avenue like to ride?
It's a peppy powerful package. I also like how it feels to mount. It's got a familiar geometry, so it feels like a bike I am used to. I was instantly comfortable. It feels great, a smooth ride around downtown, road biking the north shore and it can handle the easy trails we like to ride.
Everyone loves to roll up on a new set of wheels. What did your buddies say about your new bike?
When I showed my Avenue off to my buddies, they were a little surprised and definitely impressed. I don't think they expected me to be riding an ebike, especially one so great looking. I suppose sometimes people have a perception that an ebike is a little clunky or for people who aren't able to ride a traditional bike.
There is a wow factor. I can tell people are admiring my bike and that always feels good.
Any great tips for future Pedego Avenue owners?
The Avenue is also an affordable option among Pedego's line-up. There are some great accessories available to dress up the Avenue. I picked up the Pedego torch headlight for off the front of my bike and I love the Pedego rack on the back. I travel with a lot of gear whether it's a camera or hockey stick, the rack works great.
Book a Demo
Discover the Avenue. The Pedego Avenue may be right for you if you want a light urban bike that allows for multi-model commuting. Or, maybe you just want to cruise around on warm summer nights. Either way, or any way in between, book a test ride at your local store today!