Pedego Bike Transforms Life of Newsweek Writer
April 12, 2015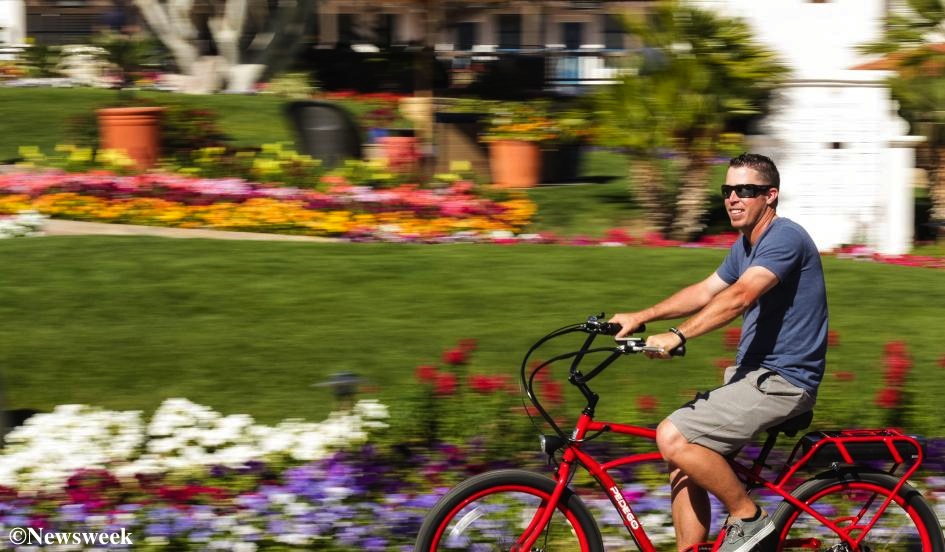 Pedego Electric Bikes Canada customers are used to people staring in awe as they pedal uphill at a fast clip. With the Pedego's pedal assist technology it's super easy to cruise up a steep grade while making it look effortless to passerby – and we always enjoy their gasps of surprise.
This experience was captured perfectly in a recent article by Newsweek magazine writer David Weiss who loves the Pedego Electric bike and summed up how great it is to easily cruise up the half-mile hill to his house:
"Nobody but the eagle-eyed will even see the battery holder welded to the frame behind the quite comfortable seat, so the illusion of your Olympian grace and strength will redound to your advantage as you blithely pedal down the boulevard with nary a bead of sweat on your well-tanned forehead. Be prepared for compliments—more for the bike than the rider, but beggars are forbidden to choose."
In the article, entitled "Gadget Lust: The Pedego Electric Bike Makes Exercise Look (and Feel) Easy," Weiss goes on to explain the other benefits of owning an electric bike:
"And here's the sweet fringe benefit of owning a bike that shares the chores with its rider: People who wouldn't otherwise deign to put their leg muscles to work wind up losing considerable amounts of weight on a Pedego, assuming they don't always crank the throttle wide open….Best of all, no license or insurance is required to operate an electric bike. Just buy a good helmet and an industrial-strength lock and become the envy of the neighborhood—which probably has a dedicated Pedego store nearby."
To read more of David Weiss's article, log on to Newsweek.
Wherever you are in Canada, we're more than happy to ensure you have an amazing experience when shopping for a Pedego Electric Bike. Contact us at info@pedegocanada.com or call 1-888-777-2066 anytime. We look forward to hearing from you!