Nanaimo Welcomes Canada's Best Brand of Electric Bikes
May 23, 2019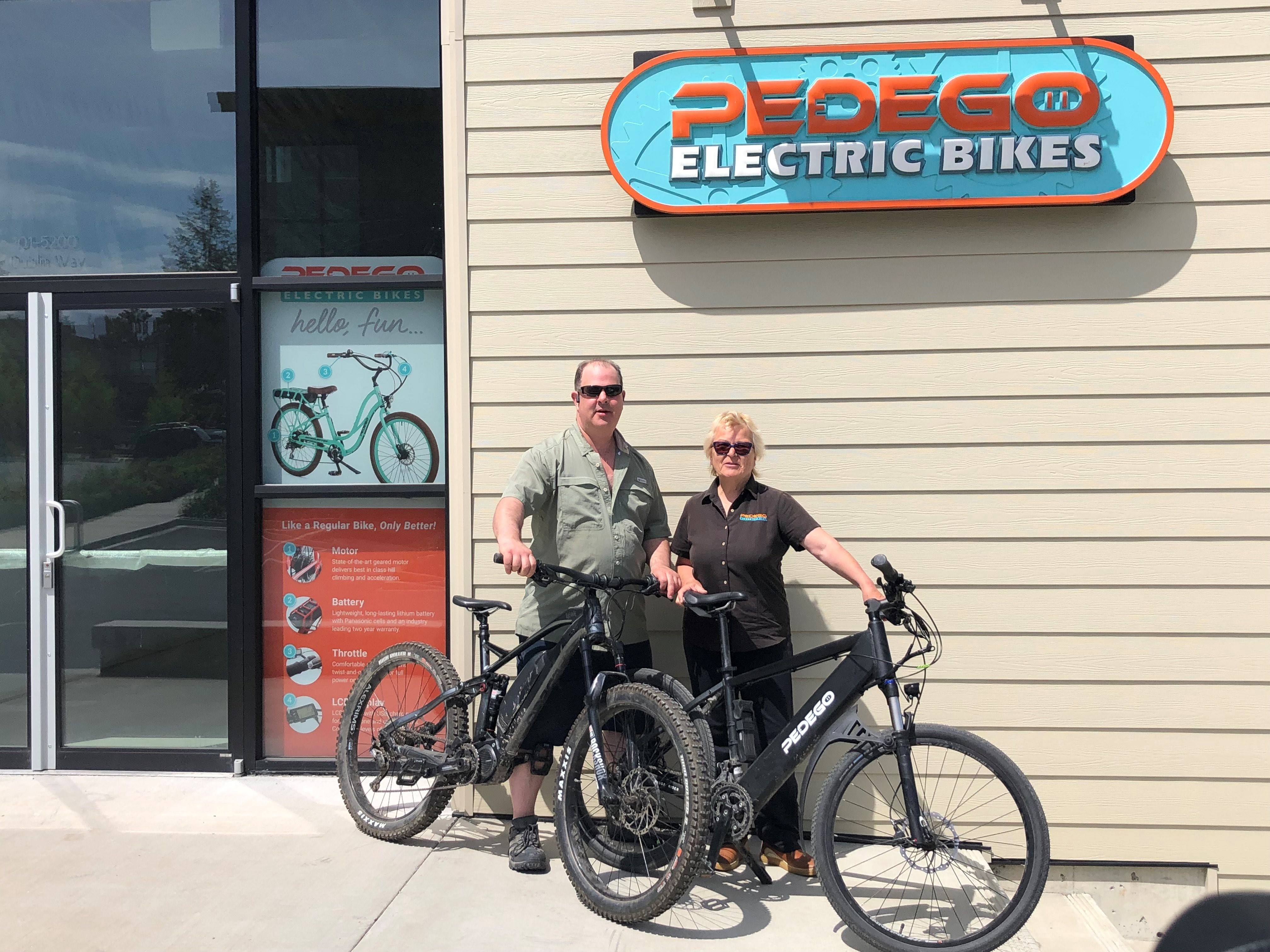 Commute times to Departure Bay and Nanaimo Harbour are going to get a lot shorter for people who shop at Nanaimo's newest store. Pedego Nanaimo has opened its doors selling the number one electric bicycle brand in North America: Pedego Electric Bikes.
Conveniently located midway on Vancouver Island, the Pedego Nanaimo store will replace Pedego Qualicum Beach – Canada's first Pedego store established in 2014 – in selling 18 models of electric bikes.
Pedego Nanaimo offers a wide range of electric bikes, from cruisers and cargo bikes to dual suspension mountain bikes and folding bikes, perfect for taking on the sailboat. Electric bike rentals and service will also be offered.
The store carries on the legacy of Pedego Qualicum Beach, where Julie Edwards and Ruby Berry developed a loyal following among island riders. The pair are handing over to Cal Whiting, who is an avid Pedego rider and opened his first Pedego store in Calgary in 2018.
"We're delighted that Cal has decided to carry on the Pedego tradition in Nanaimo," Julie says. "We've had the most fun five years riding, renting, servicing and selling Pedegos from Qualicum Beach. I can't wait to see how Nanaimo grows as the new destination for electric biking!"
Cal is not a newcomer to island life, having grown up in Port Alberni, studied in Victoria, and ridden bikes all over Vancouver and Saltspring islands.
"I'm excited about opening this new store in Nanaimo. There is such a loyal following on Vancouver Island, and it's also such a great place to ride a bike. We're going to continue to provide the same personal service that Qualicum Beach customers have always received, plus introduce Pedego electric bikes to a whole new group of riders in Nanaimo as well!"
Pedego Nanaimo joins Pedego Kawartha Lakes in Lindsay to make two new locations opening across Canada this year, keeping Pedego as one of Canada's fastest growing brand of electric bikes.
Pedego Electric Bikes are designed in California and sold around the world. It is the company's belief that electric bicycles transform people's lives by getting them off couches, out of cars and having fun — lots of fun!
More information:
Cal Whiting, Pedego Nanaimo, nanaimo@pedegocanada.ca
Mike Clyde, Pedego Canada, 888-777-2066,  info@pedegocanada.ca