Welcome Party For Pedego Adventurer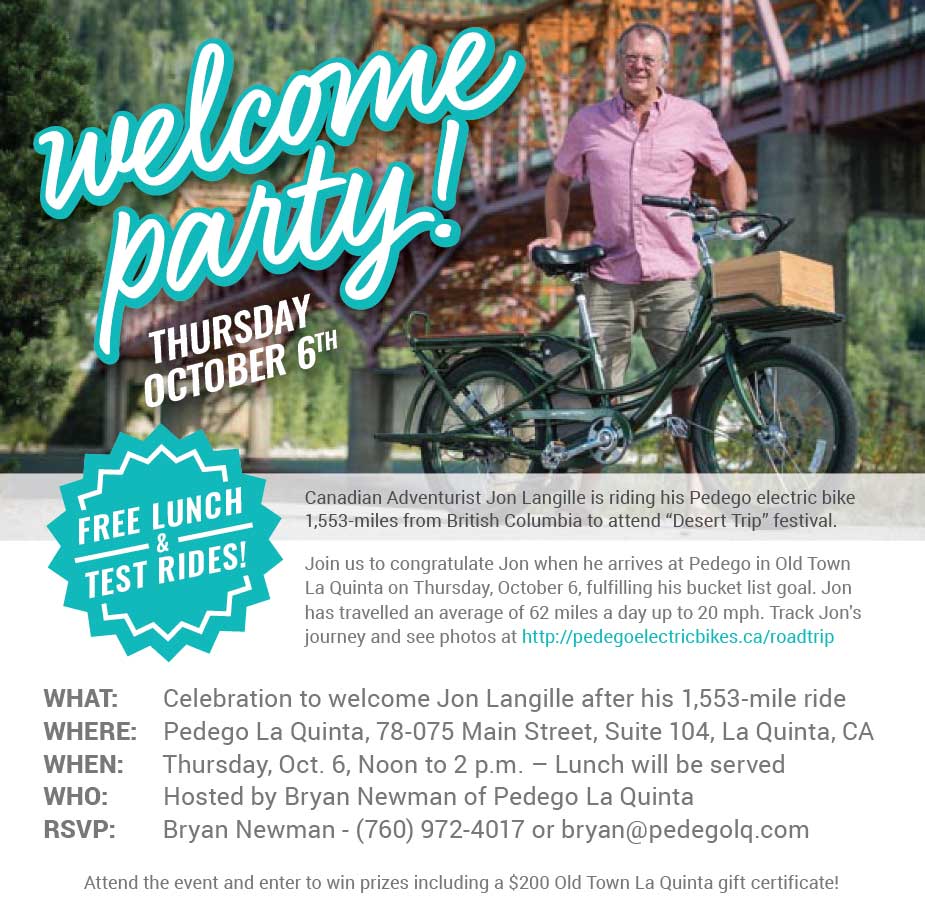 Pedego adventurer Jon Langille has almost completed the first-ever electric bicycle tour from Canada to Indio, California. Tomorrow morning (October 6th) he will roll into the Pedego La Quinta store and be congratulated by friends and followers for finishing his journey.
Jon left Nelson, British Columbia on September 4 on his Pedego Stretch electric cargo bike and since then has ridden through four states, over mountains and volcanos, along beaches, beside rivers and the Pacific ocean to reach south-central California. He's travelled 2,850 kilometres and spent 127:37 hours on the bike. He's also exceeded 18,634 metres of elevation gain, which is higher than two Mount Everests!
The 54-year-old Canadian decided to pedal his Pedego Stretch electric cargo bike to attend the Desert Trip concert in Indio, California (just a few miles away from La Quinta) and see six of the best musical acts of all time including the Rolling Stones and the Who. (The concert starts October 7.) He says he had the time off work and used to bike tour a lot in his twenties and thought a bike ride down the Western United States would be a fun adventure. (Jon elected to take his Pedego because the extra assist provided by the electric motor would help him get up the many mountain passes along his route.)
Jon's since done many media interviews along the way and recorded his journey with videos and photographs, all of which you can see on our Roadtrip page. He says that aside from the occasional flat tire and head wind, the trip has gone amazingly well.
If you are in La Quinta on October 6th, be sure to stop in at the Pedego store, meet Jon and offer him a heart-felt congratulation for having completed a world first on a Pedego Stretch electric cargo bike.