Media Attention For Pedego Adventurer
September 21, 2016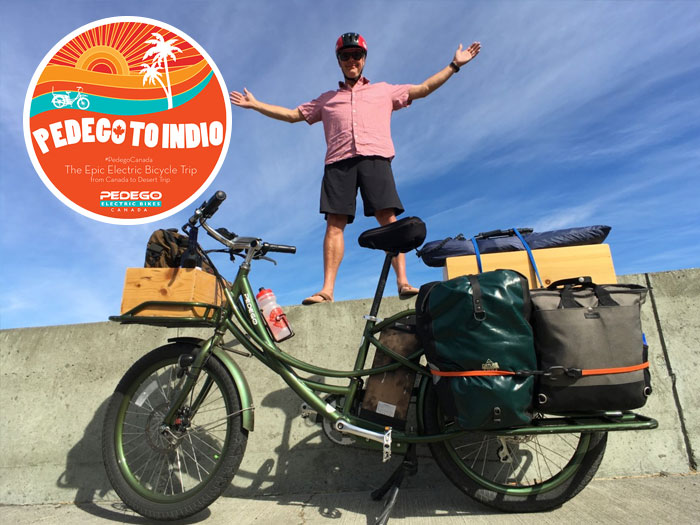 Before Pedego Adventurer Jon Langille set out on the first-ever electric bicycle tour from Canada to Indio, California, CBC Radio interviewed him to find out why he was so keen to do the journey. That was only the tip of the iceberg when it came to media coverage featuring Jon, however. When he pulled into the Pedego branded store in Bend, Oregon on his Stretch electric cargo bike, a KTVZ television crew was there to interview him about his journey. The footage featured Jon and his bike standing in the store and began with the reporter saying, "What would you do to see your favourite band in concert? Whatever it is, it's probably not this: 54-year-old Canadian Jon Langille is riding his electric bicycle from Nelson, British Columbia all the way to Indio, California." Click the play button in the video below to see the interview in its entirety.
The following day, Jon was interviewed by an editor at Mountain Culture Group, the Nelson-based parent company of the award-winning Kootenay Mountain Culture and Coast Mountain Culture magazines.  The resulting Q&A article showcased Jon discussing his highlights and his challenges, which included 60km/hr headwinds and no less than seven flat tires caused by various factors including highway detritus. These other question and answers were included in the piece:
What can someone who's thinking about bike touring learn from your experience?
Be well prepared for flats! Always carry a patch kit, good pump, extra tubes, tire levers, and Fix-a-Flat for bikes. Also, be sure to pack easy wash, quick dry clothes and not many of them. Consider gel seats and handles specially shaped for long rides.
How does this bike tour compare to other ones you've done in your twenties around Asia, Australia and the UK?
Even though the electric bicycle I have (a Pedego Stretch electric cargo bike), the actual riding is easier. Hills and wind are not nearly as big a battle as they are with a conventional bike. The route I've taken would not be advised on a standard bike. I think an ebike opens up more of the map for bike touring.
To read the Mountain Culture Group article in its entirety, log on to: mountainculturegroup.com/electric-bicycle-adventurer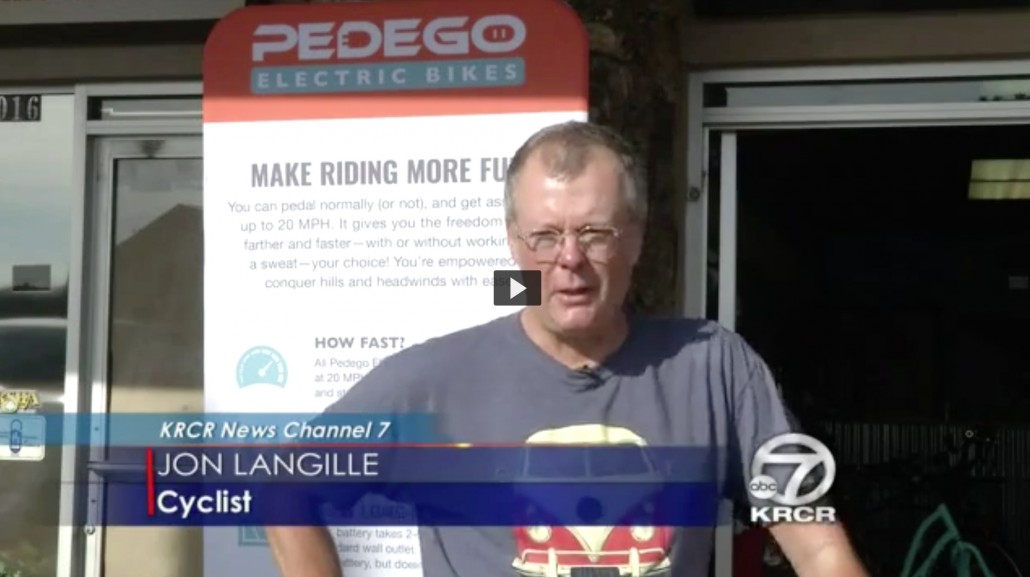 A few days later Jon had biked from Bend to Redding, California, where he again pulled into a Pedego branded store and was met by a television crew, this one from the KRCR News channel. Reporter Tiffany Wong took an electric bicycle for a spin to see what Jon's experience was like and then asked him about why he wanted to ride his Stretch to Indio. Jon replied, "After a year of dedicated riding on the Pedego I thought, 'let's just take it as far as I can and see how it does.'"
He then goes on to describe the benefits of having an electric bike on this journey versus a regular one: "It comes into play when you're going up a hill. Basically you don't feel the hill. When you're going in the wind it will assist you. And you're still putting good effort into your work but it's there to take care of the troublesome parts…I was having so much fun with this Pedego bike that I wanted to test it out on a true long tour."
To watch Jon's interview with KRCR, log on to the following page: krcrtv.com/news/local/shasta/canadian-bikes-through-redding
To continue following Jon's progress on his way through California, log on to: pedegoelectricbikes.ca/roadtrip