Want New Bike Trails in BC? Here's How to Help
The BC Cycling Coalition has been busy in the province of British Columbia recently and have recently announced several bicycling improvements including:
Seven Vancouver Island communities will get nearly $2.7 million in Bike BC funding for cycling facilities
Updates to Highway 97 in West Kelowna include wider shoulders and improved lighting from Glenrosa Road to Hebert Road
Upgrades to the Sea to Sky include the Porteau Bluffs cycling warning system and may include improved shoulders near Whistler
Another aspect the Coalition is working on is the taxation laws on electric bikes as well as clean energy vehicle rebates. Amazingly, if you were to buy a hybrid car in BC, you'd be eligible for rebates of up to $5,000 but you'd receive nothing for purchasing one of the cleanest energy vehicles known to humankind: that's right, there are no tax rebates for electric bikes. Likewise, purchasers of electric bikes are charged Provincial Standard Tax in BC (thus adding 7% to the overall sticker price) but PST doesn't apply to normal bicycles.
That means the purchaser of an electric bicycle in the province of British Columbia is saddled with extra costs and cannot apply for clean energy rebates. Thankfully there are proponents for change and organizations that are working to reverse these unfair practices in British Columbia.
In his column that appeared in the Vancouver Sun newspaper 8recently, Don Cayo writes, "The provincial government kindly kicked in $1,500 toward the purchase of my last fuel-efficient vehicle (but) my newest bicycle? When it is delivered next week, the price will include 12 percent tax – five percent federal plus seven percent provincial. Why won't this bike get the reinstated exemption? Because I'm adding an electric assist motor, and this, under the arcane PST rules, makes the whole shebang taxable. Which makes no sense." (To read all of Don's column, click here.)
Mike Clyde, the owner of Pedego Canada pictured below, shares Don's frustration. "There's an apparent double standard at work here," he says. "Electric bikes are one of the most super-efficient green vehicles out there and they're replacing car journeys. If bicycles are exempt from PST because the rationale is they're green, then electric bicycles should also be exempt."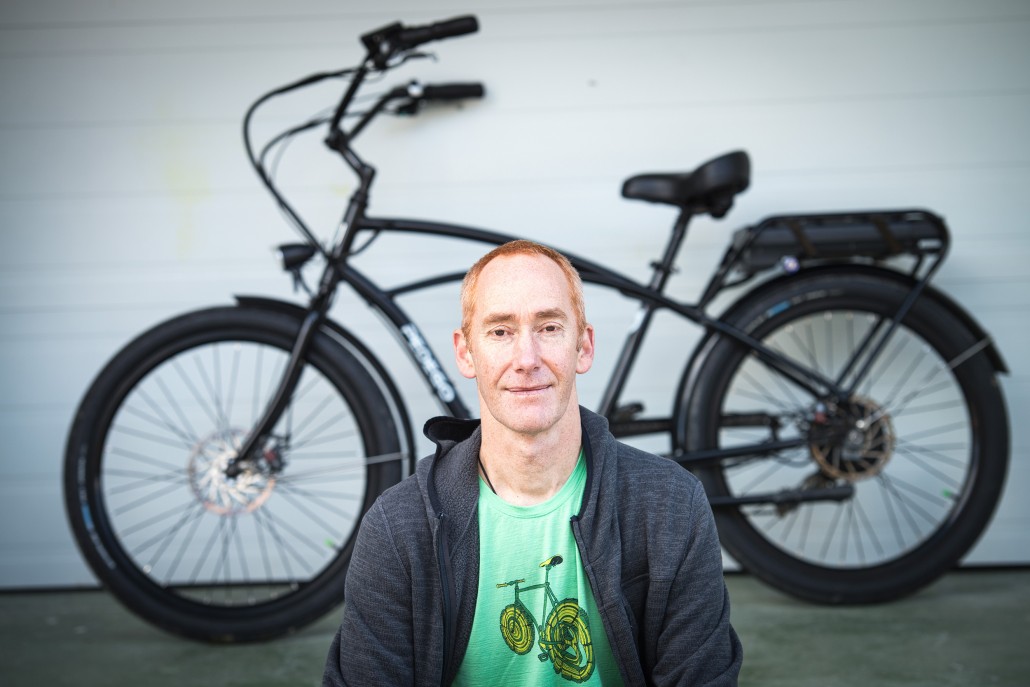 Thankfully the BC Cycling Coalition has started a campaign to remove PST and get tax rebates for purchasers of electric bikes. We spoke to the organization's executive director, Richard Campbell, and he says he "started a petition in late November and it's had good response. The recent article in the Sun definitely helped us and we're seeing a resurgence in interest."
Richard goes on to say, "The key part of it all is letting the government know. It seems like such a no-brainer so it's just a matter of getting people to sign the petition." Currently the BCCC has over 2,500 signatures and are now striving towards gaining 3,000.
Everyone connected with Pedego Canada has signed the petition and we encourage you to do the same. Please log on to the BCCC website and sign the petition that encourages the British Columbia government to remove the PST and add tax rebates for electric bikes. Also, share the petition via email, Facebook and Twitter.
To quote the latest release from the BCCC: "We've created momentum towards a future of BC that we all wish to see come to fruition. Still, it will take real effort to encourage the BC Government to act. The BCCC's ability to push for change is powered by contributions from people like yourself who want safer cycling and walking."
Thanks so much in advance for your help!