Pedego Canada Named 2017 Distributor of the Year
More than 200 attendees were present at the recent Pedego Electric Bikes dealer meeting in Fountain Valley, California, and Pedego Canada was honoured to be recognized at the event as distributor of the year with the most international sales.
The 1970's theme for "Groovy Awards" dinner proved that Pedego dealers know how to have a lot of fun, as evidenced by the photos taken at the event. During his address, Pedego CEO and co-founder Don DiCostanzo confirmed Pedego is the Number 1 selling electric bike brand in North America and there are now 113 branded stores worldwide. "Our 2017 Top Pedego Dealer Awards are given to dealers who have demonstrated exceptional sales," he said. "It's amazing to see how they have delighted their customers, sharing their love of Pedego bikes with their communities."
Aside from Pedego Canada winning distributor of the year, we were also excited to learn Pedego Victoria was one of the top dealers of the year by sales volume.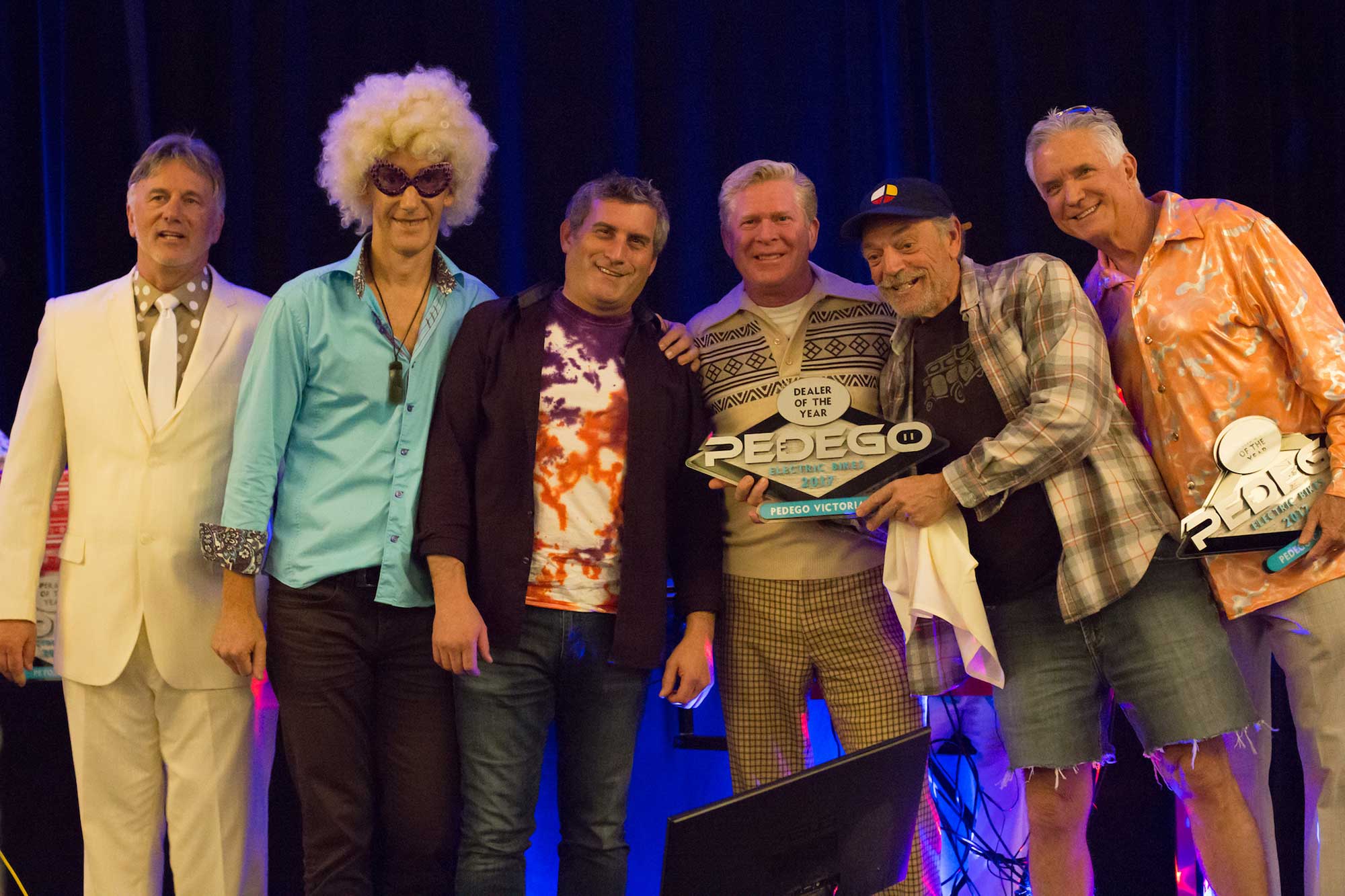 The overall top Pedego dealer of the year by sales volume was Pedego 30A in Santa Rosa Beach, Florida, which is owned by Jason and Emily Medina. Other top Pedego dealers included:
Pedego Bend (Oregon): Kevin Rea, owner
Pedego Carlsbad (California): Denise Buckingham and John Orndorff, co-owners
Pedego Carmel (Indiana): Josh Freedman and Janet Sharp-Freedman, co-owners
Pedego Denver: Terry and Jean Gehrke, co-owners
Pedego Henderson (Nevada): Howard Ickes, owner
Pedego Huntington Beach (California): Tom Bock, owner
Pedego Irvine (California): Bob Bibee, owner
Pedego Myrtle Beach (South Carolina): Aaron Maynard, owner
Pedego Scottsdale (Arizona): Kathy and Bill Puryear, co-owners
Pedego Victoria (British Columbia, Canada): Sam Baio, owner
The top Pedego Operator of the Year award for owners of multiple stores went to Bryan and Michelle Newman who own Pedego La Quinta and Pedego Palm Springs, as well as Bryan and Michelle Newman and Bill and Pat Anton, the co-owners of and Pedego Petoskey in Northern Michigan. The Most Valuable Dealer award went to
Pedego Corona Del Mar in California.
Here are some more photos from the fun evening event.