Woman Loses 280 Pounds With Help of Pedego Bike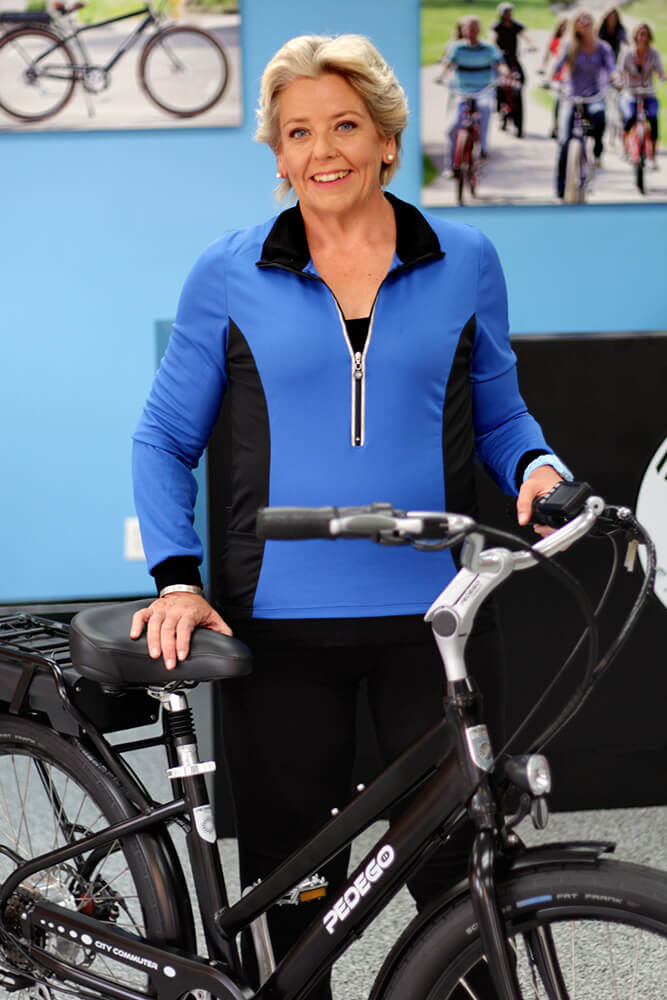 "Riding my Pedego was something that I wanted to continue to do. It wasn't something I dreaded. It wasn't a chore. It was just enjoyment for me."
When Rhonda Martin bought her first Pedego electric bike in 2012, she weighed 457 pounds. "Riding an electric bike was my first form of exercise," she said. "I could barely walk 150 steps at a time. My Pedego gave me exercise disguised as fun, and I began a journey to a new shape and a new life."
In less than three years, Martin has lost 280 pounds and has gone from hardly being able to move to being an active, award-winning triathlete. Today, Martin is an inspiration to more than 20,000 people via her Facebook page titled "Living Instead of Existing." And though she can now ride her choice of pedal or electric bicycles, Martin still exercises a lot on her Pedego. In fact, she also uses it to commute 38 miles round-trip to work.
Electric bicycling helps people cycle their way to health and fitness. It's exercise disguised as fun! Having an electric bicycle gets people motivated to get outside and pedal. Even with the electric motor, people pedal most of the time and use the throttle to flatten hills and make headwinds a breeze. Benefits of electric cycling include:
Look and Feel 10 Years Younger — Studies have shown that regular cyclists enjoy the general health of someone approximately 10 years younger. Cycling can also help reduce your blood pressure and cholesterol and can even help fight cancer, diabetes and heart disease. In fact, women who ride 20 miles per week may reduce their risk of cardiovascular disease by up to 50 percent.
Lose Weight — Cycling can burn 500 calories per hour, helping cyclists lose or control their weight while improving their general fitness.
Boost Your Immunity — Regular cycling boosts a body's defenses by up to 50 percent. You're not just cycling; you're riding away from germs.
Move Ahead of the Pack — Commuting by electric bicycle is one of the easiest ways to fit exercise into your daily routine because it doubles as transportation while still allowing you to arrive at work fresh and not sweaty — plus, it's green.
Exercise for Almost Everyone — Cycling is a low-impact exercise, so it's kinder on your joints than running or other high-impact activities.
Reduce Stress — Many cyclists report that cycling regularly reduces their stress and promotes relaxation. In fact, studies have shown that regular exercise alleviates mild depression and anxiety.
About Pedego Canada
Pedego Electric Bike Canada is the proud distributor of the world's premier electric bicycle brand in the second largest country on the planet. We love electric bikes because they transform people's lives and get them off couches and out of their cars. Oh, and they're fun – lots of fun. For more information, please visit pedegoelectricbikes.ca.