Get to know Pedego Prince Edward County
Did you hear about the Canadian couple who rode a tandem around New Zealand, worked at Apple Computer in Australia and farmed alpacas in Niagara? This year they want to rent and sell you a Pedego electric bike to tour the wineries, micro-breweries, galleries and restaurants of Prince Edward Country. "We think of our lives as an excellent adventure," Gillian says.
Gillian and Patrick (Bear) Maloney have opened a Pedego electric bicycle store just off the 46K Millennium Rail Trail in Prince Edward County, Ontario. You might remember reading about them last summer, when they opened a pop-up bike shop in Bloomfield, Ontario. Now they've settled into their permanent digs in the same village. We dropped in to learn more about the owners of Pedego Prince Edward County.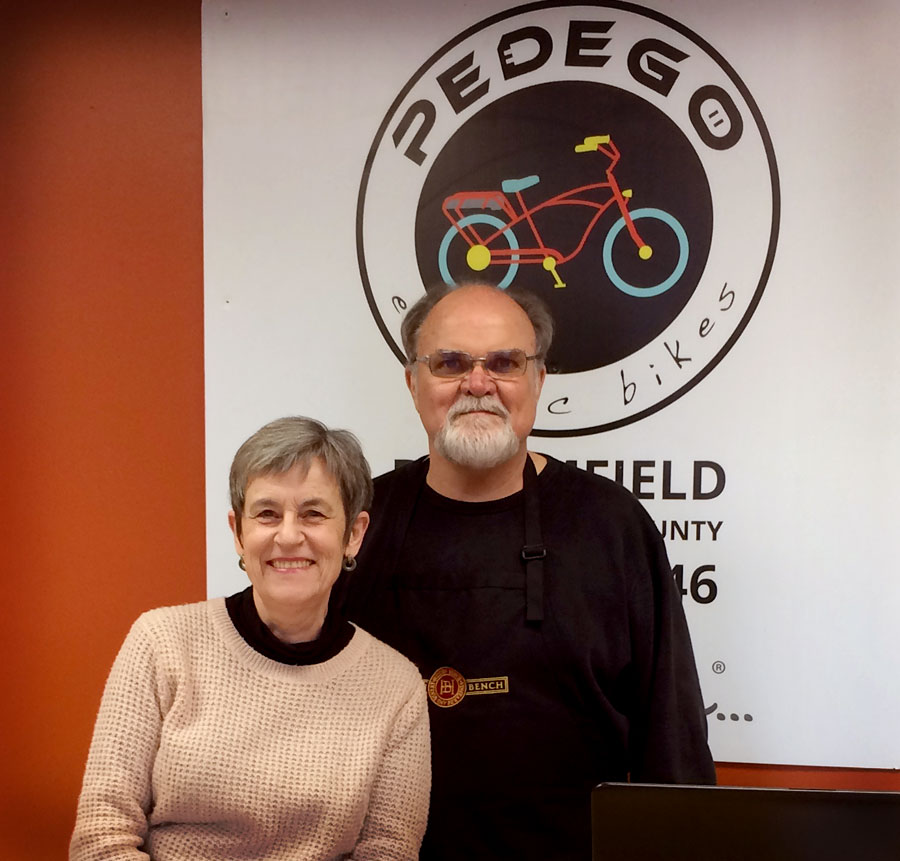 Why did you decide to open a Pedego Electric Bikes store?
Patrick: I'm the volunteer chair of the Prince Edward County Trails committee. We're resurfacing the old 46km rail trail, raising the money from the private sector to do it. I was pitching about the business and tourism opportunities and I drank my own Kool-Aid. We want our store to be an oasis on the Millennium Trail, the place to stop for bike repairs, coffee breaks, rentals etc.
Gillian: We had been talking about retiring because we didn't want to work in an office environment anymore. We'd had tech careers, working at various companies, including Apple, in Australia and Canada. In 2015, we purchased a small trailer and did a trip around Lake Ontario. I booked us into an upscale trailer park in Prince Edward County. As we drove and rode around The County we were just blown away by how lively it was with wineries, galleries, restaurants, brew pubs and cideries.
Patrick: We used to come to Sandbanks Provincial Park in the '80s with a bunch of friends and members of the Ontario Cycling Association. There has always been great camping and back roads cycling in Prince Edward County. With all the new wineries, B&Bs and vacation rentals the bike scene here is thriving.
How did it go with your pop-up shop last year?
Gillian: We found a temporary space where they were building a restaurant. We were able to open for three months from mid-July to about mid-October. The response was beyond our expectations.
What kind of store is Pedego Prince Edward County?
Gillian: It will be a comfortable place to hang out, with people who understand you to talk with and share stories.
Patrick: We're also hoping to be the main electric bike dealer in the County, to establish our rental fleet and make it one of the best ways to visit and enjoy all that Prince Edward County offers.
You've been cycling your entire married life. When did you first ride a Pedego?
Gillian: A few months before we opened, we ordered our bikes from Mike Clyde (Pedego Canada's owner). When they arrived, while the batteries were charging, I took off up the road on the bike itself and I thought "this is nice." Then, when I put the battery in, it was "woah!" That was a completely different story.
Patrick: There is so much to see in the county and an electric bike helps you see it without having to be a serious cyclist. The County is an island in Lake Ontario and there is a lot of wind. To protect farmland there are tree-lined backroads with not much traffic, rolling vineyards, orchards, dairies and historic canneries and barns. What we say is the electric bike will take you anywhere you want to go in The County and always bring you home. We laugh at the hills and the wind.
What's happened to your tandem bike?
Patrick: We've owned three tandems. One was a Lejeune, which must still be in New Zealand as we sold it to a bike shop at the end of our 1980 tour. We still have our custom-built Mariposa tandem from Bicycle Sport, the store in Toronto where I worked in my twenties, although we haven't ridden it much lately preferring our Pedego bikes.
Gillian: Tandem cycling is great because Pat is a stronger cyclist than me. I've talked to other women who share that experience. A Pedego electric bike helps even out the differences.
If Pedego Prince Edward County was an animal, what would it be?
Gillian: An alpaca: beautiful, gentle, valuable and highly sought after. And very speedy when it wants to be! We used to have a farm in Niagara with 20 alpacas, and a farm store selling yarn and knitted goods. It was a warm and inviting place. We want our store in Prince Edward County to feel the same.