Amphitrite Point Trail – Ucluelet & Tofino, BC
By Julie Edwards
It was a glorious day for a bike ride on the wild west coast. Last summer, Ruby, our friend Joy and I took our Pedegos out to explore the route between the Amphitrite Point Lighthouse, and the Ucluelet-Tofino Junction. Accessing a combination of trails, quiet side roads, and bike paths, and wound up on the amazing 8 km bike path that follows the highway out of town to the Junction. It's one of the best roadside bike paths anywhere. We meandered around, taking advantage of every opportunity to view the magnificent Pacific Ocean from a number of vantage points, enjoying the spring blooms of the surrounding lush, verdant forest.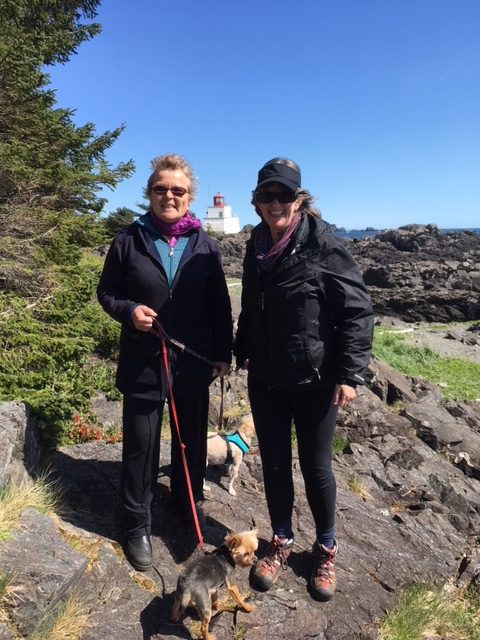 We had a wonderful day and didn't even make it all the way to the end of the path, because of so many side trips, which we could do so easily being on Pedegos.
As a born and raised West Coaster, I know no greater beauty than the sights from the wild side of Vancouver Island!
And to enjoy the gorgeous ocean scenes from our Pedegos — it doesn't get better than this!
However, if you're looking for a longer adventure, and want to ride all the way to Tofino from Ucluelet, it will soon be no problem! The entire length will be connected with a roadside path through the Pacific Rim National Park, and connect with the current multi-use paths in both communities.
As you ride or drive towards Tofino from Ucluelet, take Wick Road. From there, you will see the development of a fabulous biking excursion for our future! Yes these two communities will have another connection! https://www.discoverucluelet.com.
Plan this into your summer ride adventures now! This will be a blast ride for bikes of all description.