Nelson Man to Embark on First-of-its-Kind Electric Bicycle Trip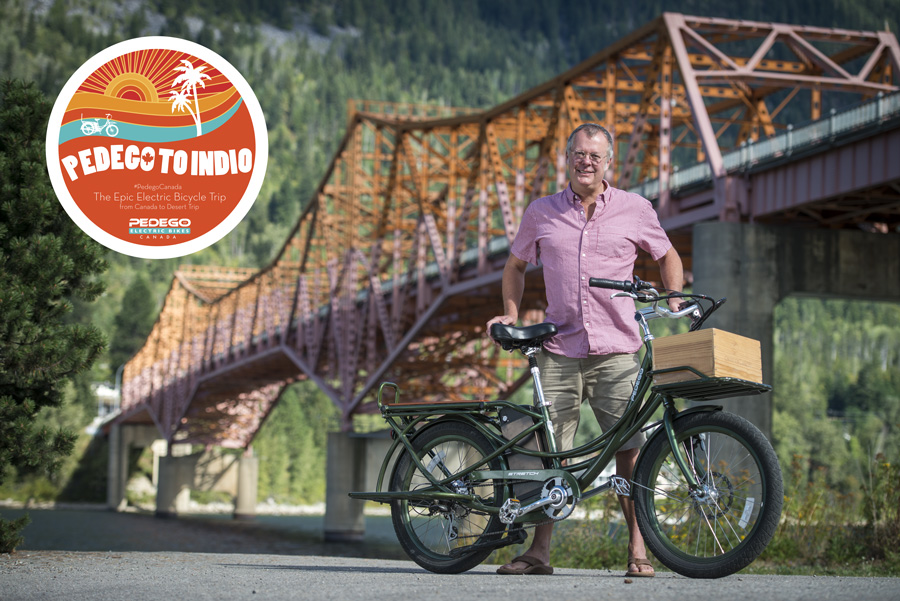 For the first time ever, a dedicated music fan will be riding his electric bicycle from Canada to California to attend the Desert Trip concert and see six of the best musical acts of all time. Jon Langille (aged 54) will be leaving his hometown of Nelson on September 3 and riding his Pedego Stretch cargo electric bike over 2,500 kilometres through four US states before arriving at Indio, California, to attend Desert Trip.
Jon says ever since he heard about the concert (which will feature the Rolling Stones, Paul McCartney, Bob Dylan, Roger Waters, Neil Young and The Who) he knew he'd attend with his wife Laurie but wasn't sure how they would get there. When it was obvious she wasn't going to be able to take weeks off in order to enjoy a leisurely trip south to attend, Jon said in frustration, "Fine, I guess I'll just ride my e-bike down there and meet you."
He then looked it up on Google maps, discovered a workable route, calculated the number of hours involved and realized he in fact would be able to ride his bike there. He gave his wife the pitch and she said he should do it. (She'll be flying down the day before the concert begins on October 7.)
"I have some flexibility with my work and am able to take the time off," Jon says. "My wife then encouraged me to do it and finally I contacted Mike at Pedego Canada about the logistics and whether the bike was capable of the journey. He was super supportive and I realized I really could do this thing."
Mike Clyde is the owner of Pedego Canada and is offering extra electric bike batteries, maintenance supplies and ongoing support for Jon's trip. "This is the first time a Pedego Stretch electric cargo bike will be ridden from Canada to the southern United States and I'm really excited to see how well it performs. Plus I give Jon full props for taking on a journey of this magnitude: Pedego to Indio. It's going to be epic!"
Jon says he has bike toured before (in Asia, Australia and the UK) but this will be the first time he's done it in decades. He feels confident though, thanks to the added boost he'll get from the electric bike's 48V battery. It will give him some pedal assist so he can go further without expending as much energy. (One battery will last approximately 100 kilometres depending on the terrain and he'll then charge them back up to full power in the evenings.)
"This is going to be a really fun adventure," Jon says. "I'm looking forward to meeting my wife at the Desert Trip concert after having ridden about 2,500 kilometres and thanking her for encouraging me to do it in the first place."
Pedego Electric Bikes Canada is a proud supporter of Jon's adventure as well as a proud distributor of North America's #1 selling electric bicycle brand. It is our belief electric bikes transform people's lives by getting them off couches and out of cars and having fun – lots of fun!