Introducing Pedego's Electric Tricycle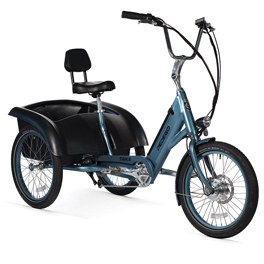 We've had a lot of interest lately in the Pedego Trike so we thought we'd put together an article about it to explain exactly what it is and who it's meant for.
The Pedego Trike is a three-wheeled electric tricycle that is perfect for those who might have mobility issues or who find the idea of riding a two-wheeled bicycle a bit too daunting. This particular electric bicycle is a game changer because its sturdy frame, three wheels and carrying capacity allows you to safely cruise around now while shuttling items such as groceries to and fro.
Years of R&D went into the design of this versatile electric tricycle and you'll find the perfect number of features on it including:
The stability and safety of three wheels
Low frame for easy on-off access
Large rear storage area that's low and easy to access
Deluxe saddle with a padded backrest that provides extra support
Comfortable, upright riding position with pedals positioned in front of you
Choice between 3 levels of pedal-assist or throttle-assist
Three-wheeled tricycles certainly aren't a new phenomenon – in fact they've been around for almost a century – but this electric tricycle takes the industry's latest battery technology and marries it with a super-stable three-wheeled frame that means it's sturdy, yet easy to move. It's the modern, adult version of the tricycle you might have spent time on as a kid.
The potential uses of the Pedego Trike electric tricycle are endless: cruising the bike paths with your grandchildren; biking to the store to collect staples; using it as a rehabilitation tool for an injury or medical ailment. It's the ultimate electric tricycle that allows you to leave your car or mobility scooter at home and go for a fun ride instead.
Who it's meant for – For those who might have mobility issues or who find the idea of riding a two-wheeled bicycle a bit too daunting.
Where to ride them – They go almost everywhere a normal electric bike can go. Because of the width of the rear wheels on the Trike, it's better on wider paths.
What they're good for – Having fun while shuttling a person and food, gear or equipment from point A to point B and back again.
To learn more about the Pedego Trike electric tricycle visit our products page: https://pedegoelectricbikes.ca/shop/trike-electric-bike/