Tools From a Different Toolbox
Pedego Maintenance blog #3
By Jessica Skelton – Pedego Qualicum Beach Mechanic
The back shelves at Pedego Qualicum Beach are filled with all the usual trappings of a bike shop: spare parts, new tubes and extra accessories.
The tool bench, on the other hand, includes a few items usually more associated with the home than a mechanic's space. A Crème Brule torch sits beside the screwdrivers; hairspray, nail polish and cotton buds are tucked in alongside the acetone and chain lubricant.
So, what purposes do these household items serve at Pedego? Read on to find out!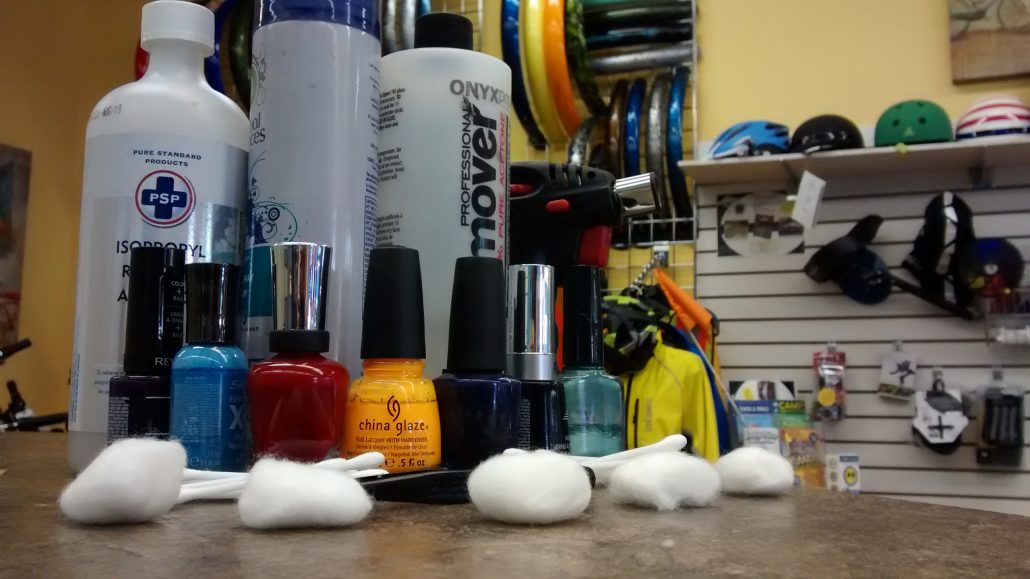 Cotton swabs
The ultimate multipurpose tool, we use cotton swabs to apply Loctite, silicone, grease and other harsh products that we don't really want to get on our hands. They're also great for cleaning the nooks and crannies of a bike.
Nail polish
Nail polish comes in a rainbow of shiny colours, just like Pedego bikes, which is why we think it's the perfect choice for touching up any dings and scratches to a paint job. Plus, it comes with a convenient tiny brush right in the cap.
Hairdryer
We use a this source of instant hot air to speed up the drying time of any paint, silicone or glue we used in repair so your Pedego bike can hit the road again in record time.
Acetone nail polish remover
If you've ever removed nail polish with acetone, you know how powerful this chemical is. Hence why we use it for dissolving Loctite and removing other stubborn gunk.  If you saw how quickly and completely this works, you might think twice about applying it to your fingers!
Crème Brule  torch
If nail polish remover isn't strong enough for the job, we bust out this flaming contraption. In particular, we use the crème brulee torch to remove Loctite from screws that are in danger of stripping because they won't budge. Later, we can have dessert!
Rubbing alcohol
We use the super cleaning powers of isopropyl alcohol to fix squealy brakes by obliterating dirt and oil off disc brake pads and rotors.
Hairspray
We figured if hairspray can freeze a mane in place, this sticky substance could also stop bike grips from twisting around on the handlebars. We were right.
Tweezers
There are some pretty tiny screws on Pedego bikes and often needle nose pliers are simply too big to handle them. So, we simply use this precision tool designed to pick up individual hairs.
It's so great to have an understanding of a multitude of tools, so we can always find the right tool for the job.