The Best New Electric Bike Rack in 2020
July 17, 2020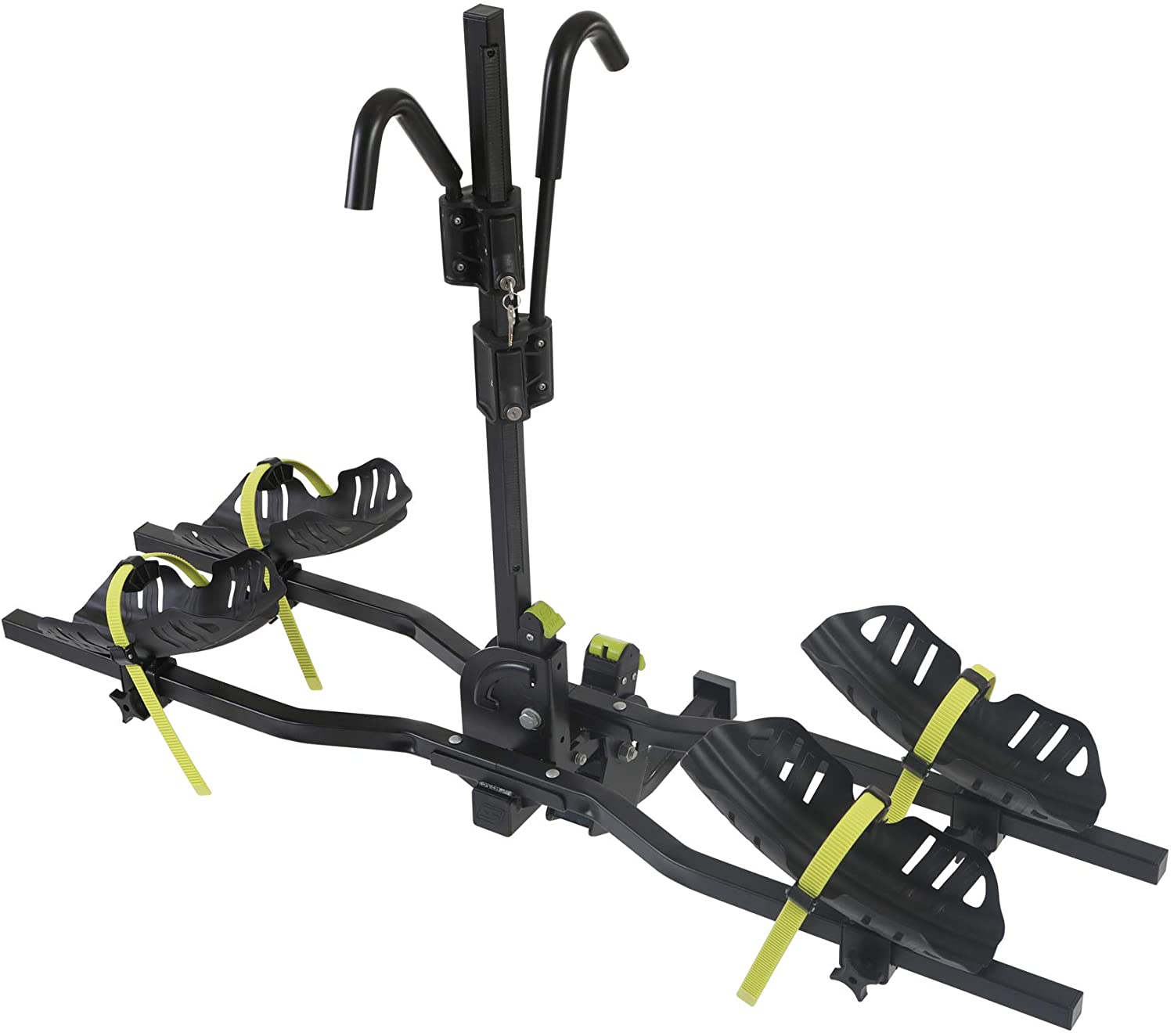 New for 2020 from Canadian bike rack manufacturer The Swagman CURRENT  a new heavy-duty platform hitch-mount bike rack. The CURRENT is e-bike approved supporting a higher weight capacity and 1-1/4" or 2" hitch receiver options, as well as a tilt and fold feature for those times when you forgot something in the back of the vehicle. We've been testing the CURRENT for a few weeks with a variety of different Pedego bike models, as well as some non-electric mountain bikes. We think the bike rack is practical, easy to use and we like it a lot.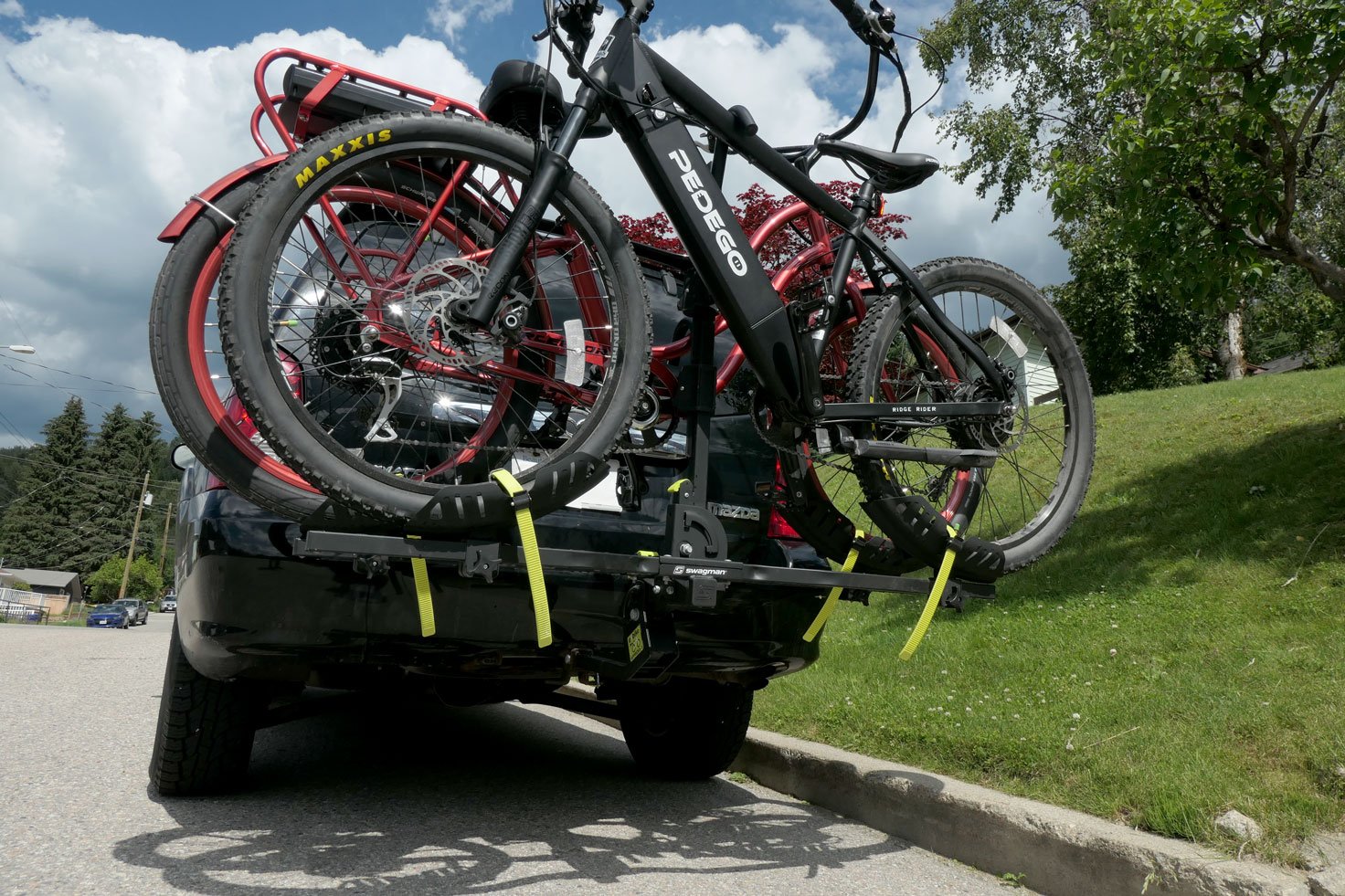 We are really excited about this bike rack because having a proper rack to transport your electric bike plays an important role in the overall care of your bike. Improper transportation is one of the leading reasons we see scratches, dents and even broken derailleurs and spokes.
The CURRENT is Swagman's second-generation electric bike rack, a dramatic improvement from their ESCAPEE – which we felt did the job, but didn't quite have all the features that we think make up a great bike rack. The first thing that stood out to us was the stability, with the center ratchet arm and tire straps this rack provides stability and confidence, your bikes are not going anywhere.  The ability to mount the rack on both 1-1/4" or 2" hitch receiver is another excellent feature. Even with the smaller 1-1/4" mount, the rack was stable on our test vehicle. Other CURRENT Electric bike rack features and comments from our testing are:
•  Higher weight capacity – 60lbs per bike
•  Large wheel holders that fit tire widths up to 5" –
hello Fat Tires!
• 
Tilt and folds away from the vehicle while the bikes are loaded
•  Locking ratchet arm that fits a Step-Thru City Commuter and our classic frame bikes. However, you will need the 
Bar Adaptor
 for step-thru Interceptors and Boomerangs
•  Easy to load and unload bikes – even the back rack, there is plenty of room between the rack and the vehicle
•  Easy to unfold and refold the bike rack – Bright yellow latches that smoothly unfold the rack and release the upright ratchet arm – Careful though! They do snap back quickly, we have had a few pinched fingers
•  Locking hitch pin and cable for keeping your bikes extra safe from theft
•  Stability – both the bikes to the rack and the rack to the vehicle, even with the 1-1/4″ mount
•  Easy to assemble and attach to the vehicle
•  Bright yellow accents – classic Swagman


The CURRENT is a solid bike rack at a price point that won't empty your pocketbook with the added value of supporting a Canadian company. We think it is great bang for your buck.
We like a lot of things about the CURRENT, but the thing we love most right now: they're in stock! Contact your local Pedego Dealers to learn more.