Wired Magazine Calls Electric Bikes "Vehicle of the Future"
One of the most popular magazines in North America has just featured electric bicycles calling them "the vehicle of the future." In an online May 13th article Wired Magazine writer Clive Thompson discusses how transportation technologies such as self-driving cars and drones big enough to carry people get a lot of media attention but "the most exciting form of transportation technology is more than 100 years old – and it's probably sitting in your garage. It's the bicycle."
The article, entitled "The Vehicle of the Future Has Two Wheels, Handlebars and is a Bike," discusses all the recent advancements bicycles have undergone in the past five years and plays up the fact that ebike sharing has come into its own thanks to technology such as GPS, Bluetooth and mobile-payment systems that allow users to track where the electric bikes are and to rent them easily.
Zohar Lazar illustration.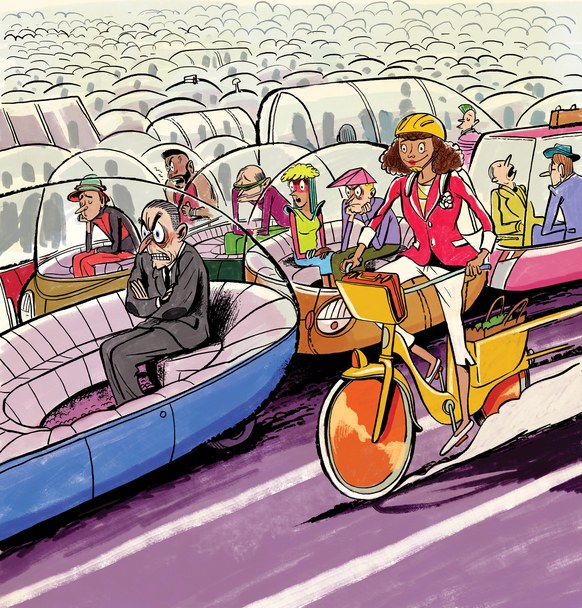 This type of future-prediction-type article is standard for Wired magazine, which is owned by publishing powerhouse Condé Nast. Headquartered in San Francisco, California, the magazine has focuseed on how emerging technologies affect culture, the economy, and politics since its founding in 1993.
The "Vehicle of the Future" article goes on to say that American interest has grown from 320,000 rides in 2010 to 28 million in 2016, an increase of over 8,500 percent! "The number of people who are willing to ride electric bikes is probably ten times that of people who are willing to ride a regular one," the article quotes Ryan Rzepecki, CEO of a dockless electric bike firm.
Thompson continues to write that Elon Musk, the founder of Tesla electric cars, is delving into the world of hyperloop tunnels as possible solutions for transportation congestion in the future. However, he can "bring on self-driving cars [and] hyperloops. But for a world that's rapidly urbanizing and heating, the truly cool tech is bikes….it relieves pressure on public transit, produces vanishingly small emissions compared to cars, and…boots the overall exercise level."
"Best of all, the bike-tech revolution reminds us that innovation isn't always about the totally new," Thompson writes. "It's often just as powerful to blend a robust, old tool that works well with a bit of new tech to make it better. Sometimes you truly don't need to reinvent the wheel."
To read the article in its entirety, log on to the story on Wired's website at: "The Vehicle of the Future Has Two Wheels, Handlebars and is a Bike."