5 Ways Ebikes Help You Lose Weight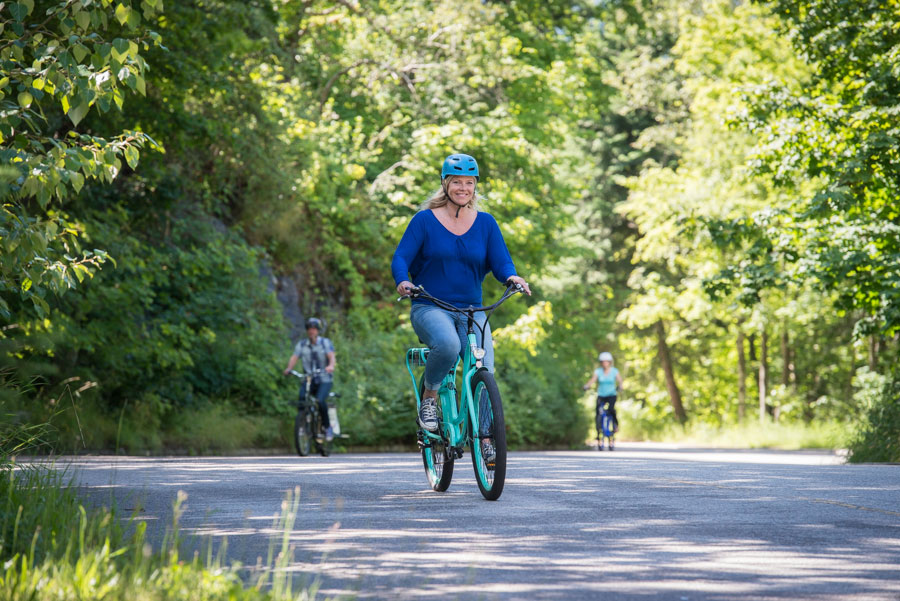 Experts estimate there are close to 300 million ebikes on the roads today and that number is expected to continue to grow. Many people choose to ride Pedego electric bikes because they're fun looking and they're fun to ride, whether you're commuting to work or going out for a casual pedal in the countryside. Pedego electric bikes are also excellent for those of us who want to lose some weight. It's true! Unlike thigh-masters and bow-flexes, Pedego bikes are proven to help their riders lose weight. For example, before she purchased her first Pedego, Rhonda Martin of Southern California weighed 457 pounds. Today, she's down to 180 pounds and she's completely changed her life. You can watch her testimonial video here.
And Rhonda is just one example of many. Why is it that riding an ebike can help you lose weight? Here are 5 reasons:
Electric Bikes help burn calories
Cycling can burn up to 500 calories per hour! But on a traditional bike, that can be hard work, especially if you have a few extra pounds at the outset. A Pedego electric bike is the best of both worlds because it still encourages you to pedal, just like a regular bicycle, so you're still burning calories and fat. But the difference is when you need to take a break, the motor kicks in and helps you along. Now some might say that riding an electric bike is like sitting on a couch and that you're hardly burning calories but that's not true. In a recent study, it was proven that riding an electric bike that has the pedal assist mode engaged helped the rider burn 444 calories per hour versus pedaling a traditional bike, which burned 552 calories per hour. That's only a 20 per cent difference! So the bottom line is, you'll burn calories when riding an electric bike.
Electric bikes work you out without extra pain
High-impact sports such as running are hard on your joints. But cycling is a low-impact exercise and with the help of the motors that are on Pedego electric bikes, the impact is even less! So you won't feel pain after electric biking like you would participating in some other sports.
Ebikes laugh at hills and headwinds
There are very few places on earth where you go for a bike ride and not encounter some form of a hill. Add to that a headwind and getting out for a fat-burning ride on your traditional bicycle can be daunting. However, electric bikes allow you to pedal up hills and against the wind with ease. Just turn up the pedal-assist mode or twist the throttle and you'll be flying along without having to strain.
Electric bikes are fun so you want to use them
We all have good intentions about exercising for our health but the fact is a lot of exercise options out there are boring. That's where riding a Pedego electric bike is different. It's so fun to cruise along the street or trail and watch everyone's surprised looks as you zoom past. When your concerns about hills and headwinds are taken out of the equation, there are no more excuses to not get on your bike. There's a reason Pedego's tagline is "hello…fun." It's because the second you get on one of our electric bikes, you can't stop smiling.
It's hard to eat while riding an ebike
Ok, we say this partly in jest but the fact is electric bikes are so fun you'll want to spend more time out riding one rather than on the couch watching Netflix with snacks. Your Pedego can help you form new healthier habits.
Contact your local Pedego store to learn more!
SEND US A MESSAGE
"*" indicates required fields