Best Locks for Your Electric Bike
September 25, 2017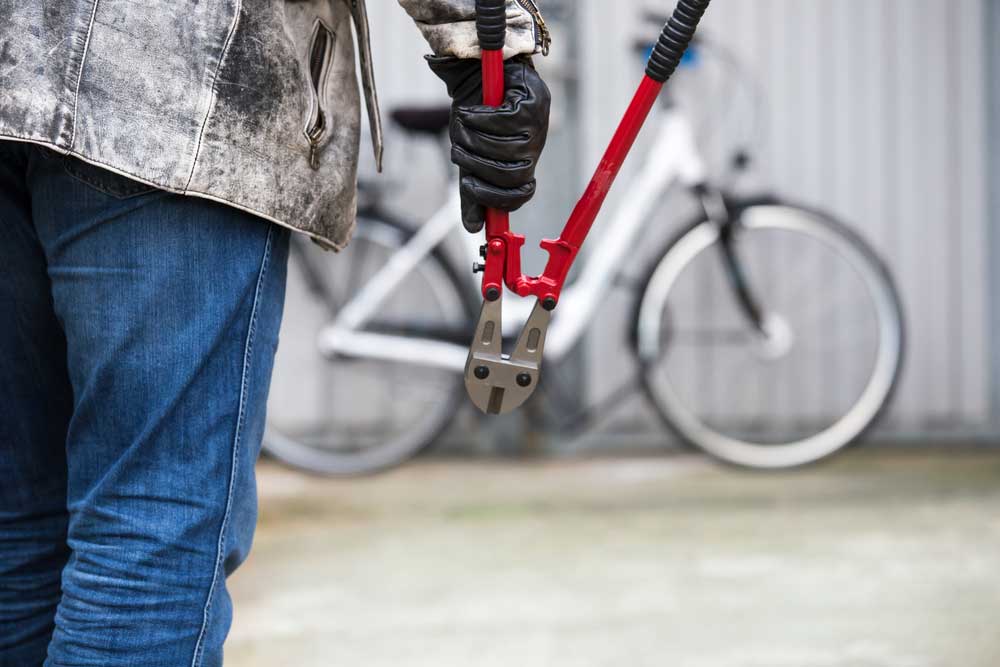 A few months ago we wrote about various aspects regarding security for your electric bike from insurance to bike racks for your car. We also briefly mentioned locks and stressed the importance of locking your electric bike when you're out riding and need to leave it for a short while. This is because simply removing the ignition key and/or battery is not enough to deter thieves — your bike can still be pedalled away even without the battery.
We also touch on bike locks in our "Funniest Bike Racks in North America" blog and stressed five key pointers for locking up your electric bike:
Always lock your electric bike to a rack that has a closed loop.
Never lock just one tire to the rack.
Always lock a closed section of your bike frame to the rack.
Ideally use a long cable to link the front and back tires of your bike to your lock.
Always take any extraneous items with you when you leave your electric bike at a rack, such as items in the front basket or in the panniers.
However after those articles were published we received questions about what brands of bike locks to purchase. We set about to test a number of them and these are the ones we recommend:
[av_image src='https://pedegoelectricbikes.ca/wp-content/uploads/2017/09/electric-bike-locks-abus-ivera.jpg' attachment='12311′ attachment_size='full' align='center' styling=" hover=" link=" target=" caption=" font_size=" appearance=" overlay_opacity='0.4′ overlay_color='#000000′ overlay_text_color='#ffffff' animation='no-animation' admin_preview_bg="][/av_image]
[/av_one_fourth][av_three_fourth min_height=" vertical_alignment=" space=" custom_margin=" margin='0px' padding='0px' border=" border_color=" radius='0px' background_color=" src=" background_position='top left' background_repeat='no-repeat' animation=" mobile_display="]
[av_textblock size=" font_color=" color=" admin_preview_bg="]
Abus Ivera Chain 7210
One of the reasons we love this 7 mm-wide square chain is because it has a highly-flexible mesh sleeve to prevent damage to your electric bicycle's paintwork. And we all know Pedegos are the most colourful and attractive ebikes out there so it's worth preserving the paint! The chain, the case, as well as supporting elements of the locking mechanism are made of hardened steel and the locking cylinder offers drill-protection and a user-friendly reversible key. According to the manufacturer, the Abus Ivera Chain 7210 is rated as "good protection at medium theft risk." Which means if you live in downtown Detroit, this might not be the lock for you. These locks retails for around $100 and can be purchased at Pedego Qualicum Beach.
[/av_textblock]
[/av_three_fourth][av_one_fourth first min_height=" vertical_alignment=" space=" custom_margin=" margin='0px' padding='0px' border=" border_color=" radius='0px' background_color=" src=" background_position='top left' background_repeat='no-repeat' animation=" mobile_display="]
[av_image src='https://pedegoelectricbikes.ca/wp-content/uploads/2017/09/electric-bike-lock-rockafella-1320.gif' attachment='12310′ attachment_size='full' align='center' styling=" hover=" link=" target=" caption=" font_size=" appearance=" overlay_opacity='0.4′ overlay_color='#000000′ overlay_text_color='#ffffff' animation='no-animation' admin_preview_bg="][/av_image]
[/av_one_fourth][av_three_fourth min_height=" vertical_alignment=" space=" custom_margin=" margin='0px' padding='0px' border=" border_color=" radius='0px' background_color=" src=" background_position='top left' background_repeat='no-repeat' animation=" mobile_display="]
[av_textblock size=" font_color=" color=" admin_preview_bg="]
Rockafella Rock Lock 1320
Obviously the more expensive your lock, the better it is at protecting your electric bike. And considering you've spent good money on your ebike, we recommend purchasing a premium lock. However, the Rockafella Rocklock 1320 is inexpensive at around $50 but offers good value. It has a double-locking mechanism in the chamber and a 13-mm-diameter hardened steel cylinder. It also includes a low-profile mountain bracket. These can be purchased at Pedego Victoria.
[/av_textblock]
[/av_three_fourth][av_one_fourth first min_height=" vertical_alignment=" space=" custom_margin=" margin='0px' padding='0px' border=" border_color=" radius='0px' background_color=" src=" background_position='top left' background_repeat='no-repeat' animation=" mobile_display="]
[av_image src='https://pedegoelectricbikes.ca/wp-content/uploads/2017/09/electric-bike-lock-abus-city-chain.jpg' attachment='12307′ attachment_size='full' align='center' styling=" hover=" link=" target=" caption=" font_size=" appearance=" overlay_opacity='0.4′ overlay_color='#000000′ overlay_text_color='#ffffff' animation='no-animation' admin_preview_bg="][/av_image]
[/av_one_fourth][av_three_fourth min_height=" vertical_alignment=" space=" custom_margin=" margin='0px' padding='0px' border=" border_color=" radius='0px' background_color=" src=" background_position='top left' background_repeat='no-repeat' animation=" mobile_display="]
[av_textblock size=" font_color=" color=" admin_preview_bg="]
Abus City Chain 1010
The Abus City Chain 1010 is the most expensive lock we looked at (it retails for up to $200) but it's so good, it's even recommended for securing motorcycles. The hexagonal chain is 9mm wide and, like the Abus Ivera, has a fabric sleeve to protect paintwork. The locking cylinder has proprietary protection that deters manipulations, such as lock picking, and the chain, lock body and supporting elements of the locking mechanism are made of special hardened steel. These can be purchased at Pedego Qualicum Beach.
[/av_textblock]
[/av_three_fourth][av_one_fourth first min_height=" vertical_alignment=" space=" custom_margin=" margin='0px' padding='0px' border=" border_color=" radius='0px' background_color=" src=" background_position='top left' background_repeat='no-repeat' animation=" mobile_display="]
[av_image src='https://pedegoelectricbikes.ca/wp-content/uploads/2017/09/electric-bike-lock-rockafella-380.png' attachment='12309′ attachment_size='full' align='center' styling=" hover=" link=" target=" caption=" font_size=" appearance=" overlay_opacity='0.4′ overlay_color='#000000′ overlay_text_color='#ffffff' animation='no-animation' admin_preview_bg="][/av_image]
[/av_one_fourth][av_three_fourth min_height=" vertical_alignment=" space=" custom_margin=" margin='0px' padding='0px' border=" border_color=" radius='0px' background_color=" src=" background_position='top left' background_repeat='no-repeat' animation=" mobile_display="]
[av_textblock size=" font_color=" color=" admin_preview_bg="]
Rockafella Bike Guard 380
This 80-cm-long lock is a bit different in that it offers the protection of steel but the dexterity of cable. It retails for around $75 and is made of 3-mm-thick hardened steel bars with ABS covering to prevent frame damage. The Rockafella 380 also features a high-security DISC cylinder and comes with a rubber mounting sleeve. These can be purchased at Pedego Victoria.
[/av_textblock]
[/av_three_fourth][av_one_fourth first min_height=" vertical_alignment=" space=" custom_margin=" margin='0px' padding='0px' border=" border_color=" radius='0px' background_color=" src=" background_position='top left' background_repeat='no-repeat' animation=" mobile_display="]
[av_image src='https://pedegoelectricbikes.ca/wp-content/uploads/2017/09/electric-bike-lock-abus-bordo-6000-e1508961865865.jpg' attachment='12308′ attachment_size='full' align='center' styling=" hover=" link=" target=" caption=" font_size=" appearance=" overlay_opacity='0.4′ overlay_color='#000000′ overlay_text_color='#ffffff' animation='no-animation' admin_preview_bg="][/av_image]
[/av_one_fourth][av_three_fourth min_height=" vertical_alignment=" space=" custom_margin=" margin='0px' padding='0px' border=" border_color=" radius='0px' background_color=" src=" background_position='top left' background_repeat='no-repeat' animation=" mobile_display="]
[av_textblock size=" font_color=" color=" admin_preview_bg="]
Abus Bordo 6000
Here's something that's also different: a folding lock that offers light-weight flexibility in a compact design. The Abus Bordo 6000 features 5-mm-thick steel bars, with extra soft coating to prevent damage to your bicycle's paintwork but the unique part about it is the link construction, which allows compact folding. The bars, the case, the links as well as supporting elements of the locking system are made of hardened steel and the bars are linked with special rivets. These can be purchased at Pedego Qualicum Beach
[/av_textblock]
[/av_three_fourth]