Pedego Featured in The Wall Street Journal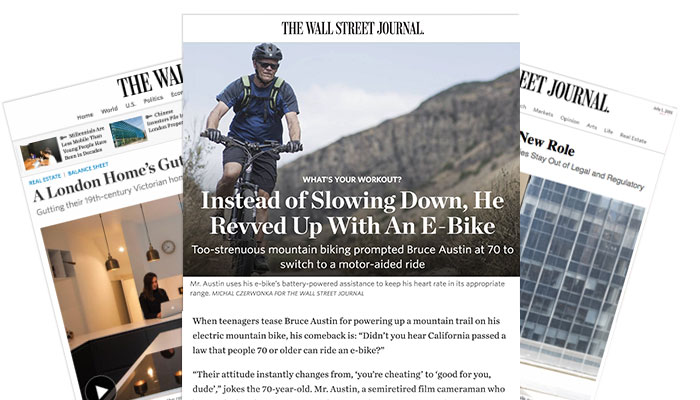 The largest newspaper in the United States has just featured Pedego in a recent issue. Called "Instead of Slowing Down, He Revved Up With An E-Bike," the article appears in the "What's your Workout" section of The Wall Street Journal and details how 70-year-old Californian Bruce Austin switched to a Pedego Ridge Rider electric bike after he found it was too challenging to get up hills on his mountain bike and keep up with his kids.
The article by writer Jen Murphy appears in the August 7, 2017 issue and tells the story of how Bruce loved to ride the mountain bike trails near his home in Camarillo, especially with his two sons, who are now in their 40s but in recent years he had found the exercise was too hard. "My heart rate would be way out of range," he's quoted as saying. "After a three-hour ride I'd be wiped out." So he purchased a Pedego electric bike with pedal assist and now keeps up no problem – he uses his pedal assist when he's tackling a steep climb but otherwise turns it off when he's on flat ground. The author writes, "Riding his e-bike has helped bridge a generation…allowing him to ride regularly with his sons, as well as his two daughters, both in their 20s."
Bruce uses his e-bike's battery-powered assistance to keep his heart rate in its appropriate range. Photo by Michal Czerwonka.
The article goes on to say, "Mr Austin bought a second e-bike so he can ride with his wife, Rhonda, his daughters, and friends his age. 'In the past, my daughters found mountain biking stressful,' he says. 'Now they'll be full-throttle on the e-bike and they have so much fun. They haven't yet refused a ride.'"
The article finishes by addressing the myth that using an electric bike while working out is cheating. "Riding an e-bike is akin to doing push-ups on your knees or using a weight-assisted pull-up machine," the author writes. She then quotes exercise physiologist Adam Mills as saying, "You're still getting a workout. You just have a little help." Adam goes on to say the because an electric bike is heavier than a normal bike, due to the weight of the battery and motor, it gives a better workout when not using power assist. "It requires a lot more core engagement, especially if you're on mountain trails and making tight turns…E-bikes make the sport more accessible to a broader demographic."