Cost Savings: Electric Bike Versus Car
There are many reasons why people choose to ride electric bikes. First and foremost, they're fun! They're a chance for you to enjoy the outdoors and not have to worry if it's windy or if there are a lot of hills on your route. They're also environmentally friendly, easy to maintain, they promote good health and they're a lot faster than walking! For many people, though, it's the cost savings of an electric bike versus a car that is its most appealing quality. In this article we've compiled some numbers and reasons that will help clarify the comparisons between an automobile and an e-bike.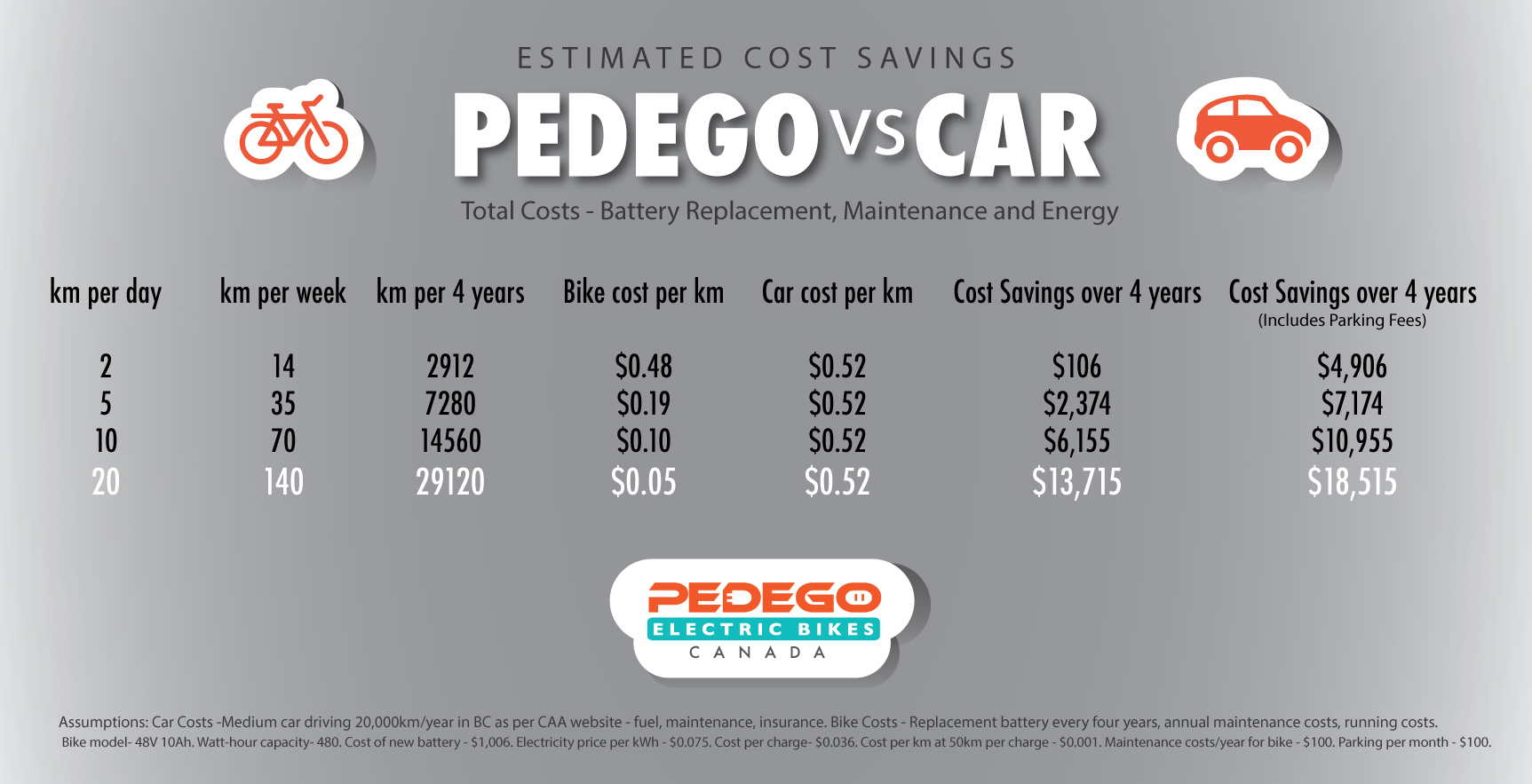 It goes without saying that, because of the price of gasoline, the monthly costs of fuelling a car is a lot higher than an electric bike. In fact, in most areas of Canada, gas costs $1.08 per litre whereas electricity prices are about $0.075 per charge – less than a penny. If we consider that the average light gas-powered vehicle burns 11.6 litres of fuel every 100 kilometres, and the average person travels 20,000 kilometres per year, then the costs of putting gasoline in your car is $210 per month. That in itself is a huge difference between the two forms of transportation: an electric bike costs about 10 cents a day to "fuel" up, while a car costs $7 a day. And remember, gas prices are only going to continue to rise!
The next cost comparison is insurance. The average auto insurance premium is $1,113 per year or $92.75 per month. And the insurance costs for your electric bike equal…zero. Granted some might argue that electric bikes are covered under your house insurance and that obviously has a cost, but the real difference lies in the fact it's the law to insure your vehicle – we have no choice in the matter – whereas police are not going to pull over your ebike and make sure you have your "license and registration."
Parking and toll costs vary greatly across Canada but if you live in an urban centre, your parking costs are going to average between the cheapest at $178 per month (in downtown Victoria) and the most expensive – $439 per month in Calgary. For our chart we used a very conservative $100/month parking in the calculations. Of course, parking your electric bike is free. As is travelling over toll bridges.
The above infographic also takes into consideration maintenance costs of an ebike versus a car as well as the cost of a new battery, which may have to be purchased after four years of owning your Pedego. Of course, electric bikes aren't for everyone. As indicated by the chart, if you're only planning on riding your Pedego electric bike two kilometres a day, then the cost savings of it versus an automobile works out to only $106 over four years. (That number increases exponentially though if you have to pay for parking either at your work or place of residence.) We really start to see high cost savings when an ebike is being ridden between 10 and 20 kilometres a day – the savings over four years, when taking into consideration parking costs, equals the price of a new car!
Of course, e-bikes are just fun to ride. So even if you're just using one as a recreational vehicle, you're still going to get a lot of value out of it. And if after considering all those factors as well as the cost-savings you decide a Pedego Canada electric bike might be a good fit for you rather than that gas-guzzling pickup truck, then please drop us a line by calling 1-888-777-2066 or email info@pedegocanada.ca.