Why a Huffington Post Writer Chose The Pedego Stretch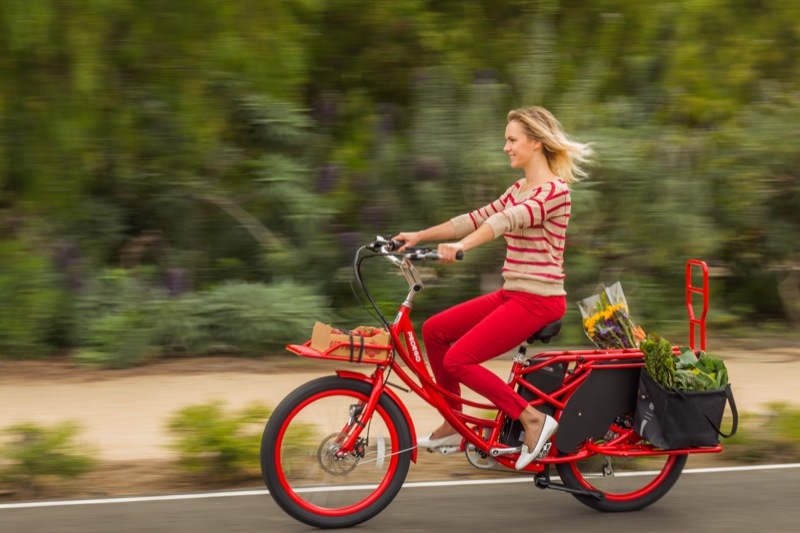 Lee-Anne Ekland is a writer and mom living on British Columbia's southern coast who is responsible for the popular blog MomParadigm.com. She's also a regular contributor to Huffington Post, VancouverMom and ParentDish and, recently, she wrote an article about a key decision we all have to make: how to commute?
Whether it's the office, the store or a friend's house, each one of us faces the daily decision of how to get there: the car, public transit, walking or some other form of transportation. In Lee-Anne's case, she was trying to decide on the perfect vehicle with which to travel the 2.5 kilometres to her 5-year-old son's school. In her recent post called "Commuting to School in the Fall: Electric Scooter or E-Bike?" Lee-Anne writes that she tried a scooter but, "After giving it some thought I realized two important components were missing if we were to go the scooter route: Mama needs exercise (and) When mama gets exercise it NEEDS to be fun!"
That's when she heard about the Pedego Stretch cargo electric bike and visited a local dealer. This is what she says about it, "It is a powerful, beautiful, cruiser style and is not only fun to ride but I get to choose how much I exert myself. It has a throttle for full out cruising and 5 levels of pedal assist. I can also pedal entirely on my own power if I wish. I never thought I would enjoy an e-bike so much but I have to tell you, I am so excited about this bike!"
Lee-Anne goes on to say that the best part about the Stretch is that she can commute with her son as well as one of his school friends. "Talk about a great way to motivate him to get out the door in the mornings!" she writes.
To read Lee-Anne's blog in its entirety, log on to MomParadigm.com and while there you can also help her decide which colour of Pedego Stretch she should get.
Lee-Anne isn't the first writer to be impressed by a Pedego electric bike. In a recent Newsweek article magazine writer David Weiss summed up how great it is to easily cruise up the half-mile hill to his house on his Pedego Electric bike: "Nobody but the eagle-eyed will even see the battery holder welded to the frame behind the quite comfortable seat, so the illusion of your Olympian grace and strength will redound to your advantage as you blithely pedal down the boulevard with nary a bead of sweat on your well-tanned forehead. Be prepared for compliments—more for the bike than the rider, but beggars are forbidden to choose."
To learn more about the Pedego Stretch cargo ebike, visit the Pedego Canada website. You can also contact us anytime at info@pedegocanada.ca or call 1-888-777-2066. We look forward to hearing from you!