The popular Spotlight on Business magazine has featured Pedego Canada on the cover of its most recent issue. Called "Driven Solutions," the article describes Mike Clyde's experience launching the Pedego Canada electric bike company and how it's redefining the way Canadians travel.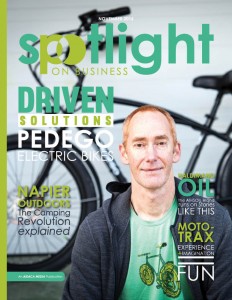 The story appears in the November 2016 issue of Spotlight on Business and in it writer David MacDonald discusses the recent history of the electric bike, its growing popularity and how Mike came to decide Pedego was the best brand to represent in Canada. (Today Pedego is the largest selling brand of electric bike in North America.) "We know that whatever they're used for, the rider is having fun," Mike says about why electric bikes are becoming more popular. "And it's all about fun."
David then goes on to write about the misnomer of "cheater" and how it is thrown at electric bike enthusiasts from the windows of passing cars. He then quotes Mike as saying, "This is one of the biggest misconceptions about electric bikes and the industry itself. Some people believe that electric bikes are somehow competing with regular bikes. If we're in competition with anything, really, it's the car and the couch. Electric bikes are creating completely new bike journeys. We're at the very early part of a strong growth period for electric bikes – and bike trails, for that matter – in North America and at the moment, I think the biggest challenge is getting people to see how an electric bike might fit into their lives."
Mike continues, "The simplest way of breaking down our approach is this: 10% of the population regularly ride bikes in North America – we're mostly targeting the 90% remainder."
Later in the article David describes the story of adventurer Jon Langille who recently rode his Pedego Stretch electric bike 2,500 kilometres from Nelson, British Columbia, to Indio, California to attend a rock concert featuring the Rolling Stones.
Finally, the story shifts its focus to the future of electric bikes and Mike is quoted as saying, ""The future for Pedego Canada and the electric bike industry as a whole is pretty exciting," Clyde continued. "The best part of my job is listening to the feedback from Pedego owners and how much they love an electric bike in their lives. Honestly, these kind and passionate Pedego owners are actually our best marketers. They come up to you at shows and post their experiences and stories to social media and it's that kind of public appreciation that's propelled us to number one in North America."