Pedego Prince Edward County Helps Restore Millennium Trail

Recently Patrick "Bear" Maloney, the co-owner of Pedego Prince Edward County, stood on a gravel path next to over three dozen people with shovels and announced that a refurbished recreational trail will breathe new life into the Prince Edward County region of south-eastern Ontario.
Bear has been the Chair of the Prince Edward County Trails committee for the past two years and was on hand last week to announce the Millennium Trail Upgrade Project was officially underway. Thanks to his efforts and those of the committee, they had raised over $120,000 in funds and, when finished, the 48-kilometre resurfaced trail will help County residents to better enjoy walking, cycling and, of course, electric biking, for years to come.
In the coming weeks the trail will be graded and six inches of limestone screenings will be laid down on most of the trail except the section in Wellington, that was resurfaced by the Wellington Rotary Club a few years ago, where a 2 inch resurfacing will be done.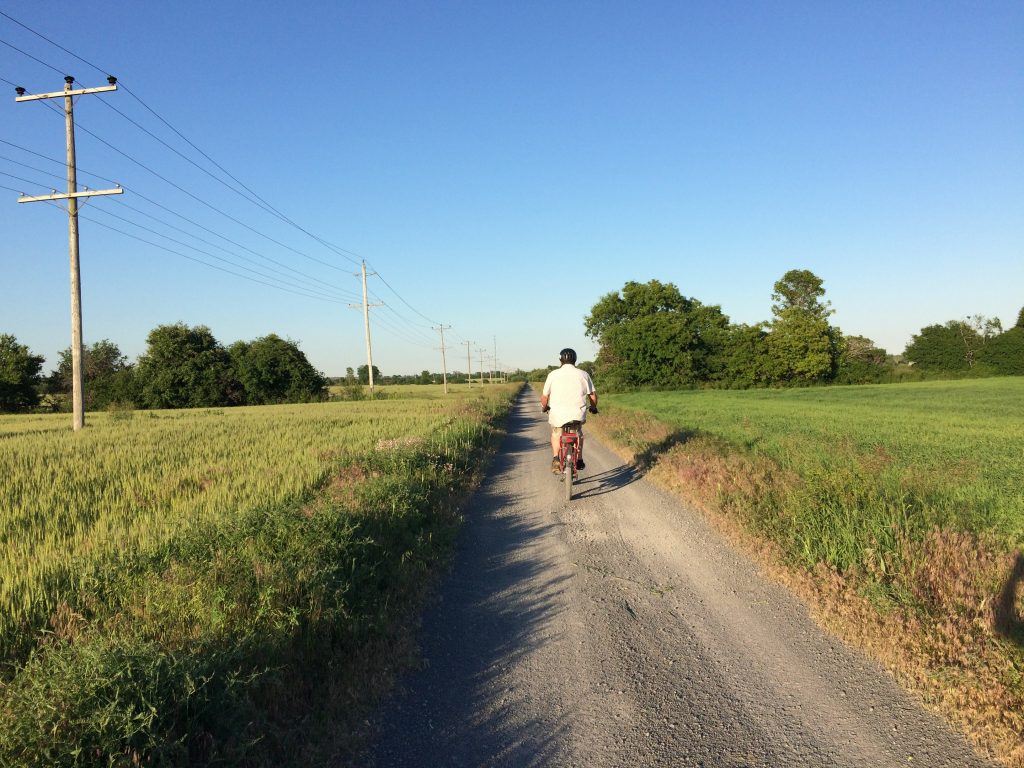 Bear has been a cycling advocate for over 40 years and a member of the the PEC Trails Committee for about 2.5 years. Together with his wife Gillian, they own Pedego Prince Edward County, which opened last year and then moved to a new location right by the Trail earlier this year. They've found great success renting electric bicycles to tourists who want to ride the Millennium Trail as well as take in the beaches, towns and farmland of the beautiful county. The couple also sell 18 different models of Pedego electric bikes, from colourful cruisers and cargo bikes to dual suspension mountain bikes and fat tire bikes, perfect for riding on sand or in snow.
Interestingly, the reason they decided to open the Pedego store was because Bear was volunteering on the PEC Trails Committee. "We were planning the resurfacing of the old rail trail, raising the money from the private sector to do it. I was pitching about the business and tourism opportunities and I drank my own Kool-Aid," Bear says. "We want our store to be an oasis on the Millennium Trail, the place to stop for bike repairs, coffee breaks, rentals and more."
To learn more about the store's founders, read our article "Get to Know Pedego Prince Edward County" and for information about rentals and sales, visit pedegopec.ca.