The World's Longest Bike Path is in Canada
April 26, 2017


Last year the international media made a big deal about the opening of a 100-kilometre bicycle trail in Germany. The car-free trail will connect 10 cities including Duisburg, Bochum, and Hamm, as well as four universities. Exciting news for Germans.
But what if we told you the final touches are being done on a bicycle trail in Canada that is 200 times longer than the one in Germany! And an electric bike is the perfect way to travel it!
The Trans-Canada trail, also known as "The Great Trail" is set to open this summer for Canada's 150th birthday and it's a whopping 20,770 kilometres long! It winds its way from coast to coast through 13 provinces and territories and connects most of Canada's largest cities. Most of it is paved and it passes mountains, forests, meadows, lakes, cities and more.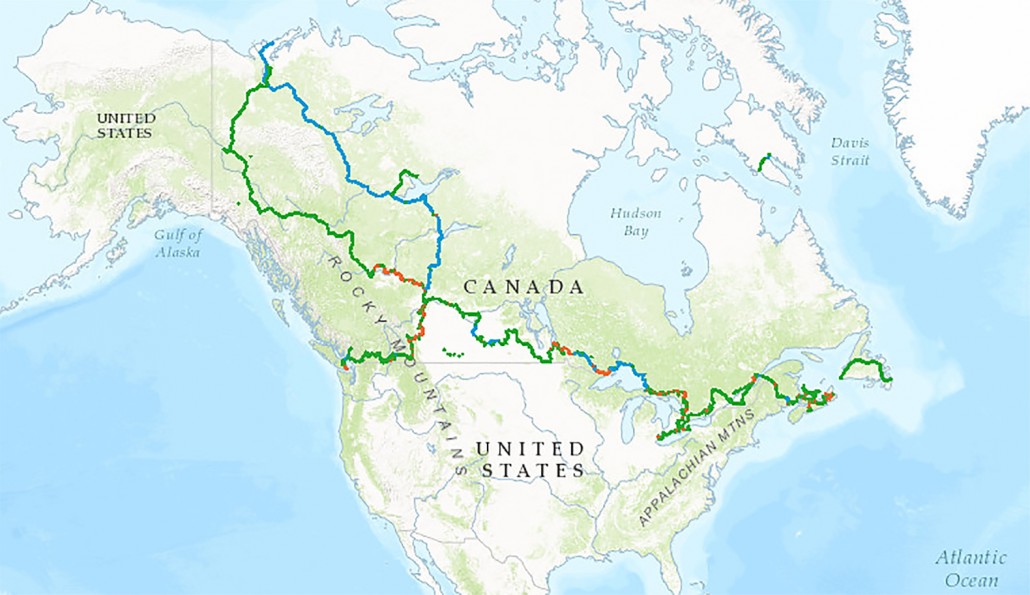 Construction began on this unparalleled network of recreational trails back in 1992 and not only will it be enjoyed by riders of electric bikes, it will also be used by hikers, walkers, runners and horseback riders in the summertime and skiers and snowmobilers in the winter.
However, we believe an electric bike is the ideal form of travel for enjoying the Trans-Canada trail. They can tackle any headwind or hill with ease and they allow the rider to travel farther to see all the sites while expending less energy than a traditional bicycle. That said, an ebike still requires pedalling so you'll retain the benefits of cycling while enjoying more of the views.
To find more information about the trail, as well as discover an interactive map that pinpoints where the trail is compared to your home or current location log on to www.thegreattrail.ca. You'll discover that 80% of Canadians live within 30 minutes of a section of The Great Trail, making it a national treasure than most everyone can enjoy.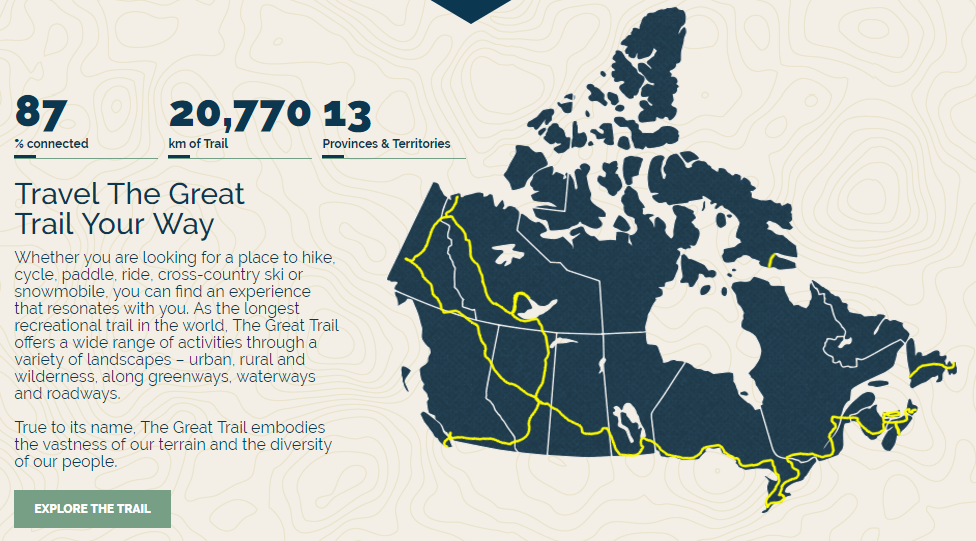 One of the highlights of the trail that we definitely recommend exploring on electric bike is the Goat Creek Trail, which runs through a valley between Banff and Canmore, Alberta. It's a two- hour ride one way on a gentle grade and travels near the Banff Springs Hotel, which makes for an ideal spot to unwind after your ride. Another highlight is the Galloping Goose and Peninsula trail sections on southern Vancouver Island, which offer amazing ocean views and plenty of city amenities in Victoria (and it also passes near the Pedego Victoria store.)
Other section highlights include the Waterfront Trail in Toronto, the 200-kilometre long "Le P'tit Train du Nord" trail that winds its way through the Laurentians near Montreal and the Confederation Trail on Prince Edward Island.
To discover more about "The Great Trail" log on to thegreattrail.ca and to discover stores across Canada near the trail where you can purchase Pedego electric bikes, visit our Find a Dealer page.